Dismiss Notice
Steelback Premium Draught
| Steelback Brewery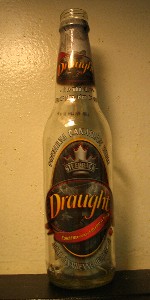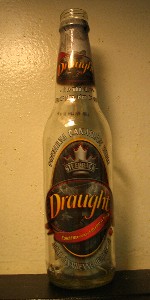 BEER INFO
Brewed by:
Steelback Brewery
Ontario
,
Canada
Style:
American Adjunct Lager
Alcohol by volume (ABV):
5.00%
Availability:
Year-round
Notes / Commercial Description:
Reformulated version of Cold Filtered Draught.
Added by pootz on 04-21-2006
This beer is retired; no longer brewed.
HISTOGRAM
Ratings: 7 | Reviews: 7
Reviews by Lexx:
1.71
/5
rDev
-14.9%
look: 2 | smell: 1 | taste: 2 | feel: 1.5 | overall: 2
What a beer to write my first review on...
Pours a clear, yellowish color.... almost looks like ginger ale. Who am I kidding? It looks like urine after you've had a few too man Steelback Draughts. Like Viggo stole from me, it sounds like bubble bath bubbles popping as the head diminishes. Medium carbonation, but a bit sharp. It smells like the dumpster behind a Mexican restaurant in that there's a somewhat alcoholic scent with undertones of corn tortillas. Make that rotting corn tortillas. The taste isn't as bad as the smell, though... it's just not really very present. Kind of like a few drops of corn extract in seltzer water.
Thanks Biegaman, keep bringing this quality stuff!! :)
696 characters
More User Reviews:
1.56
/5
rDev
-22.4%
look: 2 | smell: 1 | taste: 1.5 | feel: 2 | overall: 2
Thanks biegaman for this gem! If Phil Esposito endorses it, it must be great.
Pours a clear pissy yellow/gold, huge fluffy white head forms, settles to nothing immediately, sounds like a bubble bath as the head settles, some lace spots, generally unpleasant. The smell of rotting corn filled the room when I cracked this, or as my girlfriend described, "the floor of an old hockey arena after the game," maybe a tribute to Phil? Alcohol, corn, weirdness, chemicals, I'm not quite sure. Taste is basically nothing, almost no flavour, bit of corn, alcohol, water, tasteless. Mouthfeel is thin, watery, medium carbonation but kind of pop fizzy, drinkable only because it doesn't taste as it smells. Jan keep hooking me up!
722 characters

1.13
/5
rDev
-43.8%
look: 1.5 | smell: 1 | taste: 1 | feel: 2 | overall: 1
Hmmm...What is the one word I can use to describe the flavor profile and the overall character of this beverage...."malodorous" that seems apropos...has all the characteristics of it's Steelback siblings which also seem to have never seen a proper cold lagering process:
1) Souring vegetal nose
2) sickly yellow color
3) Zero head ( like no froth, no lace zero)
4) Watery body
5) tastes of cheap yeast and dextrins
6) No real finish just a rough harsh mouth feel from poor aging and bad water
Now this so called "draught" is supposedly a new Steelback "flavor" (as they call them) but it is still hard to take this brewer seriously that they are trying to improve with tediously inept efforts like this... the thing that really struck me about this one was the obvious aroma and taste of rotting vegetable matter....truly bizarre how this new brewer refuses to invest in process and ingredients. Typical characterless, thin, green brews....except BLAND...this is what gets me...they're so consistantly bloody bland!!!
1,019 characters
3.13
/5
rDev
+55.7%
look: 3.5 | smell: 3 | taste: 3 | feel: 3 | overall: 3.5
This is from a new batch with the dark bottles. Crystal clear, pale gold with fine white bubbles lacing the surface. Decent head retention with some spotty lacing. Sweet grainy aroma, some cereal and corn, light fruit and faint spicy hops. Low bitterness with sweet grain, light fruit, cracker, light lingering hop spice. Dull earthiness and a bit of cereal. Light bodied with medium plus carbonation. Off-dry and not quite crisp. I have to say I was surprised, based on my previous experiences with Steelback products. Things are much improved compared to a couple years ago. While not stellar, this was a solid industrial lager.
630 characters

2
/5
rDev
-0.5%
look: 2 | smell: 2 | taste: 2 | feel: 2 | overall: 2
Pours from clear, 341 ml bottle with an over-anxious head that would rise up quickly, hit the top of the glass, then slowly tamper off until nothing was left. A pale, unhealthy looking yellow colour. Aroma of pure macro character - not sure how to describe it. It's as if they set out to make the most "macro" smelling beer they could. Full of cloying, sweet MDS, corn adjunct...
Mouthfeel neutral. I hesitate to say "smooth" because there isn't enough flavour to even constitute a texture. No aftertaste too then. Exceedingly dry. I fail to find any malt, or hops. A little on the sweet side. An overall messy lager... ouch.
626 characters

1.58
/5
rDev
-21.4%
look: 2 | smell: 1.5 | taste: 1.5 | feel: 2 | overall: 1.5
Not an actively awful beer, but certainly not memorable in any way, and hardly worth the effort to raise the glass to your lips.
Pours a slightly hazed, odd-looking yellow. Short head immediately settles to a splotchy film. Hardly anything to smell or taste and what there is, is quite clearly corn. Mothfeel is mildly spritzy.
Not worth your trouble, give it a pass.
373 characters
2.97
/5
rDev
+47.8%
look: 3 | smell: 3.5 | taste: 3 | feel: 1.5 | overall: 3
Well I have to say that I felt this beer was pretty average, despite the premium tag on the label.
Initial pour yielded very little head and no lace...I don't usually lend too much creedence to this cause I may have just picked a bad glass out of my cupboard.
The smell actually had me excited. It smelled rather promising and hinted at a deep taste.
Taste...uhm...taste? It lacked any real character and to be honest was very forgettable. I was reminded of every other mainstream lager and or ale...except this was supposed to from a smaller brewery and was supposed to be Premium. It had a weird aftertaste that I normally only encounter when I brew my beer at the do-it-yourself on the corner.
All and all...it's cheap enough and I enjoyed it more than the mainstreams despite it being comparable in taste. Probably more enjoyable on a hot day right out of a cooler.
It wasn't the worst beer I've had but it was far from the best.
949 characters
Steelback Premium Draught from Steelback Brewery
Beer rating:
2.01
out of
5
with
7
ratings