Whole Foods Market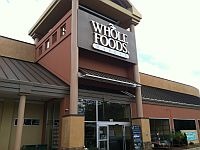 PLACE INFO
Type:
Store
102B New Waverly Place
Cary
,
North Carolina
, 27511
United States
(919) 816-8830 |
map
wholefoodsmarket.com
Notes:
No notes at this time.
Added by Ninjaworm
Ratings: 9 | Reviews: 8

3.9
/5
rDev
+3.7%
vibe: 3.75 | quality: 4 | service: 3.75 | selection: 4

3.58
/5
rDev
-4.8%
vibe: 3 | quality: 3.5 | service: 3.5 | selection: 4
Not the biggest selection of the Triangle-area Whole Foods Markets, but also not the smallest. I rather liked the predominance of local beers, with growlers from Carolina Brewery and Aviator, bottles from LoneRider, Big Boss, Duck Rabbit, and others, and even a pre-packaged mixed assortment of selected locals. In addition, there was a decent (but not incredible) variety of interesting imports and a handful of other American craft beers. Even with all of that diversity, though, something just seems to be missing for some reason. Overall, I just don't feel like I would feel satisfied making a big beer purchase here, but there is enough that is interesting and desirable enough that I would have no issue grabbing a few bottles every time I came into this location.
770 characters
3.85
/5
rDev
+2.4%
This Whole Foods location has dramatically improved their selection over the last couple of years. They have doubled their cooler space and have some beers available warm as well.
Nice selection of beers available in NC. Weeping Radish beers here, not easy to find. Some French Broad.
There's a small warm section beyond the two large coolers. There's also a small singles section in front of the two main coolers. Some beer is stacked over by the food bar as well.
Worth a stop, along with the HT across the street.
520 characters

3.7
/5
rDev
-1.6%
I've stopped by a couple of times now. It's your typical Whole Foods but they have a very good selection of beer. I'm not sure how it compares to other Whole Foods though because until recently I lived in RI/MA and you can't get beer in supermarkets there.
Most all of the beer is displayed cold (except for some setups in other areas of the store). They've got lots of Belgians (Chimay, Delerium, Duvel, Karmeliet, Chouffe, St Bernardus and Orval) and a pretty good selection of American beers (Bells, Victory, Dogfish Head, Sierra Nevada, Rogue and Great Divide).
It's a bit pricy but between trips to Sam's in Durham, it's become a pretty reliable option for me.
668 characters

3.7
/5
rDev
-1.6%
Now that I live in Cary, this is my local Whole Foods, just down Kildare Farm Road from my Trader Joe's and my Taco Bell and the post office. In other words, it's convenient. It doesn't have either the selection, service, or crowds of the Raleigh store, but I don't have to get on the highway to go there, which is a big plus.
It's actually not too bad beerwise, they have about seventy or so bottles, most of them micros and several I've rarely or never seen anywhere else in the state. They have a good selection of Belgian and English stuff that can be tough to find, including Piratt, Petrus, Meantime IPA and Scottish, Twisted Thistle, and plenty more. They have Estrella Galicia, a mediocre Spanish lager I haven't seen since I was in Spain and a pair of Norwegian beers I'd never even heard of (HaandBryggen something or other).
They also feature a nice selection of the local stuff, including Highland, CBC, Duck Rabbit, and Big Boss. Other domestic micros include a full range of Avery, Great Divide, New Amsterdam and Allagash.
Prices are not cheap, as with almost everything at Whole Foods (6 bucks for a head of organic broccoli!), and service is close to nonexistent. One bonus is that the brew is right next to the cheese section and they usually have samples of some tasty cheese out and it's nice to nibble while perusing for beer. Not worth going too far for, but if in the area it's worth a peek.
1,420 characters
3.7
/5
rDev
-1.6%
I stop by this store on my way home from work on occasion, mostly out of convenience. It's pretty much a grocery store with focus on natural and raw/less processed food products. They do however have a decent beer and wine selection which has recently been revamped and expanded a little bit.
A majority of the beer they offer is chilled and available as singles, a definite plus for me. The selections range from some regional micros to some of the more national micros. They also have some good stuff from outside of the US too, including a few Belgian offerings and some interesting English & Scottish ales as well.
Every once in a while they have stock on some local seasonal or special that can be hard to find. I've also noticed they were one of the few stores in town that carried some of the Christmas ales this year, like Corsendonk, Delirium, Affleglem.
The clerks at the store haven't been real helpful so far but they try. They aren't as familiar with their stock as one might hope but they will certainly help you hunt for something.
Often times I will grab a bottle of mead along with the other beverages since this is one of the few that carry it. Believe it or not, they usually have 6 or 7 varieties of mead available - and no Chaucer's!
If you are in the area and searching for beer, you might try this store. Even if you don't find what you want, you will most likely find something good.
1,416 characters
3.85
/5
rDev
+2.4%
It's interesting how the "alternative" groceries, like Whole Foods, Earth Fare, and Weaver Street Market, have taken up the gauntlet in favor of craft-brewed and imported beer. All these establishments are doing a fine job of making these available to a wider audience, and I applaud them for providing that much-needed service.
This was my first visit to this Whole Foods, as it's too far out of my way to be a regularly visited location, and I went with the sole purpose of collecting data on their current beer selections. Here's what I found:
They had stacks of Sea Dog, ready for summer, and a stack of the gluten-free products: New Grist, Bard's Tale, and Redbridge. A great selection of singles is available, including Avery, Rogue, Red Hook, Highland, Delerium Tremens, Guinness, Unibroue, Ommegang, Ska, Great Divide, Rochefort, Chimay, Schneider, Okocim Porter, and Weihenstephaner.
Six-packs included Brooklyn, Pyramid, Anchor, Dogfish Head (including Festina Peche; this is the first appearance of this beer here, and I just noticed it's also available at Earth Fare), Carolina, DuckRabbit, Magic Hat, Bell's, Otter Creek, Avery, and Thomas Creek (from SC).
I was also thrilled to see 4pks of Samichlaus in the cold case! I've only seen that rare beer in two other NC stores: Brawley's Beverage (Charlotte) and Sam's Quik Stop (Durham).
As you can see, it's quite a selection. Now, for service, no one was immediately interested in assisting me, although one employee eyed me carefully as I made hand-written notes.
Price-wise, everything seemed to be on par with prices elsewhere in this area, although a few items were higher-priced than I've seen at Sam's Quik Stop and Earth Fare. Redbridge, for instance, was $7.99 at WF, while I've seen it for $6.99 at EF. Ommegang products were a bit pricier as well.
1,839 characters

3.55
/5
rDev
-5.6%
Happened to remember that Whole Foods had a place in Waverly after a report on the news last night about the renovation of the area. It is darn easy to find off Kildare and Tryon.
The beer section is in a cold case and then a shelf, both to the extreme right as you enter the store and walk towards the back. On floor display were Magic Hat beers and a few Belgian offerings. The selection was actually pretty good with some singles and some six packs. A bit over a year ago what was here would have been amazing, now it just tops out a smidge above average. The service was pure grocery store. No one around at all until you hit the checkout line.
The quality seemed to be pretty good, but I have no idea if beers move off the shelves here or not. If I was in need of a beer I would stop in, but I might even check out Harris Teeter across the street first.
864 characters
3.85
/5
rDev
+2.4%
quality: Checked the dates of a few random things while in store...everything seemed to check out. Everything I have purchased here had been of good quality.
service: I've never had anyone come up to me and ask if I need help, but I've never really needed it anyway.
selection: Decent selection, but nothing amazing...definately better than Harris Teeter. A range of imports and American micros that could use some expansion. The North Carolina micro selection could be better. If I had to guess, I'd say they have about 40-50 micros in six packs with a range of pint or larger bottles on the top shelf. Not bad at all, but the other Whole Foods is much better. Not many specialty/one-off/seasonal beers to be found here.
724 characters
Whole Foods Market in Cary, NC
3.76
out of
5
based on
9
ratings.