Jean Bonnet Tavern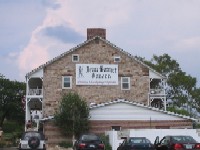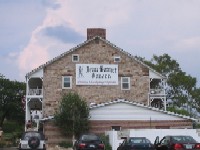 PLACE INFO
Type:
Bar, Eatery, Beer-to-go
6048 Lincoln Hwy
Bedford
,
Pennsylvania
, 15522-6960
United States
(814) 623-2250 |
map
jeanbonnettavern.com
Notes:
No notes at this time.
Added by WVbeergeek
PLACE STATS
Reviews:

16

Ratings:

pDev:

7.75%
HISTOGRAM
View: Place Reviews
Ratings: 23 | Reviews: 16

4.56
/5
rDev
+7%
vibe: 5 | quality: 4.5 | service: 5 | selection: 4
Transcribed from notes dated Su, 31 Mai 2009.
Our second stop of the day on the way home (east) from the previous day's Pints for Pets fest. Shannon and Melissa Jacobs, the owners, had been adamant that we drop in on the way home and it turned out to be a worthwhile stop.
The building, which dates to 1762 and the time of the Whiskey Rebellion, was visible from the Pennsylvania Turnpike. The parking lot was filled with motorcycles on a cool, breezy spring afternoon as we pulled in. A log cabin sat to the right of the building and acted as their Gift Shop. The ground floor entry led us through a dark vestibule and into the restaurant area with its sea of tables and chairs.
Beer was the order of the afternoon, however, and when we inquired, we were directed up a spiral staircase and into the bar area on the second floor. Booth seating lined the right wall with an outdoor patio on the other side of said wall. The west wall held the bar, fronted by swiveling wooden Captain's chairs, with a bank of eighteen (18) taps, mostly dedicated to "support[ing] our PA breweries." The left wall had several more booths while the east wall held a stone fireplace. The center of the bar area was filled by high wooden tables and more Captain's chairs.
As it was my first visit, Melissa offered to give us a tour of the third and fourth floors and we accepted. The third floor held four bed and breakfast rooms and looking over one of the balconies, we could see where an outdoor, fenced-in patio had been constructed for al fresco dining. The fourth floor was dedicated to being an employee-only apartment for use as needed by staff.
It was not just the tavern and gift shop, either. The property extended to an upper employee-only parking lot and a coal dump on the site of a former barn.
1,795 characters
4.43
/5
rDev
+4%
vibe: 4.5 | quality: 4.5 | service: 4 | selection: 4.5 | food: 5
Mid6week, and with my eye on the brewpub ball this whole time, I let the restaurant with a good beer selection get by me. I'm totally slipping, must be the burn from all the time on the road. I'm looking to make good on it; doin' the zig north tonight instead of the zag west hotelbound...
Big old 1762 stone building of bad ass, with some Washingtonesque whiskey rebellion history to it. Up the stairs and in through the porch, I'm about the tavern seating. There's a more formal dining room downstairs, and something of a B&B upstairs; 4 very reasonably priced rooms there. A small private room of sorts in a space off the tavern side, and a rear deck which is also an expansive side deck, it wraps around opening up holding 2 dozen tables in all; there's some guy out there performing music just now.
But inside, barside, a wood box holding a row of 18 taps sits on a rounded "L" brown formica topped bar on the inside wall. The barback is a 3 piece wood unit with glassware stacked and hanging on center. Tiered booze over mirrored panels to both sides of the counter, with more glassware above and wines on their sides in rack holders along the piece perimeters within. Flatscreens over the pieces to both sides and a panel wood piece overhanging the bar with sunken spots.
Burgundy painted walls with light Pennsylvania brewery signage and some framed prints. 4 hightop rectangle tables in a row adjacent to the bar seating 6 a piece, and a few booths on opposite walls below deceptive neon adorned single paned windows, each with hanging basket plants and overhead window treatments. The wall behind me holds single windows of the same to both sides of a large stone wall with a fireplace inlayed. Rumbling wood plank floorings, old wood uprights & cross beams, and stuccoesque ceilings holding hanging chandeliers done vintagey with sprawling single bulbs and some spinnin' fans.
App'd with the Grilled Ahi Tuna; pepper crusted chunks done rare, served with a sesame seaweed salad that I actually ate and very much enjoyed. And curious about what wasabi is, I mixed it up with the teriyaki like I've seen others do to see what would happen. It's like someone else's mustard in that spot way up my nose. It tastes like burning! Contemplation of an entrée, I was going to order the Jean Bonnet French Dip, but ooooh, what's this, the Tempura Battered Atlantic Salmon, no wait, double ooooh, the Shrimp & Crab Scampi laughing at me, but then I spotted the roast Chambord Duck and I think I may have blacked out. Duck with a Chambord raspberry sauce; I don't even know what Chambord is but yeah! Hey, I get a salad, French on the side, please, and is broccoli okay for my vegetable? Um, yes. Potato, what? Yeah, I'd like to double down on the broccoli instead if I may, excellent, thank you. The duck, a ½ by the way, not one of them chintzy breasts that usually runs you $24 in and of itself, was crispy good and the sauce was not too much like you'd think raspberry anything would most certainly be. The broccoli was plentiful and came in giant clusters I sent flying while cutting up ('cause I'm a retard). Great meal, I even got a dinner roll with cinnamon sugar butter, oooh. I'm going to go with the oatmeal pie for dessert; okay, I'm so bagging the pie but will return, and I have since, trading up my 3rd beer for the oatmeal pie, tasty good on the heels of dinner on stupid cheap $.40 wing night. I had a ½ dozen Thai something and a ½ dozen Sweet & Tangy; liked the latter better. They were cooked crispy well and had the good all over them. And then dinned with the French Dip, which was just excellent, caramelized onions & melted provo, au jus running down my head and all.
18 taps, sporting beers from a dozen Pennsylvania breweries (East End Monkey Boy Hefe, Roy Pitz Best Blonde Ale, Weyerbacher Double Simcoe, Victory Wild Devil, Lancaster Strawberry Wheat, Erie Railbender Ale, Troegs Sunshine Pils, Stoudts Blonde Double MaiBock, Penn Pils, Sly Fox O'Reilly's Stout, Yeungling, Marzoni's Blueberry Bock and the Jean Bonnet Forbes Trail Pale Ale; a house beer made by Marzoni's ), plus a few out of state micros (Bells Two Hearted Ale, DogFishHead Festina Peche) and a few macros. Also, upwards of a dozen bottles of malto, macro, & N/A, a single can (Sly Fox Phoenix Pale Ale), a dozen wines by the bottle & a half dozen by the glass.
Pints cost between $3 for the macros and $5.50 on the high end. I started with the East End Hefe and migrated to the Two Hearted times two. Next time out, I had the Erie Railbender & Victory Wild Devil, and the time after that, I started with the East End Big Hop Harvest Ale and moved back to the Two Hearted. Beer is fresh, they turn it over well, and they offer good selections.
Food's been excellent, served on period pewter plates, and the servers polite, attentive and engaging, and they let me try bits of things. Comfortable house, good tunes, and a great beer selection representing PA well.
4,970 characters
4.33
/5
rDev
+1.6%
vibe: 4.5 | quality: 4.5 | service: 4 | selection: 4.5 | food: 4
Stopped by for lunch and a couple of pints on a Saturday afternoon.
Atmosphere: Old time tavern with lots of wood and colonial décor. Very charming and warming, I could easily enjoy sitting here all afternoon.
Selection is very good. 20 Taps with mostly Micros. Emphasis is heavily from PA, which is a good thing! Troegs, Marzoni's, Victory, Weyerbacher, East End, Erie, Penn and Sly Fox. 2 of the most interesting beers were from Weyerbacher and Marzoni's. The Weyerbacher was one of their one off beers called "Bravo". Very tasty and extremely malty but not sweet at all. More of a dry malt. Marzoni's was an excellent hoppy Saison. I really believe Marzoni's beer is underrated and wish the Restaurant in Pittsburgh did not close.
Service was good. Samples were freely available.
Food was very good and reasonably priced. Had a Bison Burger, cooked just right and pretty tender for Buffalo. My wife had the Oyster sandwich. We both enjoyed our lunches.
Also they sell growlers to go. Price was $3 for the growler. Price of the fill was dependant upon the beer.
I have been here several times and always make the stop when I am passing thru on the PA Pike.
1,167 characters

4.06
/5
rDev
-4.7%
vibe: 4.5 | quality: 4 | service: 4 | selection: 4
Located at the intersection of PA-31 and Rt. 30, between Bedford and Shellsville, lies this pre-colonial homestead that while not only acting as a restaurant, bed & breakfast, and gift shop, also has a pretty darn nice tavern upstairs. The tavern's atmosphere is a mix of old and new. Wood rafters and stone walls meld with a modern era bar and other accoutrements to make for a historic yet comfortable vibe. Plus it's pretty cool to sit at the bar and peruse their book on the buildings ghostly history while sipping on a beer.
They have a very nice tap list here with 12 being craft and 5 being macros. We were pleasantly surprised to find that the micro list was a fantastic mix of PA breweries, from the likes of Penn, Erie, Troegs, Lancaster, Victory, Weyerbacher, Yards, and Straub. They also had a few micro bottles, including a 2003 World Wide Stout. Prices seemed fairly reasonable with most pints being $4-5 and the Straub being $2.25. Service from our bartender was fine and although we didn't eat, the food menu looked very good, so that will be something to look forward to on our next visit. This was a really interesting place to check out on the last stop of our recent trip out to Pittsburgh and one that we look forward to visiting again.
1,259 characters
4.38
/5
rDev
+2.8%
vibe: 4.5 | quality: 4.5 | service: 4 | selection: 4.5 | food: 4.5
Located at the intersection of routes 30 and 31 in Bedford, visible from the turnpike. Old colonial atmosphere which is very inviting and warm. Large fireplace that operates in the winter time....very warm, even from a distance. Staff is very friendly, and very knowledgable of the menu. Menu consists of various regional favorites such as crab, and a few different kinds of fish, with great chicken and beef as well....crab cakes kick serious ass!! The beer selection is the main reason I come....usually 14-16 taps, with most of them coming from PA. Typically, they have brews from Troegs, Stoudts, Victory, Yards, Lancaster, East End, Erie, DFH, Marzoni, Penn, and usually one or two from a little farther away, like Bell's, or Stone. Pints are between $3.50 and $4.50, with the BMC stuff at $2.25. Bartenders are very knowledgable about what they're serving, and very friendly. Great place!
894 characters
4.45
/5
rDev
+4.5%
vibe: 4.5 | quality: 4.5 | service: 4.5 | selection: 4.5 | food: 4
A colonial era tavern right on RT 30. 18 taps featuring Erie, Yards, Troegs, Dogfish Head, Bell's, Yuengling, Guinness and more. Some interesting bottles also. Most pints in the 4.50-6.00 $ range with the Yuengling about half of that. Atmosphere is old, large stone fireplace, wooden floors, but it is well maintained and very clean. Sandwiched were all in the 7$ range but very well made and tasty. Would recommend a stop for the history itself and if you add the great beer they have, don't miss this place.
509 characters
4.2
/5
rDev
-1.4%
vibe: 5 | quality: 3.5 | service: 5 | selection: 4 | food: 4
I stayed here for a family reunion in Berlin, Pa.
Atmosphere: A great rural atmosphere, both the bar and the inn. Apparently the place is haunted (I had on run in with a ghost, but that's another story).
Quality: Besides the fact that the place looks on the inside like a drunken farmer built it, nothing fell or broke, and it certainly did add to the atmosphere. All said and done, the place was clean and nice.
Service: The wait staff was very nice and the bartender was great. An employee backed into my car while I was drinking (at the bar) and came up to me right away and confessed, very responsible and curtious staff.
Selection: For the area (actually for most bars) they had a great selection. I didn't see many if any of their 10-15 taps having AMC.
Food: The food was awsome, if you hit this palce up, make sure you eat too.
Value: Very reasonable, beers ranged from one at $2.75 up to $12.00, but most were around $4.00 - $5.50.
Don't drink and review.
971 characters

4.05
/5
rDev
-4.9%
vibe: 4.5 | quality: 4 | service: 4 | selection: 4 | food: 4
I try to visit here at least once month but don't always get a chance. This place is really great. The draft beer selection, which changes pretty regularly, usually features products from Victory, DFH, Bell's, Ston. Stoudt's, Erie, East End, Penn, Troeg's, Bar Harbor Blueberry (like a refreshing glass of cold juice on a hot summer day), Marzoni's (local BP) and recently have been carrying Anheiser Busch's seasonal craft beer offering. The atmosphere is terrific, the food is good and the staff is friendly and sometimes knowledgeable.
538 characters

4.22
/5
rDev
-0.9%
vibe: 4.5 | quality: 4 | service: 4.5 | selection: 4 | food: 4.5
What a surpise this place was. I have visited a few times over the last 3 years or so as my wife's grandmother lives in Bedford and this is her favorite restaurant. I found out on our first visit that they have a very nice craft beer list and it is mainly PA and regional. We just visited over the weekend and they had a few offerings from Erie, Troeg's, Victory, DFH (including some vintage WWS from 2003 and 2004). The prices are very reasonable as well. The food is alo very good here. They always have good specials that tend to be seafood based but they also have good chicken and beef dishes. Definitely give it a try if you are passing near Bedford in the PA turnpike.
675 characters
4.6
/5
rDev
+8%
vibe: 5 | quality: 4.5 | service: 5 | selection: 4 | food: 5
Thanks to Beerfly, what could have been a mundane dinner at some diner in Bedford turned into a great time. The Jean Bonnet is a 1700s inn on colonial American roads leading to the frontier. The place is an historic landmark that offers fine dining, a pleasant tavern, and a few rooms upstairs.
We arrived at 5:00 PM on a Friday to an empty tavern, which always worries me about what the quality of the place might really be, but we were just early and in time for the happy hour specials. All PA beers were a dollar off, which meant that I could get a 12-ounce Troegs Naked Elf for $2.50. The tavern had about 12 taps and one handpump, which, unfortunately, was not in operation. The taps are primarily dedicated to PA beers but there were a couple from Otter Creek and one or two macros. There was a nice selection of middle and western PA beers, including Erie, Marzoni (Altoona), Troegs, and Johnstown Brewing. The coming beers included a couple from Applachian Brewing and even one from Bell's.
The tavern has been refurbished but many of the old tavern's warmth remains. The crowd was friendly, and the servers were friendly and efficient, even the barmaid-in-training.
The food ran the gamut from bar food type appetizers to a grilled Ahi tuna appetizer. Other appetizers included three very good soups and a number of salads that could also serve as entrees. There were various sandwiches, including a ham and swiss pretzel melt that was fantastic. Entrees included filet mignon with various toppings, a couple veal dishes, lamb chops, osso buco, roast duck, a couple fish dishes, and a couple shrimp dishes. Everything that we tried was well prepared. Prices ranged from $12.50 to $25.
The only real problem I had with the tavern was a very lackluster bottle menu. There was nothing but a couple Yuenglings and some macros on it. This is the kind of place, though, that you can take your mother to either the tavern or the dining room. There was also a large patio for outside dining. It looked nice, and there were plenty of waiters and waitresses around to handle the business.I highly recommed the Jean Bonnett, and when I'm back in the area, I will definitely return.
2,192 characters
4.43
/5
rDev
+4%
vibe: 5 | quality: 4.5 | service: 4 | selection: 4.5 | food: 4.5
I haven't been to this place in years and was looking forward to another visit to verify the good words on Beerfly. Jean Bonnet exceeded my expectations. Atmosphere is a given, the place looks like it hasn't changed in 200 years. This isn't Disney this is real and you feel as though you've walked into a roadside tavern with exceptional colonial ambiance. A stone walled dining room with period furniture lit with candles invites you to stay and try the wares.
This is when it gets even better. The draft list is worthy of a Beer Advocate. To have this selection out in the country is phenomenal. Bell's Kalamazoo Stout was on tap along with some Marzoni's from up in Holidaysburg, some Victory as in Storm King, Dogfish Head's Chicory Stout, a bunch of Troegs, you get the picture.
Our food was outstanding, the liver and onions, crabcake sandwich and French dip hoagie were all tasty and well made. Service was efficient and unobtrusive. This is worth a stand alone trip, and I'll definitely get off Route 30 and head here on any future travels.
1,054 characters
4.2
/5
rDev
-1.4%
vibe: 4.5 | quality: 4.5 | service: 4.5 | selection: 3.5 | food: 4
I have traveled through Bedford at least once a year for the past few years and I cannot beleive that I have never stopped at this gem of a tavern before! The tavern is on the National Register of Historic Places, and was built in the 1760's. It also serves a bed and breakfast. The current owners purchased it about 6 years ago, and I had a chance to talk with one of them during my visit. The appreciation for and dedication to craft brews is readily apparent, and while they don't have a great number of taps like some of the big city bars ( I can't remember the exact number, but I would guess around 12 to 15), they have done an excellent job of putting the best quality products on from regional brewers. With the exception of Guiness, all of the taps were from Mid-Atlantic breweries, and most were from PA breweries. Yards, Troegs, Victory, Erie, Stoudts, and Dogfish Head were all there. I love that philosophy. The atmosphere is what you would expect from an 18th century tavern - rustic and charming with a fire burning in the huge fireplace. The food was fantastic - we had a party of over twenty people and I did not hear one negative comment. My Chicken sandwich was one of the best I'd had in a long time - fresh grilled breast on a delicious roll. The service was top quality - friendly, attentive, and knowledgeable about the beers. I give this Tavern my highest recommendation.
1,395 characters
4.33
/5
rDev
+1.6%
vibe: 4.5 | quality: 4.5 | service: 4.5 | selection: 4 | food: 4
A must stop for any craftbrew lover visiting central PA! The atmosphere is right out of colonial times and the beer selection is top notch. The owners try to feature PA microbrews along with other hard to find (at least in this part of PA) offerings like Stone's and Bell's. The service is always friendly and accomodating. The food is hearty and delicious. Check out their website www.jeanbonnettavern.com for an insight into the history of the tavern and a list of food and taps. Give 'em try when you're here in lovely central PA!
533 characters
Jean Bonnet Tavern in Bedford, PA
Place rating:
4.26
out of
5
with
23
ratings