Beveridge Place Pub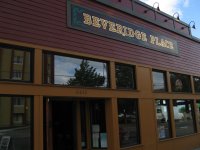 PLACE INFO
Type:
Bar, Eatery
6413 California Ave SW
Seattle
,
Washington
, 98136-1831
United States
(206) 932-9906 |
map
beveridgeplacepub.com
Notes:
No notes at this time.
Added by sinkman
Reviews: 20 | Ratings: 37

4.28
/5
rDev
-1.8%
vibe: 4.5 | quality: 4.25 | service: 4.25 | selection: 4.25
I stopped in at Beveridge Place Pub last weekend and I really like the place. It is exactly what I want in a pub -- welcoming and warm, with a living-room-type environment, couches and books and comfy chairs everywhere. The beer list ain't half bad either, with maybe thirty taps and a good selection of beer among them (plus some ciders). This is a great place with a wonderful atmosphere that I will definitely be returning to; I just wish it were a little bit closer to my home.
484 characters
4.28
/5
rDev
-1.8%
vibe: 4 | quality: 4 | service: 4.5 | selection: 4.5
This is a great pub in West Seattle. They have about 15 different beers on tap and they seem to rotate beers in and out on a fairly regular basis. They seem to have a good selection of bottled beers but I typically order from the taps. They also make a good effort to serve each beer in it's proper glass which is a nice change of pace from the standard pint. The bar staff is friendly and generally knowledgeable about the beers they have on tap and (depending on who's working the bar) beer in general. The space itself is divided into two sections. The front room where the bar is located is a quieter section for meeting friends and talking. The bar itself is actually an old bowling lane which I found clever. They have a wide selection of board games for entertainment purposes as well. The back room contains a few pool tables, a foosball table, 3 dart boards, several pinball machines and video games, and a big screen TV. The back section is also home to a jukebox with a very eclectic music selection. Because of all these things the back room tends to be a little louder. They do not serve food here but have no problems with you bringing in your own food and eating it there. All in all this is a great place for anyone who enjoys a good beer. Stop by if you're in the neighborhood.
1,294 characters
4.28
/5
rDev
-1.8%
vibe: 3.75 | quality: 4.75 | service: 4 | selection: 4.25
I finally made my first visit to this bar that I've heard so much about, for so long. The first room you enter has the bar along the back wall, with seating between the door and the bar. A lot of of the seating is in the form of couches, which I'm not a fan of, too coffee-shopish. There is a stand up bar to drink at however.
There is a nice, wide selection of rotating taps behind the bar, and you will have no trouble finding several tasty options to scratch whatever beer itch you have. Once you have a lovely beveridge, turn to the right, and enter the second room, which has more a traditional pub feel to it. Beyond that is a small outdoor patio, which I suspect fills up quickly on nice days.
They don't serve food at BPP, but they do have a three ring binder full of menus from neighborhood restaurants, and you'll surely find something to go with your brew. The bartenders are quick, efficient, and friendly. The day we visited they were having one of their occasional "Iron Brewer" showdowns. A pair of breweries is given a couple of secret ingredients that they have to use in a brew. There are three pairs facing off against each other. You buy a six sample flight, and are given ballots. You choose your favorite from each pair, then the votes are tallied up, and the 3 winners are invited back to defend their crowns next time. Pretty fun!
The prices were pretty typical for a big city bar, with pints generally in the $4-6 range. Overall, a great bar, and a must hit when you visit Seattle.
1,510 characters
4.3
/5
rDev
-1.4%
vibe: 4 | quality: 4.5 | service: 4 | selection: 4.5
Is that a man attached to that dog leash or a dog attached to that man leash?
Walking in through one of three entrances offer a different view. From the back you can see multiple pool tables, dart boards, pinball tables, and lastly the big screen all spread amongst a few tables.
In the "front" you see a welcoming bar, facing several tables and a couple of couches. The taps are usually pretty consistent from week to week, with the exception of a few guests. Bottles are available for both in-house consumption and to go.
If you want food, they have several menus to offer, from other places as they have you no kitchen.
With several casks per month, there is always something for you. So stop by the unassuming, obscure, dog friendly location and join me for a pint.
Cheers
784 characters
4.5
/5
rDev
+3.2%
vibe: 4.5 | quality: 4.5 | service: 4.5 | selection: 4.5
Wow. I'd go so far as to call this an essential location for a Seattle beer trip.
There's an excellent selection of West Coast brews available and a pretty impressive bottle list (Older Viscosity, anyone?) some in different vintages. If that wasn't enough, these guys seriously care about beer. I happened to come on a Thursday during a brewer's event and the featured brewer was Mt. Snipes Brewing from Sunnyside, WA. I'm not calling it the absolute best brewery but they had some great stuff on tap including a Bourbon Barrel aged Porter which was seriously like a delicious vanilla latte of a beer. I haven't been able to travel outside of Seattle and I hadn't seen any of this brewery's stuff inside the city so it was great to be able to try some of these things that you truly can't get anywhere else.
In addition, the atmosphere is just awesome. The first room looks like some old brewing fanatic's personal library with plenty of couches, seating, books, games, etc. They even let you order in food so you can enjoy you preferred scarf material with some great beers. In case you need your sports fix the next room over is kind of like a mini sports bar. I love the separation of the two spaces as it can be annoying trying to enjoy a few beers in between guys trying to get tanked every time the Vikings (don't) score a touchdown.
The selection is good, the prices are great and with events like Samuel Smith serving Sting and Orval autographed beer night, it's hard to not have this around the top of your list for Seattle beer locations.
1,552 characters
4.56
/5
rDev
+4.6%
vibe: 5 | quality: 4.5 | service: 4.5 | selection: 4.5
A: Been here alot and really likt it. Relaxed, nice crowd who loves beer. Friendly people. Cozy, couches, tables, decent bar size and a outdoor patio
S: The majority of staff is nice, some know beer and some don't. Never had any service issues. Most tend to be very friendly and talkative.
S: Great selection of brews year round. Always have rotating taps that are amongst the finest. No food is the only downfall but I would order in or go down Cali and hit Elliott Bay for some food.
F: No food but you can bring and order food in
537 characters

4.59
/5
rDev
+5.3%
vibe: 5 | quality: 5 | service: 4 | selection: 4.5
Located in West Seattle just down the street from Elliott Bay Brewing, I visited the Beveridge Place while vacationing in Seattle. I just happened to stop by on the first day of their recent nine day Barleywine Bacchanal, and my time here was one of the highlights of my trip. They had barleywine after barleywine after barleywine on draft...around 20 total, I believe. I limited myself to six 3 oz samples and left wishing I had more time to spend exploring. Finding a SINGLE barleywine on draft is nearly impossible in Oklahoma. The bottled list was extensive and inviting as well, but we, along the the vast majority of the others there, stuck to the barleywines.
The atmosphere was amazingly comfortable. We spent our time on one of the couches and probably could've been there all day if it wasn't for other obligations. Granted it was 3-4 in the afternoon, but we found it relaxing and a great place to just sit back and enjoy.
Visiting this bar will be top priority if I'm ever in Seattle again. I'd be a regular if I was a local.
1,044 characters
4.64
/5
rDev
+6.4%
vibe: 4.5 | quality: 4.5 | service: 5 | selection: 4.5
Great pub a little off the beaten path in West Seattle. I really like this place. Unlike many pubs in the PNW, this place is really welcoming to outsiders- I don't at all get the vibe of annoyance frrom the pourers and servers when they have to break away from conversation with the regulars to serve you. Super friendly people who know beer. Great atmosphere as well. Two rooms here, the one in the front is a comfortable tradiional pub with small tables, sofas, a fireplace, a nice bar, lots of wood. Very comfortable, and no tvs or any other distractions from the beer. The room in back has games, pool tables, big screen tvs with the games on and another bar that primarily serves scotch and other liquor. Really the best of both worlds- a great pub experience up front and a great game day experience in the back. The beer we sampled was top quality from clean lines. Nice selection on draft as well- we were there during their IPA fest, which was mostly local IPAs on tap, some quite rare, others barrel aged. There were also nice standbyes like Obsidian stout on Nitro-tap. First time I'd been here and really one of the nicest spots in Seattle for a beer. You owe it to yoursel to give it a try when in town- or to make the trek to West Seattle if you live elsewhere in the city and haven't been.
1,304 characters
4.72
/5
rDev
+8.3%
vibe: 5 | quality: 5 | service: 4.5 | selection: 4.5
I truly wish this place was closer to home, but at leasts it's a direct hour long bus ride.
First off the beer list is top notch. They may not have the widest array of taps in Seattle but there's nothing but quality. They're pretty busy so the selection seems to always be different except for 3-4 "staples." The bottle selection is also very interesting. Some aged barleywines, good Belgians and other interesting things. Bottles of the really good stuff are kind of pricey but not by any means outrageous. Older vintage barleywines may set you back quite a bit, and they should.
The atmosphere is really two bars in one. The front room has a great wood bar back with a bartop that used to be a bowling lane. There are several tables and a couch area too. There are no TVs in this room which is a big deal for some people. The back room has TVs and pool tables and other tavern-type entertainments. It gets my 5 for atmosphere due to the two room set-up. There's a room that should work for anyone.
They have no food but there is no problem bringing in whatever you like. They have a couple menus behind the bar for local places that will deliver to them.
1,165 characters

4.78
/5
rDev
+9.6%
vibe: 4.5 | quality: 4.5 | service: 5 | selection: 5
Love the selection, the staff and the ability to enjoy a beer and "work" away from the office on a weekday afternoon. The only reason, I don't give it perfect 5's all around is the fact that they are pet friendly. Sorry, I'm just not a pet (dog, cats) person. I get it's West Seattle and everyone has a dog so I live it with in order to have great beer, wi-fi and close to work. Everyone I know loves this place and it's obvious why after you go for beer.
455 characters
Beveridge Place Pub in Seattle, WA
4.36
out of
5
based on
37
ratings.