Midway Mart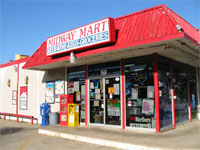 PLACE INFO
Type:
Store
406 W Hickory St
Denton
,
Texas
, 76201-9023
United States
(940) 387-5499 |
map
midwaymartdenton.com
Notes:
No notes at this time.
Added by BeerAdvocate
Reviews: 11 | Ratings: 18

4.43
/5
rDev
+6.5%
vibe: 3.25 | quality: 4.75 | service: 4.5 | selection: 4.5
I love Midway Mart! Such an unassuming little building I drove past it a million times and assumed that the selection couldn't possibly be very impressive. However, they have the best selection of just about any store in Denton. There is one clerk who is generally there and is friendly and can make good recommendations. Great little place, the epitome of Denton.
364 characters
4.5
/5
rDev
+8.2%
I went here based off of reviews while driving through Texas on my way back to Oklahoma. The place is truly an old gas station and I would have thought I was going in for a slim jim or two if I didn't read the reviews prior to my arrival. I wanted to buy some beers that I could not get in OK and was def not disappointed with the selection. While I could have bought way more than I did I feel as though I got pretty much everything that I wanted. Great Selection
468 characters
4.18
/5
rDev
+0.5%
vibe: 4 | quality: 4.5 | service: 3.5 | selection: 5 | food: 3
At first look, this place seems like a run down gas station in old Denton. It looks small, too. But when you get inside, there is a HUGE selection of beer. They do a great job in getting different types of beer (6-packs, 4-packs, bombers, you name it) and they even get the rare ones every so often. Nice people that work there as well, which is a big plus for me at least- but they don't all necessarily know their beer and kind of stay behind the counter.
If you're ever in Denton, make a stop here for beer. It's one of the best.
534 characters
4.64
/5
rDev
+11.5%
vibe: 4.5 | quality: 4.5 | service: 5 | selection: 4.5
Even though prices can be a bit steep for some of the brews, many are available here with very fair prices. If there are any beers that they do not have, they will try their hardest to special order them for you. Also, if you are a frequent shopper or show interest in specialty beers, they will text you when they receive new beers. I have even had beers especially put aside and saved for me until I returned back into town.
426 characters
4.23
/5
rDev
+1.7%
vibe: 4 | quality: 4.5 | service: 4 | selection: 4.25
I pretty much concur with everyone else's reviews. It's always a shock to see how much great beer is crammed into this tiny little gas station and I've often wondered if I would feel differently if the same inventory was spread out into a larger store. But that's really the charm of the place. Everything is refrigerated, and I've never had quality issues. Prices are not super cheap, but certainly reasonable. I always seem to be able to find something that I haven't had before. I'm very happy to have this as the closest quality beer store to my home!
555 characters
3.88
/5
rDev
-6.7%
vibe: 3 | quality: 4 | service: 4 | selection: 4
My friend Olga took me here and I was amazed at some of the more unusual imports and micros that I found in a non-descript Fina gas station. The who helped us and rang us up does the selection and buying for the store and says a lot of their inventory is a result of people's, both locals and students, requests. Prices seemed fair. All were available chilled and there were some brewerie's glassware available at good prices too. It was reasonably clean although I didn't use the bathroom. Beers had easy access. Typical gas station snacks. A good find!
554 characters
4.8
/5
rDev
+15.4%
Midway Mart is one of the best beer stores in Denton, and certainly the best near UNT and TWU.
The store sits right off the square in an unassuming gas station. It's hard to believe that it stocks so many varieties of beer. The first time I walked in, I was blown away. Great selection. The owners and workers at Midway Mart are extremely friendly and knowledgeable. They're always helpful in choosing a beer and finding beers. Any time I was looking for something they didn't stock, they wrote down what I was looking for and, within a few visits, they would have it.
Overall, a fantastic store.
598 characters
4.2
/5
rDev
+1%
Having recently moved to Denton, I had heard about this from friends who told me it was the best beer store in town. So one day I decided to drop in and see what was to be had... Aside from an inconvenient parking lot, I was very impressed!
They had a lot of things I hadn't heard of, and had most things that I expected to see. The prices were a little steep on some things, but as always I just look for things on sale to try and get a good deal. I grabbed a Samuel Smith sampler with Pint glass to fill out my collection, so thats always a plus.
Will definitely return here many times!
EDIT: Have re-visited many times since my original trip, and generally am impressed. The beer has always been quality and they have a nice rotating stock of specials. Also a selection of glassware, $3 each or 3 for $7 (I think).
821 characters
4
/5
rDev
-3.8%
A very out of the ordinary store that will surprise you with such a large selection. It is a small, small gas station that is a bit cramped for room, but it makes up for its in wonderful selection of brews. A very helpful staff that can usually make similar recommendations if asked, and can name any beer's place in any window or door. They have been known to order in whatever is possible when asked, though the last two I've requested have sold out before I returned to purchase.
Almost all new releases are there as soon as they can be, and the staff will inform you of upcoming brews as well. They also stock a nice selection of sampler packages with and without glassware, which is always interesting to browse.
There are usually a couple deep discounted brews on display or in the window for under a buck a beer too.
One of my favorite places to visit in town.
873 characters
4.3
/5
rDev
+3.4%
Midway Mart has become THE place for beer purchasing when I don't feel like cranking up the car. Very convenient at only a mile away from my home. In terms of service, I personally have not been that helped by the usual clerk, but the other day, I saw him conversing with other customers about the new winter seasonals that had just come in. On the subject of seasonals, I was very impressed that they had winter offerings from Great Divide, Pyramid, and several others. They even had Delirium Noel. As far as the entire selection goes, for a gas station, this place can't be beat. A little pricey, however.
Edit: Bumping up the rating of the service, as over the months, as I've come to chat with the usual clerk, he has been extremely helpful in letting me know what is available when. He will even order beer that is currently not in stock if I ask. Excellent service.
874 characters
3.1
/5
rDev
-25.5%
You have to be kidding me. You gotta love BA for coming up with a gas station that sells Arrogant Bastard. There's no way I would have gone into this place if it weren't for the previous reviewer. Gotta love BeerFly.
This is probably the best place from here to Dallas with a halfway decent single-bottle selection. Of course, don't expect a gas station employee to do anything other than look at you funny for buying a $5 magnum bottle of beer there. Of amusing note is the sign posted at the entrance (of all area gas stations) proclaiming it a crime to actually consume alcohol on the premeses. It actually takes the liberty of pointing out that this crime is a misdemeanor. Hmm. I'll bet my beer haul from there cost more than the ticket.
745 characters
Midway Mart in Denton, TX
4.16
out of
5
based on
18
ratings.