Endless Summer Ale
| Pisgah Brewing Co.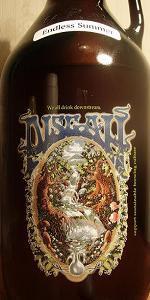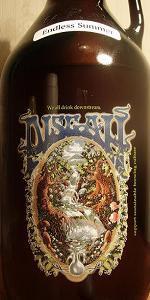 BEER INFO
Brewed by:
Pisgah Brewing Co.
North Carolina
,
United States
pisgahbrewing.com
Style:
American Blonde Ale
Alcohol by volume (ABV):
not listed
Availability:
Year-round
Notes / Commercial Description:
Now brewed year round for those longing for lighter beer and warmer weather, this Certified Organic Blonde Ale is made with the finest organic 2-row barley malt, whole leaf Mount Hood and Nugget hops, water and top fermenting ale yeast.
Added by mikesgroove on 06-25-2007
HISTOGRAM
Ratings: 35 | Reviews: 17
4.1
/5
rDev
+8.5%
look: 4 | smell: 4 | taste: 4 | feel: 4 | overall: 4.5
Picked up a growler from the source.
Pours a light gold color with a one-finger white head. The head recedes into a wispy layer on top leaving decent lacing.
Smells of sweet, slightly bready malts with floral hop aromas.
Tastes good. Biscuity malt flavors up front with a slight amount of floral-esque flavors that enter in midway through the sip. A small amount of spicy hop flavors pop up right before a slightly bitter ending.
Mouthfeel is good. There's a decent thickness with moderate carbonation.
Drinkability is good. I didn't have a problem finishing my glass and had a few more.
Overall this is a solid American Blonde that I could enjoy over a good amount of time. Worth a shot.
694 characters
3.78
/5
rDev 0%
look: 4 | smell: 3.5 | taste: 3.5 | feel: 4 | overall: 4.5
Pisgah's Endless Summer is one I've consciously avoided every single time I've encountered it. Why? Because it's a blonde ale, and if I'm going to partake of alcohol it's going to be something interesting, flavorful, and satisfying; otherwise, I'll drink water (which is healthier, anyway). So, a friend of mine visits Asheville, I give her $40 to pick up some interesting beers for me from local brewer, and she brings back a whole set of Pisgah products, most of which I've enjoyed with the exception of Endless Summer. Now's my chance:
Kolsch-like it certainly is, with the light yellow hue and a near-white head that lingers for some time. The nose is light, with bready malts and just a touch of sweetness cutting through. A bit of spiciness is noticeable, but it certainly doesn't dominate. The flavor is also light, but with a good bit of pale malt flavor. There is a mild spiciness to the front, and the finish is very biscuity, with a nice, lingering aftertaste. Almost no hop bitterness is present, and only a subtle yeast flavor comes through in the dry finish. It's a little over carbonated for my taste, but the texture makes it easy to drink. Enjoy!
1,164 characters
4.19
/5
rDev
+10.8%
look: 3.5 | smell: 4.5 | taste: 4 | feel: 3 | overall: 5
Pours a pale straw color, nearly golden, very clear with just a little chill haze. Pours with a very thin head, loose bubbles, and it all clears quickly with minimal lacing. The smell is of faintly sweet malts, a little hint of commercial apple juice, a tiny tanginess, with just a bit of a hop presence, herbal, faintly citrusy and resinousy. You aren't supposed to be overwhelmed by this style, but this one does a bit more than I'd expect. The taste is crisp, starts sweet, with light maltiness, then an spicy sort of minty hop flavor in the middle, with a dry finish. Kind of tart and grainy, with a hint of fruitiness. Just what I'd expect. The carbonation is just a bit prickly, it isn't the fullest, but what should expect. You actually get a faint feeling from the resinous hops. This one goes down smoothly, with the only turn-off being the carbonation. I would recommend it to anyone looking for something to drink for a long session.
944 characters

2.9
/5
rDev
-23.3%
look: 3 | smell: 3 | taste: 3 | feel: 3 | overall: 2.5
On tap at Tupelo Honey Cafe in Asheville, NC
Appearance: Pours light golden, a little haze and lacing.
Smell: Hops, grass, and faint citrus
Taste: Harsh hops & oxidation.
Mouthfeel: Light body, appropriate for summer
Drinkability: Not too impressed with the hops, won't be having it again.
294 characters
4
/5
rDev
+5.8%
look: 4 | smell: 4 | taste: 4 | feel: 4 | overall: 4
A growler labelled Endless Summer. Thanks to Deuane for bringing this one back from NC.
A: The ale has a pale, sickly yellow color to it, a dead ringer for fizzy BMC. The growler poured off a nice sized white head.
S: The nose is grassy with hops and dry with grainy malts. The hops are strong enough that I thought the beer was a kölsch.
T: The ale is refreshing, a nice summer quaffer. The hops have an earthy grassy flavor, present but not too strong. Underlying the hops are grainy malts that have a green fruit flavor. Non-hop citrus flavors are also evident.
M: The mouthfeel is very dry, enough to make you want another sip. The flavors are mild and the ale is quite obviously light.
D: Very quaffable, the ale is a nice end-of-summer drink. I've had Pisgah's big beers and it's good to have one of their small offerings.
834 characters
4.1
/5
rDev
+8.5%
look: 4 | smell: 4 | taste: 4 | feel: 4 | overall: 4.5
Via growler pour on 9/23/08. Thanks to Deuane for sharing this with us!
A - Pale golden body with a slight haze and two fingers of fluffy, white head that settled into a ring of retention and left tons of lacing all the way down the glass. Moderate carbonation.
S - Crisp, hoppy nose akin to a pils with a grassy and earthy character, as well as a touch of lemon rind. A biscuity malt aspect rounds out the aroma.
T - Like the aroma, the flavor is grassy hops, lemon rind and a bready/biscuity maltiness in the backend. Nice bitter hop bite in the finish.
M - Light bodied with a smooth, watery texture and moderate carbonation. This ale has a crisp, clean finish reminiscent of a pilsner or kolsch.
D - Wonderfully sessionable ale with a nice hop character. My first sampling from Pisgah!
795 characters

3.93
/5
rDev
+4%
look: 4 | smell: 3.5 | taste: 4 | feel: 3.5 | overall: 4.5
Picked this growler up at Greenlife in Asheville.
Pours a light golden yellow color with a slight chill haze to it. about a fingers worth of white head that has good retention. Some light lacing is left behind.
The aroma is somewhat faint but I notice some bready yeast and light hops. Light smell for a light beer, I guess.
The flavor is light, also. The hops shine past the bready yeast flavors in the form of light, sharp citrus flavors. Pretty darn refreshing while sweating over the grill.
Mouthfeel is light and thin. Carbonation is very active, also. Slow pour is key here. This growler disappeared rather quickly. Great beer for a warm summer day.
659 characters
4
/5
rDev
+5.8%
look: 4.5 | smell: 4.5 | taste: 3.5 | feel: 3.5 | overall: 4.5
Now know as "Endless Summer". Got this one in a growler from Brusin' Ales in Asheville.
A: Poured a light golden color almost a transparent yellow. Nice head retention lasted pretty much the whole glass' worth.
S: Strong smell of malt and Honey although it doesnt say honey was used. Light hop aroma as well.
T: Taster great good use of hops to balance out malt flavor. Hops are not incredible pronounced
MF: Great feel nice and smooth.
D: Fantastic drinkability. I drank the whole growler with my girlfriend in a matter of three hours. Would def have again. More so in the warmer months though.
601 characters
3.98
/5
rDev
+5.3%
look: 4 | smell: 3.5 | taste: 4 | feel: 4 | overall: 4.5
Appearance: Pours a light golden color with a decent head that leaves some lacing
Smell: Bready aroma with a modest but discernable hop presence
Taste: Light and bready up front but the hops clearly come through on the finish
Mouthfeel: Light bodied and robustly carbonated
Drinkability: While I am not a big fan of American Blonde Ales I was very pleasantly surprised at this one; nicely balanced and well worth drinking on a hot day
446 characters
3.85
/5
rDev
+1.9%
look: 3.5 | smell: 3.5 | taste: 4 | feel: 4 | overall: 4
Poured a very light golden yellow with a nice white frothy head that faded quickly leaving behind a decent, but shortlived lace ring. Smell was lively, lots of yeast was present even in the aroma, and it was very light. Bread and earthy grains were the predominant aromas. Taste was crisp, light and refreshing, perfect for a summer day. Very smooth and full of bready and earthy grain tones, with a slight hop presence as it warmed. Overall this was excellent for exactly what it was a great summer ale. Would love to see this bottled so I could throw down a few while I ride the lawn mover!
592 characters
Endless Summer Ale from Pisgah Brewing Co.
Beer rating:
3.78
out of
5
with
35
ratings