Pisgah Valdez
| Pisgah Brewing Co.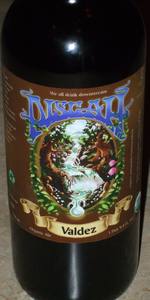 BEER INFO
Brewed by:
Pisgah Brewing Co.
North Carolina
,
United States
pisgahbrewing.com
Style:
American Stout
Alcohol by volume (ABV):
6.20%
Availability:
Rotating
Notes / Commercial Description:
This robust Coffee Stout is a mouthful of flavor! A dark, roasty grain bill stands as the backdrop for a galaxy of coffee aroma and flavor, made possible by local organic bean roasters Dynamite Roastery. A Pisgah fan favorite, Valdez is brewed bi-annually and never lasts as long as the flavor.
Added by MuenchenerKindl on 11-24-2007
Reviews: 205 | Ratings: 374

4.97
/5
rDev
+19.8%
look: 4.5 | smell: 5 | taste: 5 | feel: 5 | overall: 5
I received a growler of this beer in the "February Growling at the Moon" exchange from mikesgroove. This was my first month in the exchange and all I can say is I hope every month's beer is this good, but it will certainly be hard to top!!
A - Dark brown to black. When held to the light....nothing at all shines through. There was not much head even after an aggressive pour. I'm assuming it may be because it is from the growler that was a few days old. The small head that did form lasted a very short period and there really was not much lacing as I drank.
S - Since I'm a coffee lover the smell was fantastic. There is not much else to the smell besides coffee, but again it was great to me.
T - Coffee through and through. As an earlier review mentioned, it was like a thick cup of coffee. I almost couldn't tell that it was a beer.
M - It was smooth, creamy, and full but not too full or syrupy. Carbonation just tickled tongue enough - that's what made me remember it was beer not coffee.
D - I cannot begin to explain how much I loved this beer. I could drink it in the morning (which I did since I had a snow day today), or drink at night (which I did immediately after I received it), or drink it all day long (I can only hope I can do that sometime down the road).
As others have mentioned I am a coffee lover too. Just a warning if you are not a coffee lover this beer may not be for you. Overall it is just a well crafted beer.
This is the first offering I had from Pisgah. I can only hope I can get my hands on some more of their stuff, along with more of the Valdez!! Thanks again for spreading the Pisgah love mikesgroove.
★
1,647 characters
4.13
/5
rDev
-0.5%
look: 4 | smell: 3.5 | taste: 4.5 | feel: 4.5 | overall: 4
A dear friend of mine picked up a growler of Valdez while visiting the brewery two weeks ago. She raved about it, and although my curiosity was roused I put it aside until I had time to drink and think. It was well worth it! This may be the best coffee stout I've ever had.
The growler made a dynamic "poof" as I turned the cap. It poured pitch black into my Pisgah pint glass (also provided by my dear friend). The one-finger head was beautiful; it was dark brown and very dense. One deep inhalation picks up aromas of freshly ground coffee beans and dark, dark malts. There's also an extremely mild fruity ester present, but it takes a very deep sniff to detect it. Flavors of espresso attack the tongue with the first mouthful. The aforementioned sweetness is there as well, but it soon dissipates into a nice, mellow dark coffee center. The finish is a bit hoppy, which balances well with the other flavors. What I really appreciate is the decent malt backbone this version of the coffee stout has; I had another local version of this style just a few weeks ago, and, although it was quite nice, there was too much coffee and not enough balancing malts. This is a far cry better. Well done, Pisgah! I hope to drop by and refill my growler soon!
★
1,249 characters
5
/5
rDev
+20.5%
look: 5 | smell: 5 | taste: 5 | feel: 5 | overall: 5
THIS IS THE BEER FOR COFFEE LOVERS!!!
Pitch black in color. Large brown head with some pink and ruby colors in it. Best head on a beer that I've ever seen. Head recedes and holds at a solid finger in height. Lot's of lacing cakes the glass.
WOW!!! What an aroma. The moment the cap is popped off of the growler, the aroma of fresh ground coffee beans fills the room. Rich dark French Roasted coffee and nothing but coffee.
This beer is totolly single minded and unbalanced, and I love it. Flavor burst of rich dark coffee. This is better than most coffees I've had. Maybe some oatmeal in the finish but it has a hard time shinning through all of the coffee flavors.
Mouthfeel is smooth and yummy. I origionally gave this a 4.5 in mouthfeel as I've never given a beer all 5's because I believe all beers can improve. But I couldn't find any fought in the mouthfeel so it gets a 5 too.
Drinkability? I had it as a nightcap last night and am pouring another pint for breakfest. Pisgah...please put this beer in IV form and run a line right to my veins. Ok, you can't do that. The least you could do is make this your next bottled offering.
★
1,136 characters
4.8
/5
rDev
+15.7%
look: 4.5 | smell: 4.5 | taste: 5 | feel: 4.5 | overall: 5
Before I start, let me tell you that I do love coffee.
Pours near black with ruby edges and a nice tan head that caps it off and remains for a good while, leaving a good ring with light lacing down the glass. Smell is heavenly. The most fresh coffee I've ever smelled in a beer, as if it were just ground. Good and roasted with a grainy scent. Taste might have just one-upped Breakfast Stout. First it's dark, roasted coffee grounds. Very fresh and tasty, exploding on tongue. It seems too intense until a creamy sensation comes to rescue. Some vanilla and light oats with milky chocolate. It's like I was drinking some black coffee and all the sudden the beer knew I liked a little cream and sugar, brilliant! Mouthfeel is pushing full and I'm not sure this is big enough to qualify as a Double/Imperial Stout but it's excellent. Velvety and creamy for the most part with a slight roast bitterness in there. I had three pints from the growler without even thinking twice...that's when I realized that this might be my new favorite coffee stout.
I think this is actually considered an American Stout and if so it would get a perfect score in my book.
★
1,152 characters
4.37
/5
rDev
+5.3%
look: 4 | smell: 4.5 | taste: 4.5 | feel: 4.5 | overall: 4
Poured from the tap at Barley's Taproom in Asheville, NC to a pint glass. The liquid is a dark brown to black with good carbonation. The head was a big 2+ fingers but our bar tender toped it off to give a most generous pour. The head when delivered was 1 thick finger of off white creamy foam it had good retention and left good lace.
The smell was like Coffee in a nice stout. The medium roast coffee smell was great, melded with some classic stout aromas like chocolate and light char.
The taste followed well, big coffee flavor, this is easy in the top 5 coffee beers I have had. Must not have had too much alcohol as I had 2 pints and not a buzz, could be 5-6 %. That says something, 43 taps and I have 2 of the same. LOL Other flavors include mild char & light chocolate.
The mouthfeel was good, better then medium body, and nice carbonation.
The drinkability was great, I sampled 5-6 different brews before asking for another of this same. I was told the brewer only did 5 barrels, so if Coffee Stout is your thing get it while you can.
Prosit und Zum Wohl. MK
★
1,072 characters
Pisgah Valdez from Pisgah Brewing Co.
4.15
out of
5
based on
374
ratings.