Birra Moretti Grand Cru
| Birra Moretti (Heineken)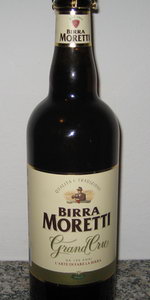 BEER INFO
Brewed by:
Birra Moretti (Heineken)
Italy
birramoretti.it
Style:
Belgian Pale Ale
Alcohol by volume (ABV):
6.80%
Availability:
Year-round
Notes / Commercial Description:
No notes at this time.
Added by Suds on 05-29-2009
Reviews: 7 | Ratings: 25
3.59
/5
rDev
-0.3%
look: 3.75 | smell: 3.5 | taste: 3.5 | feel: 3.75 | overall: 3.75
75cl caged and corked brown bottle purchased from the local supermarket in Sorrento.
Pours a faintly hazed, natural looking pale honey colour, with a frothy head of white that lacks persistence. Lacing forms in streaky lots down the side of the glass though. Body has some heft. Overall, it looks pretty good.
Nose has some pleasant Belgian yeast characters to it, slight fruity esters and sharper phenolic characters. It lacks a bit of spice and a bit of complexity, but it's generally rounded and fragrant and quite consistent.
Taste also lacks a bit of complexity, but it takes on a bit of clove-like spice, and the extra kick of booze adds some depth to the palate. Rounded and smooth for the most part, with some fruit characters on the back, perhaps a little wild strawberry and green apple. It dries out nicely on the finish with a slight metallic aftertaste. Again, it's not mind-blowing stuff, but it's genuinely pretty solid.
Feel is pretty good. Rounded and full in the front, but with a lightness on the back.
Overall, I'm pretty happy with this. It's not going to blow your mind, but it's a very solidly made Belgian-style: rounder and richer, full but pretty easy to drink. Solid stuff.
1,205 characters
3.5
/5
rDev
-2.8%
look: 3.5 | smell: 3.5 | taste: 3.5 | feel: 3.5 | overall: 3.5
It's fruity. Saison like. Very effervescent..................................................................................................................
157 characters

3.31
/5
rDev
-8.1%
look: 4 | smell: 3 | taste: 3 | feel: 3.5 | overall: 4
This beer comes in a corked 750 ml bottle. It pours as a deep golden-amber color with a tall and quite stable white head. The aroma is dominated by bubblegum esters, followed by a little pale malt. There are some distant herbal hops in the smell, but they take a little searching to notice. The taste is a little fruity and peppery, but also somewhat restrained. A stronger flavor would have been better for the style. Malt, figs, yeast, and a little very lightly toasted malt flavor. The body is moderately full with a lively carbonation. The drinkability on this beer is quite good. Much better than Moretti's usual fare.
623 characters
4.32
/5
rDev
+20%
look: 4 | smell: 4.5 | taste: 4.5 | feel: 4 | overall: 4
Poured a hazy pale yellow, with a big fluffy, frothy white head. The body is a deep golden with some sediment. Aroma is yeasty, with a watercress, herbal hops, and spice smell. Taste is yeasty, sour, spicy, banana, lemon and a delicate bitter hop finish. A very Belgian taste for an Italian beer. Very enjoyable.
312 characters
3.28
/5
rDev
-8.9%
look: 3.5 | smell: 3 | taste: 3.5 | feel: 3.5 | overall: 3
An interesting take on a Belgian style beer, made by the Italians here. This beer is Gold, or amber in color and is very good. I am often intimidated by Grand Cru, or any beer kept in a 750ml with a cork, I have run into a few corked beers before, disgusting, trust me. However, this beer was very good.
303 characters
2.95
/5
rDev
-18.1%
look: 4 | smell: 2.75 | taste: 3 | feel: 3 | overall: 2.75
Forget the previous Gran Cru: the Moretti Gran Cru 2016 is complete new beer, brewed in Italy and not, as before by Affligem in Belgium, and this alone, is not, in any way, a good commercial policy. That said there is nothing 'gran' (great) in this beer. It has a nice amber color and a medium persistent foam. Smell is reminiscent of a standard supermarket lager: simple and without scent of fruit or spice. Maybe just a hint of yeast. Taste: no complexity . You can drink it has any italian 'doppio malto' ( strong beer). It's a decent beer with a well hidden 6.8 alcohol. I could buy it again, conscious of what I can expect,m.
633 characters
4.43
/5
rDev
+23.1%
look: 4.5 | smell: 4 | taste: 4.75 | feel: 4.5 | overall: 4.25
Grabbed one this evening as shown. I really liked lacqueredmouse's review on this. I knew I liked this beer a lot, and after reading all of your reviews (BA contributors) I see why. It does have some Belgian characteristics. Anyhow, I'm stationed in Sicily, and drink this beer often as it is fresh and one the very best Italy has to offer. Not sure how it fares after it's trip to the States...
395 characters
Birra Moretti Grand Cru from Birra Moretti (Heineken)
3.6
out of
5
based on
25
ratings.