San Pedro Brewing Company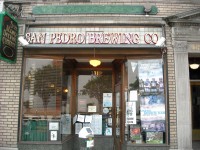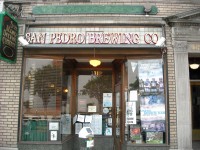 Brewery, Eatery
331 West Sixth Street
San Pedro
,
California
, 90731
United States
(310) 831-5663 |
map
sanpedrobrewing.com
Notes:
Reviews by TheLongBeachBum:
TheLongBeachBum from California
4
/5
rDev
+5.5%
vibe: 4 | quality: 4 | service: 4 | selection: 4 | food: 4
A quiet week at work meant that for once I could get out before 5pm and home in time to enjoy the evening. I had planned on heading over to San Pedro so many times but just never made it, and its only 8 or so miles away.
I took the relatively short drive over here with fellow BA Seagoat (Scott) and his better half Jess. Finding somewhere to tie-up the horses was reasonably easy at around 7:30pm, there seemed to be plenty of Street Parking and the Meters stop at 5pm I think.
From the outside SPBC has a rather unique frontage. Set around a central entrance that actually leads to a closed staircase which appears to lead to private accommodation, you could be forgiven for trying this door on your first visit like I did. To the right, a recessed frontage allows an outside drinking area which sits inside a covered alcove of sorts, this has a perimeter steel fence and gate that keeps the area clearly marked, no alcohol outside of here. The actual entrance is to the left and also set back in a recessed glass windowed frontage.
The rather unique exterior continues inside. A small rising tiled walkway runs to the right of a waist high diving wall. To the left are several tables neatly laid out. As the walkway rises it brings you up to the Bar area on your left, over which lots of UCLA Bruins material hangs. Once the central (private) staircase finishes the interior opens out to your right and to yet more seating all the way around to the outside drinking area. To the back is the Kitchen, Restrooms and access to a back room that houses a Pool Table and a handful of Video Game Machines. Close to this area is the small Stainless Steel Brewery. All the Ales & Lagers are brewed on their Czech made 10 Barrel System from the town of Pacov, a little over an hour north of Prague. Couldn't see where the fermentation vessels were though, maybe in the back where I didn't spend too much time.
Décor is quality but nicely worn in. Mosaic tiled floors, dark woods, old adverts, rowing oars from Oxford University, Cricket Bats, colored glass lamps and lots of old Black & White Photos of San Pedro that really add a lot of local atmosphere to this place. As well as all this, there are some old Brewery items and a lot of UCLA Bruins paraphernalia, the SPBC is advertised as Bruin owned and operated since 1999, so no surprises there then. The Popeye Arm lamps are very cool too!
Beer range is compact but varied; around 8 home brews plus 2 other taps for Guinness and Hornsby (I think) Apple Cider. The beers during our visit were Longshoreman Lager, Point Fermin Pale Ale, India Pale Ale, Angel's Gat Amber, Shanghai Red Ale, Harbor Hefeweizen, Chocolate Porter, and a seasonal Blitzen Strong Ale at 8.9%. A solid yet varied range with Seasonals for a reasonably small Brewery, so I went for a 4.0 here as I think they deserve it. The beers were all served in great condition and of reasonable standard, nothing earth shattering but all I tried were above average and way better than your usual Cali BeachBrewPub offerings.
Food is very good; lots of choice and a great selection from a Kitchen not shy for picking up awards. All at reasonable prices. I broke the habit of a lifetime and had the Cobb Salad, very tasty and fresh ...that's saying something when I admit to liking Salads!
TV's and background music add entertainment, but SPBC also host Bands and Live Music, I am planning on making my next visit coincide with such a night, check out the Website for up-to-date details of the acts.
Definitely recommended for a visit, I am kicking myself for not getting here sooner. This is definitely not another "XYZ" (enter SoCal Beach name) Beach Brewing Co. Overall, this place has a lot of atmosphere, character and is a really cool place to hang out and chill with good beer and great food. The locals were friendly except for the very noisy scary-looking rowdy Dockers drinking nearby, and they were all women - I jest not!!! Bar and waitstaff were extremely friendly also and very attentive, we even ended with a free Pint at the end of the night. I'll be back here for sure. In fact, after leaving here to try the nearby Whale and Ale, we stopped back in here for a nightcap.
Oh and keep an eye out for Ralphy too, he's usually running around late on.
Last Visit: Wednesday 28th December, 2005.
Dec 31, 2005
More User Reviews:

fthegiants from California
3.46
/5
rDev
-8.7%
vibe: 3.75 | quality: 3.5 | service: 3.5 | selection: 3.25 | food: 3.5
Jan 29, 2016

Drew_V_dt from California
3.61
/5
rDev
-4.7%
vibe: 3.75 | quality: 3.5 | service: 3.75 | selection: 3.5 | food: 3.75
Apr 29, 2015
clapsters from California
3.55
/5
rDev
-6.3%
vibe: 3.5 | quality: 3.25 | service: 3.75 | selection: 3.75 | food: 3.5
If your in the San Pedro, CA area an looking for a good beer joint this is the place. Food is good, and a few food selections you won't find on many other bar menu's. Only a mile or so from the ocean. The bigger draw is their award winning beer selection, both made on site, or features from local guest brew's. Rotating selection of seasonal brew's and the Bruin Blonde, Harbor Hefeweizen, Pedro Pilsner, and my personal favorite the Mai Bach.
Terry
Jul 17, 2013
LagerThanLife
4.25
/5
rDev
+12.1%
vibe: 3.5 | quality: 5 | service: 3.5 | selection: 4.5 | food: 4
I go here whenever I am in the area. the place is deceivingly spacious on the inside, lots of hidden nooks and crannies to hide out in. you can see the brew house from pretty much anywhere in the restaurant in case mid sip you wonder where your beer came from, it also shows that the beer is brewed on site in small batches.
food is standard pub fair(+), good diversity in menu, they do most everything I have tried to my satisfaction. My favorite is the buffalo chicken salad -- lots of blue cheese and crispy buffalo chicken, the hot cool contrast is killer and is great with a cold lager WHICH THEY DO WELL HERE.
the beer is great, as evidenced by the trophy case on the wall full of all the awards they have taken home over the last few years. I love their lagers (pilsner, helles, dark lagers) their brewer really mixes it up and keeps the taps seasonal and diverse. every time I go their is something new to try and the beer never disappoints.
as an added bonus the retired Battleship Iowa is newly arrived just down the coast from this place, I cant wait until it is open to the public, when i finally make it out to see the Iowa I will definitely be stopping off here after to see what is new on tap.
Jun 21, 2012
DoubleJ from Wisconsin
2.9
/5
rDev
-23.5%
vibe: 3.5 | quality: 2.5 | service: 2.5 | selection: 3.5 | food: 3
Speculation fueled the thought that this would be the main event on the road through San Pedro. Makes beer, reasonable marks on the beer, bar food, sure why not?
The interior is a mix of old and new. Old brick walls mix with the TV's around. Many of the tables were full and lively, making the half-empty bar look dead in comparison. But I still chose to sit at the bar, cuz I like my service quick.
How ironic I wrote that last sentence. I don't want to say that the bartender didn't care about me, but it seemed throughout my visit that checking on me for beer, food, or any additonal orders was not a top priority for her. And I only made an order for food and a sampler. Imagine If I had stayed for 5 pints....
6 different house beer were written on their chalkboard, though when I asked for their sampler (a good buy, six 5 ounce house beers at $7.50), I only received 5 house beers plus Stone IPA. Somebody erase that Spring Lager listing immediately! The five beers that were avaiable (Bruin Blonde, Port Town Pilsner, Harbor Hefeweizen, Shanghai Red, King's Blackout Lager) were drinkable, though not really high quality. Still, props for brewing a dark lager.
Let's have some traditonal beer food; bacon cheese covered fries. Overall, they were alright. Typical frozen steak fries covered in cheese, bacon bits out of a jar, and good green onions gave me a distraction from the beer. Burgers and sandwiches make much of the menu, although there are a few steak entrees.
I came into San Pedro Brewing thinking that this could be a potential darkhorse in the LA area. Instead, I got the opposite impression. This is not a place that I will fondly remember for those beer drinking moments.
Jun 01, 2012
fsimcox from Louisiana
3.58
/5
rDev
-5.5%
vibe: 3.5 | quality: 3.5 | service: 4 | selection: 3.5 | food: 3
Went in this place to watch football today.
They had about 8 different beers in tap. Beers included Longshoreman Lager, Chocolate Porter, an IPA, Bruin Blond, James Brown Ale, and a few others.
I had the Bruin Blond and the James Brown Ale. Both very good. The waitress was very quick, even thought the place was full of Raiders fans. In fact, I think the wife and I found the last open table in side.
Bar food was good, overall a good place for a beer and a football game.
I'll definitely ne back to try some of their other beers.
Dec 27, 2010

Dogbrick from Ohio
3.5
/5
rDev
-7.7%
vibe: 3.5 | quality: 3.5 | service: 3.5 | selection: 3.5
SPBC is located in San Pedro on 6th not too far off Harbor. Street parking is available on 6th, and there is a metered lot across the street.
The brewpub exterior features a nice front with big windows. Once inside, the bar is located on the left and table seating is on the right. Some of the brewing equipment is visible in the rear too. The decor features California-based sports teams, with UCLA being most prominent. The brick walls and tile ceiling try to counter some of the sports-bar stuff with a comfortable feel. A chalkboard lists what beers they have on tap.
As for the beers, there were 6 available and they have a 5-beer sampler option. The styles were fairly standard issue - Amber, Pale Lager, Blonde, APA, Brown, and a seasonal Oktoberfest. All of the beers are average or a little above.
Service was decent on an early afternoon. The bartenders were friendly although they didn't seem to be too interested in beer in general.
We did not try any food on the visit.
Overall this place is a worthwhile stop outside the immediate LA area.
Sep 29, 2010

Gobzilla from California
4
/5
rDev
+5.5%
vibe: 4 | quality: 4 | service: 4.5 | selection: 3.5
Made it down this Saturday while touring the breweries near the beach and was surprised that the place had a party atmospere for a brewery. I didn't get to try the food but the 7 house beers they had on tap were pretty decent. The maibock stood out to me the most out of all seven. The bartender was very attentive and friendly and knew a thing or two about their selection of beers. Cool little brewery to stop by when you near the ports of san pedro. I will definitely have to make another trip there soon.
May 31, 2010
tang3nt from California
3.38
/5
rDev
-10.8%
vibe: 3.5 | quality: 3.5 | service: 3 | selection: 3.5 | food: 3.5
I frequent this place at least 2 times a month, as I can ride my bike here from my house and catch happy hour for some $3.75 pints while its slow there. If you are in San Pedro, this place has the best beers hands down. In a town full of bars that have nothing on tap (literally) this place is a breath of fresh air. They have a good little selection of their beers with a rotating seasonal release. Their beers always seem to be pretty fresh and if you're lucky like me, you can catch a nice guest tap like Sierra Nevada's Handful of Hops. The Handful of Hops seemed to go quickly though, the last time I was there I received to last pint. Their staff is pretty friendly, and there are a few there that are pretty knowledgeable. They have pretty good bar food, from what I've had (Gaffey fries and the like) and if you are a sports fan, they have all that stuff going for them too, like multiple screens with different games on. I just go for the beer. During the day a very chill place to grab a decent pint and maybe some lunch - just keep in mind that at night this place can be very busy and even charge for entry on some nights to get in (bands).
Dec 08, 2009

sloejams from Oregon
4
/5
rDev
+5.5%
vibe: 4 | quality: 4 | service: 4.5 | selection: 3.5 | food: 4
I was in the area for work and one of our clients wanted to get lunch here. A brewing company lunch? Done and done.
The inside has a very collegiate feeling - TONS of UCLA memorabilia. Port photos - some of which very impressive - line the walls. It was a cozy, neighborhood brewpub. Most of the people there looked to be locals - longshoremen / truck drivers.
I don't quite remember what was on tap but I went with their Point Fermin Pale Ale. I would definitely have had another were this not work time. I ordered the tri-tip sandwich and it was tasty. It was a lot of food with the sides and all. I couldn't finish it.
Los Angeles could use a lot more places like this.
Jul 05, 2007
rayzorwit from California
4.28
/5
rDev
+12.9%
vibe: 4 | quality: 4.5 | service: 3.5 | selection: 5 | food: 4
Yeah, this place is in the armpit of the Los Angeles basin, but I'm still surprised that there was only one other review at the time I wrote this. It's like a miner finding a gem in an eroding mountainside.
The ambience is cozy and down to earth, a contrast to those other trendy brewery pubs. It's easy to strike up a conversation with its patrons. The decor is primarily antique sports decor. A few pics of very old San Pedro line the walkway enterring the pub. There is a big screen for the games. The owner is a UCLA alumnus, and takes pride in announcing this pub is "Brewin owned." By happenstance, I stumbled into a semi-riotous crowd jeering over a bowl game in which the Bruins played. Yeah, they won, and yeah, the bar sang their alma mater theme.
The beer selection is small, but that's expected with brewpubs which have beer menus centered on their resident brews. The good news is that they have a well rounded beer menu. Their hefeweizen beer was tasty, one of the better domestic hefes in the LA area. I like the dark stuff, and man, their chocolate porter was heaven.
I haven't had the food, yet, but I hear it is very good. I will update this review when I can.
I've been back a few times and there is consistency in their beer. It is a surprise that it doesn't have notoriety, but with a little word of mouth, it will receive recognition for its beer as it is merited. Definitely worth a trip.
Feb 11, 2006
San Pedro Brewing Company in San Pedro, CA
Brewery rating:
3.44
out of
5
with
37
ratings