Michael's Beer And Wine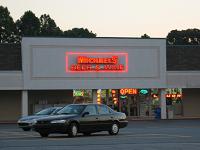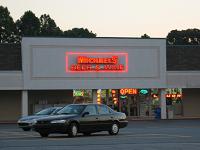 PLACE INFO
Type:
Store
757 Whitlock Avenue
Marietta
,
Georgia
, 30064
United States
(770) 427-9463 |
map
Notes:
No notes at this time.
Added by ViveLaChouffe
Ratings: 10 | Reviews: 10
Reviews by Fatehunter:

4.08
/5
rDev
+0.7%
vibe: 3.5 | quality: 4 | service: 4.5 | selection: 4
Seeing as the last time a review was written for this place was over two years ago, I figured it was time for an update.
I'm a regular traveler to Marietta (at least once or twice a year). I'll be stopping at Michael's more often now that I've found it. Their beer selection is not huge: two aisles and two refrigerated rows. They have a varied selection of micros from coast to coast and then a limited but also varied group of foreigns.
I was greeted at the door and not talked to again. My type of store because I don't like talking to people and I know what I want.
Michael's is no doubt the best beer store in Marietta, but if you venture into Atlanta you'll find more selection. However, Michael's does have great/better prices on what they do have vs. some of the places in Atlanta. Their selection was good enough for me to forgo another 30-40 minute drive into Atlanta.
Bonus: They have a HUGE wine and liquor selection with pretty good prices.
959 characters
More User Reviews:
4.94
/5
rDev
+22%
vibe: 4.5 | quality: 5 | service: 5 | selection: 5
I see it has been a while since the last review so I thought I would add one based on my latest experience with Michael's.
Overall they have a great selection of beer, liquor and wine at better prices than the stores in the area. New owner is very knowledgable and will order anything they don't have. Sunday hours are very helpful and the added bonus is open parking. I was told by the owner that they will be moving to a smaller space in the same complex and was assured prices and selection will remain the same and that lottery services will be available soon so this will be my one stop shop.
599 characters
3.6
/5
rDev
-11.1%
I was up visiting a friend less than a mile from this place and needed a good beer for the party so, based on the BA reviews, I stopped by. Michael's has a good selection of beer, including Belgian and Belgian-style beers. It has loads of parking since it is in a strip mall. Doesn't sound important but lots of package stores I have seen in the greater Atlanta area have little parking and horrible access. The staff is very friendly and that goes a long way to a good beer buying experience. It isn't the best selection in the greater Atlanta area, but for the Marietta area it ranks up there.
595 characters
3.6
/5
rDev
-11.1%
Stopped by here on recommendation seen here and was impressed. Owned by a nice family, they really have carved a niche out of the Marietta area with some tasty brew selections. Now some were sold out, but they do have a good selection on hand - most not chilled. The only down side was that it was expensive for the imports. Somewhat dusty shelves and older looking displays - but it is what is in the bottle that counts. Staff was friendly and talkative and had a good selection of spirits as well. Recommended if you are looking for something beyond the standard in your neighborhood and may be worth the trip.
612 characters
4
/5
rDev
-1.2%
Very very cool store. I really liked this place and I did not really know what to expect when I walked in, but this was a great store. Very well organized with every right up in your face. It was nice to see the shelf talkers, as I had not seen these in a lot of store in the area. The selection was great, lots of singles with pretty much every micro I had seen in Atlanta and a very good selection of imports as well. The prices were a bit cheaper then some of the other stores I had seen lately. Very well laid out and organized, and I was asked several times if I needed helped, probably cause I was just cruising the aisle taking it all in. But overall this was a great place and I would go a little out of my way to get here again as this place was defiantly worth a return trip. Very nice indeed.
803 characters
4
/5
rDev
-1.2%
I like Michaels when I know what I want and I'm not in the mood to chat. Besides having a fantastic beer selection, they also have some strange wines, meads, and whiskeys (Though not enough rye selections). I have yet to find a liquor store in the Marietta/Roswell/Atlanta area with the selection of Michaels, so if you're looking for something special, check here.
On the other hand, I've been going to this place for years and the place tends to change hands. The staff is starting to solidify around a small group of people, but the turnover seemed high for a while there. They aren't usually all that chatty and may not know what you're talking about (though they will gladly look it up).
694 characters
3.7
/5
rDev
-8.6%
Pretty easy to find as one travels west out of downtown Marrietta; its on the left. Wasnt greeted as I walked in the store and wasnt approached as I browsed the selection. The selection was pretty good. Plenty of stuff warm and cold. Stoutds, Terrapin, Thomas Creek, Red Brick, Sweetwater and other locals as well as most national stuff like Rogue and plenty of Sam Adams; ten different SA if I remember correctly.
Prices were unbeatable. I purchased a sixer each of Sweetwater, Terrapin, Red Brick, and ABC and the bill was just under $30. Wow!! Check this out if in the area or even near the vicinity.
An opposition to a previous reviewer: One wants to take 120 loop off of 75 because there is no 120 exit. Just take the 120W loop to Roswell and take a left. Roswell turns into Whitlock.
795 characters

4
/5
rDev
-1.2%
I have shopped in this place before, but after today's haul, I felt I should review them. The store doesn't seem exceptionally clean, but it certainly isn't cluttered or dirty. It is very easy to get in and out of their parking lot. Every time I have ever been in there, within 15 seconds of me walking around their singles area with a basket, I have an employee approach me to offer assistance. However, they often hang around a while and try to make small talk while I'm trying to think of what I have and have not had, how much I want to spend, what I'm in the mood for, and what's in the DBF. Meanwhile, this guy's talking my ear off and trying to be my friend. That's mildly irritating. However, the store itself has a very good selection of Belgians and U.S. microbrews, and the Belgians and other good imports are kept at room temperature, which I like. Their prices are very fair. I filled a shopping basket today with a few Brasserie des Rocs 750mLs, some St. Feuillien 750mLs, a couple of gueuzes, 2 or 3 tripels, 3 or 4 assorted 330mLs of some strange things I have never heard of before and a few things I do not recall off of the top of my head, and I spent $67,59. A pretty good value, I think. I will certainly continue shopping here.
1,249 characters

4.35
/5
rDev
+7.4%
Michael's is located on Whitlock in a large but older shopping center. If traveling West it will be on your left after the residential and wooded section.
The staff at Michael's consisted of an older Asian gentleman. He offered assistance, which was declined, and later assisted a lady with her purchases.
The quality was good at Michael's. No dust around anywhere even though the store was older. The store is flourescent bulbs, but the area with the beer, a very long shelf stocked on both sides, was not lit directly overhead by the tubes. They were the only place I have seen the full Middle Ages Selection and a few other selections. They have two cold cases. One in the middle of the store and then one just behind the beer shelves.
Michael's would be an excellent place to stop if in the area and in need of some beer. The selection is good and the prices are reasonable. I'll stop back in from time to time while traveling in the area.
952 characters

4.2
/5
rDev
+3.7%
Before the 6% ABV restriction was lifted in July, Michael's had a good beer selection but not really better than your average liquor store. It was basically the place I could go to get Tupper's Hop Pocket close to my house. But since the restrictions have been lifted, Michael's has really run with the ball.
Quality: Besides building the occaisional beer display right against the front window, have never had any reason to worry about old or mishandled beer. Everything I have ever purchased has been fine in that regard.
Service: Service has always been great. They are really wine oriented and seem to be geared that way as far as product knowledge but their "beer guy" at the store is pretty knowledgable and stocks a solid selction. As far as courtesy and friendliness go, they are tops in the beer stores I have visited in Atlanta. Prices are not the cheapest but they are very reasonable for the area, probably lower than average.
Selection: They have focused heavily on imports and especially Belgians since the cap popped. Chimay, Orval, Westmalle, Achel, Corsendonk are here among others. Ommegang and Unibroue are very well represented. Doppelbocks (Optimator, Salvator) and big Stouts (Old Rasputin, Brooklyn BCS) are popping up now. Traquair is available which is interesting. Would like to see more focus on American micros (more Brooklyn and big beer selections from Rogue) but they do a good job. All locals are available and they saved me from driving downtown to get the Dogwood Imperial Porter and the big bottles of Sweetwater Festive Ale. Only place I saw those in the NW burbs that I roam. The beer is spread about the store in three main areas. Toward the back of the store is the main stash with room temp and beers in the cooler. Make a left toward the next set of coolers are six-packs of imports, mostly German and English. Head toward the front of the store and there is more beer on the shelves and alot of single in the coolers. It is nice to pick up a cold Orval to enjoy as soon as you get home.
A very good store and my regular stop these days.
2,090 characters
Michael's Beer And Wine in Marietta, GA
Place rating:
70%
out of
100
with
10
ratings