Devassa Negra (Tropical Dark)
| Cervejaria Devassa
BA SCORE
81
good
11
Reviews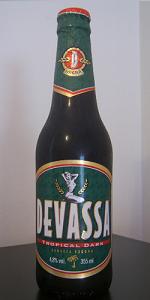 BEER INFO
Brewed by:
Cervejaria Devassa
Brazil
devassa.com.br
Style:
American Brown Ale
Alcohol by volume (ABV):
4.80%
Availability:
Year-round
Notes / Commercial Description:
No notes at this time.
Added by soper2000 on 03-01-2005
Reviews: 11 | Ratings: 24
2.74
/5
rDev
-18.5%
look: 3.5 | smell: 3.25 | taste: 2.5 | feel: 2.5 | overall: 2.5
Black ruby color with a one finger aired head with ok retention.
Aroma of caramels, faint chocolate and dark fruits.
Some watery caramel and roasted malt notes with hints of earthy hops and a bit of spicy yeast.
Watery body with good carbonation.
Started well with a good promise, but its flavor and body were disappointing. It felt to me like a brown ale that had some water poured to the cup and that had barely any hops. Just not worth it, nowadays with much better local options.
483 characters
3.07
/5
rDev
-8.6%
look: 3.25 | smell: 3 | taste: 3 | feel: 3.5 | overall: 3
Best by 9/20/15.
Pours an opaque super dark brown with a foamy dark khaki head that settles to a partial film on top of the beer. Tiny dots of lace drip into the remaining beer on the drink down. Smell is of toasted malt, caramel, and slight nut aromas. Taste is much the same with burnt toast, caramel, and slight molasses flavors on the finish. There is a mild amount of roast bitterness on the palate with each sip. This beer has a lower level of carbonation with a slightly crisp mouthfeel. Overall, this is an average beer that is drinkable, but nothing very memorable in my opinion.
Serving type: bottle.
613 characters

3.1
/5
rDev
-7.7%
look: 3 | smell: 3 | taste: 3.25 | feel: 3 | overall: 3
I purchased a bottle of Devassa Negra (Tropical Dark) for $0.79 USD in the Highland Park neighborhood of Los Angeles, CA/USA.
Look: Devassa Negra (Tropical Dark) has light foam.
Smell: Devassa Negra (Tropical Dark) has a light aroma of cinammon and malts.
Taste: Devassa Negra (Tropical Dark) has flavours of both caramel and kvass with hints of beer.
Feel: Devassa Negra (Tropical Dark) has average carbonation.
Overall: People who enjoy caramel and kvass should try Devassa Negra (Tropical Dark).
506 characters

3.33
/5
rDev
-0.9%
look: 3.5 | smell: 3 | taste: 3.5 | feel: 3 | overall: 3.5
355ml bottle served in a weizen.
A: Pours a dark brown clear color forming a medium bubbled tan head. Medium retention and some lacings left
S: Smells mainly roasted malts and caramel
T: Roasted malts, caramel. Notes of citric hops. Very mild bitterness. In overall a crispy dry taste. Not bad if compared with the majority of the Brazilian dark ales
M: Light watery body. Good carbonation. Mild roasted aftertaste
O: Good drinkability but not a big deal
459 characters

3.36
/5
rDev 0%
look: 3.25 | smell: 3.5 | taste: 3.25 | feel: 3.25 | overall: 3.5
355 ml bottle in Belem. 4.8%  Schwarzbier
Clear red-brown but so dark as to be opaque in the glass.  Weak head but some spotty lacing. 
FEEL: Light-medium body with lively, medium-high carbonation.  
smell: toffee; medium dark and dark roasted malts.  
Taste: nearly as good as the aroma.  Has more dark roast, especially in the aftertaste. Some chocolate as well.  Lightly bitter aftertaste.  
405 characters
3.56
/5
rDev
+6%
look: 4 | smell: 3 | taste: 3.5 | feel: 4 | overall: 4
Devassa Negra is a very good dark ale...much better than the Maizbeir that you can find here in Brazil. This beer was dark in appearance and came with a big Chopp head. The smell include chocolately sweetness and malt. The taste was a tinge of sweetness but was powered by good malt. The mouthfeel was pretty light and easy drinking. A very good beer that provides Brazil with some diversity.
392 characters
3.68
/5
rDev
+9.5%
look: 3.5 | smell: 3 | taste: 4 | feel: 3.5 | overall: 4
Drank a bottle of this at the Devassa Pub located inside Guarulhos International Airport earlier today. So, on to the beer:
Dark brown color with dark red hues in the body. The head is adequate on top with decent retention. Moviung to aroma, the first few smells get DMS and milled corn, while following smells get a light toffee aroma which I like.
The taste says tradional brown ale. Toffee hits around the palate, caramel and chocolate are hinted when the toffee runs dry. The body is light is medium carbonation.
Probably the best of the Devassa line is right here. It´s to style and easy to drink.
608 characters

3.72
/5
rDev
+10.7%
look: 3.5 | smell: 4 | taste: 3.5 | feel: 3.5 | overall: 4
A - A small, medium tan head, on a dark brown body with amber highlights. Average head retention and minimal lace.
S - Nutty caramel and a hint of chocolate with some spicy hops in the background.
T - The same nutty caramel as the aroma with some toffee. Molasses In the middle that fades to chicory and moderate bitterness in the finish.
M - Medium-thick body, moderate carbonation, and a slightly dry finish.
D - I'm not sure what style they were going for, but the results are quite nice. Malty with good balance and a nice dark sugar character.
552 characters
3.8
/5
rDev
+13.1%
look: 3.5 | smell: 3.5 | taste: 4 | feel: 3.5 | overall: 4
Got this while in Brazil, at a decent wine, beer, and liquor shop in the downtown area of Larajeiras, Vitoria, E.S.
Dark molasses brown color with a big fluffy head that fades slowly with lacing.
Nose has lager aromas, with caramel malts, dark malts, a bit of molasses, a light fruits, a bit of toffee and hint of hop, and bit of malt extract
Taste brings meaty dark malts, some roast and burnt molasses, more malt extract, decent malts though, bit of dark fruits, fig, finish lingers a bit with a slight sticky feel and some light hop bitterness. There is also just a hint of a skunk lager taste.
Body is lighter but creamy and light carbonation.
Drink is OK, lighter and drinkable, little sticky on the finish.
Overall this was the best beer I had from Brazil while there. I have a couple more to try, but of the beers I had while there this was the only one I could actually drink.
891 characters
3.85
/5
rDev
+14.6%
look: 3.5 | smell: 3.5 | taste: 4 | feel: 4 | overall: 4
I had this at the Devassa bar in Guarulhos-Sao Paulo airport. I can't really comment on the appearance because it was in a bottle, but looked pretty dark as I glanced into it. Mouthfeel was surprisingly smooth and went down with ease. Taste was all malt for me, no sign of hops (a plus in my book!). Smell wasn't really there, I couldn't detect anything that stood out.
As I read some other reviews for this, I do recall a sort of sticky residue on my teeth after drinking it. Not the most pleasant thing, but not bad.
Overall a great beer I would say, I'm happy that I found it while on my 5 hour layover. The last 2 'Brown Ales' that I've had I've enjoyed, perhaps a new favorite style for me?
697 characters
4.06
/5
rDev
+20.8%
look: 3 | smell: 4.5 | taste: 4 | feel: 4 | overall: 4
I purchased this beer as a Promocao from Pao de Acucar: Negra, Ruiva and Loura with a complementary glass which I washed and used for this review. The Negra is a dark ale according to the bottle but is listed here as a Euro Dark Lager.
The color of the beer is dark reddish brown, but dark amber when held to light. Pours with a creamy tan head that unfortunately dissipates very quickly and leaves no Belgian Lace; ergo either low quality hops or I need to take better care to use a "Beer Clean" glass. Another tasting with the proper precautions should reveal the true reason. The nose is quite good, very malty with roasted coffee and a hint of chocolate. The taste is satisfying but just a little disappointing from a beer of this color with such a pronounced nose. It is very well balanced between hoppyness and maltyness, this makes it very drinkable even to those who are not fans of darker beer, as are most Brazilians. It taste starts out malty and roasty and finishes crisp and hoppy. The mouthfeel is also good, slightly thick yet easily swallowed making it even more drinkable.
Overall a good beer, that as I remember is even better via Choppe or On-Tap. If you have the chance try this beer.
1,212 characters
Devassa Negra (Tropical Dark) from Cervejaria Devassa
3.36
out of
5
based on
24
ratings.