Water Street Brewing & Ale House
BEER AVG
-
none
Awaiting 10 Ratings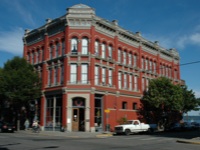 PLACE INFO
Type:
Brewery, Bar, Eatery
639 Water Street
Port Townsend
,
Washington
, 98368
United States
(360) 379-6438
// CLOSED //
Notes:
Lost their lease. 2010.
Added by BeerAdvocate
Ratings: 8 | Reviews: 8
Reviews by beertunes:
3.63
/5
rDev
-0.8%
vibe: 3.5 | quality: 3.5 | service: 4 | selection: 3.5 | food: 3.5
Water Street brewing has undergone some changes in the past year. The original brewer, Skip Madsen, was a partner when the place opened. About a year ago he was bought out by his partners and has moved on to form the new Breakaway Brewing.
The WS has a comfortable feel as you walk in, lots of old brick and wood. The bar is to your left and table seating ahead (families take note, there is a separate side entrance to a dining area). There is a stage for the live music that plays here on weekends. At this point is the obligatory "An Officer and A Gentleman" reference.
The quality of the beer has always ranged from better than average to exceptional, but now with Skip gone, the quality ranges from just below average to very good. The best of the brewery is still Queen Nina's IPA, a wonderful ImpIPA.
The service has always been very good to wonderful, even when busy, or even completely slammed, as during the annual Strangebrew Fest in January.
The beer selection is very broad and covers a lot of territory, you'll find something to fit your mood.
The food is well executed versions of basic brewpub fare, with a focus on local sourcing as much as possible.
The prices are on the high side, but this is a tourist town, so a bit of a hit to the bank balance is to be expected.
If you're in the Seattle area a day trip to PT is very pleasant. If you like wooden boats, you should check out the annual Wooden Boat Festival in early September, some amazing craftsmanship is always on display. Or you can grab a brew after seeing where a certain Richard Gere movie was filmed.
1,589 characters
More User Reviews:

3.1
/5
rDev
-15.3%
vibe: 3.5 | quality: 3 | service: 3.5 | selection: 2.5 | food: 3.5
Right in the heart of historic waterfront area of Port Townsend this brewpub is a 10 minute walk from the ferry . The space is large inside with lots of interesting stuff on the walls and being inside a Victorian building adds to the feel. If it is in the daytime and warm out go right to patio outside which though rustic and not too big allows a view of the harbour.
I ordered a taster set and was disapointed to see only 3 in house beers and 3 guest taps(one was a cider). Not a good sign of the current state of the brewpub that they only had 3 beers of their own ( Pt Townsend Brewing has 13 of their own beers on tap). Orginal brewer Skip Madsen was a big part of WaterStreet and now that he is gone it seems to have affected the beers. Of the 3 in house beers the Schwag Lite Ale and the Pale Ale were not up to local standards. The only beer they make that is worth drinking is the fantastic IPA called Queen Ninas. Honestly I would reccomend coming in for the IPA and maybe some food ( I didn't eat but it looked pretty good)and avoiding the other beers.
Service was good though slowish and prices were very good ( I must have had happy hour pricing because the IPA was $2 each.)
Worth the visit for the IPA alone and because it is close to the ferry
1,264 characters
3.65
/5
rDev
-0.3%
vibe: 4.5 | quality: 3.5 | service: 4 | selection: 3 | food: 4
Even though their beers overall are nowhere near as good as those from Port Townsend Brewing, Water Street Ale House is still worth stopping by while you are mulling around the old downtown section of Port Townsend.
Unique interior, check out the " Officer And A Gentleman " mural hanging on the wall. Great old building. Fantastic old wood bar.
Their best beer by far is Nina's Imperial IPA. While not the greatest of the style you will ever have, it is very well done. I have tried most of their other beers at one time or another, and none really stands out in either a good nor bad way. I am told ( and it would appear from watching ) that all of their mixed drinks are made from scratch, including hand squeezing all of the juices.
Food is not bad, they seem to make an effort to offer a few healthier selections as opposed to the usual pub grub. Service is decent.
A nice rest stop while walking around the old section of beautiful Port Townsend.
Check out Sirens a few blocks up the street, too. Similar decor, fantastic hand made burgers, and great pizzas ( for the NW ), and a pretty good selection of NW brews.
1,127 characters

3.86
/5
rDev
+5.5%
vibe: 4 | quality: 4 | service: 4 | selection: 3.5
Visited here to try their sampler. A very nice setting in downtown Port Townsend. The sampler had six beers, five of which were ok. The sixth one I ordered a pint of was the Imperial IPA, a much better beer. Happy hour pints were $2.50 which i thought was a pretty good deal. I didn't try any of their food on this visit. The service was good and it seemed like a friendly crowd at the bar. I believe they also serve some guest beers at their taps.
Two years ago the beers seemed better to me than they did today. However, Port Townsend is a cool town to visit and this a cool brewpub to come in and visit if just for a happy hour pint. In the summer there is free music on the side street just outside the pub on Thursday nights. A day trip should include a visit to Port Townsend Brewing and then come over here where there is some food when you are done!
861 characters
3.55
/5
rDev
-3%
vibe: 4.5 | quality: 4 | service: 3 | selection: 3 | food: 4
I recall drinking here in 1985 and for a decade thereafter when this was the old Town Tavern. Port Townsend still had a lot of tourist traffic then but I remember it as a bit more sleepy. Now, seeing the place all these years later is like running into a former girlfriend and finding that she still looks good. She's also, well… expanded a bit.
I remember a new-age bookstore as a separate business next door. They've apparently relocated across the street, the dividing wall has been mostly removed, and a restaurant, brewery, and waterfront porch have taken their place. (Pretty groovy that all that new-age consciousness was transformed into beer, huh?) The stage still occupies its former place only now you can sit behind it if you choose and admire the back of the drummer's head.
Water Street dates back to the late 19th Century when it served as a hotel. Rooms are still available upstairs, reputedly for reasonable rates. In the 60's it was a commune, in the 80's, The Town Tav. Its present form as a brewpub works as a logical outgrowth of its historic evolution. The exposed brick and Victorian detailing lend drama to the room and the back bar would appear to be a mahogany original from a century ago – a true classic. The small brewery is secluded behind an unused rear bar off the kitchen. Five house beers are served alongside four guest taps that include a pear cider, Redstone mead, a Port Townsend offering and PBR.
(By the way, there's a long story behind that painting above the stage of a woman in a chaise lounge being eroticized by demonic fiends. Remind me to tell you about it some other time, but for now you might look for it in a scene from the Richard Gere film, An Officer and A Gentleman.)
Water Street features live music on weekends from nationally touring acts and creative, tasty food worth returning to. The hummus plate was very satisfying, the pasta thoughtfully prepared, and prices are reasonable. There are numerous alcoves with comfortable seating, and an upstairs lounge with foosball and two pool tables. Service is cheerful but can lag and is not necessarily beer oriented. During peak hours I've seen as many as twenty people waiting on line to be served. Ouch. Beer quality varies but the better beers are outstanding and in contrast to Port Townsend Brewing across town, Water Street stays open late.
2,374 characters
3.7
/5
rDev
+1.1%
vibe: 3 | quality: 4 | service: 3 | selection: 4 | food: 4.5
This brewpub is really quite striking, especially when compared back to back with Port Townsend Brewing. The theories behind the two pubs are completely different.
PTB is very, very tight, has seating for about eight people at the bar and maybe fifteen in the whole room (uncomfortably) - it has very low ceilings, is very dimly lit, is very intimate, serves only PTB beer, and is a little off of the beaten path (just a little).
Water Street takes a whole different tack. It's on the corner of a historic downtown building, has very tall ceilings, is very open, seats dozens, serves food, and has a full bar. They serve six or seven of their own brews as well as a few other staples.
I entered to discover several parties having just arrived and trying to get situated at their tables; Two bartenders were on duty, and were both rather buried in work drawing up pitchers and ringing up order after order. I was lucky enough to catch a word in edgewise, and ordered "The Imperial IPA and...." Before I could get the rest of my order in, he ran off, returned with my beer, and dissappeared again. So, being patient, I waited and watched the commotion, sipping my beer (a quite tasty DIPA, too) and waited - after a few minutes he returned, apologized, and asked me if I wanted to order food, which I did. I ordered the Sausage sampler (nine bucks, ouch) and found it delicious. Apple turkey sausage, bratwurst, and chorizo over a really well made bed of 'kraut and with a spicy mustard on the side. Very pricy, but very, very good. The rest of the food was also pub fare - onion rings, buffalo wings, etc. I believe that there is a full restaurant attached to the bar with more proper dinner food, if you're in the mood for that.
All in all, WSB is what I'd consider a public house-style bar - the bar itself is very heavy and huge heavy wooden-framed mirrors are the backdrop. Lots of tables are available for friends to relax. It's very tall and open, with lots of windows letting in light, and seemed to be running a very busy business, with cocktails going out just as fast as the craft brews.
2,110 characters
3.45
/5
rDev
-5.7%
vibe: 4 | quality: 4 | service: 2 | selection: 4 | food: 3.5
Port Townsend is viewed as a somewhat exotic getaway for those Seattle-area residents that live on the wrong side of the water (meaning the Seattle side). But for those of us that are lucky and/or smart enough to live in the West Sound, PT is a mere hour or so away and a nice change of pace on a Saturday or Sunday. It's a funky little town that has transformed over the past century from Victorian seaport capital of the NW to Navy town (Fort Worden is still around as a state park) to tertiary hippie/slacker capitol of the NW (after Bellingham and Olympia).
It's got a great downtown area lined with interesting boutique shops (and a wine shop that re-proves my theory that wine people should never, ever allow other people to tell them what beers to carry) and two breweries at opposite ends of the main drag through town: one production brewery with an attached taproom/beer garden (Port Townsend), and one full service brewpub (Water Street).
Water Street is fairly new, having taken over the location from the owners of Maxwell's, the brewpub that used to operate in the space previously. My family and I were big fans of Maxwell's, as the food was always top-notch, and their Red was splendid. Apparently the owners tired of the grind, so they sold out to Skip and Nina, formerly of Boundary Bay in Bellingham, WA. Mercifully, few changes were made to the interior of the space, but the brewing capacity is still pretty freaking small (If I recall correctly, it's either a five or a seven barrel system, with very little fermentation space).
Atmosphere: This is a former Victorian era hotel that has been a bar for at least thirty or forty years now. The back-bar is this gorgeous.piece that (as they always seem to) came around Cape Horn on a whaling vessel bound for glory in Port Townsend. My favorite touch is the fact that all the tap handles are made of blown glass. You can't tell what the hell is what, but it looks damn cool.
Quality: I've been here three or four times since they've opened, and quality has gone up each time, at least in the beer and food department. However...
Service: Sorry, it still blows, unless you are sitting at the bar area. If you are in the restaurant part, there is typically only one person on the floor, and they are covering anywhere from one to approximately fifteen tables (not counting the patio). And the service is equally slow if you are the only person there, or the room is packed. The bar is definitely better, and there are more people working in there. It's kind of bizarre, really.
Selection: I rate all brewpubs on their kids menu, and Water Street just doesn't have one. It's too bad, really, because the quality of their food has come up so much since they first opened, I'd like to see them make a nod to those in PT and the surrounding environs that have kids. That said, due to the small brewing capacity, they typically have anywhere from 5-10 house beers on tap. I happen to like their Smokestack Weizen and the Sheba Coffee Stout, but I still think these beers have a way to go before they reach Boundary Bay-esque levels.
Food: It used to be below average, now it's above. If they keep making improvements to the menu as they have been, it may become one of the better places in PT to eat (although they've got a longass way to go to supplant Khu Larb Thai).
Value: I find the food to be a bit overpriced, but the beer to be insanely reasonable. $2.50 pints make me a happy man.
All in all, I'd definitely recommend coming here for lunch and a beer or two. It's a nice place to sit back and relax in PT (and hey, when you're done with your meal you can run down the street to the Elevated Ice Cream Company for a scoop or two - the ginger is insanely good).
3,759 characters
4.3
/5
rDev
+17.5%
vibe: 4.5 | quality: 5 | service: 3.5 | selection: 4.5 | food: 3.5
Sometimes it's the unexpected that is memorable, and such is the case of this little gem of a find.
Located towards the end of Water Street, the Water Street Brewing & Ale house occupies a corner storefront in the touristy heart of beautiful Port Townsend. From the outside it looks like a turn of the century saloon, and this impression is reinforced upon entering the front door. The rooms is spacious and intimate at the same time - the bar large and quite ornate. Just off the main area there was also a small, cozy room, and the day we were popped in there was an area set up for the live entertainment.
Because I'd never heard any beers from Water Street Brewing, my expectations were low when I ordered my first pint. They dipped somewhat further when the first beer I asked for was not available - their Strange Brew, a one-off Barley Wine - so I "settled" for their Queen Nina IPA. Woa!! My first pleasant surprise was it was in fact an Imperial IPA, and then to my utter astonishment, it was INCREDIBLE!! To follow it up I tried the Panama Red, which was also a wonderful - if not unique - beer. I also tried a sip of Schwag something or the other, and though it was not my favorite style, it too was delicious.
Who'd a thunk?
As for the food, the menu was definitly geared towards seafood items - not surprising for an establishment in Port Townsend. Though it wasn't anything to rave about, like their beer, there were a few things I tried that I enjoyed. However, like quite a few places in town, the menu seemed a tad pricey.
All in all, I can't recommend this place enough. Port Townsend as a destination is must, and The Water Street Brewing & Ale House is the perfect place to enjoy some fantastic beers.
1,736 characters
Water Street Brewing & Ale House in Port Townsend, WA
3.12
out of
5
based on
0
ratings.