Saint Rieul Triple
| Ferme-Brasserie Saint Rieul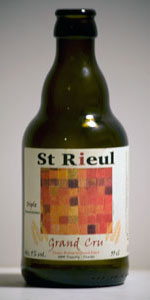 BEER INFO
Brewed by:
Ferme-Brasserie Saint Rieul
France
st-rieul.com
Style:
Tripel
Alcohol by volume (ABV):
9.00%
Availability:
Year-round
Notes / Commercial Description:
No notes at this time.
Added by thierrynantes on 10-26-2007
Reviews: 15 | Ratings: 19
3.41
/5
rDev
-19.2%
look: 4 | smell: 3 | taste: 3.5 | feel: 3.5 | overall: 3.5
9-Jan-2009 Home
Pours orange and slightly cloudy with a huge head which quickly dissolves to nearly nothing. Aromas of alcohol, lemon and rye. The primary flavor I get is wet, shredded wheat (definitely grain overtones). It's a satisfying warm and cozy winter beer.
I am somewhat puzzled by the style. The beer contains some of the spiciness I associate with tripels but the roasted grain flavors seem atypical. I recognize this beer's "quality" but probably won't return to it.
480 characters
3.63
/5
rDev
-14%
look: 4 | smell: 3.5 | taste: 3.5 | feel: 4.5 | overall: 3.5
"Grand Cru":
A - Off orange/gold with a decent, off white that eventually settles down; no lacing.
S - Has the scent of orange marmalade and honey.
T - Nice. Has some nice light citrus along with some honey and spice with an ever slight sour finished that's enjoyable.
M - Very nice, soft carbonation that lends creaminess to this ale.
D - At 9% ABV drikning more than one is asking for trouble but this ale would be nice drinking year 'round, especially in the warmer weather.
482 characters

3.97
/5
rDev
-5.9%
look: 3.5 | smell: 4 | taste: 4 | feel: 4 | overall: 4
Belgian style bomber, caged and corked, In French, the label tells me to ( I belive) consume this before August of 09...oh oh...pours murky, cloudy dark apricot amber, the head quickly departs after showing about an inch of dark tan frothyness, leaving a spotty film and minor lacing. Interesting nose of ginger, lemongrass and sweet lighter malts. Sweet and fruity brew, def. different for a Triple, although the label boldy states "Grand Cru" and "triple fermentation" what ever that means. (way to confuse your customers...) But I digress, this is dark for a tripel, low carbonation for a tripel, strange and different flavor for a tripel, but all in all I like it,notes of citrus, more ginger, I'm not getting horse blanket that others have mentioned, but I do pick up some mustyness and some strange tartness on top of dark ripe fruit..its French, its different...its all good
881 characters
4.02
/5
rDev
-4.7%
look: 4.25 | smell: 4 | taste: 4 | feel: 4 | overall: 4
pours a good mai tai hue with a large bubble white foam head
smells of fruity malty wheat? funk
sure enough , malt presence, sweetness, fairly carbonated!fizzy, touch of clove (I think)
clean aftertaste
great French beer, buy!
230 characters

4.11
/5
rDev
-2.6%
look: 4.25 | smell: 3.75 | taste: 4.25 | feel: 4 | overall: 4.25
Well crafted tripel, really hoppy stuff for the style but it remains balanced.
Tropical and yellow fruits mostly in the aroma and the flavour. The mouthfeel is crisp.
Really drinkable stuff
189 characters

4.2
/5
rDev
-0.5%
look: 4 | smell: 4 | taste: 4.5 | feel: 4 | overall: 4
Beer bottle (33cl., 75cl.), tasted in 2005.
Appearance : golden-orange color, with white foam head (not persistent).
Smell : yeast and fruit aromas.
Taste and mouthfeel : sweet flavours, spicy notes, well balanced.
Drinkability: I was able to enjoy the 1st batch in May 2005. A very good example of style triple, a "grand cru" (the real name of this beer).
Review translated from french 7-2-2008.
398 characters
4.23
/5
rDev
+0.2%
look: 4.5 | smell: 4 | taste: 4.5 | feel: 4 | overall: 4
750ml bottle w cork and cage.
batch codes:
L 08-04
AOU 09
tasted in late may/early june 2009. poured into tulip.
golden orangey amber. clear on first pours. fizzy 3-finger head, replenished by duvel tulip laser etching. fades to constant, wispy, creamy layer. great lacing.
aroma: sweet malty caramel and yeasty esters of ripe apple juice, with light anise hint and dried (candied?) orange peel. grassy and floral notes to the eruo hops. hay and barn hints.
taste: similar flavors, with rich, almost savory malts. touch of faint acidity matching w orange peel and spices. mild grassy bitterness from hops to balance the sweetness, with musty farmhouse note in back. semi-sweet finish. faint phenols with more spice again in back.
medium body, smooth w touches of acidity and astringency, made quite crisp by the otherwise moderate carbonation, which also helps with a fluffy character.
a pretty decent offering from france.
930 characters
4.24
/5
rDev
+0.5%
look: 4 | smell: 4.25 | taste: 4.25 | feel: 4.25 | overall: 4.25
Poured from the bottle into a tulip glass. Been looking for this beer for AGES... as a big tripel fan. Let's get this down stat!
Deep amber brown, with reddish hints of light ruby, and lots of fizzy carbonation. Head is taught and thin with about two fingers growth and pin head even bubbles. Lots of snapping and cola sounding carbonation that jumps and pops off the pour. Settles to a thing collar slowly.
Giant hits of brown sugar and cinnamon. What an interesting take on a tripel, and going for more dark ale but without all the raisiny fig sensations. Candy like cherry and peppermint all over, very sweet smelling, practically like a lollipop.
Crisp palate with wine spritz and playful carbonation. Dark malts and sucrouse bring out lots of great brown sugar sensations with a light body. Clove and very drying spicy finish on the swallow. Soda character does creep in a bit, and actually more like sparkling cider with lots of apple sweet tones.
This is a real unique beer and quite different from most tripels. It's extremely light bodied and comes out more like a cider soda with no boozy character on it whatsoever. Very impressive, very different, but perhaps not what I look for in this style. Great beer though.
1,229 characters
4.25
/5
rDev
+0.7%
look: 4.5 | smell: 4.5 | taste: 4 | feel: 4 | overall: 4.5
750ml bottle poured into maudite glass
appearance: dark for the style, nice copper golden amber with a plumy fluffy head that leaves nice sticky lacing
aroma: Very fruity with some peach and under ripe mango and perhaps a bit of tomatillo, has some savory aspect to it as well. Slight spiciness
taste: juicy malty upfront wit some big fruit flavors again, apple and peach, a bit of a citrus hop punch fades to a nice juicy bubbly finish that lingers and leaves a sort of tingly, spicy feeling in your mouth.
overall: a very different and unique triple, very well crafted and incredibly balanced and drinkable at this abv. I feel like this bottle is pretty old since the hops flavors are so mild and the beer is so malty and creamy and smooth but perhaps that is what the brewer intended, highly recommended
810 characters

4.35
/5
rDev
+3.1%
look: 4 | smell: 4 | taste: 4.5 | feel: 4.5 | overall: 4.5
A- golden color, typical tripel look. vigorous bubbles and a nice half finger white head
S- estery clove and banana scent, sweet, a bit pit fruity
T- classic tripel taste of bananas, bubble gum, slight grassy hoppiness, delicious sweetness
M- nice and spot on. not too thick and syrupy, it has a nice light yet satisfying head. very vigorous carbonation so i would suggest pouring it bit by bit into the glass and letting it settle
O- very nice tripel. an excellent example of the style. french beer ftw.
508 characters
4.44
/5
rDev
+5.2%
look: 3.5 | smell: 4.5 | taste: 4.5 | feel: 4.5 | overall: 4.5
Poured a deep golden amber, settling with a weak, large-bubbled tan head. Aroma was mouthwatering, bursting with citric-peel spiced esters and perhaps some bubblegum/phenolic undertones. Sipping the brew revealed the flavors expected from the nose: coriander-citric peeled spice leading the well-balanced and delicate malt body with yeasty-bread notes. Some nice phenolic notes in the sidelines. Well integrated flavors with a touch of that farmhouse quality. Finish was pleasant and lingering. The well-constructed body held a healthy amount of large bubbled carbonation, which no doubt helped to deliver the flavors in the right way. The malt and alcohol were perfectly balanced and made for a highly drinkable Tripel. Excellent!
731 characters
4.45
/5
rDev
+5.5%
look: 4.5 | smell: 4.5 | taste: 4.5 | feel: 4 | overall: 4.5
75cl bottle.
The problem with st-rieul's beers is about the too thin carbonation.
However this is a really nice beer, perfctly balanced with spices (vanilla, orange, and something like biscuit). With the carolus , this one is my favourite triple. Definitly worth the try.
(The dark ale from st-rieul is also fantastic)
321 characters
4.65
/5
rDev
+10.2%
look: 4.5 | smell: 4.5 | taste: 5 | feel: 4 | overall: 4.5
Pours a hazy golden yellow with a thick, clumpy head. 4.5
Smell: Citrusy hops are lemony, orange peel, and sour ripe grapefruit. Sweet sugary malt is there with a typical belgian yeast spice aroma that is characteristic of a tripel.
Taste: Characteristic tripel spices from the yeast with a very slight burnt malt. This beer has a lot of depth of character, sweet candied malt on the front of the tongue; sour farmhouse with a hint of horseblanket; and a very distinctive hoppy citrusy bitterness in the finish and aftertaste. Well balanced between all these aspects.
Mouthfeel: A little thin bodied, medium maybe for a triple, with a sharp carbonation
656 characters
4.68
/5
rDev
+10.9%
look: 4.5 | smell: 4 | taste: 5 | feel: 4.5 | overall: 5
Appearance is an amber/orange color, slightly darker than most Tripels. Lots of malt and fruit in the aroma, with some bready/yeasty notes in there. The flavor is just fantastic. There seemed to be more of a cereal/grains element than most beers in this style, but it still had the malty sweetness you would expect. Lots of fruit too - some dried stone fruit, orange, and apple.
This is now one of my favorite Tripels, I think the quality is as good as Tripel karmaliet and it's better than some better known Tripels like Chimay Cinq Cents.
542 characters
4.82
/5
rDev
+14.2%
look: 4.5 | smell: 5 | taste: 5 | feel: 4.5 | overall: 4.5
A: Solid even layer of head, tons of carbonation rising to the top (I was very careful when pouring this one), between orange and brown, darker than light.
S: Peachy yeast, actually it's smells very much like peach cobbler (with not so much sugar) with a scoop of french vanilla ice cream on top. Nearly verbatim. Slight floral perfumy side to it as well.
T: Rich and sweet in an interesting way as well as complex. This beer is excellent. While not my favorite, the flavor is so well crafted, and rich but not in an overwhelming way. Almost more like an amber than a tripel. Has an apricot fruit leather quality.
M: Not so carbonated, on the tongue oddly enough. Fairly smooth, medium body.
O: Shockingly good. A very special one.
733 characters
Saint Rieul Triple from Ferme-Brasserie Saint Rieul
4.22
out of
5
based on
19
ratings.