Saint Rieul Brune
| Ferme-Brasserie Saint Rieul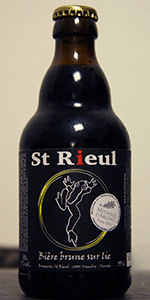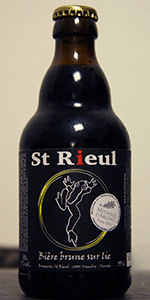 BEER INFO
Brewed by:
Ferme-Brasserie Saint Rieul
France
st-rieul.com
Style:
Belgian Strong Dark Ale
Alcohol by volume (ABV):
7.00%
Availability:
Year-round
Notes / Commercial Description:
No notes at this time.
Added by thierrynantes on 06-27-2008
HISTOGRAM
Ratings: 13 | Reviews: 9
Reviews by sfprint:
3.54
/5
rDev
-13%
look: 3 | smell: 4 | taste: 3.5 | feel: 3 | overall: 3.5
Exp July 2012
A: Dark dark brown, opaque, single finger coffee head, carbonation only visible right at the surface. Columns of carbonation make really weird mold like patterns on the top. Bizarre but cool.
S: Coffee, eraser, tiramisu, alcohol fairly apparent. Strong cheap chocolate.
T: An odd flavor. I suppose leans on the bitter side, but just a bit. Between coffee and a soda but there is a chocolate undertone. There is a dark sort of dirty bitterness, but it's not so strong.
M: Funny sort of astringent. An odd sting.
O: Tastes of quality, but it's an oddity. Special but not a go to beer.
598 characters
More User Reviews:

3.81
/5
rDev
-6.4%
look: 5 | smell: 4 | taste: 3.5 | feel: 4.5 | overall: 3.5
L:
-pours a very dark brown with ruby tinges and a big,frothy,beige head
S:
-floral,brown sugar,grainy,chocolate,nutty,earthy,cinnamon,leather,slight coffee,caramel
T:
-plums,Cafe crema,licorice,grainy,caramel,spicy
-medium bitterniss for the style
F:
-medium to high carbonation
-medium to full body
O:
Interesting One.I'd describe this as a Crossover of Belgian Dark Ale,Brown Ale and Porter.
A nice surprise for me.
418 characters
3.96
/5
rDev
-2.7%
look: 3 | smell: 4.5 | taste: 4 | feel: 3 | overall: 4
Bottle from pixieskid and simon in Paris... many thanks again, you are both amazing people!!
bottle pours a nice dark dark brown, pretty damn close to black. The nose begins to drift toward me as I pour... a nice roasted barley,chocolate and espresso with a hint of cinnamon. This smells more like a stout. Little bit of booze and also some banana from the belgian yeast. I was thrown off by the label, and i cant really read french, so I just saw brune, thought it was a brown ale.
the pour has a nice couple fingers of head with larger bubbles that die quickly though.
taste is pretty coffee forward... espresso. The nose is deceiving. it is not stout like at all and it has a thin body. The flavors do come together nicely. The first few sips, I was really disappointed, but the more I drank it, the more I got into it. Not too much on the finish, it seems to be espresso forward, with a bit of that cinnamon, rolls into chocolate then falls off on the finish leaving no aftertaste. Despite the slight booze on the nose, it doesnt seem to make much of an appearance on the taste. Mouthfeel is disappointing, soda-like carbonation, with that thin body... but overall, this is nice. Glad I got to try this. Might pick up a couple more bottles of it depending on the price.
1,274 characters


3.89
/5
rDev
-4.4%
look: 3 | smell: 4 | taste: 4 | feel: 3.5 | overall: 4
Background: Purchased from the Caves de Bulles near Les Halles in Paris. Brought on the Eurostar to Harrogate, London. Then FInally back to Providence, RI. Its about a month since purchase at this point.
A. Bottle conditioned. Dark dark brown color. Medium looking body. Tan 1 finger head.
S. Yeastiness, wheat bread, ripe cherry, caramel, alcoholic.
T. mmm tasty! challah bread, dark malt, slight roast, oak, pear. A rounded caramel flavor is dominant but not sweet. Quite dry. Finish is lingering oak and dark bread. ABV doesn't come through.
M. I believe it should have a bit more body for the style. Body is light to medium. Carbonation is low, which i find pleasant.
O. Very enjoyable, i'll be happy to work my way through the glass. Thanks for the recommendation!
772 characters
4.1
/5
rDev
+0.7%
look: 4 | smell: 4 | taste: 4.5 | feel: 3 | overall: 4
Appearance: Pours a very dark brown color with ruby highlights; while the tan head started out nicely, it tended to fritter away just a bit too quickly for my linking though it did manage to leave a few squiggles behind
Smell: Chocolate, licorice, black bread and a hint of sour cherry
Taste: Black bread, up front, with the chocolate and licorice flavors emerge shortly thereafter; by mid-palate, the sour cherry arrives in force and adds a nice balance in the finish with the sweeter chocolate and licorice flavors
Mouthfeel: Light to medium body with a bit too spritzy of a mouthfeel for the style
Overall: Spending a few days in Paris and exploring a variety of beers thanks to the folks at La Cave à Bulles and am learning that French beers are category benders; I would put this one more in the Belgian Stout/Oud Bruin combo category than in the BSDA camp; perhaps one day, we will see more French beers in the US and they can devise their own categories; until that day, this is a worthy one for those who like something different
1,042 characters
4.47
/5
rDev
+9.8%
look: 4 | smell: 4.5 | taste: 4.5 | feel: 4.5 | overall: 4.5
A; black nice head gone quikley.
S; spices lots of it.
T; spices, roasted malts,some cheesy taste,caramel.
M: a nice taste of spices and malts that come togheter nicely.
O; a belgian brown ale hell no its a stout and a damn good one to. nice winter brew.
258 characters

3.95
/5
rDev
-2.9%
look: 4 | smell: 4 | taste: 4 | feel: 3.5 | overall: 4
Beer bottle (75cl.), tasted June 2008 with Thomas Vandome (the brewer of St Rieul).
Appearance : black color (like a stout), with tan foam head.
Smell : coffe and roasted malts aromas.
Taste and mouthfeel : delicately sweet and smoked, medium bodied finish.
Drinkability : The newest beer (from the farm brewery Saint Rieul) in the style Belgian strong dark ale (or stout ?).
Story : "while the battle raged, a fire destroyed the attic grain from the farm St Rieul, destroying crops and reducing villagers to starvation. Smoldering ruins, only the roasted barley, which when the rain came, turned into a beverage surprising. Of great misfortune was born a delicious nectar, stout St Rieul".
692 characters
4.37
/5
rDev
+7.4%
look: 4 | smell: 4.5 | taste: 4.5 | feel: 3.5 | overall: 4.5
Apperance : a classical brune 4/5
Smell : wow! never had smell a beer that strong before! 4.5/5
Taste : strong taste due to the roasted barley (caramel but i can't taste anything more) but alcohol is very well hidden 4.5/5
Mouthfeel : Good. 3.5/5
Overall. This is a really interesting beer. You really should have one! 4.5/5
328 characters
4.62
/5
rDev
+13.5%
look: 4 | smell: 4.5 | taste: 5 | feel: 4 | overall: 4.5
Pours almost completely black. I had this from a wine glass and maybe that affected the head, but it all dissapeared in a few seconds.
Smell: Roasted, burnt malt, chocolate, raisins, prunes, dried apricots, and coffee notes
Taste: Very well balanced above all. A lot of chocolate and bitter expresso with dark fruits taking a back seat. Behind everything is a wonderful burnt barley taste. I'm reminded of a sweet stout, like an oatmeal, but with added dimensions of belgian yeast spices and other depth
Mouthfeel: Pretty thin, which further separates it from a stout, and the carbonation is very soft. Typical of a French take on the style I suppose.
656 characters
Saint Rieul Brune from Ferme-Brasserie Saint Rieul
Beer rating:
4.07
out of
5
with
13
ratings