Cazeau Tournay Blonde
| Brasserie De Cazeau
BA SCORE
84
good
27
Reviews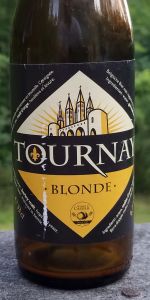 BEER INFO
Brewed by:
Brasserie De Cazeau
Belgium
brasseriedecazeau.be
Style:
Belgian Strong Pale Ale
Alcohol by volume (ABV):
7.20%
Availability:
Year-round
Notes / Commercial Description:
No notes at this time.
Added by TheLongBeachBum on 05-11-2005
Reviews: 27 | Ratings: 48
3.65
/5
rDev
-1.6%
look: 4 | smell: 4 | taste: 3.5 | feel: 3.5 | overall: 3.5
BB 11-2006. Good presance with foggy orangebrown beer and a great and lasting head. Nose is good malts that give it a dry note but even more candy that's sweet with caramel. Taste is that of a good fermented beer that saw too much candy. Wheaty carracter comes out more now as in the nose and aftertaste is good and bitter. Mouthfeel is qiet fine having good( quiet high) carbonisation and taste that's not showing anything overdone. Drinkability is ok but could have something more as fine candy and bitterness.
★
512 characters
4.12
/5
rDev
+11.1%
look: 4 | smell: 4.5 | taste: 4 | feel: 4 | overall: 4
Presentation: Easter Sunday 27th April, 2005 was a hard morning to face after some late night/early hours drinking in Ostend. Thankfully though the thought of a tour around the new Brasserie de Cazeau was something to spike the senses and fortify my ailing old body.
After a very interesting tour around the new Brewery in a rather old countryside location which housed the original family Brewery, we headed up into the loft area of what was one of the farm like buildings surrounding a quadrangle w- we emerged in a Sampling & Tasting Roof come which included a small bar and a few tables a chairs. It even housed, in the rafters, the sectional coolship from the original Brewery.
From here we were served the Tournay Blond from 750ml green grass bottles by the Brewer, into Tournay Goblet like Glasses. Labeled at 7.2%, this is the first of many new beers promised from Brasserie de Cazeau….one a year is planned in fact.
Appearance: A little darker than I expected, in the Brewery serving room it had a simple amber character, but held to the light near the one window it exhibited an orange hue with some reddish-amber tints. A little turbid the cloudy nature reminded me of a chill haze in a Cask Ale, maybe off-putting to some but not really detracting. A lovely creamy light tan colored head formed easily from the pour. Audibly violent as the head rescinded, but after it settled it never collapsed to anything less than a depth of no less than ¾".
Nose: TONS, or is that Tonnes? of fruity odors…oh my word, the aromas are of, and my list states; mango, pineapple, lemon, lime & orange, apple cores, mashed banana and freshly toiled earth with a herbal yeast spicy finish. The brewer made a point to inform us that NO spices are added, so this is quite the nose for a brew with only the usual four natural ingredients.
Taste: Rustic charm throughout, more yeast in the flavors with a spicy malt feel that hinted at aniseed at times in the finish. Very dry, with some lingering bitterness but it had a Belgium Candy Sugar feel to it at the start. The aromas don't quite come through in thy tastes, at least not in the bottles we had. They are there though I suspect, lurking in the background, mischievously biding their time. Could be one to age for 12 months I think before it develops its best profile.
Mouthfeel: The dryness scorches the tongue at times, yet the early sweetness builds feel into the body. Finishes bitter and very, very dry though. Throughout all of this the soft but lively conditioning persists and lends a nice Belgium Ale feel to the drink.
Drinkability: I managed several of these; the complimentary glass was soon devoured, as was several others that I paid for. Bloody tasty stuff indeed, and easily partaken.
Overall: It drinks oh so easily, feels good on the palate and the appearance is good, yet the tastes are still developing I felt. But by far the best part of this brew is the nose….oh that was good!!! Don't confuse this with other rather average bland tasting Blondes/Blonds so often seen in new Belgium Brewpubs though, that moniker can be rather confusing and I think may prove detrimental in the long run.
Nevertheless, the name is a minor quibble, this is a solid brew that I am sure will develop with time, as I indeed hope the Brewery will. I wish Laurent Agache and Quentin Mariage all the best with their third generation Brewing venture.
★
3,430 characters
Cazeau Tournay Blonde from Brasserie De Cazeau
3.71
out of
5
based on
48
ratings.