Long Face
| Olde Main Brewing Co. & Restaurant
BA SCORE
78
okay
10
Reviews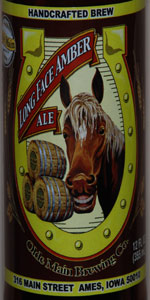 BEER INFO
Brewed by:
Olde Main Brewing Co. & Restaurant
Iowa
,
United States
oldemainbrewing.com
Style:
American Amber / Red Ale
Alcohol by volume (ABV):
5.80%
Availability:
Year-round
Notes / Commercial Description:
A horse walks into a bar and the bartender says, "Why the long face?" An all around easy drinking, tasty beverage with malt and notable caramel flavors balanced by several American hop varieties.
16.3 IBU
Added by bditty187 on 07-06-2005
Reviews: 10 | Ratings: 25

3.75
/5
rDev
+19.4%
look: 3.5 | smell: 3.5 | taste: 3.5 | feel: 4 | overall: 4.5
This amber proved to be very smooth and the flavor was just right.
It's a medium amber color. The aroma and taste have a mild hint of orange to them. It isn't much on hops, making it one of the smoothest brews I've had in a while. I wouldn't call this a sophisticated beer, but it's a nice, enjoyable drink, somehting the non-BAs might even enjoy.
★
348 characters

3.48
/5
rDev
+10.8%
look: 4 | smell: 3.5 | taste: 3.5 | feel: 3 | overall: 3.5
Thanks goes out to tedpeer for this brew.
Pours a nice cloudy amber color, nice carbonation, nice one-finger creamy off-white head, with some nice sticky lacing left behind. The nose is malty, with slight hop notes, and caramel. The taste is slightly sweet, malty, slightly bitter, very faint hop note, and caramel. Medium body. Drinkable, not a bad brew at all.
★
363 characters
3.37
/5
rDev
+7.3%
look: 2.5 | smell: 3 | taste: 3.5 | feel: 3 | overall: 4
Served: Bottle poured into a pint glass.
Aroma: Malty, burnt caramel with some very slight fruitiness I couldn't really decipher.
Appearance: A brownish with read color, mahogany like. Light head that didn't really leave lacing but slight film.
Flavor: A nice smokey maltyness, caramel and faint hop bitterness. Slight sweet malt and a touch of sour I noticed on occasion.
Body and Texture: A little less than average carbonation, pretty smooth though. Leaves you a bit dry.
Drinkability: Wasn't all that filling, nothing off putting. Could stand to have a few of these.
★
577 characters
3.37
/5
rDev
+7.3%
look: 3.5 | smell: 4 | taste: 3 | feel: 3 | overall: 3.5
Pours a cloudy, amber/copper color. 1/3 inch head of an off-white. Slight retention and slight lacing. Smells of sweet malt, brown sugar, all spice, and tart malt. Fits the style of an American Amber / Red Ale. Mouth feel is smooth and crisp with an average carbonation level. There is strong dryness associated with this brew. Tastes of roasted malt, yeast, slight sweet malt, and slight smoke flavor. Overall, a very dry beer with an odd assortment of flavors that is not that well blended.
★
492 characters
3.16
/5
rDev
+0.6%
look: 4 | smell: 3 | taste: 3.5 | feel: 2 | overall: 3
Appearance: Clear amber pour, fluffy beige head, settles quickly and leaves mild lacing.
Smell: Sweet an biscuity malts, along with a hint of hops.
Taste: Rich sweetness initially, followed by a toasted malt flavor supported by a very faint hop presence.
Mouthfeel: Wow--So very watery. Medium carbonation. Drinks like carbonated water, truly. Finish is fairly crisp.
Overall: Decent beer that is worth a taste, but definitely not a regular purchase.
★
455 characters

3.11
/5
rDev
-1%
look: 4 | smell: 3 | taste: 3 | feel: 3.5 | overall: 3
Poured from an inch or so above the glass giving me a light brown maybe tan head that was pretty decent, almost half the glass above a clear caramel amber colored beer.
Roasted almost burnt caramel malt aroma with a slight hint of something else, interesting.
The taste is more of the caramel malt almost bordering on molasses yet they hold the roasted almost burnt feel of the aroma.
A medium bodied beer with some roasted malt coming through in the dry aftertaste,
A decent beer with some good stuff going on but yet it misses hitting home and making me want more.
★
570 characters

3
/5
rDev
-4.5%
look: 3 | smell: 3 | taste: 3 | feel: 3 | overall: 3
Received this in trade from tedpeer, thanks for the opportunity.
Pours a slightly cloudy orange-amber with a smallish bubbly off white head that dissipates quickly. Aroma is malty, a bit fruity, but kind of bland. Would have done well with some hop presence. Taste is malty, I get some caramel, some toffee, very dry finish. Mouthfeel is kind of watery maybe a bit oily. Body is a bit thin. Carbonation is crisp. Not a bad beer, just somewhat unremarkable. I could see a bud drinker transitioning to this quite easily.
★
520 characters
3
/5
rDev
-4.5%
look: 3 | smell: 3 | taste: 3 | feel: 3 | overall: 3
Reviewed from notes:
appearance: dark amber brown with minimal head
smell: caramel, malts, sweet,
taste: sweet, caramel, malts,
mouthfeel: mild carbonation, medium body,
overall: pretty average. definitely doesn't live up to other beers in this style. Which have some of my favorites in it.
cheers,
The CPJ
★
312 characters
2.92
/5
rDev
-7%
look: 2.5 | smell: 3 | taste: 3 | feel: 2.5 | overall: 3
A - Poured out an opaque, light brown color with ruby highlights. It had a small, very short-lived, tan head that left no lace at all.
S - It smelled of roasted malt and caramel.
T - It tasted of malt and caramel. There was an odd fruity sourness, like cherry. It didn't seem to fit. The sour kick decreased as it warmed and the caramel flavor emerged even more.
M - It was a little thin and watery. A light bodied beer.
D - This is an okay amber. It actually got much better as it warmed. The sourness mellowed.
★
516 characters
2.65
/5
rDev
-15.6%
look: 3 | smell: 3 | taste: 2.5 | feel: 2.5 | overall: 2.5
Dried apricot orange with a reddish blush and bright orange borders. The khaki colored cap doesn't reach two fingers, has very little character, hangs around for a bit, and leaves the glass almost untouched. Calling the appearance average is being kind.
The nose is solidly average for the style. It's moderately toasted malty and has an underlying fruitiness that would be more appealing if it was more prominent. Unfortunately, it doesn't smell like there are many hops.
Long Face Amber couldn't continue the 'average score parade' all the way to the end. If memory serves, it's slightly better in the bottle than on-tap. However, there are still major flaws that need to be addressed before it can be taken seriously.
I still have nightmares about the off-flavor of Olde Main Brewing Co. beer (dirty tap lines on more than one occasion?). Since incompletely sanitized bottles isn't very likely, I guess we can attribute the nastiness to either a lack of skill or to poor quality ingredients. Sorry, just being honest.
Alongside the dominant flavor of toasted-nutty-earthy and slightly sweet caramel malt is a sourish, lemon juicy, rotting fruit flavor that shouldn't have gotten past the boys in the quality control department. Since it doesn't appear as if the basic recipe has changed since 2005, the brewer must want his beer to taste like this. Hard to imagine.
The mouthfeel is light-medium and has no lift whatsoever. What bubbles are present are lazy in the extreme and do nothing to add even a hint of creaminess. It's still much better than the overcarbonated mess from the brewpub.
The only positive thing that I say about Long Face Amber is that it's better in the bottle than on-tap. Olde Main Brewing has a long row to hoe if they want to compete with Millstream and Hub City.
★
1,798 characters
Long Face from Olde Main Brewing Co. & Restaurant
3.14
out of
5
based on
25
ratings.