Silver Moon Brewing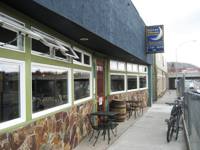 PLACE INFO
Type:
Brewery, Bar, Eatery
24 NW Greenwood Ave
Bend
,
Oregon
, 97701
United States
(541) 388-8331 |
map
silvermoonbrewing.com
Notes:
OPEN 7 DAYS 11:30 AM to 11PM, Sunday 11:30AM till 8PM
Added by RedDiamond
Reviews: 16 | Ratings: 42
4
/5
rDev
+5%
vibe: 4 | quality: 4 | service: 4 | selection: 4
I recently made my second visit to Silver Moon and came away impressed again. With a feel more like a neighborhood bar than a "typical" brewpub, I was right at home. It seems as if they are constantly working on and upgrading their space. It seemed a bit cleaner and more organized than before and some very nice murals have been painted on the walls to give the room a bigger feel that it actually is.
The quality of the beer and service were both very good, the bartender was busy (she was working the whole front of the house alone and the place seemed about half full) bit still had time to answer some questions and joke around a bit. The two beers I had were very good, as was the taster of a third, and I bought a few bottles to go. They had a nice variety of styles, you'll find something you'll like.
I didn't eat, but the food looked good and was reasonably priced. I look forward to a chance to visit when I'll have more than 14 hours in town and can spend some time here. If you hit Bend, Silver Moon is a must hit.
1,029 characters
3.65
/5
rDev
-4.2%
vibe: 3.5 | quality: 4 | service: 3.5 | selection: 3.5 | food: 3.5
Silver moon....best priced pint in town! Silver Moon is the dark horse of Bend right now. Been around for several years but the last two years they have really been upping their game. The atmosphere is almost more of a bar feel, pool table featured in one part of the room, a few tables take up the rest of the space. Beer bottles line the shelves around the ceiling...always fun to see what you've tried. As for the quality it is good and always getting better...the service is typical of a pub, good but nothing great. The selection is decent, could use more variety but they are small and growing. The food is good, no great specials or deals and typical of a pub. Overall Silver Moon is the best place to stop in after work and grab a few pints, beyond that it falls in popularity to Deschutes and BBC.
806 characters
3.55
/5
rDev
-6.8%
vibe: 3.5 | quality: 3.5 | service: 3.5 | selection: 3.5 | food: 4
Showed up on a late Saturday afternoon. Pretty quiet, with some tv's going, a pool table, foosball, and a few other games.
Beer quality was above average, but not great. I had a tasty pilsner, tried another beer that I can't quite remember, probably because it was somewhat forgettable.
Service was ok. The girl that helped us was prompt, but pretty indifferent to us being there.
Selection was pretty good, I think they had 7 beers on tap.
Food was good. I had a tasty dinner that was very reasonably priced.
513 characters
3.55
/5
rDev
-6.8%
vibe: 4.5 | quality: 3.5 | service: 3.5 | selection: 3.5 | food: 3
I've been coming into Silver Moon for almost three years now. What once was an understocked homebrew supply store that crafted some of their own beers has now grown into a full fledged brewpub that makes a pretty good pint of brew.
Out went the homebrew supplies and in came a small kitchen and major upgrade in the brewery portion of the business. Silver Moon has two young, extremely gifted brewers that work there and are growing their knowledge of this craft.
The beer lineup consists of an Amber (actually a British mild), Bitter, Pilsner, a smokey robust Porter, and an IPA that gets a little hoppier with each batch brewed. Seasonals include Belgian ales, hefeweizens, Irish reds, and American pale ales.
The food at the moon is decent enough, and fairly priced. The menu is basic pub fare.
The atmosphere at Silver Moon is pretty good and definately leans towards local "Bendites." This has become one of the favored venues for local, live music, and can become standing room only for these events.
1,010 characters
4.68
/5
rDev
+22.8%
vibe: 5 | quality: 4.5 | service: 5 | selection: 4.5 | food: 4.5
~ Update ~
They have moved their homebrew shop to another building. This place is has now become a complete restaurant/tavern with tables, great atmosphere, and an extended bar. They now have a full kitchen too, with a great menu and lots of new beers (seasonals).
~
Old review from 9-21-07
Ahh, Silver Moon. One of the newest microbreweries is Bend, they offer 5 or so of their beers ontap. They have seasonals sometimes too.
Decor is very laid back and comfortable. Rows of rare/antique beer bottles and growlers line the walls. They have a FREE pool table, a poker (or scrabble!) table in the corner, comforable family seating. Oh, and it's Non-smoking.
Their normal selection of beer is: Hound's Tooth Amber, Bridge Creek Pilsner, High Plains Heffe, Snake Bite Porter, Badlands Bitter, Hop Knob IPA.
I recommend getting a sampler (so you can taste them all) and when you pick one you all like, get a pitcher for your group!
Monday is locals night, $2 pints, woot!
They've got good food, I recommend the pulled pork nachos, any of their sandwiches, or any daily special.
Live Music every Wednesday and Saturday. Pick of a copy of the free weekly indy newspaper "The Source" somewhere in town to see who's playing at Silver Moon this week. Its usually decent local bands.
Lots of locals here most of the week. If your from out of town, this place is really inviting, and you'll get a good taste of the local flavor. I'd recommend this over Deschutes if you don't have time for both.
1,496 characters
3.15
/5
rDev
-17.3%
vibe: 2.5 | quality: 3 | service: 4 | selection: 3 | food: 2.5
Revisited 10/08: I've been visiting the Moon about once a year since '04 and every time I return it seems they've transformed themselves into something new. I first encountered them when they were brewing out of the back room of a homebrew supply store on Division St. Back then they brewed on two half-barrel kettles that fed a 7-bbl fermenter. Brewing multiple small batches to fill the fermenter took all of 12 hours and caused inconsistencies in their product. Beers were sold in growlers to go or served on draught in the homebrew store, which functioned as something of a "brewcafe."
Next, they moved to Greenwood Ave. where they shared space with a glass art gallery while still selling homebrewing supplies. Today, the glass blowing studio and homebrew supplies are gone, and their 10-bbl system is spacious, integrated, and efficient, with an optimistic surplus of brewing capacity.
Silver Moon has effectively transformed into a standalone working brewpub. The former glass studio is now a gaming area and the rest of the single, open room is a restaurant. Food offerings are somewhat skeletal with burgers and brats, small pizzas and "basket food." Mondays are cheap beer nights and draw a good crowd. Beer quality is of mid-range with some seasonals lingering beyond their prime. The IPA however, is outstanding.
I find the atmosphere less inviting today than during the Moon's brewcafe days. I miss the homebrew talk at the bar as homebrewers stopped in for their supplies. I miss the organ, the beer magazines, and the kitsch. And watching people blow glass while sipping a beer was quite entertaining. The dining area is now a large unadorned room with tables that manages to look naked, the acoustics are harsh, and what in the world is a mirrored ball doing spinning from the ceiling (lit by a blacklight no less)?
Still, even as I drank pumpkin ale and reacquainted myself with Hound's Tooth Amber, an artist was putting the finishing touches on murals and expressive detailing near the door and behind the bar. Perhaps the next phase of the Moon will hold more promise.
Stats: four or five regular beers, three or so seasonals, no guests or cask. A few select wines are available. Several beers are sold in bombers to go.
2,249 characters
Silver Moon Brewing in Bend, OR
3.69
out of
5
based on
420
ratings.