Innis & Gunn Session IPA
| Innis & Gunn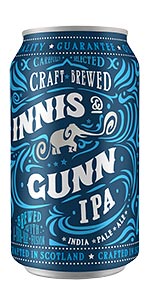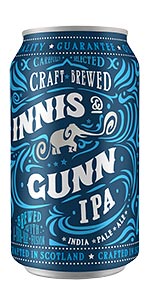 BEER INFO
Brewed by:
Innis & Gunn
Scotland
,
United Kingdom
innisandgunn.com
Style:
American IPA
Alcohol by volume (ABV):
4.60%
Availability:
Year-round
Notes / Commercial Description:
Malt: Extra Pale malt
Hops: Super Styrian, Cascade, Magnum and Admiral
Added by bark on 08-31-2016
HISTOGRAM
Ratings: 14 | Reviews: 5
Reviews by thehyperduck:

3.79
/5
rDev
+13.1%
look: 4 | smell: 3.75 | taste: 3.75 | feel: 4 | overall: 3.75
500 mL can from the LCBO; best before May 2018 and served slightly chilled. I am mildly amused by the fact that the ingredients list is given in Spanish, but not in English or French. Take that, you smart-ass Canadian bilingual labelling standards!
Pours a bright, sunny golden-yellow colour, featuring a brilliantly clear complexion that is flooded with streams of effervescence early on. An inch of soapy, bubbly white head recedes gradually over the next five minutes or so, resulting in a frothy remnant collar beneath a modest curtain of messy lace. The aroma includes notes of grapefruit and lemon, along with some herbal, floral hops and minor notes of earthy, resinous pine. Hints of grainy bready pale malt also come through, with a touch of honey sweetness. No complaints so far.
A respectable light pale ale; fairly mildly hopped, with a clean malt bill that is reminiscent of some of the British-made pale ales I've had in the past. Bready, doughy pale malts and wheaty sweetness remain a persistent background fixture throughout the sip, overlapping first with some lemony citrus and floral hop notes, and then with an earthier, lightly resiny bitterness which arises towards the finish; this facet carries on faintly into the grassy, floral aftertaste. Light-medium body, with restrained carbonation that gently tickles the palate, giving this IPA a smooth, soft mouthfeel. Easy-drinking stuff.
Final Grade: 3.79, a B+. Innis & Gunn's Session IPA likely won't be appearing on any top ten lists, but for what it's worth, I still enjoyed my glass. Whereas most of the ISAs I've tried treat the malts as an afterthought, this one is substantially more balanced than most - whether that makes it a better beer (or not) is, of course, entirely dependent on your preferences. One of those rare I&G products that I wouldn't necessarily recommend to fans of the standard I&G line-up - I'd say this one is most likely to appeal to English IPA fans, as it is rather akin to a session version of that style.
2,013 characters
More User Reviews:
3.73
/5
rDev
+11.3%
look: 4 | smell: 3.5 | taste: 3.75 | feel: 4 | overall: 3.75
500ml can - hah, that 'other' beer review site (if you're thinking Untappd, you can just go fuck yourself) thinks this session IPA is the same thing as a regular IPA. How cute, even though the contributors here thus far seem to have the same affliction.
This beer pours a clear, pale golden yellow colour, with four fingers of puffy, rocky, and chunky off-white head, which leaves some random streaky and sudsy lace around the glass as it eventually sinks away.
It smells of bready and doughy pale malt, a bit of biscuity caramel, mixed peppercorn spice (?), muddled tart citrus fruity notes, and weak earthy, weedy, and musky floral green hop bitters. The taste is gritty and grainy pale malt, a mixed and matched pome and citrus fruitiness, subtle earthy yeasty essences, and more understated musty, weedy, and dead floral 'verdant' hoppiness.
The carbonation is fairly active in its swirling and twirling frothiness, the body a dense medium weight, and generally smooth, with a wee airy creaminess seeping in once things warm up a tad 'round here. It finishes off-dry, the base malt contending with the fallout of the wannabe New World hop kiddees.
Overall, this is my kinda I&G joint - no overwrought caramel/toffee malt (although it is still pretty heady for the purported style), and with a hop quotient that does well by any schmuck's (myself included) measure. Worthy of a try, and like me, check yo' bias at the door, fool!
1,440 characters

2.72
/5
rDev
-18.8%
look: 3.5 | smell: 3.25 | taste: 2.5 | feel: 2.25 | overall: 2.5
From a 500ml can served straight from the fridge at 8 degrees Celsius into a stemmed IPA glass. Best before date: May 2018.
Look: The beer pours a brilliant pale gold with 2cm of white, bubbly head that fades into a craggy cap within 2+ minutes
Smell: Fairly mild with decent balance. Fresh vegetal/herbal and perfumy floral hops. Citrus and grass. Mild biscuity pale malt. The aroma lacks punch.
Taste: Quite mild and leaning towards bitter. Hop flavour is similar to aroma with herbal and floral character. Toasty/biscuity malts play a supportive role. The finish is long and bitter with medium intensity.
Feel: Medium-light body with moderate carbonation. Sharp and acrid with no alcohol warmth.
Overall: I&G session IPA ranks as a mediocre brew in my books. Overall I find it lacks depth and character even with the decent hop bill. In addition, there's an unpleasant harshness in the mouthfeel. Too easy a beer to forget in a world of excellent IPAs.
960 characters

4.34
/5
rDev
+29.6%
look: 4 | smell: 4.25 | taste: 4.5 | feel: 4.25 | overall: 4.25
3.32
/5
rDev
-0.9%
look: 3.5 | smell: 3.25 | taste: 3.25 | feel: 3.25 | overall: 3.5

2.5
/5
rDev
-25.4%
look: 2.5 | smell: 2.5 | taste: 2.5 | feel: 2.5 | overall: 2.5
3.04
/5
rDev
-9.3%
look: 3 | smell: 2.75 | taste: 3.25 | feel: 3 | overall: 3
3.75
/5
rDev
+11.9%
look: 3.5 | smell: 3.5 | taste: 4 | feel: 3.5 | overall: 3.75

3.49
/5
rDev
+4.2%
look: 3.75 | smell: 3.5 | taste: 3.5 | feel: 3.25 | overall: 3.5
500 ml can served cold into a pint glass. LCBO purchase for under $3 CDN.
Appearance - Semi-clear, semi-transparent beer with golden hues. A fine looking finger of white foam sits on top and lingers a while.
Smell - Clean, grassy with a definite English hop presence. A bitter and slightly sour aroma. Session EIPA all the way.
Taste - Clean, fairly grassy with lots of lemon zest and some pepper. Coarse grainy flavors in the background. Decent for what it is.
Mouthfeel - Thin and watery, carbonation n is light. Body is watery throughout, with a peppery pinch on the tongue.
Overall - A decent English style session IPA,but I can't see anyone here getting too excited about this.
688 characters
2.68
/5
rDev
-20%
look: 3.5 | smell: 3 | taste: 2.5 | feel: 3 | overall: 2.25
The colour is yellow; the liquid cleat. The two finger head is compact and white; it sinks slowly to a thick lid leaving some lacing.
The smell is … somewhat fruity with some citric notes. Dense sweetness, some metal and butter/margarine.
The taste is quite clean with lots of sweet malt, woody/herbal English hops, passing butterscotch and slowly growing bitterness. Light to medium body. Returning sweetness in the aftertaste as well as metallic mild bitterness and some higher alcohol. The finish is overly sweet with dough, metal and some cheap toffee.
The carbonation is medium to light; the small bubbles fresh. The beer gets flat quickly. The liquid is medium smooth.
I don't get this at all, it tastes more like an industrial lager with some added English hops.
778 characters
3.5
/5
rDev
+4.5%
look: 3.5 | smell: 3.5 | taste: 3.5 | feel: 3.5 | overall: 3.5
3.5
/5
rDev
+4.5%
look: 3.5 | smell: 3.5 | taste: 3.5 | feel: 3.5 | overall: 3.5

2.82
/5
rDev
-15.8%
look: 3.5 | smell: 2.75 | taste: 2.75 | feel: 3 | overall: 2.75
3.67
/5
rDev
+9.6%
look: 3.75 | smell: 3.5 | taste: 3.75 | feel: 3.5 | overall: 3.75
Innis & Gunn Session IPA from Innis & Gunn
Beer rating:
3.35
out of
5
with
14
ratings