Mangoes On the Run
| Innis & Gunn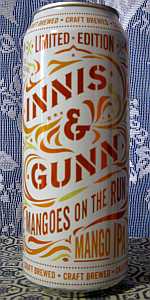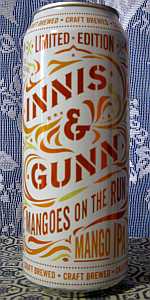 BEER INFO
Brewed by:
Innis & Gunn
Scotland
,
United Kingdom
innisandgunn.com
Style:
Fruit and Field Beer
Alcohol by volume (ABV):
5.20%
Availability:
Year-round
Notes / Commercial Description:
No notes at this time.
Added by mrcasual on 05-17-2018
HISTOGRAM
Ratings: 13 | Reviews: 7
Reviews by thehyperduck:

3.94
/5
rDev
+7.4%
look: 4 | smell: 3.75 | taste: 4 | feel: 4 | overall: 4
500 mL can from the LCBO; best before May 31 2019 and served slightly chilled.
Pours a clear bronze-orange hue, producing one finger of loose, bubbly white foam that fades completely within the next two minutes. Good lacing, with a webby, doily-patterned swath having been deposited onto the glass just above a thin collar of froth. The aroma is mostly fruity, with quite a bit of mango juice and orange, as well as notes of tropical fruit, melon, and earthy hop resins. Hints of caramelized sweetness and toasted grains also start to come through as the glass warms.
Yum. There's a nice undercurrent of toasted pale malts and biscuity sweetness, though the mango winds up being the most prominent flavour here. The fruity traits of the Citra, Simcoe and Herkules hops provide some strong backup, though, with grapefruit, melon, orange and passion fruit all coming together beautifully before fading in the midst of an increasingly earthy, resiny back end that crescendos into the aftertaste; there's also some persistent malt sweetness and mango tang. Medium in body, with low-ish carbonation levels that impart a gentle crispness; feels smooth, and drinks like a champ.
Final Grade: 3.94, a B+. I was skeptical when I bought it, as I don't recall trying any real solid IPAs from these guys in the past... but Innis & Gunn's Mangoes on the Run made for a very pleasant quaff. A very quick one, too - it was tough to stop sipping this, which is generally a pretty good endorsement. Now that I've noticed the 'Limited Edition' printed on the can, I suppose I'd better grab a few more before they run out - subliminal marketing 1, thehyperduck 0.
1,648 characters
More User Reviews:
3.74
/5
rDev
+1.9%
look: 4.5 | smell: 4.25 | taste: 3.5 | feel: 3.5 | overall: 3.5

3.58
/5
rDev
-2.5%
look: 4.5 | smell: 4 | taste: 3.25 | feel: 3.5 | overall: 3.5
Sparkling bright amber, crystal clear, like Iron Bru; fluffy and full almond flesh head with several minutes retention.
A blast of fruit on the nose, I'd have said it was peach if I didn't know it was mango - wonderfully fresh and sweet.
First sip - yep, there's that aggressive sweetness, butterscotch, bready malt flavour characteristic of Innish & Gunn. Was hoping it might be more subdued in an IPA, but this is candy sweet. This time it's coupled with plenty of tropical fruit, mango sure, but more like a jolly rancher. There is a touch of resin hops in the finish, which is at least dry and not cloying. In the end that balances things out, but the initial sweetness is still too much for me. Medium body and carbonation, with a soft, slightly syrupy mouthfeel.
Some might love this, I find it overly sweet and artificial tasting. Not bad as a summer brew, but one is enough. Suggest skipping it unless you really enjoy I&G.
932 characters
3.86
/5
rDev
+5.2%
look: 4.25 | smell: 3.75 | taste: 3.75 | feel: 4 | overall: 4
500ml can - it's certainly good to see them branching out more and more into non-oaky offerings.
This beer pours a clear, bright medium copper amber colour, with three fingers of puffy, rocky, and mildly fizzy off-white head, which leaves some nice layered and frilly lace around the glass as it slowly seeps away.
It smells of fresh mango flesh, some mixed domestic citrus rind, gritty and grainy caramel malt, and some plain earthy, musty, and piney hop bitters. The taste is semi-sweet, grainy and bready cereal malt, dried mangoes, muddled grapefruit and lemon citrus peel, a bit of damp minerality, and more leafy, weedy, and piney green hoppiness.
The carbonation is average in its palate-baiting frothiness, the body a decent middleweight, and generally smooth, as the hops seem to be of the gentlemanly sort here, as such. It finishes off-dry, the sweetness well-balanced among the lingering malt and various fruity notes.
Overall - this comes off rather pleasantly, with the mango flavour meshing seamlessly with the fruity hoppiness. Refreshing, and easy to drink, especially on a warm June day, in anticipation of more Star Wars back storytelling. Did Han always shoot first? Gonna find me out!
1,214 characters

3.99
/5
rDev
+8.7%
look: 3.75 | smell: 4 | taste: 4 | feel: 4 | overall: 4
4.31
/5
rDev
+17.4%
look: 4.5 | smell: 4 | taste: 4.5 | feel: 4.25 | overall: 4.25
A- Pours a very attractive orange color with amber, bronze and honeyed undertones.....nice clarity too! The head, which has excellent retention by the way, pours about three fingers thick, is creamy and frothy, and is just eggshell in coloration. Carbonation appears to be rather plentiful, with many columns of bubble rising aggressively to the top of the liquid, and the lacing is also most excellent, with an entire layer of foam coating the inside of my glass!
S- Huge juicy mango fruit is immediately detected on the nostrils, with citrus hops (grapefruit, lemon, pomello zest), piney aromas, some dry grassy hops on the finish, and overall a balancing honeyed barley malt.....a mild version of what fuzzy peach candies smell like!
T- Alright, the hop presence becomes much more noticeable but in general, it is very subdued and pleasant on the palate! Fruity tropical flavors are very present as well, and I really enjoy the mango, which provides a sweet, refreshing flavor! Citrus hints in the background, bread yeast/biscuit is noted too, creamy vanilla hints and slightly of juniper berry all the same. Very well balanced and enjoyable!
M/O- Medium bodied, with creamy velvet like carbonation that truly allows the character to shine on both palate and on the ol' sniffer! Highly drinkable and this flows very easily on a hot summer day and I will most definitely seek this one out again to enjoy! Yet another winner from the good folks at I&G!
1,464 characters

3.96
/5
rDev
+7.9%
look: 3.75 | smell: 4 | taste: 4 | feel: 3.75 | overall: 4

2.92
/5
rDev
-20.4%
look: 3.75 | smell: 3 | taste: 2.75 | feel: 3.25 | overall: 2.75
Canned in a 330ml can
pours a clear barley sugar coloured body with big thick white head
the aroma is what I should imagine a mango fruit tea smells of
all that produces a slightly sweet beer that does give much but that of John Smith's smooth with a dash of vimto
266 characters

3.64
/5
rDev
-0.8%
look: 3.5 | smell: 3.75 | taste: 3.5 | feel: 3.75 | overall: 3.75
500 ml can served cold into a pint glass. LCBO purchase for $3 and change.
Appearance - Orange, brilliantly clear with golden hues and a half finger of fluffy white head. Modest retention and next to no lacing.
Smell - Initially, it's grassy with some tropical notes and then mangoes shoot through and dominate the conversation for awhile. Noble hops, earthy aromas and a hint of dark fruit fill in the gaps.
Taste - Actually, very much like the nose. Initially grassy with some roasted malt grain and boom the mangoes appear for a few seconds before fading away leafy English style hops and a hint of dark fruits behind. Bridging the gaps between fruit beer, English and American IPA's. Enough bitterness to make this balanced. Just a touch of the signature yeast and sweetened Original on the close. The resemblance of a second cousin is certainly there.
Mouthfeel - Medium bodied, carbonation on the light-ish side and finish is pretty moderate. Easy drinking and enjoyable enough.
Overall - A better effort than expected and a nice hybrid of Fruit beers, English and American IPA's. Worth a try even if it didn't completely strike my fancy.
1,149 characters
3.5
/5
rDev
-4.6%
look: 3.5 | smell: 3.5 | taste: 3.5 | feel: 3.5 | overall: 3.5
Great upfront. A little too sweet towards the end.
50 characters
3.07
/5
rDev
-16.3%
look: 3.75 | smell: 3 | taste: 3 | feel: 3.25 | overall: 3
3.52
/5
rDev
-4.1%
look: 3.75 | smell: 3.5 | taste: 3.5 | feel: 3.5 | overall: 3.5
330ml Can from Morrison's, Glasgow (£1.50):
Much better than anticipated, the beer was definitely a sweet & fruity one with some nice sugars & apricot but the mango dominated as expected. There was a slightly artificial feel at times but it was balanced with some background light malts & bread ones too with citrus & grassy hops featuring as well. It was a nice beer that proved easy to drink without being anything spectacular, it was slightly grainy nearer the end with some subtle hops coming through as well.
514 characters
3.73
/5
rDev
+1.6%
look: 3.75 | smell: 3.75 | taste: 3.75 | feel: 3.5 | overall: 3.75
Mangoes On the Run from Innis & Gunn
Beer rating:
3.67
out of
5
with
13
ratings