Innis & Gunn Triple Matured Oak Aged Beer
| Innis & Gunn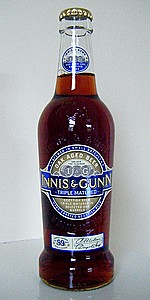 BEER INFO
Brewed by:
Innis & Gunn
Scotland
,
United Kingdom
innisandgunn.com
Style:
English Strong Ale
Alcohol by volume (ABV):
7.20%
Availability:
Limited (brewed once)
Notes / Commercial Description:
No notes at this time.
Added by wl0307 on 11-19-2008
This beer is retired; no longer brewed.
Reviews: 28 | Ratings: 34
4.7
/5
rDev
+20.2%
look: 4 | smell: 4 | taste: 5 | feel: 5 | overall: 5
A- An always classy look to the packaging give this I&G product some points. It pours more dark brown/burgundy color than just burgundy in my opinion, as the box suggests, but a very nice color regardless. A foamy, off white 1 inch thick head forms, then quickly disappears into a ring around the glass. Doesn't appear to have too much carbonation and the lacing is quite minimal.
S- Sweet and rich. I first noticed a deep raisin aroma, but there's toffee & blackstrap molasses mixed in as well. The sweetness is offset somewhat by the oak, which provides a woody/fibrous note. The hops are very mild but just catch my nose right at the end.
T- A mild toasty flavor is noticeable right up front, with includes some dark chocolate, dark brown sugar, toffee, and dry dark fruits, such as prunes & raisins. The oaked character is noticable, leaving some mild spiciness, delicate woodiness, and just a hint of dryness from the barrel as well. The hops are mild and just hit the back of the palate on the finish. Very nice!
M- This is one mellow beer. The wood really lingers on the palate after drinking. The body is medium-full and the carbonation seems to be just right. I let this sit out for about 10 mins after my first couple of drinks and the warmth of the flavors become brilliant! I think about being in a lodge on a cold winter day when drinking this brew!
D- The 7.2% alc. is hardly noticeable at all. I would have no problem drinking a few of these over an evening, albeit slowly, as this is a classy brew that deserves to be appreciated, not chugged! I really like the rum cask beer I&G does as well, and while similar, this one is just a slightly less sweet. This one I have to say is tied as my favorite by this company! Very well done!
★
1,751 characters
3.88
/5
rDev
-0.8%
look: 4 | smell: 3.5 | taste: 4 | feel: 4 | overall: 4
Grabbed a bottle (or box, I guess) of this just as they were stocking the cooler with it this past weekend in Calgary. Lots of florid prose about the 3 different ways in which this incarnation of their whiskey barrel-aged ale is aged.
This beer pours a clear, deep shade of golden brown, with two fingers of soapy beige head, which deposits very little lace around the glass as it quickly disappears. The aroma is roasted caramel malt, some soft ripe black fruit, and floral hops - like a jacked-up English brown ale. The taste is more ripe orchard fruit - slightly acidic and sweet, that expected vanilla oakiness, and some substantial earthy and floral Euro-hoppiness. The carbonation is fairly sedated, the body full, with a tinge of creaminess, and it finishes off-dry, the sweet fruity malt wood goodness welcome in its persistence.
I wondered how this particular new offering would differ from their standard product, and it's clear that the purported 'maturation' has rendered a much darker, fuller, and more flavourful beast, comparatively speaking.
★
1,059 characters
3.85
/5
rDev
-1.5%
look: 4 | smell: 4 | taste: 4 | feel: 3.5 | overall: 3.5
Purchased at the Sainsbury's supermarket, during the X'mas gift sale. Limited edition, coming in I&G's standard clear glass bottle packaged in an elegant dark blue paper box. BB 12/2009, served cool in Westmalle's broad-rimmed goblet.
* How is this beer "Triple Matured"? - summarising the lengthy description on the box, the first maturation happens in American white oak barrels, the second in a marrying tun to allow beers from different barrels to blend until reaching a harmony, then the third takes place in the bottles for a month. In total, 99 days are the long maturation for this beer, which is bottled from a limited number of 150 oak barrels. Really serious, it sounds.
A: clear, dark copper with deep ruby hues, topped with a thin layer of off-white foam settling gradually to a rim; the carbonation comes rather moderate and constant.
S: deeply fruity and syrupy-malty, showing lots of berry-jam fruits, fat prunes, hawthorn fruit candy, caramelised sliced-apples on top of I&G's typical mixture of sweet vanilla-ish oak-iness and coconut-shavings... a whiff of salty-sweet & sour edge almost like a brown ale hides in the background. Very dense and rich in the fruity elements and oakiness, at the expense of a malty balance IMO.
T: mildly sour-sweet prunes and dried hawthorn fruits expand freely on a pretty light, crystal-malt-like backbone (* the label states chocolate malts are used), turning slightly dry-ish herbal, black-sugary, and also lightly vanilla-oaky (in terms of the aroma on the palate) with an explicit input of moderate-level spicy hoppiness. The aftertaste, continuing with the sour fruitiness initially, witnesses a decent hop input as demonstrated by the slightly dry and chewy kickback; nevertheless the finishing touch is somewhat sour and thin.
M&D: not really mellow enough but still moderate in terms of carbonation on top of a medium body, this edition is indeed "mature" and goes easy on the palate especially thanks to very little alc. feel throughout the drink. Somehow a depth is in the lacking as is a preferable complexity that is achieved better by some previous offerings from I&G. Maybe "Triple Maturation" has softened everything, including even the oaky elements? Overall, this is still a decent drink, but maybe not as delicious as other sister products of I&G from the previous years.
★
2,352 characters
Innis & Gunn Triple Matured Oak Aged Beer from Innis & Gunn
3.91
out of
5
based on
34
ratings.