Innis & Gunn Spiced Rum Finish
| Innis & Gunn
BA SCORE
84
good
56
Reviews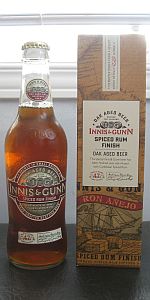 BEER INFO
Brewed by:
Innis & Gunn
Scotland
,
United Kingdom
innisandgunn.com
Style:
English Strong Ale
Alcohol by volume (ABV):
6.90%
Availability:
Limited (brewed once)
Notes / Commercial Description:
Oak matured for 57 days
Added by ChrisCage on 10-14-2011
This beer is retired; no longer brewed.
Reviews: 56 | Ratings: 174
3.82
/5
rDev
+2.4%
look: 3.5 | smell: 4 | taste: 4 | feel: 3.5 | overall: 3.5
Good amber colour with very little head. Warm rum and oak notes, light spice, creamy malts.
Light bitterness, rum and booze, woody notes. Suggestions of caramel and spice. Very similar to their regular rum cask, but with a bit of spice.
Smooth mouthfeel, a bit too light on the carbonation.
292 characters
3.8
/5
rDev
+1.9%
look: 3.5 | smell: 3.5 | taste: 4 | feel: 3.5 | overall: 4
Searched for this one, saw the Spiced rum finish, aged 47 days. saw the rum cask, aged 102 days... this is the Rum Finish, Aged for 57 Days.
Clear bottle, yay, but that is their norm. Pours an amber color with about a finger of head. it is nice...
Nose is odd. I get the crappy Innis and Gunn beer nose, but then the soft and actually quite nice oaky rum nose. it is not an over powering rum nose, and it is not an over powering oak nose, but it is a nice blend of the two... now, if they could get rid of the crappy underlying beer nose.
Taste is much the same as the nose. i get the crappy underlying beer... then i get the nice smooth oaky rum. It finishes quite nice. VERY nice actually. But the regular innis and gunn is there, and I can taste it. This is the best Innis and Gunn I have ever had though. I have had the Canada whiskey version as well, and this one is quite better. The rum is subtle and the oak is smooth, and they blend quite well.
Mouthfeel is the same as all the other versions.
1,009 characters

4
/5
rDev
+7.2%
look: 4 | smell: 4 | taste: 4 | feel: 4 | overall: 4
Amber colour, ring of white head, spots of lace left behind. Smell is full of vanilla and rum, well oaked, nice malt bill, toffee and caramel as well. Taste is malty followed by big waves of vanilla and oak, light sweetness, spiced rum is there but not overpowering, spicy caramel/toffee finish. Med carb, lightly syrupy, medium body. This is probably the most pleasant Innis & Gunn offering I have ever had, it doesn't taste over-oaked like most stuff from them and is quite drinkable, much better than the regular rum cask from them by a long shot.
550 characters
3.55
/5
rDev
-4.8%
look: 4 | smell: 4 | taste: 3.5 | feel: 3.5 | overall: 3
A clear copper toned ale, an off-white head that settles quickly leaving little lacing but has good curtains.
Much wood nuances, fruitiness, cloud-berries and very ripe pears and sherry.
Sweet brown bread, apricot jam, sweet licorice, oak, no bitterness.
Little carbonation, slightly sticky but smooth, medium body.
Not bad, but as always I feel slightly disappointed with I&G, the casks seems to flatten the beers too much.
428 characters
3.85
/5
rDev
+3.2%
look: 3.5 | smell: 3.5 | taste: 4 | feel: 4 | overall: 4
330ml, clear as ever bottle, part of the current winter I&G gift pack.
This beer pours a clear, bright copper hue, with one skinny finger of thin foamy off-white head, which leaves very little in the way of lace as it hastily settles. It smells of fruity, floral, boozy oak barrel, a bit of caramel and vanilla, and a metallic twinge where one would expect at least a little hop action. The taste is a bit more engaging - a solid toffee wall hits you at first, the woodiness character softened a fair deal, but the vanilla and subtle nuttiness remain. Flitting about are some nice zingy fruity notes, that have divorced themselves from immediate association with their rum origins. Speaking of the booze, it maintains quite a low profile, warming things a touch here, a smidgen there. Hops are still AWOL. The carbonation is there, but rather unobtrusive, the body medium weight, and decidedly smooth. It finishes sweet, with a toffee beholden to the wood once again, and exotic fruit esters joining the fray.
Well, the spiced rum barrels sure show their stuff in this offering, so points for truth in advertising. Overall, a decent barrel aged strong ale, clean, and pretty tasty, without those messy hops getting in the way.
1,228 characters
4.5
/5
rDev
+20.6%
look: 4 | smell: 4 | taste: 5 | feel: 4 | overall: 4.5
Got this in the same gift pack that the Winter Beer comes in, surprised I'm the first reviewer so far; yeah!
A- Poured this into my newly acquired I&G tulip style glass...how exciting! Pours a clear golden hued color, and has a nice two finger thick eggshell colored head, that has excellent retention...eventually settling down to a dense creamy film over the brew. The carbonation appears to be very relaxed, with only a few bubbles lumbering up to the top.
S- This smells similar to the original Rum Cask beer by I&G, with a distinct woody aroma, obviously from the barrel. The main difference is that this one is sweeter, which is what I'm guessing is done on purpose, being aged in spiced rum casks instead....more tropical fruit esters are present. As expected, there isn't really any hop bitterness noticeable.
T- Holy damn is this a smooth beer! For a near 7%'er, the warming alcohol is there, but without any sort of burn whatsoever! Again, this is similar to the original rum cask, but with more fruit sweetness, and there is a very distinct butterscotch richness that lingers throughout on the palate, followed closely by banana fruit. There is a mild hop presence on the finish....just enough to balance this flavorful beer out, and I find there is some subtle cinnamon spice closely following behind right after the swallow. Absolutely delicious to taste!
M- Creamy...very creamy! This is a very smooth beer as the carbonation is short on the palate, allowing the full range of flavors to show through....I almost feel like I'm enjoying a modified light fruitcake! Solid medium-full body....
O- This is definitely a sipping beer, meant to be enjoyed as a treat! Warm, flavorful, with a nice balance between sweet and woodsy! Innis & Gunn doesn't disappoint as usual and I once again highly recommend picking this one up!
1,848 characters
Innis & Gunn Spiced Rum Finish from Innis & Gunn
3.73
out of
5
based on
174
ratings.