Innis & Gunn Canada Day 2012 Scottish Oak
| Innis & Gunn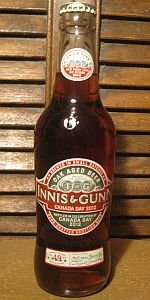 BEER INFO
Brewed by:
Innis & Gunn
Scotland
,
United Kingdom
innisandgunn.com
Style:
English Strong Ale
Alcohol by volume (ABV):
7.70%
Availability:
Limited (brewed once)
Notes / Commercial Description:
No notes at this time.
Added by Sammy on 06-29-2012
This beer is retired; no longer brewed.
Reviews: 13 | Ratings: 39
3.45
/5
rDev
-9.4%
look: 3.5 | smell: 3.5 | taste: 3.5 | feel: 3 | overall: 3.5
Thanks Jay for sharing! Served in a mini pint glass.
Bright high clarity orange, thin ring of foam around the edges with minimal spotty lace.
Smells sweet, cane sugar, oak, rum, caramel sauce.
Sweet and a little buttery, lager yeast, it also tastes vaguely like a watered down rum & coke. Thin bodied, sort of weak and flaccid like most I&G beers i've tried. Light carb level. Glad this was shared, not really worth seeking out. The box graphics are better than the beer itself.
481 characters
4.55
/5
rDev
+19.4%
look: 4.25 | smell: 4.25 | taste: 4.75 | feel: 4.75 | overall: 4.5
Such a delicious, satisfying beer. So thirst quenching. So refreshing. Wow. Really enjoy this beer. Yum!
It is reminiscent of fine mead, though far lighter and far more complex. The aftertaste is sweet and pleasant. Wish I could make this beer at home...at nearly 4$ a beer, it's a rather pricey treat.
302 characters
4.42
/5
rDev
+16%
look: 4 | smell: 4.5 | taste: 4.5 | feel: 4 | overall: 4.5
330ml bottle poured into a pint glass. ABV 7.7%.
Good thing the clear bottle comes in a fancy box.
A - Poured a clear mahogany with a 1cm white head. Head reduced to a thin cap. No lacing.
S - Strong vanilla, oak, caramel, hint of fruit.
T - Toffee & caramel, red wine, stabs of cola & cream soda, mild bitter finish. The taste is quite complex but also delicious. No hint of booze.
M - Medium-low carbonation, medium body, smooth, syrupy, a bit of heat, clean finish.
O - It's good. Damn good ale.
503 characters
3
/5
rDev
-21.3%
look: 3 | smell: 3 | taste: 3 | feel: 3 | overall: 3
Bottle: Poured a clear dark golden color ale with a medium size foamy head with average retention and some light lacing. Aroma of vanilla and oak with sweet malt based and light sweet caramel malt notes. Taste is dominated by quite strong vanilla which borders on gross territory with some toffee and sweet caramel malt notes. Body is smooth with a creamy texture and good carbonation. Interesting but too much vanilla and a bit too sweet for its own good.
456 characters
3.87
/5
rDev
+1.6%
look: 3.5 | smell: 4 | taste: 4 | feel: 4 | overall: 3.5
330 ml bottle. Pours a dark clear copper color with light head that dissipates quickly. Aromas of malt and caramel with a hint of wood. Definite oakiness but not overbearing. Additional flavors of sweet toffee, roasted malts, and vanilla, just like the description. Very nice.
276 characters
4.3
/5
rDev
+12.9%
look: 4 | smell: 4 | taste: 4.5 | feel: 4 | overall: 4.5
Poured from the bottle into a nonic pint glass, and a slight bit into a snifter.
What a great deep red brown and crystal clear color on this. Little carbonation, but in the nonic makes easily four fingers of a fluffy light tan off white head. Always leaves a good puck while drinking, but no lacing. Very good looking brew.
Nose is quite interesting. Not much sense of oak, but a big thick character and lots of fruit red berry cherry senses. Light toffee and a sense of richness feels coming. Not particularly varied, but pretty impressive and solid.
Palate is incredibly complex. Lots of oak flavors, and barrel charing, complete with a good mix of toffee and sense of caramel. Fruity as well matching the nose, with a creamy body character very soft feel, with a hint of tight carbonation on the tip of the palate. Vanilla senses somewhat in the aftertaste, but a very big roof top tannic drying in the mouth also, with a hint of bittering hops. No sense of boozy quality whatsoever.
Overall there is a lot going on here flavor wise, and I really am impressed with how fruity this is also. It has that great English estery quality and a mix of toffee and oak, it all seems so nicely balanced too. Fun and tasty brew!
1,223 characters
3.7
/5
rDev
-2.9%
look: 3.5 | smell: 3.5 | taste: 4 | feel: 3.5 | overall: 3.5
Appearance - Pours a hazelnut brown with a finger width of bubbly cream-coloured head.
Smell - Barley malts, oak, touch of earthy/leafy hops, raisins.
Taste - Starts with the barley, followed by sweet caramel, raisins and oak. More sweet than the smell leads on. Touch of leafy hops.
Mouthfeel - Medium bodied with light carbonation. Finishes sticky.
Overall - A unique Canada Day edition by Innis & Gunn. A big surprise in the flavours when comparing with the aromas.
472 characters

4.27
/5
rDev
+12.1%
look: 3.5 | smell: 4 | taste: 4.5 | feel: 4 | overall: 4.5
330 mL bottle-in-a-carton from the LCBO. Always excited to try a new offering from I&G, one of my favourite Scottish breweries. Poured into a dimpled mug, and tasted while only slightly chilled.
Pours a clear copper colour with some ruby red tinges under the light, topped with a little over two fingers of frothy, tan-coloured head. It wilts away over the next few minutes, leaving behind a thin, foamy cap, modest collar, and little actual lacing. The aroma is impressively strong, and otherwise not unlike that of other I&G offerings - lots of butterscotch and toffee maltiness, with hints of vanilla, oak, and dates. Vaguely whisky like, but not peaty or anything like that.
The taste does not disappoint at all. As predicted, toffee and caramel maltiness provides the backbone of the flavour, with a firm, but non-overbearing oakiness present throughout. Slightly vanilla-like, with raisins, dates and even some peaty nuance coming through toward the finish alongside the leafy, drying English hops. Lingering aftertaste with some malty dryness, oaky tannins and some heat from the ethanol. Medium-bodied, with relatively mild carbonation that makes for a pleasantly smooth ale. Some slickness is left behind on the palate, but it doesn't come across as particularly thick or syrupy.
Final Grade: 4.27, a solid A-. These reviews must be starting to make me look like a bit of a brown noser, but Innis & Gunn really knows how to make a quality, sturdy English-style ale and this stuff is really no exception. This is almost absurdly drinkable for a 7.7% brew, but given the small-ish sample I'd rather enjoy it slowly. Maybe they should do the 2013 version in bombers, or at least pint bottles? Wishful thinking...
I like this more than their flagship oaked ale, and (in my opinion) it is probably better value than their pricy limited edition Highland Cask. Great stuff, and highly recommended to anyone who is a fan of this brewery's staple offerings. My local shop still had plenty of these left over from Canada Day, and I might just get a few more before the stock runs out.
2,089 characters
3.94
/5
rDev
+3.4%
look: 3 | smell: 4 | taste: 4 | feel: 4 | overall: 4
A - clear bright copper, short head dissipated to a some random islands
S - strong oak and butterscotch, vanilla, light grain with a warm booziness
T - oak and vanilla up front, followed by booze and toffee, finishes with a lingering sweetness with just a mild note of peat
M - medium to light body, silky smooth finishing with a warming sensation
O - they really smoothed out the flavours here with oak and vanilla giving it a soft warmth, not a peat heavy brew like many I&G offering which is a nice change, a great way to celebrate Canada
541 characters

3.5
/5
rDev
-8.1%
look: 3.5 | smell: 3.5 | taste: 3.5 | feel: 3.5 | overall: 3.5
A: Deep burnt orange with red highlights. Thin off-white ring clings to the glass. Excellent clarity.
S: Soapy toffee, diacetyl, english yeast fruitiness. A slight metallic twang at the finish.
T: Mirrors the toffee/diacetyl fruitness of the nose with some clean, subtle oak notes. Long finish, not a bad beer.
M: A bit thick and syrupy for the abv, but nice tannins from the oak.
Probably the best beer I've had from I&G (not typically a fan).
449 characters
3.97
/5
rDev
+4.2%
look: 3.5 | smell: 4 | taste: 4 | feel: 4 | overall: 4
I enjoyed a bottle on Canada Day, but am pleased to have been given another bottle from my in-laws for a proper review.
A - Pours a nice dark copper colour with an amber hue, finger of head with some retention and no real lacing.
S - Rich boozy caramel, toasted grains, buttered bread with hints of vanilla and dark fruits.
T - The caramel notes dominate, some raisins and dark fruits, toffee, a touch of vanilla, oak and peat come through on the finish.
M - Medium bodied, smooth and wet.
O - Overall a tasty strong ale, nice flavours that possess a touch of oak and a booziness that goes largely undetected. Pleased to have had an oppotunity to try this one again.
671 characters

3.99
/5
rDev
+4.7%
look: 3.5 | smell: 4.5 | taste: 4 | feel: 4 | overall: 3.5
LCBO bottle. Poured into a snifter, with a head of tannish foam that disappears fairly quickly, leaving some lacing. Colour is quite dark, a kind of ruby-brown. Maintains a good amount of carbonation.
Powerful nose. Lot of vanilla and toffee notes. Good amount of malt as well. Also an over-lingering fruity lightness, possibly peppermint? Altogether very sweet.
Taste starts with some roast malt and a big sweet kick of vanilla and toffee, a solid amount of oak. It is quite sweet but leaves some balance for the other flavours. Great depth of flavour for sure, mellows together quite nicely as it warms. The finish is dry and oaky, toffee.
The mouthfeel is quite full bodied, it is a bit syrupy I find, and the alcohol is present but not overly assertive.
This beer is along the lines of most of the I&G beers. The sweetness is a bit on the prominent side, but the beer is quite drinkable and gives you something to think about while drinking. It is big on the toffee and vanilla. I like the Rum Cask more I think, but another winner. Happy Canada Day!
1,060 characters
3.38
/5
rDev
-11.3%
look: 4 | smell: 3.5 | taste: 3 | feel: 3 | overall: 4
LCBO Bottle. Big soapy head. Malt aromas. Ruby highlights. Decent drinkability despite slightly light mouthfeel, with a little astringency from the wood. The wood aroma and taste comes out better at room temp. A little hops in the finish.Alcohol well hidden.
258 characters
Innis & Gunn Canada Day 2012 Scottish Oak from Innis & Gunn
3.81
out of
5
based on
39
ratings.