Beer Belly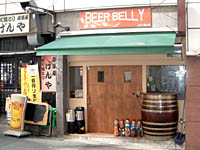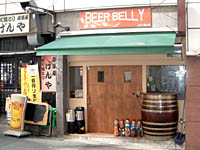 Bar, Eatery
Osaka River Bldg. 1-1-30 Tosabori Nishi-ku
Osaka-fu Osaka-shi
, 550-0001
Japan
06-6441-0717 |
map
aji-beer.co.jp
Notes:

4.56
/5
rDev
+10.7%
vibe: 5 | quality: 4.5 | service: 5 | selection: 4
I dug this place; it reminded me of a hole in the wall place in the US. Server spoke English. Good beer from Minoh, lot's of cask options. Didn't have anything to eat there, but the menu looked good.
199 characters
4.68
/5
rDev
+13.6%
vibe: 4.5 | quality: 5 | service: 4.5 | selection: 4.5 | food: 4.75
The home of Minoh Beers ON TAP! If you think the Minoh beers in bottle are good (they're awesome) the fresh draft and hand pump "real ales" are super-awesome!
164 characters

3.78
/5
rDev
-8.3%
vibe: 4 | quality: 3.75 | service: 4 | selection: 3.5 | food: 3.75
A long narrow venue of typical size for urban Japan. It has 3 tables and a long bar going almost all the way to the back where there's an open kitchen and a toilet. 8 taps of Minoh beers available plus 4 hand pull taps of Minoh "real ale". English menu and better English speaking from the staff than expected. Kitchen turned out very good food from a menu that focuses on English pub fare (e.g., fish and chips; shepherds pie), tapas and cheese. Friendly staff and good service. Customers must buy one drink, at least at night … not a problem here. I had a disappointing coffee stout and a very good Monkey IPA.
627 characters

4.46
/5
rDev
+8.3%
vibe: 4.75 | quality: 4.5 | service: 4.75 | selection: 4 | food: 4.5
Ookini, shachou!
The story behind Minoh Beer's creation is almost as interesting and orthodox as the beers this outstanding Kansai brewery puts out. The late Masaji Oshita (R.I.P., shachou!) one day decided "hey, I bet I could make a beer that tastes better than this Asahi/Sapporo crap we've been drinking for almost half a century. I'm going to make this my new family business."
Fast forward 18 years to today, and you have a collection of some of the most solid craft offerings available on this side of the archipelago, coupled with an outstanding scotch selection for those of us that like harder stuff, and a pretty extensive bar menu. All credit to the Oshita sisters for producing probably the most orthodox non-sticky Double IPA I've tasted in Japan (W-IPA), a bold full-bodied stout that doesn't roll right off your tongue the same way tepid water does (Imperial Stout), and a slew of seasonal selections that impart a unique Japanese flavor to some of the oldest beer styles around (Yuzu ho-WA-ito Weizen, Sansho Pale Ale)
Owing to the fact that Minoh Beer is one of the oldest craft breweries around, (est. 1997) you'll always find something out of the ordinary on the menu here: despite being on the opposite side of Japan, BeerBelly always seems to have one or two Bairds on tap; their rotating cask pumps (yes, they have plural--three!) have also been renown to carry some of the most exclusive tap offerings to have come out of the archipelago which when I went was Yo-Ho's Yona Yona Real Ale (Unpasteurized American-style Pale Ale) and the fabled Shiga Kogen Ichiro Chichibu Barrel Aged W-IBA (India Black Ale, aged in Chichibu's "Ichiro's Malt" barrels).
BeerBelly also lives up to the "Belly" part of its namesake; they have everything from your typical bar servings of Fish and Chips and Shepherd's Pie to more fancier pairings like Champiñones al ajillo and Jamon Iberico sliced right in front of you as you wait.
Caveat about BeerBelly: BeerBelly has three locations in Osaka that serve different types of food. If you want burgers head over to their location in Edobori; for a more tapas-esque experience, head to their latest location in Temma. If you're like me, however, and would rather be all about the beer, then just stay right here. You've come to the right place.
2,302 characters
3.08
/5
rDev
-25.2%
vibe: 2 | quality: 4 | service: 1 | selection: 4.5 | food: 3
Atmosphere - Quite small. The bar has about 8 seats, and pressed into a tight hallway are just a few, small, 2-4 person tables. Photos on the wall. Too much intense lighting throughout the tiny establishment. While partly in-line with Japanese local shop atmosphere, the area behind the bar looks like your dirty, eccentric friend's kitchen and the long human hair attached to the cured, aged pork leg sitting in front of my face was quite un-appetizing. Especially when I watched the barman carve away at it onto a plate for the unlucky Japanese guests sitting on the other side of the bar.
Quality/Food - The quality of the on-tap microbrew selection was excellent. Unfortunately, on that particular (not busy) Friday night, 3 of their beers were completely tapped out, and the bartender seemed very unconcerned and unapologetic about this. As a result, I didn't get a chance to sample the Minoh stout or the guest beer barley wine. The quality of the food was average.
Service - Incredibly unfriendly. First thing I did after I sat down was to explain that I was a homebrewer who had come on a beer quest to his establishment from the far away land of Tokyo, after reading good reviews about the bar. The bartender's response was conveyed immediately to me that he didn't give a hoot and he wanted me to sit down and shutup. So, I later tried chatting with the other female bartender, just information gathering, and she quickly followed suit. This was not a language barrier problem as I was speaking clear Japanese. The staff was either having a very bad day or they simply don't practice basic good business.
Selection - Microbrewed, on-tap kegs and casks: pale ale, IPA, stout, lagers, seasonal guest beers, and even a barley wine! If the beers are not tapped-out, the selection is awesome relative to other bars in Japan. You probably wont find another bar with more microbrews (more than 10) on tap outside of Tokyo. At least half the beers were from the Minoh Brewery. They had a guest beer from the Shigakougen Brewery - the Not So Mild Ale Harvest Brew. EXCELLENT beer, nice head, awakening bouquet of hops with complex malt flavors. In fact, in spite of my mediocre review, I would recommend that anyone in the greater Osaka area visit this bar if only to have a few pints of this fantastic, uncharacteristically complex brew!
2,342 characters
4.28
/5
rDev
+3.9%
vibe: 5 | quality: 5 | service: 4.5 | selection: 4 | food: 1.5
A little hard to find (tip: if you come from the island side, it will be your first left after crossing the bridge and a minute down that street). Huge plus points for the atmosphere. This narrow bar has limited space, and you'll have to rub elbows with the patrons - a mix of knowledgeable locals and thirsty ex-pats. It felt like an immersion into everyday Japanese life, but with good beer instead of bad rice lager and happoshu. Good selection of beers with a firm emphasis on the Minoh offerings (I think 5 or 6 were on tap). Three cask beers, of which one was Brewer's Gold - a former champion beer of Britain and an unlikely find in such a remote place.
Excellent service, with no wait times and even able to respond to my scatchy Japanese questions about brewers. Downside is the food - its pretty much crap, so eat elsewhere. Prices were more than I'm used to paying in Toronto, but not by much.
905 characters
4.2
/5
rDev
+1.9%
vibe: 3.5 | quality: 5 | service: 4 | selection: 4 | food: 3.5
This place is great, though I must admit, by the time I got there I was probably too drunk to fully appreciate it (this was the last stop on my five-bar crawl). I had one of their cask ales, an incredibly tasty imperial smoked porter, and an imperial stout on tap, also very, very good. Unfortunately I can't remember who brewed them - possibly Daisen? Minoh? It's a pity, because those were some reeeally good beers and I'd like to direct adequate props to the responsible parties. At any rate, Beer Belly has been pretty much the only place I've been in Japan to satisfy my craving for big, strong, interesting beers. And on cask, no less! Awesome!
Beer Belly is a small place and it's not in a very interesting part of town, but it's worth going a bit out of your way for. Highly recommended, certainly one of the best beer bars I visited in Kansai (along with Beer & Bear and Beer Cafe Barley).
901 characters
3.9
/5
rDev
-5.3%
vibe: 3 | quality: 4 | service: 4 | selection: 4 | food: 4
This establishment is primarily a bar with 8 chairs at the bar, standing room for a half dozen and a table for six. It is one of the only venues outside of Tokyo with a dozen Japanese craft beers on tap.
The tap line up is:
2 Cask Ales
1 Belgian Kriek
2 Lagers
8 Ales (of which, one is a barely wine).
All of the beers are Japanese Craft beers (yes, except for the kriek). The owners are the Ooshita sisters, who also run the Minoh Brewery, so it comes as no surprise that 6 of the 13 are from their brewery.
Directions: Exit the Higobashi Station on the Yotsubashi Line.
Find Higobashi bridge and take the small street on the south side of the bridge, proceed in a westerly direction (i.e. Umeda to your left) until you reach Beer Belly. If you reach the next bridge, Chikuzenbashi, you passed Beer Belly the store by about 15 meters.
The beautiful leg of spanish ham was delicious, and the pasta was great. There is enough food on the menu for you to have dinner, but most of the food on the menu is to accompany your beer.
1,045 characters
Beer Belly in Osaka-fu Osaka-shi, Japan
Place rating:
4.12
out of
5
with
8
ratings