Dismiss Notice
Beer & Wine Makers Warehouse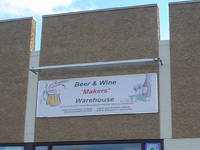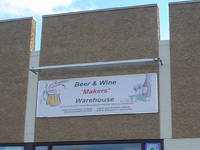 PLACE INFO
Type:
Homebrew
290 Murphy Rd
Hartford
,
Connecticut
, 06114-2107
United States
(860) 247-2969 |
map
bwmwct.com
Notes:
No notes at this time.
Added by BeerAdvocate
PLACE STATS
Reviews:

12

Ratings:

pDev:

33.56%
HISTOGRAM
Ratings: 13 | Reviews: 12
Reviews by diverite:

1.8
/5
rDev
-39%
vibe: 3 | quality: 1 | service: 2 | selection: 2
Its hard to be objective when a shop seems to take you for a ride that you don't want to go on. i.e., one bad thing leads to another and before you know it, you are an unhappy passenger.
I heard that this place was okay and should fit my needs for a batch of AG Octoberfest that I was planning on brewing. What I found was a shop that was stuck in a place and time in the days when homebrew ingredient quality was hit or miss.
Lets get down to basics here.
1. Their malt is brand X and you have no idea where it is sourced from or how fresh it is.
2. They measure the hops for you and you have no idea where they are grown, how old they are, or what the rated potency is. My Tettnanger pellets were gray and oxidised...okay my bad for not questioning it.
3. They sold me 2 packages of 10 month old liquid yeast (again my bad for not checking).
4. Here is the real rub that bothered me the most and gave good explanation to the other things I observed: When I got home and called them about the date on the packages, they said that since I was doing a starter it would be fine and the 6 month shelf life is for direct pitching...after 6 months the packs had to be slapped. They told me that this is what Wyeast told them. I emailed Wyeast Lab Services and they told me that I should not use the yeast.
Brewers, Stay away unless you need wine supplies (can't speak for wine) or empty bottles (they have a nice bottle selection). Go to a more reputable place or order online, its worth the extra expense for shipping costs.
1,530 characters
More User Reviews:
4.1
/5
rDev
+39%
vibe: 3.5 | quality: 4.5 | service: 4 | selection: 4
I was visiting some friends who brew and am thinking about getting into it. We went to this shop and there is a new couple who recently purchased it! They are awesome, experienced home brewers and wine makers. They owner Bo is very patient and clear with instructions. He knows a lot and doesn't try to pressure you into buying things you don't need. If I am in the area I will definitely stop in again! I think they will be a long time resource for me and my friends! If you've went before they bought it, I STRONGLY encourage you to try it again!
548 characters

3.03
/5
rDev
+2.7%
vibe: 3 | quality: 3.5 | service: 3 | selection: 2.5
I stopped in here for the first time and was not overly impressed with the brewing info or selection of equipment or ingredients. That said, they do have just about everything you would need to make perfectly good homebrew.
The equipment line for homebrewing is a bit limited (just one or two kinds of kettles, etc) and some of the ingredient kits did look like they had been sitting there a little while. This definitely feels a bit more like a Wine Makers store than a brewing shop and a little bit out of date in terms of best practices for hop storage and recommended equipment.
The service was attentive if a bit perfunctory. I was asked if by more than one person if I needed help and my bulk grain was dropped up front while I continued shopping for some equipment.
Grain prices were reasonable but not a bargain. Compared to shipping a bulk quantity of grain to my home, the bulk purchase of base malt I made was reasonable. The specialty malt on the other hand was definitely priced on the high side, especially considering the owner did not give an option as to maltster or provide any info on the malt (I know it was 60L, but was it British or American? How long had they had it? etc).
Essentially, the place felt serviceable but un-enthused and uninspired as a home brew shop.
1,293 characters
1.7
/5
rDev
-42.4%
I really dislike the owner of this place.
Every time I've gone in, he's been rude and condescending. He's always got some snide comment about what your purchasing.
Today, I asked my wife to pick some Kolsch yeast up for me on her way to work. He was a complete chauvinist making comments about how he knew she wasn't buying it for herself--women only brewed back when they spent all their time in the kitchen.
I really try to support local businesses, but this place should only be used as a last resort.
509 characters

2.4
/5
rDev
-18.6%
Stopped in this place today to buy some minor pieces of equipment. Selection seemed okay. The owner was talking to two customers who were interested in buying supplies to get back into home brewing after having been away from it for several years. I could overhear him talking, and his attitude was rude and condescending. He never asked if he could help me, nor did the woman behind the counter. Then I overheard the woman behind the counter say to someone "Can you just make a list of what you want and come back later, we have other people in the store." And there was only me and two others. At that I spun around and headed for the door. As I was pushing the door open, the owner yelled across the store "Can I help you with something?"
"Nope, I'm good."
No need to deal with that. Brew and Wine Hobby in East Hartford is nearby and Maltose Express ships anywhere.
871 characters
4.45
/5
rDev
+50.8%
Honestly the guy in the store is really nice and seemed to be very knowledgeable and offers a wide selection of brew equipment. Yes, his service is a bit nontraditional but you have to engage him. Once approached he was a big help, just keep his attention. Also, his advice does challenge accepted brewing technique but that doesn't mean it is necessarily wrong. I tried the cling wrap over the bucket with a rubber band and it came out fine. It made things a lot easier being able to see the beer and have the hygrometer in it. He made a good point fermentation has been around for thousands of years and they did not have the sanitation advancements we have today and I am sure it came out fine. I am not trying to down grade the importance of sanitation but, I am just trying to provide evidence for his reasoning and also trying to fill this 500 word requirement.
867 characters
1.85
/5
rDev
-37.3%
I was very disappointed with the website. I'm looking for some additional/alternatives shops with a web presence that are within a reasonable drive (2 hrs is OK).
Just one page with a general list of stuff they sell. Nothing specific. I do 95% of my supply buying online and this one will not make it to my bookmark/favorites list. From the other reviews, this is not exactly the most customer-friendly place - seems like it's run more at the convenience of the owner than for the convenience of the customer - irregular hours are a real pet peave of mine. Sorry guys but this one isn't worth the drive or the surf time.
621 characters
2.7
/5
rDev
-8.5%
I have been in here a couple times over the years. This past time I needed some kegging supplies. I knew how much things were online and expected the prices here to be more. I was not aware how much more. I didn't feel confident with the information I received from the owner because it conflicted with tons of info I gathered on the net before i headed down to the store.
It seems to be more of a wine makers store, and I believe the owners are more into wine. This is fine, but I would buy online before going here just to save the money. I feel the prices are way out of line.
Just my $.02
594 characters

3.5
/5
rDev
+18.6%
I just bought a few supplies, no ingredients. The place is big with tall shelves full of everything. Looks like there are a good amount of grains to choose from. There was a refrigerator with mostly wine yeast, some beer yeast and no hops that I could see. There is a ton of equipment and parts in this store! If you need stuff like that go here. The service was kinda strange. I walked in and the owner was on the phone chatting with a buddy the whole time, I paced for a while and finally just stood infront of the counter and looked at hime and he got off the phone. It wasn't bad at all but I wish it wasn't so awkward just to get service. Anyways it seemed to be an ok place. I'll have to update if I get any ingredients from here to let you know their quality.
766 characters
3.9
/5
rDev
+32.2%
I love this place. You send the guy an email telling him what your ingredient list is, and he puts it all together, grinds it up for you, and has it ready for you when you show up. If only it didn't take me an hour to get there!
The owner is always there (in my experience) and he is a pretty knowledgable guy. He has a bit of a rough exterior, but he's not unfriendly.
As others have noted, they do keep some of their hops not in the refrigerator. That could be improved.
His hours are also not that great. They are open maybe about half the time, but sometimes closed certain days in the summer. Of course, if you do the email order I was talking about, you can plan to pick it up when you know they're open.
I like the fact that he has lots of bulk grain, but I haven't bought any yet, because I don't have a mill and I like the email order thing that he does.
I will probably buy most full batch ingredients from this place, but if I just need a few odds and ends, it is a bit far for me to drive.
1,016 characters
2.8
/5
rDev
-5.1%
I have stopped into this place on a number of occasions just to see if theres anything new and interesting going on. The place is very large and is filled with tons of wine and beer making equipment and ingredients. Although I have bought bulk grain here I wouldn't advocate buying yeast or hops here. Not all but a lot of the time I have peaked my head in the cooler on the left side of the register and the wyeast expiration date has been atleast 6 months to a year over. He also has hops on the shelf that clearly says on the package to be refridgerated. I'm not sure that most of his ingredients are out of date or old, but not taking care of those other things to me would suggest that there isn't a whole lot of effort put forth to keep things fresh and updated. The service could be a bit more polite and more importantly informed. This place has a lot of potential, stop in and ask for a younger selection of yeast and better storage and organization for hops.
968 characters
4.4
/5
rDev
+49.2%
This is my new home brew shop. It's really close to me Take the Brainard Airport Rd. exit, straight through the intersection and in the industrial plaza on the right.
This place is pretty big with a lot more wine making than beer but they have everything that you really need. Lots of interesting bottles in stock, kegging equipment, fermenters, and all other little pieces of gear. Plenty of malts hops and yeasts.
This place has a lot of instructional tools, videos and books on home brewing and the owner seems to know his stuff. He keeps trying to sell me these ready brewed packages that only require the pitching of yeast, but what the fun in that.
The prices are good and the location makes it easy to get to. The gear that this guy does sell does seem top notch. He runs some funky hours too.
Cheers!
818 characters
Beer & Wine Makers Warehouse in Hartford, CT
Place rating:
2.95
out of
5
with
13
ratings