DaDo Bier Belgian Ale
| Cervejaria DaDo Bier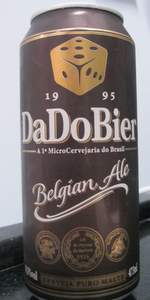 BEER INFO
Brewed by:
Cervejaria DaDo Bier
Brazil
dadobier.com.br
Style:
Belgian Strong Pale Ale
Alcohol by volume (ABV):
8.50%
Availability:
Year-round
Notes / Commercial Description:
This is a strong, very special beer with high fermentation, golden color and high alcohol content (8.5%vol.). It is prepared with imported Belgian yeast and some of the world's best hops, mineral water and a specially selected blend of five types of malted grains. Non-filtered, it has a long production process and undergoes double fermentation. In this way, it obtains its outstanding aromas and flavors.
Added by Todd on 01-26-2008
Ratings: 7 | Reviews: 3
Reviews by mhaugo:

More User Reviews:
3.31
/5
rDev
+6.4%
look: 4 | smell: 3 | taste: 3.5 | feel: 3.5 | overall: 3
(Served in a strange)
A- This beer pours a slightly hazy golden orange body with a thin film of whit and a gentle carbonation that pops to the surface.
S- The sweet pils malt has a yeasty fruity ester aroma that at first whiff reminds me of urinal cakes. As the beer opens it is more of a overripe pineapple slightly sulfury quality with some yeast autolysis notes.
T- The soft fruity tartness mixes with sweet malt and some field corn and alcohol taste to follow. There is a yeasty slightly dry finish with a soft fruity ester quality that lingers.
M- The medium-full mouthfeel is a bit thick even though there isn't much carbonation. There is only a hint of alcohol heat even when warm but there is much more in the taste.
O- This beer has an ok flavor but is a bit thick and sweet with an odd aroma that is a bit off. The fresh wort characters in the taste are light and sweet and the alcohol taste helps to cut that a bit.
934 characters
4.53
/5
rDev
+45.7%
look: 4.5 | smell: 4.5 | taste: 4.5 | feel: 4.75 | overall: 4.5
2.97
/5
rDev
-4.5%
look: 3 | smell: 3.5 | taste: 3 | feel: 3.5 | overall: 2
DaDo Bier is now canning their lineup, so I got a partake in splitting a 473 ml can with sfoley333. On to the beer:
Close to golden colored with carbonation racing thorugh the body. Little head is formed on top and it drops away. The nose is the highlight of this beer; it's sweet and sugary with pineapple notes pleasing the nose.
When I tasted this beer, I thought candi sugars were added, but a look at the ingredients used shows that sugar is not listed. It's a very sweet tasting "Belgian Ale", very sugary taste and syrupy apricot hints. It tastes okay, but it drinks really slow. Despite the low drinkability socre granted, it's not a boozy mess, only a sweet and syrupy one.
As I've stated, it's okay. I can find many better, and I can find worse. For a reasonnably sized microbrewery, DaDo Bier hasn't impressed me a whole lot. If only I could ever find their one-time release of Double Chocolate Stout!!
918 characters
2.7
/5
rDev
-13.2%
look: 1.5 | smell: 2.75 | taste: 2.75 | feel: 3 | overall: 2.75
Amber copper color with a thin head with low retention, and leaving no traces or residual head.
Light aroma of malt with notes of ripped pineapple.
Sweet malty taste with condiments and hints of earthy hops and minerals. Mildly dry aftertaste with a low to medium bitterness.
Medium body with low carbonation, a bit effervescent. Alcohol of 8.5% ABV is reasonably hidden while cold.
Not an utterly bad beer though lacks balance and complexity for the style. And that ignoring price tag.
486 characters
DaDo Bier Belgian Ale from Cervejaria DaDo Bier
3.11
out of
5
based on
7
ratings.