Red Racer Classic Lager
| Central City Brewers + Distillers
BA SCORE
79
okay
33
Reviews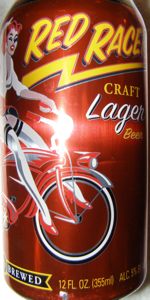 BEER INFO
Brewed by:
Central City Brewers + Distillers
British Columbia
,
Canada
centralcitybrewing.com
Style:
American Pale Lager
Alcohol by volume (ABV):
5.00%
Availability:
Year-round
Notes / Commercial Description:
Craft-brewed in small batches using only the finest barley malt, choice hops, and filtered water in every beer. Each batch is aged longer with special yeast to help deliver it's golden colour and crisp taste that only the best beers in the world enjoy.
Added by u2carew on 12-26-2009
Reviews: 33 | Ratings: 44

3.75
/5
rDev
+11.6%
look: 3.5 | smell: 3.5 | taste: 4 | feel: 4 | overall: 3.5
12oz can poured into a tulip glass.
A: Clear, light yellow or pale gold with a thick 1 1/2 inch foamy head.
S: Typical lager yeast aroma, although more floral notes than typical. Hints of citrus flavors as well.
T: Light, crisp and refreshing. Citrus flavors really come on mid taste with some biscuity flavors on the finish.
M: Light to medium-light body, high carbonation. Quite dry.
D: Must admin that I don't review a lot of lagers since most of them are picnic swill you get stuck drinking at a neighbors when you neglected to BYOB. But this lager is nice, freshing, and easy to drink. Quite different from many of the macro beers out there.
652 characters

4.07
/5
rDev
+21.1%
look: 3.5 | smell: 4 | taste: 4 | feel: 4 | overall: 4.5
12 oz can into a pint glass.
Pours a slightly hazy pale gold, with two fingers of thick bright-white head. Retains with a thin foamy layer that skims the surface, leaving some spotty swathes of foam behind. The aroma is freshly floral in the nose and even a little bit spicy, with a touch of earthy citrus giving this some grit. I'm also getting a surprisingly robust sweet backing biscuit smell from the malts, which is giving this some good balance.
That well balanced nature carries on over to the taste, with some tight feeling toasted bready sweetness being evenly matched by a tingle of spicy hops and some earthy fruit across the back of the profile. Bit of a dry feel here in the finish. The mouthfeel is medium bodied, with a crisp smoothness across the tongue that retains a decent amount of heft here in the mouth. Nice feel.
I really enjoyed this one a bit more than I thought I was going to. The light looking pour had me a touch worried at first but this ended up bringing a well balanced Lager to the table with those Noble hops especially coming off as notably fresh.
1,089 characters

3.6
/5
rDev
+7.1%
look: 3.5 | smell: 3.5 | taste: 3.5 | feel: 3.5 | overall: 4
A: Surprisingly clear, light yellow hue, bubbly white head, light retention, very little lace.
S: Very perfumy floralness, steelie grass, hint of sulfur.
T: Very floral, steelie grass, light biscuit, modest bitterness.
M: Light to moderate body is smooth; well-carbonated.
D: An easy drinker.
A good beer that should have mass-appeal, though it's a little more North American than German.
393 characters
3.53
/5
rDev
+5.1%
look: 4 | smell: 3.5 | taste: 3.5 | feel: 3.5 | overall: 3.5
A clear pale golden/straw color with a frothy head that has some retention and leaves some lacing. Some bubbles alongside of the glass aswell.
Bready, hay and some floral hops in the nose.
Grain, a bit sweetness, mild floral and citrus hops with some bitterness.
A bit dry with a light body and a bit fizzy carbonation.
322 characters

3.53
/5
rDev
+5.1%
look: 4 | smell: 3.5 | taste: 3.5 | feel: 3.5 | overall: 3.5
A: Pale, golden-straw body. Slightly cloudy. Large fluffy white head. Quickly settled down as it left spotty sticky lacing.
S: Light grains, grassy-floral hop notes. Restrained and clean.
T: Light, slightly-sweet grains. Large grassy character. Slightly bitter.
M: Moderate carbonation up-front gives way to a slightly thin and weak finish. Nice dry, refreshing feel but lacks that crisp bite that would improve the beer.
D: Overall, a pleasant easy-drinking lager. Not the most complex brew, but its not marred by any off-notes... Worth a shot.
550 characters
3.5
/5
rDev
+4.2%
look: 3.5 | smell: 3.5 | taste: 3.5 | feel: 3.5 | overall: 3.5
Recently popped up on the east coast.
Pours a nice pale gold color with lots of fizzy head. Head quickly settles down to a patchwork film on top, plus sporadic lacing on the side of the glass.
Nice slightly sweet floral aroma with a small amount of hops in the nose as well.
Taste is a minor sweetness with a bit of grain. Some hop notes in the end, but nothing major. Mild malt flavor as well.
Overall, this is a pretty decent pils. Might be a nice gateway beer to introduce people to craft beer.
501 characters

3.6
/5
rDev
+7.1%
look: 3.5 | smell: 3.5 | taste: 3.5 | feel: 3.5 | overall: 4
Add another solid lager to the BC list. Seems like every craft brewer has a lager now and Central City is no exception. This is clean well made beer that surprises no one but fully meets the style and would be the perfect to foist on your macro loving brother in law. The fact it now comes in cans and in a mixed pack with the wheat and the pale ale is fantastic.
Used to be called Springboard Lager
400 characters

3.58
/5
rDev
+6.5%
look: 4 | smell: 3.5 | taste: 3.5 | feel: 4 | overall: 3.5
12oz can. Consumed 12/03/09
A) Pours with a quick head that settles quickly leaving a thin lacing at the edge of the glass. The body is clear. Upward carbonation. Straw colored.
S) Grainy. Light nutty-ness. Mellow floral aroma.
T) Grainy with citrus notes. The malts are subtle and subdued by the grainy dryness. Hints of hops linger in the finish.
M) Mild fizziness. Dry. Light body.
D) A decent brew, light but still good.
431 characters
Red Racer Classic Lager from Central City Brewers + Distillers
3.36
out of
5
based on
44
ratings.