Red Racer Imperial IPA
| Central City Brewers + Distillers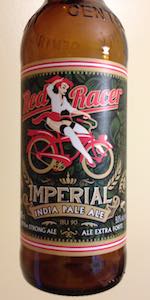 BEER INFO
Brewed by:
Central City Brewers + Distillers
British Columbia
,
Canada
centralcitybrewing.com
Style:
American Double / Imperial IPA
Alcohol by volume (ABV):
9.00%
Availability:
Rotating
Notes / Commercial Description:
No notes at this time.
Added by astout on 09-26-2009
Reviews: 65 | Ratings: 181

4.71
/5
rDev
+12.9%
look: 3.5 | smell: 5 | taste: 4.5 | feel: 5 | overall: 5
on tap at Beer Revolution 12/5/12
A hazy dark copper with just a few bubbles that look like their struggling to make their way to the top through the thick liquid, just a thin film for head with just a random patch of lace
S now were talking, massive nose of grapefruit, pine and spruce, there's some candied pineapple and tangerine everything is very strong except for the booze and I could smell this before the server put it down on the table
T heavy pine resin and grapefruit rind with just a little toffee I didn't smell, just a little booze but still nowhere near the 9%, a small step back from the smell but still near perfection
M thick with more bubbles then what was visible giving it a slightly creamy feel. Bitter? umm... ya enamel stripping shit going on here turning your mouth inside-out and leaving a fair bit of grit behind, close to sandpaper and I love it. A massive aftertaste like your chewing on pine needles and grapefruit rind, no heat going down and even my burp taste great
O what an awesome DIPA going on here, this is what I want in the style and this on will hurt you if your silly like me and slam a few of them back in a short time. I have little too complain about and lots too praise, what a kick ass beer
If this was canned like their IPA it would be near the top of our counties top 100. This is what a West Coast DIPA should be and I'm stoked to try it on tap in Calgary, nice work hoser and Beer Revolution for getting to my lips.
★
1,475 characters
4.55
/5
rDev
+9.1%
look: 4.5 | smell: 4.5 | taste: 4.5 | feel: 5 | overall: 4.5
Enjoyed on-tap this week at Central City Brewpub.
I heard this was one of the best beers in British Columbia and it didn't disappoint. The appearance is a rich deep orange with some haziness. Smell is very hop forward and crisp with grapefruit, citrus and pine. Loads of hops as you take a sip. Great carbonation level, very clean and crisp with bitterness and hops from sip to finish. There is a hint of malt but is so well balanced it is hardly noticeable. Mouthfeel and finish are both fantastic. It reminds me a bit of how PTE finishes. It isn't long and lingering and doesn't leave the taste of malt or alcohol that creeps in on many DIPA's with this abv. Extremely drinkable with the alcohol very well hidden. This is a must try for those seeking the very best in DIPA. Worth the drive to Surrey if visiting Vancouver or British Columbia.
★
845 characters
4.25
/5
rDev
+1.9%
look: 4.5 | smell: 4.5 | taste: 4 | feel: 4 | overall: 4.5
huge thanks for this one, went over quite well with the group, reviewed from notes.
pour was very nice with a rich light golden amber. Smooth and very cloudy, this thing looked like it was about to kick my ass, and as I was about to find out, it was defintley going to. Lots of ripe grapefruit and pineapple hops that just tore through the air as soon as I leaned in to it. Huge notes of hops dominated the entire flavor as well. Sharp flavor here as the resin like hops took all the moisture out of my mouth and left me parched, dry and looking for more. One of the best finishes I have had in a big IPA in a very, very long time. I would love to try this one again and will defitely be on the lookout to try it again.
★
720 characters
4.47
/5
rDev
+7.2%
look: 4 | smell: 4.5 | taste: 4.5 | feel: 4.5 | overall: 4.5
On tap at the Central City brewpub. Pours a deep copper orange color with a nice fluffy white head. Big aroma of citrus and pine, and just a touch of malty sweetness. Great taste, a big hit of orange rind, pine, and grapefruit; quite bitter but incredibly balanced. The mouthfeel is great too, this has a thick body with carbonation that is spot on. Insanely drinkable, the alcohol is barely noticeable. All in all, it's an exceptional beer!
★
441 characters

4.03
/5
rDev
-3.4%
look: 4.5 | smell: 4 | taste: 4 | feel: 4 | overall: 4
Thanks to Brad for showing up at a northyorksammy tasting with a growler of this stuff. MMMmmm no such thing as too much good beer! So, you gotta love a big imperial IPA, how cant you? Thing is, there are sooo mannny bad DIPAs out there, as well as a ton of great ones. So you never know what you are going to get. I've had the Regular Red Racer though, and it has always made me smile, so I had high hopes for this big boy version.
Poured thick and brashly building a amber and oak coloured beer with a thick opaque head. The beer was slightly murky with distinct burnt copper colour - I like! I looked big and bold, but raw and real at the same time. The nose was very nice, but not as unique or defined as I like. It was big and earthy with a punch of bitterness and hoppy must, but came off more bitter than aroma. I had a hard time trying to pinpoint the aromas, I got a waft of west coasty cascade, but not as fresh and citrusy as I prefer. They were nonetheless potent.
The first sip kind of eased my concerns in a way. I got a bigger, more distinct hop punch that added rich earth, funky citrus, must (again), earth (again) and that slightly piny character I am used to from Simcoe hops. The malt was pretty thick bringing caramel and slightly darkened brown sugar along to balance out the hops. I tired to dig in for more malt, but the bitterness is pretty bold, and overpowers the beer (appropriately so). Still, it left me looking for something, not sure what. I am sure than I like this beer, but I am also sure that I don't love it. I will look forward to trying it again.
★
1,589 characters
4.15
/5
rDev
-0.5%
look: 4.5 | smell: 4.5 | taste: 4 | feel: 4 | overall: 4
Pours orange body with sticky white head, and its Lacy. Smells great. This is a bit similar to the regular Red Racer with a lot more hops, fresh and very high and good bitterness from C-hops. A West Coast IPA but without a melange of hops just for bitterness. Malted down, but its spot on the style because of in-face bitterness.Above-average mouthfeel.
Growler from Brad.
Much better than the Autism bottle I had 2.3 years later, which was still good.
★
452 characters
4.35
/5
rDev
+4.3%
look: 4.5 | smell: 4.5 | taste: 4 | feel: 4 | overall: 5
Thanks Sammy for getting this growler to Ontario! I was excited to try this since I love the Red Racer IPA. Pours a bright orange colour with thick white head. Really nice head retention, lots of lacing around the glass. Smells of strong citra (I think) hops, lots resiny pine. Grapefruit/citrus comes more in the aftertaste. Lots of pine all the way through. Bitterness is very noticeable, yet this is still quite balanced. I was enjoying this more as I went along and poured myself a 2nd glass from the growler not too long after the first.
★
542 characters

4.3
/5
rDev
+3.1%
look: 4 | smell: 4 | taste: 4.5 | feel: 4 | overall: 4.5
Thank you Sammy for landing this one!
Pours a deep orange colour, nice white sticky head, nice thick lace on the glass. Smells hoppy, pine notes citrus grapefruit and a big chewy malt presence to balance it all out. Taste of lush malt, pine, citrus, lemon notes. grape like quality in the finish, dry like finish but not too dry, just right in that department. Good mouthfeel, slightly creamy, full body and as a whole quite nice. Very drinkable brew, right up there with the regular Red Racer nice addition of hops, good bitterness throughout. I could drink this all night easily, awesome stuff.
★
597 characters
4.47
/5
rDev
+7.2%
look: 4 | smell: 4.5 | taste: 4.5 | feel: 4.5 | overall: 4.5
First off, get a pint while you still can!
Bright orange with red tinge, and crystal clear. Small white head with reasonable rentention.
Very appealing pine and grapefruit nose that begs you to have a sip as your mouth curls into a slight smile.
The bitterness is very mild and fades to a sweetness, then nice toffee malt flavours before returning to a nice hoppy bitterness.
Feels a bit chewy, so there is nice body here. You would not know this was more than a 6% IPA except for the bolder boozy sweetness that comes and goes. Lots of layers of flavour here and it goes down oh so easily.
This is a fantastic brew and I am both happy and proud that it is local.
★
664 characters
4.35
/5
rDev
+4.3%
look: 4.5 | smell: 4.5 | taste: 4.5 | feel: 4 | overall: 4
Had this at Central City Brewery. Looks like a real I2PA should. A cooper ale with a nice yellow tinge. There was some good lacing that was left behind. The first thing I did when i smelled this was smile. I knew I was going to like what was about to come. The citrus hops exploded in the sinus and on the taste buds. The first bitterness of strong hops was supported by a mellow malt profile. The perfect balance. 9%. Couldn't tell by drinking it. The alcohol was buried under a beautiful, heavy, strong IIPA.
★
510 characters
4.97
/5
rDev
+19.2%
look: 4.5 | smell: 5 | taste: 5 | feel: 5 | overall: 5
A- Pours golden amber with a finger and a half of fluffy head that leaves nice lacing.
S- Big pine and citrus hopes. I can tell right away that this beer is gonna be good. It reeks of quality. A pleasant amount of balancing malt. VERY well balanced. Excellent start!
T- HUGE taste! The hops jump out and kick my tastebuds right in the neck! Citrus and the trademark Red Racer IPA strong pine. Grapefruit comes bursting through the pine. The alcohol is so well blended in this beer also! It's there just enough to enhance the beer. Not overpowering at all. For 9%, it's impressive.
M- Full bodied for the style. Ithe big body suits this big IIPA. Pretty much perfect carbonation, which accentuates the hop bitterness.
O- Unreal! When I asked the bartender for a growler fill, he looked excited. I asked "How is it?" He pretty much ran to the tap to get me a taster glass of it. "Just try it" he said. But what I got from the way he said it was "Hold onto your socks!" When I tasted it, I understood. It was a huge beer with a huge taste. The best thing I've ever tasted to come out of Canada!
★
1,097 characters
4.35
/5
rDev
+4.3%
look: 4 | smell: 4 | taste: 4.5 | feel: 4.5 | overall: 4.5
Lucky to try this one, which was a leftover bottle from the Canadian Brewing Awards, where Central City performed admirably.
Pours a burnt orange with a skiff of white head that laced well. Big citrus nose, but with more than enough caramel to provide balance. Intense, with a slight hit of alcohol. Flavour delivers in spades, but remains expertly balanced. Lots of grapefruit, orange, tangerine and pine, but again with enough caramel and biscuit to balance it out. Nice bitterness and a dry hot finish. Heavy luxurious mouthfeel. Nicely done!
★
546 characters
4.52
/5
rDev
+8.4%
look: 4 | smell: 4.5 | taste: 4.5 | feel: 5 | overall: 4.5
Bottle leftover from CBAs this year, shared thanks to a generous BA.
Pours a rich orange with hints of amber, not a lot of head but it leaves a little sticky lacing.
This is a terrifically balanced DIPA with lots of heft in the malt and loads of hops. Pithy grapefruit and orange rind, lemon, pine, just a hint of tropical fruits. Sticky caramel malt, some toast and a hint of minerally dryness. Moderate to heavy bitterness with a pleasing long finish, alcohol just peeks a bit but it's so smooth. Sticky, thick mouthfeel which balances the blast of bitterness. This DIPA is just plain awesome.
★
597 characters
4.97
/5
rDev
+19.2%
look: 4.5 | smell: 5 | taste: 5 | feel: 5 | overall: 5
I was going to ask for a second helping of the IPA, but the bartender at Central City Brewing told me that a Double IPA was on-tap at the moment. "Do you need to taste it?", asked the bartender. Me: "No, I'm confident I'll like it". So I got my 10 ounce helping for $5, and, well, on to the beer:
It's a dark orange amber color, but it looks like it's glowing. The lacing left in the glass is good, and so is the head retention. The nose is absolutely awesome! Tropical and citrus fruit everywhere: mangoes, tangerines, yet all balanced and potent.
Even more goodness arrives in the mouth. Here they come in generous doses; mangoes, citrus, caramel, pineapple, all being carefully balance, and all while the 9% ABV is buried like a treasure map. With the medium body and extremely smooth feel, this Double IPA is stupidly easy to drink! So stupidly, that I asked for another helping of this gem.
Stunning, simply stunning! I had no idea what I'd get out of Central City Double IPA, and then this beer shocks the heck out of me. A beer that puts me on my knees. A beer that knocks YuleSmith and Péché Mortel off my personal list for highest beer score. And a beer that needs to be canned, or at least shipped out of the brewery in kegs to other bars across greater Vancouver.
★
1,280 characters
4.37
/5
rDev
+4.8%
look: 4 | smell: 4.5 | taste: 4.5 | feel: 4.5 | overall: 4
Was so stoked to find this at the Brew Pub today, a real treat since their IPA is one of the best I've had and definitely the best in BC (maybe Canada). I grabbed a growler of this as well so I may review that later. ABV was told to me by the server, if someone else hears something different or has more accurate please add, although she seemed fairly reliable.
Poured a rich Copper colour with good carbonation and a nice frothy head that slowly dissipates into a decent rim around the glass.
Huge grapefruity hop aromas up front with a resiny component coming through after, not much in terms of caramel or bready malt type thing here.
On the palate I'm hit with a bright grapefruit pith bitterness that leads in to a more caramel malty taste mid palate. Finishes with a ton of thick resiny pine flavours that really drys out the finish and lingers for quite awhile.
Has a great thick and heavy mouthfeel with a decent amount of carbonation, keeping it weighty to carry the high abv but not so much that it becomes difficult to drink.
Surprisingly sessionable IIPA in my opinion and definitely something I will need to make the trip out to Surrey for again.
★
1,175 characters
Red Racer Imperial IPA from Central City Brewers + Distillers
4.17
out of
5
based on
181
ratings.