Mellow Mushroom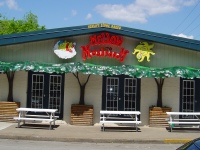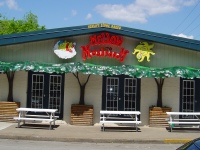 Bar, Eatery
503 S Upper St
Lexington
,
Kentucky
, 40508-2919
United States
(859) 281-6111 |
map
mellowmushroom.com
Notes:
Reviews by Magery:

More User Reviews:
Grindelvasdrum from Kentucky
3.8
/5
rDev
-3.8%
vibe: 4.25 | quality: 3.5 | service: 3.5 | selection: 4.5 | food: 3.25
Vibe is a good word for it & it is a fun place but parking is a big problem.
Nice variety of good brews.
Quality of food & service however are VERY inconsistent.
Apr 08, 2016


PassMeAZima from Kentucky
4.21
/5
rDev
+6.6%
vibe: 4.25 | quality: 4.25 | service: 4.25 | selection: 4 | food: 4.5
Jun 26, 2014


DCon from Missouri
3.56
/5
rDev
-9.9%
vibe: 4 | quality: 3.5 | service: 4.5 | selection: 2.5
Came into Mellow Mushroom- Lexington because of previous positive experiences enjoying beer and pizza at this chain. This particular visit was merely to check out the difference in this location compared to the others and to enjoy 1 or 2 beers.
This was a VERY small location compared to Franklin, TN and Asheville, NCs. 50 person capacity and the bar only fit 10 people seated comfortably (not including the 6 bar tables). Still has the awesome vibe of pizza, beer, and physadellic days.
Quality was overall good but a bit clustered everywhere... Not a big deal but may be time to clean shop and keep some of the memoriabilia to a minimum.
The service was outstanding once again! The bartender even gave me directions/numbers to the two micro breweries in town that she suggested I visit. Very attentive and beer knowledge up to par as well.
Except for a local IPA from West Sixth, a bit lacking from this Mellow Mushroom... Bottles had a few craft beers included but mostly imports and ones widely available at any grocery store.
Besides the clutter and lack of selection, this was once again a positive experience from Mellow Mushroom.
Aug 07, 2012
eyeenjoybeer from Seychelles
4.18
/5
rDev
+5.8%
vibe: 4 | quality: 4 | service: 4.5 | selection: 4 | food: 4.5
The food, the beer, the atmosphere, and the service are all pretty fine at Mellow Mushroom. This chain has never let me down. I very much enjoy their pizzas and sandwiches. You can't go wrong as a vegetarian here.
The beer selection is strong and the rotation is respectable. Many Midwest brews can be found, as well as some West Coast suds. The import selection is not tops, but the domestic options make up for it.
The servers have always been very kind, although their beer knowledge could use a tune up.
Love this place.
Jul 06, 2011
Groomsy from Kentucky
4.1
/5
rDev
+3.8%
vibe: 4.5 | quality: 4 | service: 4 | selection: 4 | food: 4.5
Stopped by here on 16 May 2011 with some friends for food and beer.
The atmosphere, as I described it to a friend is like, "Alice in Wonderland on shrooms." If there is any one restaurant which captures the psychedelic/hippie atmosphere, it's this one. The whole place is filled with crazy and zany decorations, cartoons, graffiti, sculptures, and the like. There are stone floors and wooden booths to sit in, with low lighting around the low ceilings. The nice thing is, it captures an old-school and relaxed atmosphere without being kitschy or gimmicky, and that's a huge plus in my book. For being a "chain" restaurant, it feels much more like a local place. It was fairly quiet when we went in on a Monday evening, and started picking up as the night went on, but it was nowhere near sports bar loudness. A pretty relaxing place to go overall. Even the workers look like they walked out of another era, sporting dreadlocks, vintage shirts and jeans, and a totally relaxed attitude.
Our waitress was attentive and knew what was going on; when my roommate asked about the rotating tap (Dogfish Aprihop), she knew exactly what it was and how it tasted. Winning! She was very attentive to us without being overbearing, and she was super chill and knew just when to check on us. Excellent service, quick, and we left her a pretty hefty tip. The hostess was also pretty cool as well.
Mellow Mushroom focuses on a very interesting selection of brews; from what I've gathered, Pazzo's tends to focus on imported brews, MM focuses on craft stuff and some off-centered beers. They also do their own "mixed" beers such as Hometown Punch (Kentucky Ale and PBR). Here was the tap selection on my visit:
Bell's Two Hearted, Blue Moon, Boulder Sweaty Betty, Flying Dog Doggie Style, Great Lakes Edmund Fitzgerald, Guinness, Hoegaarden, Kentucky Ale, Kentucky Bourbon Barrel Ale, Magic Hat No. 9, Newcastle, PBR, Rogue Dead Guy, Sierra Nevada Pale Ale, Southern Tier 2x IPA, Spaten Lager, and Stone Arrogant Bastard.
A pretty ambitious list, clearly. My roommate and I went local and ordered a pitcher of Kentucky Ale, which tasted great and even came with brewery glasses. I also ordered the Southern Tier and he ordered the Dogfish Head rotating tap, which we split with each other. The bottle list is even more expansive; if you want to see it, check MM's website.
The food, in a word, is fantastic. The pizza is phenomenal. Even the most basic recipes have some kind of twist which make them unique and delicious; and with the locally-used and fresh ingredients, it adds a very organic and non-processed taste to the food. If you want some ridiculously good pizza, stop by here.
Prices are basically reasonable. We stopped in during "Mellow Hour" and got $1 off our pitcher, and the drafts of Dogfish Head and Southern Tier, even for high ABV beers, were less than $6. This may not stack up well to other places in Lexington (which I haven't visited), but not bad overall. Although I will say that $18 for a pitcher of Dead Guy seems crazy to me.
Overall, a great place to visit. Stop by here if you want great pizza, cool people, good music, and good beer. Cheers!
May 17, 2011
crlova2 from Kentucky
4
/5
rDev
+1.3%
vibe: 4 | quality: 4.5 | service: 3.5 | selection: 3.5 | food: 5
For some of the best pizza in town this is a must! The food is delicious! The beer selection is decent but substantially more pricey than other places in town such as Pazzo's and the Beer Trappe. For example a La Fin du Monde is around six bucks at Mellow and around $3.50 at Pazzos and the Trappe. If you are in the mood for great food and want great beer to go along definitely go here. However if you are just going out for beer I would recommend other destinations in Lexington that have equal or better selections for lower prices.
May 06, 2011
bluegrassbrew from Georgia
3.93
/5
rDev
-0.5%
vibe: 4 | quality: 4 | service: 3.5 | selection: 4 | food: 4.5
Mellow Mushroom is one of my all-time favorite spots for pizza. Some of the best pizza's in town and, I was suprised to discover, some very good beers. As has been said in other reviews, while Pazzo's focuses on imports, MM has a lot of American craft brews. Although while I was there I couldn't help but get a Sam Smith Oatmeal Stout, which was delicious. Service was decent, not great nor poor. The atmosphere is right up my alley. Good tunes with a little psychedelia puts me in the mood to drink a good pint or two and enjoy some tasty pizza. A good spot to do both.
Jan 15, 2007
SheepNutz from Kentucky
4.03
/5
rDev
+2%
vibe: 4 | quality: 4.5 | service: 4 | selection: 3.5 | food: 4
The Mellow might not be the best place to drink quality brews in Lexington, but they have a solid regular tap offering, good healthy food, and they allow our homebrew club to bring brews to our meetings there! The tap selections include Arrogant Bastard, Elliot Ness, Rogue Dead Guy, and about 15 others. There's a decent bottle selection as well. I really enjoy drinking at least one Sam Smith Oatmeal Stout whenever I'm there. The beer is cheap too, a pint of Arrogance is no more than $3 or $3.50. The food is pretty good as well. Their pretzels can't begin to compete with Pazzo's, but they have great hummus, pizzas, and sandwiches. The food is reasonably priced as well. The atmosphere is very hippie-ish, but relaxing. The staff is always friendly as well. There's always some good sports on TV, and it's not overly loud, as this is a restaurant first and bar second. If I had one place in Lex to pick, I'd hit Pazzo's, but if you must get some Arrogant Bastard on tap, head here.
Aug 10, 2006
BEERchitect from Kentucky
4.25
/5
rDev
+7.6%
vibe: 4.5 | quality: 4.5 | service: 4 | selection: 4 | food: 4.5
Mellow Mushroom: 3rd choice to grab a beer in Lexington.
Highlights of last visit, (March 23, 2010):
On tap:
Founders Centennial IPA
Anderson Valley Boont Amber
Schlafly Coffee Stout
Growlers to go.
In bottles:
Dogfish Head 90 Minute
Stone IPA
Ommegang
Unibroue Maudite
many more...
This is definately one of the better beer-spots to visit while in Lexington. The location is on the fringe of the University of Kentucky campus and also near the must-visit Pazzo's Pizza Pub. Probably moreso than other Mellow Mushroom restaurants in the Southern U.S. chain, this locale is very fun, funky, hippie, relaxed, liberal, and family friendly.
The beers are varied, but with the focus on craft beers, there's a beer for everyone. With about 20 beers on tap and about 50 in the bottle, the beers are always fresh, clean, and as always ice cold. They always have rotating taps from Bluegrass Brewing, Bell's, and Redhook that always host their seasonal brands. Sure they have a section of the beers dedicated to the big yellow fizzy beers, but that is not their focus. The beers are always served in standard pint glasses and sometimes adorn the actual brewery of the beer you ordered, but all in all proper glassware is not something they are serious about. They always have a beer list that is close to being correct so ask the waiter-waitress about seasonals or what is new on tap, or just take a look at the taps yourself. The craft beer prices are about as reasonable as any place in town with $1 off of all craft beers during a short daily happy hour.
Commonly found on tap are some of the following: Stone Arrogant Bastard, Rogue Dead Guy, Great Lakes Commadore Perry, Bluegrass Brewing Nut Brown Ale, Redhook Winter Hook, Hoegaarden, Lexington Brewing Bourbon Barrel Ale and Kentukcy Ale, Pabst Blue Ribbon, Left Hand Sawtooth, Bell's seasonals, Franziskaner Hefeweizen, Spaten Oktoberfest. Bottles consisted of Grimbergen, Ommegang, Abita, Sam Smith, Young's, Dixie, Atwater, Breckenridge, Flying Dog, Stone, Rogue, Dogfish, and more of the like. Be sure to order the Mellow Mushroom exclusive Bogart Ale, a commissioned light Pale Ale by Atlanta Brewing Co.
Mellow Mushroom recently started their 'Beer Club'. Unfortunately with this announcement came a serious hike in beer prices. For instance, last night's Barney Flats Oatmeal Stout ran me $5.95 before the tip.
The staff knows more about the beers than most wait-staff and are usually eager to talk beer and to listen to customers who may know more than they do. They always look hippie-like which adds to the costume of the place, but the service, although sometimes slow, is attentive and with the ultimate goal of making your visit a pleasant one.
The food is standard hand-tossed, stone baked pizzas and calzones, often regarded as the best in town. The hummus appetizer is my personal favorite. Prices are a bit spendy on pizzas but the appetizers and hoggies are average.
The building is hard to miss with it's bright neon, plastic tree-like decorations, and finger-painted picnic tables on the front sidewalk. Located at the corner of Pine Street and Upper Street, parking can be a bit of a challenge during weekdays or dinner times, but with a lot of nearby on-street parking, and a small parking lot I can always find a spot within a block or so.
The staff is always playing 60's-80's rock through the stereo and there are a few mid-sized tv's that are usually showing Sportscenter. Though festive and fun there is not a lot going on other than beer, food, and conversation.
I am able to stop by here at least twice each month since I live fairly close and have always enjoyed the visit. I have a friend who owns the only independent tap-cleaning service in town and he brags that this Mellow Mushroom is the only venue in town that calls him promply each month to ensure that their taps will be cleaned regularly. Thus, every beer will be served fresh and clean.
If you are going to stop by, let me know. I'll probably be able to meet out there and share a few pints.
Aug 23, 2005
clvand0 from Kentucky
3.75
/5
rDev
-5.1%
vibe: 2.5 | quality: 4 | service: 4 | selection: 4 | food: 3
I hadn't been here before, but I met kmpitz here for a brew yesterday and was thoroughly impressed. It's pretty much a semi-hole in the wall pizza joint that isn't located where it can be seen well. It's interesting because I've never thought that a place like this would have beer on tap, let alone a large variety of craft brews. They had some nice beers on tap. We split a pitcher of Arrogant Bastard. The food was just ok. Nothing wonderful, but not bad. The decorations were kinda goofy and unattractive. Our server was pretty attentive, but we didn't ask her any beer questions, so I don't know much about her beer knowledge. This is an interesting place to stop for a few tap brews, but being only one block from Pazzo's, go to Pazzo's for both better beer and better food.
Oct 27, 2004
kmpitz2 from Tennessee
4.03
/5
rDev
+2%
vibe: 3.5 | quality: 4 | service: 4.5 | selection: 4 | food: 3.5
I have been here a few times, but have failed to enter in into beerfly. The decor here is pre-fab and kind of annoying, but if you can get past that, its a nice place to hang out and have a few beers. They even do a trivia night every tuesday night. Our server tonight was actually a student I had in a class, and she paid very good attention to us. There are at least 20 taps and the same number of bottles to choose from. Its no Pazzo's but its a nice place to grab a Arrogant Bastard off tap. The food is just okay. I would say to go to Pazzo's over this place unless you really want some Arrogant Bastard on tap.
Oct 27, 2004
Mellow Mushroom in Lexington, KY
Place rating:
3.95
out of
5
with
14
ratings