Dismiss Notice
Potomac Wine & Spirits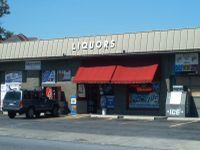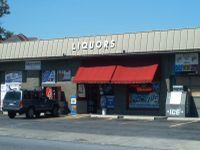 PLACE INFO
Type:
Store
725 Potomac Ave
Hagerstown
,
Maryland
, 21740
United States
(301) 739-3369
// CLOSED //
Notes:
No notes at this time.
Added by Higravity
PLACE STATS
Reviews:

6

Ratings:

pDev:

20.7%
HISTOGRAM
Ratings: 6 | Reviews: 6
Reviews by sulldaddy:
4
/5
rDev
+7.5%
I visited this spot on the way to a wedding in Cumberland Maryland. I was shopping for brews that I cant find in CT and wasnt let down. The store is across from the Sheetz and has some parking right in front. Watch out for an incognito curb near the pull in!
The beer is to the right side of the store. With several shelving units of bottles along the wall and some others in the middle creating an aisle to walk down. There is a mixture of singles and six packs, 750s and bombers. A GREAT feature is the mix and match 6ers and case. Any 1 bottle is 1.50 a 6pak is 7.99 and a case is 29.99. I found quite a few tasty brews for the mixers including Dominion Oak Barrel Stout, and a 2004 Old Salty from Heavyweight. Of course lots of other local and regional goodies. Prices were VERY cheap coming from CT, but I suspect are similar to other stores in the area. This is a great place to stop and the woman working the counter was friendly and made sure I knew which bottles were okay for the mix and match and which were not.
Check it out when driving past Hagerstown, it is maybe 5minutes off the exit. Just be sure to go to Potomac Avenue and not Potomac Street
1,163 characters
More User Reviews:
2.6
/5
rDev
-30.1%
**The following review was recorded on June 6, 2006:**
This is Hagerstown's hidden gem for craft and imported beer lovers. The store is small, but there is a section dedicated solely to craft beers and imports from around the world. It was clearly setup by someone who loves beer.
Although the craft beer area is small, this is not a problem. There is a lot of variety crammed into a few shelves and I have never been in this section of the store while bumping elbows with someone else. Generally I stand in the checkout line with my craft beer behind middle aged guys with cases of shitty American macros or semi-professional women buying bottles of White Zinfandel.
The greatest part is the mix-and-match. There is an entire shelf of beers, both singles and in six-packs, that can be mixed and matched at a flat price. While the selection of these beers aren't great, there are some gems that can be grabbed with a little knowledge and searching. I usually spend at least 15 minutes browsing the beers every Friday evening after work.
Aside from that, there is another shelf that features a lot of great corked beers in 22 oz and 750 ml bottles and another shelf with relatively expensive six-packs. All said, I end of up leaving the store in giddy anticipation of my next visit.
As mentioned previously, the staff seems disinterested in the craft beers and I have yet to meet to owner. While Washington Center has a nice selection of craft beers as your last-chance stop before entering the craft beer black hole that is Pennsylvania, Potomac is a must stop for any craft beer lover in the area.
Note: There are TWO Potomac beer stores in Hagerstown. This one is Potomac Wine and Spirits on Potomac Avenue. There is also a Potomac Liquors on Potomac Street. Believe me, it would be a good idea not to confuse the two.
**UPDATE - December 28, 2007**
As far as I can tell, this place is shut down. I last went there on Friday, December 21, 2007 to find nothing but locked doors. A subsequent visit on December 28 seems to confirm that this establishment is CLOSED. With no signs or indication that they have gone out of business (a peek through the window reveals full inventory) I can only assume that they are changing ownership or going out of business, considering they are not open during the busiest time of year.
Additionally, their beer selection has recently turned to shit; they still offer the same variety of beers they did a year ago. Nothing new, nothing interesting; a nice variety of imports and craft but most of it has simply been collecting dust. The mix-and-match was a great thing for the area, but they gave in long ago to the macro lager drinkers.
So, do yourself a favor; go to Wooden Keg and find real variety AND a rotating selection AND a knowledgeable, enthusiastic staff.
2,816 characters
2.85
/5
rDev
-23.4%
THIS WAS MY SHOP!
I've since been upgraded and graduated.
Beside the fact that you can still mix and match a six pack of mostly old and undesirable beers...there is nothing left but a echo from a once prominent beer palace.
Anyone in the know has since discovered the beer geek freaks at the WOODEN KEG only minutes away. These lil' punks are hornier then a ten peckered owl about the beers they sell, drink, and collect...it's almost perverted.
As change of ownership has lead me to conclude that my once sacred beer enablers have fallen into a line of simple alcohol profiters it was almost heaven sent to find a store full of young enthusiastic minds that has simply become known as the KEG
702 characters
4
/5
rDev
+7.5%
I would venture a guess that this is the best selection in Hagerstown having been to three stores, but Wooden Keg wasn't one of them so I can't be conclusive.
Wide variety of beers packed into small spaces, but definitely something for everyone. No concentration on one type. Nobody with knowledge of the beers was present on my trip, but staff were helpful and friendly which nowadays isn't always the case.
Definitley worth a stop when in Hagerstown
Also, I found it hard to believe that Hagerstown was the second largest city. According to a quick check, the 2003 census puts it slightly ahead of Annapolis , but that is still only makes it the 6th largest city in Maryland.
686 characters
4.85
/5
rDev
+30.4%
Well, if for some strange reason, you ever find yourself in Hagerstown, Maryland (the 2nd largest city in the state), this is the place to go for your beer fix.
First off, the quality and selection are amazing. Especially for a smaller town where you wouldnt think people would care very much about craft beer. There is actually a whole corner of the store devoted to craft & microbrews. In this corner are about 7 racks, filled floor to ceiling, as well as boxes and bottles stacked around the floor. Really anything you could want, within reason, is found here. A decent selection of Belgians, British beers, some various other international brews, and lots of American craft/micros. I'd say you have at least 120 bottles to choose from.
You can mix-a-six pack, for the excellent price of $7.99. That's possibly the greatest feature of this store, which no other liquor store in town does. If you buy a case of mixed-sixes, they cut you a break for $30.
The other feature of this store which might possibly be the greatest is that every now & then, maybe once a month, they will put beers out on their "clearance" table. Now how often do you see liquor stores putting craft beer on clearance? Well, this one does. I have cleared out SO MANY cases of excellent brew this way. They sell their clearance beer for 50-75 cents each! I have gotten some excellent $12 cases of beer this way: Dominion, Harpoon, Crooked River Pumpkin, Troegs Sunshine Pils, Blue Point Summer ale, Mendocino Summer ale, and on & on.
This is your # 1 must-stop beer store in Hagerstown. If you're interested, they also have an excellent wine selection & do tastings almost every saturday afternoon, as well.
1,694 characters
4.05
/5
rDev
+8.9%
For this area of Western Marland this is a god send for craft beer lovers. The have about a fourth of the store devouted to Craft beer and this section is larger than the Marco, the rest of the store is mostly wines. They support local breweries and vineyards. They also do special orders for you from their distributors, if you can find it in their catalogs they will get you a case for not much more above price.
One of the best features about this place is the ability to mix and match six packs, by this I mean you can go to their craft beer section and anyhting not specifically marked at a different price, i.e. above 7.99/six, you can mix; hell they even let you mix cases, 24 different craft brews for $30, ha. Some of you may ask doesn't lead to a lot of left overs, well they have a whole shelf of left overs and you would be surprised how quickly mixed 6's move. Every now and then they have a table sale where the beer is only 50 cents a pop or $3 a six pack and sometimes the deals are great.
Thier wine selection is nice too lots of wines from all over the world and a couple local VA and MD vineyards. Only drawback is that the owner is the only one who seems to care about the craft beer.
1,210 characters
Potomac Wine & Spirits in Hagerstown, MD
Place rating:
3.72
out of
5
with
6
ratings