Total Wine & More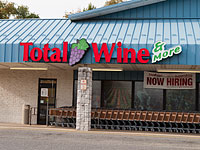 PLACE INFO
Type:
Store
1325 McKennans Church Rd
Wilmington
,
Delaware
, 19808-2132
United States
(302) 994-5510 |
map
totalwine.com
Notes:
No notes at this time.
Added by BeerAdvocate
Ratings: 14 | Reviews: 9
Reviews by mobud:
3.85
/5
rDev
+3.8%
This Total Wine is smaller than the other Total Wine in Claymont, but that does not mean that is not worth the stop in. The beer aisle is straight ahead after entering the door. Half the aisle is sixers and the back half is for singles. Not a monster selection, but most of the major craft players available in DE can be had here. There are two rows of cases and a cooler in the back. BMC is well represented here as well. The wine section will cover any needs in that dept. The store is clean, well organized, and the people there are always around if you have question. They are always ontop of the seasonals and usually have several on special. I am a DFH guy and I can always find what I am looking for here.
712 characters
More User Reviews:
3.62
/5
rDev
-2.4%
vibe: 3.25 | quality: 3.75 | service: 3.5 | selection: 3.75
This is like a mini Total Wine compared to their Claymont location, or ones I have shopped at it VA, NC, and FL. The one, long, beer aisle was crowded with customers, employees, and various debris. Lots of six packs to choose from. Singles section is impressive, organized by country for imports, beer style for domestics. Prices are clearly marked and reasonable. My only contact with staff was at checkout. Overall a solid store, but not up to the usual total wine standards.
477 characters

3.5
/5
rDev
-5.7%
vibe: 3.5 | quality: 3.5 | service: 3.5 | selection: 3.5
We went to Two Stones Pub nearby and the Oktoberfest in Newark and I mapped out this store. Smaller than the other Total Wine in Claymont on the PA Border, but they've got some goodies here. The beer aisles are right as you enter the jawn.
Plenty of packs, like Palo Santo and Allagash Tripel for 11.99, Fordham, Duclaw, Firestone, Elysian, Heavy Seas, Bells… wide selection of singles too, and a couple of barrel-aged bombers like Funky Jewbelation, BA Ovila, Schafly barleywine, heavy seas greater pumkin… no growlers here, unlike the other DE Total Wine, but what they do offer suffices for your daily beer needs if you live nearby.
643 characters


3.25
/5
rDev
-12.4%
Pretty good selection and price. However knocked down for having a lot of outdated IPA's. Because of this they have a lot of good beers that are not dated and I will not buy.
176 characters



3.65
/5
rDev
-1.6%
This store is just OK. For the size (and compared to the other Total Wine in the area) it is lacking in beer. Selection is good but not great. The Belgian selection especially seems to be lacking. Still, all the PA, DE and other mid-atlantic and New England micros (Flying Fish, Magic Hat, Allagash) are here. A few older bottles on the shelf past their prime. Singles selection is a plus but could be a bit more broad, does not reflect all the beers that are available in the store. Service is friendly and helpful. All in all, a decent store, worth a look but there are better options within miles of the place.
613 characters
4
/5
rDev
+7.8%
Well I'm not so sure that anything can be said about this place that hasn't already been said. It is, at the very least, a nice looking, well-organized and clean store that seems well-staffed and well run. And for a store of its size, I have to give them some credit for that. I worked for a decade in retail, and I know that doesn't just happen. Beyond that, I've reviewed over 2000 beers on here but they've still got a few that I've missed... basic stuff, of course, but nevertheless. And they have some beers that are made just for them! Good stuff from De Proef! Angelic, Diabolique, etc. You can mix six packs, and the prices are reasonable. They also bring in the seasonals, and I tried almost all of my Oktoberfests through them this year, and I'm looking forward to their winter selection! And, as a wine enthusiast as well, I also like that fact that they have wines exclusively done for them. They're usually great values, coming out of very well known wineries - and the staff really knows what they're talking about... just not when it comes to beer. The "beer" guys I've encountered have been hard-working and better than most places, but not nearly as good as the best places (the Beer Yard in Wayne, PA for example). But they "try" to be helpful. It is better service than at State Line, but they've got the selection so it's an easy call there. But if we step back into wine, State Line falls short. So, in conclusion, if you're in this part of Delaware it's either go here or make the trek down to Maryland to visit State Line. Belive me, there's nothing else even remotely as good.
1,600 characters

3.65
/5
rDev
-1.6%
Total Wine...the name fits. Atleast the one of aisle of beer is right in front of you when you walk in. They have a decent selection for Delaware but the singles are a bit pricey, Lots of local brewers...DFH, Fordham, Tröegs, Victory, Yards, Flying Fish, but import selection could be better. More macros then a corner bar. They usually have dollar off coupons for six packs, just ask and they'll take it off. Pretty good in a pinch if I am in the general area...but twice as far from my house than State Line so you know where I am heading.
542 characters
3.55
/5
rDev
-4.3%
Another one of the Total Wine chain stores; this one in DE. An enormous store with perhaps 75% of inventory being wine and liquor and 25% beer. Even so, this store carries a decent selection of beer with about 25 or so American micro breweries represented, with 3 or 4 beers each on average. Rogue, Victory, Dogfish Head, Bear Republic, Smuttynose, Otter Creek, North Coast, Pyramid, Redhook, Boston Beer Co, Unibroue, and a bunch more that I can't recall. The international selection is not quite as complete, and the Belgian selection is downright weak (although they do have some Fantome products, which rules). Lots of lackluster English ales, and the gimmicks from countries all over the world like Red Stripe, Sapporo, Birra Morreti. Oh, and cases and cases of macros, if that's your thing. Prices can be a bit high, most single bottles are $2 to $4 bucks, bombers usually about $6 or $7. Not a bad little catch, but still lacks knowledge and service, like most Total Wines.
980 characters
3.85
/5
rDev
+3.8%
Visited with fellow BA mtanji on February 12, 2005. I had been to the other Total Wine and More in Wilmington in the fall and enjoyed the visit. Since I am from the backward state of Pennsylania, a visit to a store like this is a like a kid going to a toy store. I thought the selection was good and purchased 8 six-packs. The prices were good (at least compared to 6-pack stores in PA). They had a good close-out on Red Hook Winter Ale at $3.99/6-pack. 95% of the store was devoted to wine and when I asked a clerk for a certain type of wine for my wife, he looked at my cart full of beer and directed to the cheaper selection of wine and never offered me a sample from the wine tasting they were having. BA mtanji got a good deal on a gift pack of Duvel (with glass). I will go back there again.
797 characters
Total Wine & More in Wilmington, DE
3.71
out of
5
based on
14
ratings.