Bierbrunnen Pub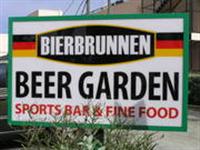 PLACE INFO
Type:
Bar, Eatery
427 S Fort Lauderdale Beach Blvd
Fort Lauderdale
,
Florida
, 33316-1602
United States
(954) 462-1008
// CLOSED //
Notes:
No notes at this time.
Added by kennyo
Ratings: 14 | Reviews: 14
Reviews by nortmand:

4.15
/5
rDev
+10.7%
vibe: 3.5 | quality: 4.5 | service: 4 | selection: 4 | food: 4.5
It's actually been almost a year since I've been, but I went there 4 out of 5 nights during a conference.
Pretty small place, in an alley that affords somewhat of a beach view. Very rowdy at night, in fact one night there may of may not have been some illict drug use in the bathrooms.
Servers were friendly, no complaints there, just a little of that "southern attitude" which slows everything down (except the driving) in Florida.
Nice selection of very fresh German beers, most of them served in their own glassware.
Food is definitely a highlight. Authentic German cuisine, very delicious. Beers are reaonable, borderline pricey and the food is fairly expensive.
672 characters
More User Reviews:
3.31
/5
rDev
-11.7%
vibe: 4 | quality: 4 | service: 2 | selection: 3.5
I was down in Fort Lauderdale looking for a new house with the wife, and we were staying down the street. I wanted to check this place out after we spent some time on the beach. My impresions and feelings were mixed.
We stopped by at about 4 on a Monday afternoon. There were about 7 or 8 people there: two were playing pool and the rest were having some beers at the outdoor bar area. I really like the open atmosphere. However, I am used to going to places here in NC were smoking is not allowed. Unfortunately, smoking is still allowed in Florida in most establishments. That was one of m y complaints; the smoke was a bit much.
My other complaint was the service. We sat down at the bar and the guy behind the bar said "Hang on, I'll be right back". 4 minutes later, I timed it, he was back, with no explanation as to what was going on or what the delay was. We were about to leave when he showed up.
The selection was okay. Again, NC has some awesome beer selection so I am a bit spoiled. I cant say there was anything spectacular but there was a pretty good selection.
I may go back here again, but only if the winds are blowing correctly and nobody else is there smoking.
1,186 characters
4.45
/5
rDev
+18.7%
vibe: 4 | quality: 4.5 | service: 4.5 | selection: 4.5 | food: 4.5
I've going to Ft Lauderdale the past 7 years and had been seeing this place but never had stopped. The 22 beers on tap was always enticing and finally I pulled up a chair at the bar for lunch. Had a Kostriker Swartzbier with some excellent Wiener schnitzel. Karina from Saltzburg at the bar was lovely. I sat on the alley side of the bar so I could look out at the ocean. I was so taken by the experience I went back the next day for a Jager schnitzel, perhaps even better than the Wiener schnitzel. Had a Warsteiner lager and a dunkel. Overall I was a very happy man.
The 22 taps include Konig Ludwig, Bitburger, Radeburger, , Hoegardenand American micros such as Brooklyn Lager, Magic Hat #9, Widmer Drifter, Stone Smoked Porter. This is on my list of definite returns.
772 characters
3.25
/5
rDev
-13.3%
vibe: 3.5 | quality: 4 | service: 4 | selection: 3.75 | food: 3.75
Last I was here the selection was not nearly as good. Great taps and a nice mix of US micros and german beers. Service was good the owner was tending bar and was friendly and really into beer. He suggested the fish tacos and WOW were the great. I was not expecting much from fish tacos at a german place but they were really good.
I had an Avery IPA and an Ocktoberfest beer from germany (sorry I forget the brewery)
422 characters
2.8
/5
rDev
-25.3%
vibe: 3 | quality: 3 | service: 1.5 | selection: 3.5 | food: 3.5
A great place no matter where you are, but given the places that surround it, and other area bars that in some cases have two taps, both with various spellings of the word "light" in the title of the quasi-beer that they are used to pour, this is like ebenezer's of its area!
We visited in the afternoon after laying on the beach for the first part of the day. The bartender was pleasant and had no problems explaining what was behind the exotic taps to many people walking by, wondering "what's that!?", before sitting down.
They were out of some Germans that I have not tried on draft before, but I settled for some crafts that are unseen in New Hampshire. I did notice a great deal of brews from the likes of Shipyard and Smuttynose, which didn't interest me in the situation, but may be of interest to those from other locales.
---
visited again on 12/13/09, still same great schnitzel and goulash. the selection today was 22 taps, that included bud AND miller lite(and light), pbr, harp, warsteiner, warsteriner dunkel, an avery, franziskaner heffe, spaten, spaten optimator, and most importantly(to me) Holy Mackerel!
Please note that the place has free parking, which also allows you to easy access to the place.
___
11/15/2010 update:
Visited the place the other day. Almost half of the taps were kicked, the service was slow and the bartender was too cool for the place. Some of the items on the menu ended up being $3 more than stated, which we only learned when the check came around, with the following explanation after we asked what was going on "uhm, i think he's in the middle of changing the menu or something." Another item was listed on the menu as being accompanied by home made mustard. In reality it was another $3 extra, because "it is home made." I understand a lot of places state that prices are subject to change, but a $3 increase across the board? I would expect to be told about this at the time of placing the order. I feel particularly let down, because I was talking this place up to a lot of people.
2,040 characters
3.78
/5
rDev
+0.8%
vibe: 3 | quality: 4 | service: 4 | selection: 3.5 | food: 4
Edit 1/19/11:
Hit this place up again on a recent trip. As stated by another reviewer, the menu prices do not match the bill prices. After a brief conversation with the understanding bar tender, she agreed to charge us menu prices. Service was good, food was good, and beer selection was great, although paying 8 bucks for a Terrapin Hopsecutioner sucks, it was a great offering. Suggestion is to avoid this place untill the menu prices are fixed.
Despite being down a small alley off A1A, Bierbrunnen's may be one of a couple craft beer refuges in the area. Others have mentioned that Florida is a craft beer wasteland, they weren't lying!
A mixed bag selection of German imports such as the like of Spatan varieties with other domestic offerings from Shipyard, Rouge,and Dogfish Head. Was a little disapointed with a few offerings being out and no maiboch offerings.
Service was fast and super friendly.
If your like me, you can only drink so many miller lights before your craven a hop fix. This place has got the cure.
1,028 characters
4.1
/5
rDev
+9.3%
vibe: 4 | quality: 4.5 | service: 4 | selection: 4 | food: 3.5
In a land dominated by cheesy gift shops, tattoo parlors, and the beer scene pretty much limited to sports bars and 5 long necks for 10 bucks sping break holes, Bierbrunnen is as refreshing as a gust of air conditioning on a muggy Florida summer afternoon.
Stopped by in the afternoon, ate lunch, hung around BSing with a few locals, and ended up drinking dinner for lack of any other plans.
A limited selection of German beers, including Warsteiner, Spaten Okto and Optimator. 1664 was also on tap, plus Shipyard's Summer Ale, Export, and IPA. Also had Rogue Dead Guy, DFH 60-minute, and some Blueberry flavored beer that wasn't bad for what it was.
The food was a bit more limited than we had hoped, with plenty of wursts and schnizels, but lacking the kassler rippchen that had caught my eye.
Gary the owner was handling the taps in the afternoon, and was quite enthusiastic about his selections. This is a real winner in the southeast Florida beer wasteland, but there is room for some improvement. Prices were a little higher than I expected, but not out of line considering real estate prices along this beachfront.
All in all, one of the few deserving beer destinations here. Don't miss it.
1,202 characters

2.94
/5
rDev
-21.6%
vibe: 2.5 | quality: 3 | service: 3 | selection: 3
I stopped by on a recent trip to Florida. Unfortunately, they night I was there they only had three German beers on tap (Warsteiner and Franziskaner Hefe-Weisse and Beck's). They only had one in a bottle (Tucher). With is I was not impressed and was actually quite dissapointed as I love German beer. I had the Franziskaner which was nice but not what I was in the mood for.
My girl and I had our beer and moved on as there was not reason to stay on.
If they could just add two more INTERESTING German beers on tap and get some bottles they would fill a nice void in the Ft. Lauderdale area!
593 characters
3.41
/5
rDev
-9.1%
vibe: 3 | quality: 3 | service: 4.5 | selection: 3
This is about the best Ft Lauderdale can offer and while it's a decent enough joint, it ain't anything to get overly excited about. Perhaps it was because I was there last week which is during their off season. The heat and humidity sucks the life right out of you. Then come to find out the bar is one of these open air places with no AC, but plenty of paddle fans to move all that crappy air around. Nice. It's quite easy to walk right by the place if you're not paying extremely close attention, which is precisely what I did. Yeah, there's a sign, but it's at the end of an alley way and there's nothing distincitive about the sign to catch your eye. Anyway, it's a small place with a mid-sized bar, half opened to the outdoors and half inside. The beer selection was very limited but spectacular by Florida standards. This is all stuff that's readily available in most larger metro areas...Spaten Optimater, Franziskaner, Spaten Octoberfest, Bitburger and Warsteiner on tap and then your usual sludge in bottles ie AB products and Corona. The girl from behind the bar was from Michigan and very pleasant and friendly. She offered me several samples of the tap beer (even though I have had all of them many times before but add "gift horse" adage here). They serve food but when a couple came in and sought to order, a number of items listed were no longer available. The owner of this place needs to get his house in order on that issue. Anyway, stop by if you are desperate for something other than what the local dives and sports bars are all serving and for god's sake, stay away from Florida in the summer time at all costs.
1,633 characters
4.6
/5
rDev
+22.7%
vibe: 4 | quality: 5 | service: 5 | selection: 4 | food: 4.5
Found this place on BA. They have a sign out front. They are just down the sidewalk behind their sign. Few tables outside. There is a new owner, Gary. Nice friendly, personable.Loves to talk about beer.My wife and I both had the black lager. She walked up the bar to see what else might be on tap. She came back with a sparkle in her eye. "They have Affligem on tap". Gary wants to have a guest beer on tap. Affleigem was our host for the evening. Prior to that they had Chimay Blue. The new owner has some nice plans for this place. Food was good, Service was good. We had a very enjoyable evening.
599 characters
4.36
/5
rDev
+16.3%
vibe: 4.5 | quality: 4.5 | service: 4.5 | selection: 4
I had heard about this place right here on BeerAdvocate.com. I always research the breweries, brewpubs, ale houses and related before I go on any trip. This place sounded different and the fact that it's right on the strip (where I knew we were going), I wanted to check it out. Since my wife loves the beach and the outside, this place sounded even better, since the description included a Beer Garden. It was easy to find, especially because they have a sign out front (which included their beer and food menu). The brewpub is down a small "alley" that is perpendicular to the ocean. The outside bar stools are in the shade (a big plus for any Florida location) and you can see the beach while you're drinking a cold one.
We were greated promptly by Sue, the head bartender, who has been there for 8 years. She showed enthusiasm that you might not typically receive from someone who has been at the same place of employment for that long, it was refreshing to say the least. During my research prior to my trip, I found 2 beers on their website (www.Bierbrunnenpub.com) that I hadn't tried before, but had heard about. They were both Shwartzbiers (dark lagers). Sue was wearing a Diebels shirt, but I still had to ask which one she would recommend. The other choice in this category was Kostritzer. They had a good beer selection, for Ft. Lauderdale, of about 7 (I didn't include the Anheiser Busch products) beers on tap. The Deibels was lighter than most Shwartzbiers I've previously tried, but had a pungent taste with a little bite. Even tough I wanted a more seasonable beer next (I had the Paulener Heffeweizen), but Sue let me a try the Kostritzer (as well as a few others). This beer was great. It had a nice carmel smell to it and a very flavorful toffee taste. It kept a tight head throughout the quaffing. This is now one of my favorite style Shwartzbiers for sure.
Although we didn't sample the food (since we had just come from lunch), the brewpub had wonderful smells. We were tempeted to order something based on the smells alone, but needed to leave a little more room for our elixers.
The owner Paul also came out to greet us and was very friendly.
All things concidered, this made me want to come back the next time I'm in town. With the touristy places on the Ft. Lauderdale strip and the myriads of AB, Miller & Coors products on most competitor's menus, it's nice to go somewhere to get flavorful, quality brews.
2,446 characters
3.83
/5
rDev
+2.1%
vibe: 3.5 | quality: 4 | service: 4 | selection: 3.5 | food: 4
My one beer stop while in Ft. Lauderdale this past week. This place is actually not all that hard to find, if you know what you are looking for. Its in the first block of the buisness district on A1A after the split when heading away from the convention center (important for folks like me that visit only for conferences). This is a pretty modestly sized place located on an alleyway. There are a few tables outside, a few inside and a bar. A pool table and a few electronic dartboards round it out. We sat outside. I had 4 brews. My Paulaner hefe came without fruit and I didn't even have to ask to keep it off. Big points. I never sat for too long without a brew, and the servers were nice. The German woman that took care of us some of the time was a bit gruff, but not rude. I sampled 4 beers. Nothing that I can't find here at home, but what I expected. Brews were fresh and tasty after a long day of sitting in talks. I also had a nice plate of currywurst and fries that was pretty darn good. My only problem was how far I had to go to get here. Better than I thought I would find.
1,088 characters

3.88
/5
rDev
+3.5%
vibe: 3.5 | quality: 4 | service: 3.5 | selection: 4 | food: 4.5
This place is a diamond in the rough when you compare it with some of the cheezy bars that line the beach here on Rte A1A (Ft Lauderdale Beach Blvd). It is in a fairly narrow alley and almost has a sportsbar feel to it. There are some outdoor tables in the alley and there are 2 halves to the bar--one is inside and the other half of the bar --you are sitting outside in the alley with just enough roof over your head to prevent you from getting wet if it is raining.
They have almost all german beers on-tap--some fairly easy to find ones like Warsteiner, Radeberger, Paulaner hefeweisse and Tucher --and some more unusual ones like Diebels Alt and another one or 2 that you don't see around as often. I opted for the Diebels alt and my wife had the Paulaner hefe. I had also been to this place almost a year ago (April of 04) and it hasn't changed at all.
We got some schnitzel with a german potato salad that was excellent and the time before we had an assortment of wurst sausages with some red cabbage and sauerkraut and mustard. Excellent food and it goes great with the beers they have there.
Service has been friendly and prompt both times I have visited and it was fairly busy when I was here recently 12/31/04. The prices are fairly reasonable too. I don't know if they have a happy hour but if they do, it would be an excellent time to try it out. This is a must stop if you find yourself on the beach in Ft Lauderdale.
1,440 characters
3.7
/5
rDev
-1.3%
vibe: 4 | quality: 3.5 | service: 3.5 | selection: 4
Located in an alley off of Los Solas Blvd, the Strip, in Ft Lauderdale. The bar is a rectangular with one of the sides available for sitting outside in the alley, along with 6 tables. The beer selection is mostly german, 7 of 9 taps. On tap on Halloween weekend where Warsteiner Pils, Warsteiner Dunkel, Diebel Alt, Kostritzer Schwartz, Bitburger Pils, Tucher Weiss, Spaten Ocktoberfest. The other 2 were macros. The bottle beer was so so. They did have 3 styles of wheat beer; Hefe, Dunkle, Kristall from Erdinger and Tucher. All the tap beers where pored into the appropriate breweries glasses.
The bar had a pool table and 2 electronic dart boards along with booths along the perimeter of the building. The food menu consisted of all german type food, which I didn't try it but it sure smelled good. The only thing I did eat was the big pretzel which was like any NYC hot pretzel stand except these pretzels were hot,
I enjoyed sitting outside, off the strip, drinking german beer in the right glasses. For Florida, this is a find.
1,041 characters
Bierbrunnen Pub in Fort Lauderdale, FL
3.75
out of
5
based on
14
ratings.