Paulina Lake Pilsner
| Cascade Lakes Brewing Co.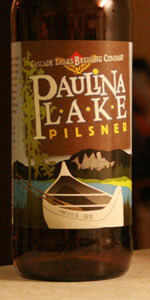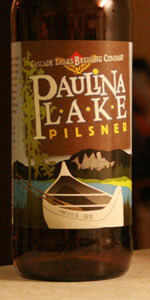 BEER INFO
Brewed by:
Cascade Lakes Brewing Co.
Oregon
,
United States
cascadelakes.com
Style:
German Pilsener
Alcohol by volume (ABV):
4.50%
Availability:
Summer
Notes / Commercial Description:
"Paulina Lake Pilsner is a classic German style Pilsner. Light straw in color and well hopped with European noble hops, this beer is fermented to a low final gravity. This leads to a beer with few residual sugars to create a dry crisp lager with higher hop bitterness and aroma than your typical American Lager."
Grains: Pilsner
Hops: Czech Saaz
Original Gravity: 1.045
Alcohol: 4.5%
Added by BuckeyeNation on 09-26-2009
Ratings: 14 | Reviews: 6
Reviews by ricke49:

3.91
/5
rDev
+4.3%
look: 4 | smell: 3 | taste: 4 | feel: 4.5 | overall: 4.5
A very good offering from Cascades Lakes Brewery in north Deschutes County Oregon.
Everything about it is true to pilsner form:
refreshing, crisp, Noble hops taste, and color. It was a bit short on flavor (compared to Victory Prima - but what isn't?).
Good price on 22 oz. bomber at Bi-Mart (can't remember exactly, but about 3 bucks).
Of the Cascade Lakes brews I've tried this is the first that I was impressed with and truly enjoyed
442 characters
More User Reviews:
4.07
/5
rDev
+8.5%
look: 3.5 | smell: 4 | taste: 4 | feel: 4 | overall: 4.5
Poured from the 22oz bottle into a pint glass. Body is a bright straw color with a half-finger's worth of creamy white head, along with some nice carbonation welling up from the bottom of the glass. Aroma of crisp pilsner malt, light, floral hops, and a touch of cereal grain.
Palate is light, crisp, and hoppy, with some grassy notes and a pleasant cereal character from the pilsner malt. Finish is clean and crisp, nice and refreshing. The light body carries the flavor well, although I wish the carbonation could be a little bit livelier. This is a highly drinkable offering that's perfect for the summer months and seems to fall right in Cascade's wheelhouse. Nice job.
674 characters
3.62
/5
rDev
-3.5%
look: 3.5 | smell: 4 | taste: 3.5 | feel: 3.5 | overall: 3.5
Picked up tonight at the COOP... poured into my slip tulip... Very pretty... clear polished light golden brew with a decent enough white cap that shows okay lacing.
Nose is pretty nice... grainy pale malt.. maybe some minor sulfur.. spicy hoppiness seems a bit higher than the Continental cousins, but I like it.. smells fairly clean.
Probably not as bitter as many standard Pils... decent hop flavor... a bit too much malt lingers late on the palate... not as "crisp" as I would hope for, but this is still a pretty damn good pilsner... No real "flaws"... good and clean.
Body seems a touch thick, carbonation could be a touch higher....
I would/will buy this one again... $13 for 3x22's equals a 6-pack equivalent seems VERY pricey.. but I know good lagers are expensive to brew... Yep... I will get it again.
3.5/4/3.5/3.5/3.5
834 characters

3.4
/5
rDev
-9.3%
look: 3.5 | smell: 3.5 | taste: 3 | feel: 3.5 | overall: 4
22 oz bought from "Habits" in South Salem. Probably the brightest yellow beer i have seen..bright and crystal clear. Small white head. Pleasing doughy ,bready aromas with a tinge of lemon zest hop. Good Crisp sweet malt flvoured lager..with a hoppy buzz leaving bitterness at the end. Nice palate, crisp and refreshing. A nice lager..very good American lager..but not a pils by any means.
388 characters

4.15
/5
rDev
+10.7%
look: 4 | smell: 4 | taste: 4 | feel: 4.5 | overall: 4.5
Germany wouldn't boast but they certainly wouldn't laugh at this Pilsner offering from Cascade Lakes Brewing. I'm easier. I was really surprised by the quality of this German-style pilsner. The brewers obviously tried to replicate an authentic German pilsner instead of trying to make their own "American" version. Because of this, Paulina Lake Pilsner can effortlessly scratch the Pilsner itch when it inevitably arises amongst the hop heavy and imperial crazed North American beer scene.
Appearance:
Great clarity and good lacing. The head size was unfortunately lacking. Very light straw in color.
Smell:
Breadiness, light hoppiness and some sulfur to make it interesting. No major defects, some slight DMS but not enough to detract from an overall appetizing aroma.
Taste:
Good bready malt sweetness (slight) but apparent up front gives way to appropriate bitterness and then returns with said bitterness to carry out the satisfying yet not quite crisp finish.
Mouthfeel:
Appropriate for style, could use a tad more carbonation.
Drinkability:
Like a Pilsner! Which is good. I could have several of these.
1,116 characters



3.53
/5
rDev
-5.9%
look: 4 | smell: 3.5 | taste: 3.5 | feel: 3.5 | overall: 3.5
"When I model I pretty much go blank. You can't think too much or it doesn't work."
--Paulina Porizkova
Sun-washed straw with nearly colorless edges. Nothing darker than pils malt will do that. The good-sized crown is cumulus cloud white and has an appealing texture. Hundreds of tiny bubbles are piled atop one another, leaving tiny pits when they burst. Finely dotted lace appears in small sheets and sticks around a while.
The nose is exactly as expected given the ingredients list. Malt and yeast add very little, which clears the way for a musky, grassy, slightly lemony Czech Saaz hoppiness. If the flavor follows suit, we should be in business.
Cascade Lakes Paulina Lake Pilsner is a pretty good, pretty drinkable version of the style that has the benefit of being brewed in this country. It isn't easy to find a fresh German pilsner these days, which is a damn shame. In any case, the brewers didn't go wild and crazy, they simply designed a solid, easy drinking, warm weather lager.
The flavor profile is as straightforward as they come. The pilsner malt adds a light cereal grain base and very little sweetness. The hops are still musky and grassy, with a bit less lemon peel than expected. This is a relatively clean beer, with no off-flavors to speak of. The finish almost reaches crisp.
Lightness (not wateriness) rules the mouthfeel. As a result, ease of drinkability is fairly high. Sparkly bubbles help by adding energy and leading to some tasty Saaz burpage.
Although Paulina Lake Pilsner may not be a world-class beauty like Ms. Porizkova, it's an attractive enough brew if you're in need of a little noble hop refreshment on a sticky summer day.
1,672 characters
Paulina Lake Pilsner from Cascade Lakes Brewing Co.
Beer rating:
50%
out of
100
with
14
ratings