Slippery Slope Ale
| Cascade Lakes Brewing Co.
BA SCORE
82
good
15
Reviews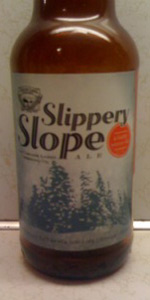 BEER INFO
Brewed by:
Cascade Lakes Brewing Co.
Oregon
,
United States
cascadelakes.com
Style:
Winter Warmer
Alcohol by volume (ABV):
6.40%
Availability:
Winter
Notes / Commercial Description:
"Our full-bodied ale uses crystal malt and generous amounts of cascade hops to produce a well-balanced seasonal ale."
Grains: 2-row, Crystal 120, Chocolate, Honey
Hops: Cascade
Available: October 1 – Feb 1
Added by JohnGalt1 on 10-15-2011
Reviews: 15 | Ratings: 39

2.78
/5
rDev
-20.8%
look: 2.5 | smell: 2 | taste: 3.5 | feel: 2.5 | overall: 2.5
Had on tap at Henry's 12th Street Tavern in Portland, OR. Reviewed from notes.
A- No head, but sticky lacing. Coppery color and some nice carbonation.
S- Some diluted hops and medium bodied malts. Spiciness as well.
T- Bitter hops and slight malt flavor. Finishes bitter with some spices.
M- Medium body, little overcarbed. Unclean finish.
O- Decent beer, not impressive though.
383 characters
3.08
/5
rDev
-12.3%
look: 3.5 | smell: 3 | taste: 3 | feel: 3.5 | overall: 3
Poured from a twelve ounce bottle into an imperial pint glass. Nice woody brown with a tan head. Nose has sweet malt, subtle hops and some nice spices. Similar flavor profile. Not bad, but lacks any real depth or complexity. Not overly spiced, so drinks pretty well. Medium body is a bit over carbonated.
304 characters

3.18
/5
rDev
-9.4%
look: 3.5 | smell: 3 | taste: 3.25 | feel: 3 | overall: 3.25
A little more viscosity with the pour, but it has that light brown warmer feel to it. Tan head. Aroma was fairly neutral.
You get some spice, nuts, mild sweetness out of the first sip. Alcohol isn't warming. Has a little bit going for it in the way of hoppiness you don't see all that often in the real traditional examples.
Middle of the road stuff.
360 characters

3.23
/5
rDev
-8%
look: 3 | smell: 2.5 | taste: 3.5 | feel: 3.5 | overall: 3.5
Thin head on a dark copper colored body.
Smell is a faint dark fruit, mostly plum.
Taste is dark fruit sweetness with mild bitterness. Good balance.
Slightly fizzy texture, moderate carbonation and medium body, but with a sticky feeling.
Nice with good flavors, though lacking in the aroma area.
296 characters
3.33
/5
rDev
-5.1%
look: 3.5 | smell: 3 | taste: 3.5 | feel: 3 | overall: 3.5
Looks like a standard winter warmer, maybe a little more thickness to it. Beige head, leaning off white. Fair aroma, nothing megasized about it, a mild unidentified spice used in low quantity, mild nuttiness.
More mild nuttiness and spice in the taste, slightly bitter, slightly chalky. Miniature brown sugar addition. Pretty sessionable despite its alcohol, didn't really have a warming effect I thought. Good malt additions make it relatively smooth when considering that it is a little more hoppy and bitter than a traditional winter warmer like Sammy Smiths.
Decent stuff. Probably wouldn't buy it again, but is worth checking out if you like ma
651 characters
3.36
/5
rDev
-4.3%
look: 3.75 | smell: 3.25 | taste: 3.25 | feel: 3.5 | overall: 3.5
Clean dark brown with a small tan head and a good amount of lacing. Smell is dark malts with a slight amount of floral hops. Taste is dark dank molasses and a touch of earthy hops. Certainly a light winter warmer but very drinkable and modestly tasty. Carbonation is just enough. Overall it would be a good introduction to the style from the less adventouress. (?)
364 characters
3.48
/5
rDev
-0.9%
look: 4 | smell: 3.5 | taste: 3.5 | feel: 3 | overall: 3.5
12 oz. bottle, inadvertently snagged in a gift exchange a couple weekends ago at Timberline Lodge (clad in a swell Joe Biden 2012 huggie). Poured, while watching the Trailblazers-Sacramento game, to a pint glass.
A: Typical caramel brown 'winter warmer' color with a slightly rusty-red tint. Modest head, a fine light tan bubbliness that can't quite build to a finger. Besides a pretty color, complexion is fairly clear - a slight haze that obscures my fingers through the glass a little. A few meandering bubbles.
S: A dusty dry grainy nose, with an ashy (not smoky, there's a difference) dullness. A tingly, woody/spicy scent, too - strong enough, but one-dimensional and not really an enticing 'winter' aroma.
T: Nutty and caramel-based maltiness with an evergreen sprig or two tossed in. A little citrus rind (orange-y) and a dash of spice on a vaguely metallic/tinny body. Fruitiness is kinda interesting, in a mishmashed 'fruit cake' sort of way.
M: A mild, unassuming kind of mouthfeel. Smooth, fairly clean, but also fairly light. Modest carbonation, slightly sticky finish.
O: It's ok, just ok. Lots of scores that are average or just above, but the whole result is 'average'. Easy enough to drink, but there are many warmer out there that are more flavorful or daring. Fine for a try, and kinda glad this was nabbed in the gift exchange for a chance to try... because I wouldn't buy otherwise.
1,408 characters
3.57
/5
rDev
+1.7%
look: 3 | smell: 3.5 | taste: 3.5 | feel: 3.5 | overall: 4
Sensible 12oz bottle poured into 10oz goblet. Poured a coppery mahogany color with just a thin cap of white head that had no retention or lacing.
The aroma featured some very good malts, a bit sweet, a bit earthy, as well as some yeast spice. There was just hint of a hop kick in the background. The flavors were pretty much the same, sweet and earthy malts, some spice/yeast, and a tinge of hops. The beer was nicely balanced.
The body was very good, smooth, even, and had a semi-dry finish. Drinkability was was also very good, it went down quickly and easily. Overall, a nice take on the style, certainly worth trying if you see it.
637 characters
3.63
/5
rDev
+3.4%
look: 4 | smell: 3.5 | taste: 3.5 | feel: 3.5 | overall: 4
Picked this one up last night at the COOP .... Poured tonight into my Corsendonk tulip. only about 1/2" of lite tan head, but it sticks around forever and leaves nice drapes of lacing... the brew is polished deep amber brown.
Nose shows quite a bit of dry warm toast and a lite nuttiness... not so subtle caramel.... a little bit of citrus hoppiness shows, but is lost in the maltiness.
Flavor mirrors the nose with a pretty penetrating estery profile... significant cocoa with warmth... golden raisins and some sorta fruitcake qualities but without the sugar... a bit of dried cherry fruitiness on the finish.. surprisingly dry IMO... The hops are there throughout as a lite citrus element, but again is buried by the waves of malt.
Medium bodied but has a nice everpresent small bubble carbonation...
I am normally pretty apathetic about winter warmers, but this is nicely done.
4/3.5/3.5/3.5/4
912 characters
3.67
/5
rDev
+4.6%
look: 3.5 | smell: 4 | taste: 3.5 | feel: 4 | overall: 3.5
Body is a pretty deep brown color with garnet highlights. Very little head. Aroma of sweet caramel and dark malts, a touch of fruity hops, dark stone fruit, and a touch of holiday spices. Palate is robust sweet malt up front, with a bit of a roasted malt character on the swallow, along with a touch of hoppy bitterness. Body is full and smooth, with just a bit of creaminess, very nice for a winter warmer. I'd buy this again.
427 characters

3.75
/5
rDev
+6.8%
look: 3.5 | smell: 3.5 | taste: 4 | feel: 4 | overall: 3.5
Poured into a He'brew small shaker pint. Pours a medium coppery amber with a thin off-white head with good retention and lacing. Malty aroma, dominated by bready and a hint of toasted malt, slight brown sugar and cinnamon. Flavor follows aroma, with bready and lightly toasted malt, slightly earthy with a hint of holiday spicing. Finishes with a touch of hops, cinnamon and ginger. Nice medium body with some creaminess. Somewhat understated flavors, but a nice malty winter ale that was great on this cold, rainy evening.
523 characters

3.82
/5
rDev
+8.8%
look: 4 | smell: 3.75 | taste: 3.75 | feel: 4.25 | overall: 3.75
I had this beer on-tap in a pint glass at Cantine in Seattle.
Appearance: rich red-brown hue with a finger of creamy ivory foam. Very nice.
Smell: sweet and malty with a bit of biscuit and a little fruitiness. Festive!
Taste: sweet and fruity with some caramel character and a little bit of toastiness and biscuitiness. It's rich, and it's quite nice for the style.
Mouthfeel: medium-rich body with a big carbonation and very satisfying creaminess. Woo!
Overall: this is a smooth and drinkable winter ale; stylistically good although the malt profile doesn't fit my personal palate.
592 characters

3.83
/5
rDev
+9.1%
look: 4 | smell: 3.5 | taste: 4 | feel: 3.5 | overall: 4
12 oz single from Fred Meyer, S.Salem store. $1.25
Nice clear brown ale with a luscious light tan head..that is bubbly and creamy thick.
Good choclate ,coffee aromas..a whiff of what seems like whipped cream. Pleasant.
Taste is peppery coffee and cream, dark chocolate and a touch of pipe tobacco even getting a touch of peppermint and ginger..very nice really
Good strong mouthfeel..coasting but not uncomfortable.
Overall i found this a very nice beer for the colder weeks.
475 characters
3.87
/5
rDev
+10.3%
look: 3.75 | smell: 3.5 | taste: 4 | feel: 4 | overall: 4
Nice candy like toffee sweetness with a hint of spices, rich mouthfeel and a touch of dark fruits. Hops shine through as the beer warms. Overall pretty good and in line with other winter warmers.
195 characters

3.91
/5
rDev
+11.4%
look: 4.5 | smell: 3.5 | taste: 4 | feel: 4 | overall: 4
This is the same beer as santas helper just relabeled.
Bought at Boise coop
Look red with copper tones. White foamy head that disappears soon leaving lace
Smell not very strong. I kind of want more out of that..
Taste- a red with more flavor. Great spice but not overpowering. I can taste the malt in there without wishing I hadn't.
Feel. Smooth
Overall a great beer.
369 characters
Slippery Slope Ale from Cascade Lakes Brewing Co.
3.51
out of
5
based on
39
ratings.