House Of Homebrew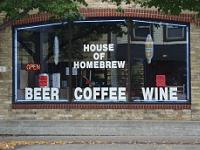 PLACE INFO
Type:
Homebrew
410 Dousman St
Green Bay
,
Wisconsin
, 54303-2716
United States
(920) 435-1007 |
map
Notes:
No notes at this time.
Added by Todd
Ratings: 6 | Reviews: 6
Reviews by Musky:
3.65
/5
rDev
-13.5%
This fourth homebrew store that I have visited in Wisconsin had a decent selection of beer, wine, and even coffee brewing paraphenelia. A nice layout with grains able to measured and crushed at your convience, a small selection of Briess and Northern Brewer malt extract were on hand. I didn't notice the dates on the yeast packages so I cannot comment on their freshness. A large variety of hops was kept in cooler in foil sealed bags.
I spoke with one of the employees for a while about local competitions and clubs and he was very helpful and responsive.
If you are in the neigborhood and looking for a place to purchase homebrew supplies this place will be your paradise even though it is a bit pricey.
714 characters
More User Reviews:
4.25
/5
rDev
+0.7%
My LHBS in GB. As I've converted to an all grain brewer, I have really come to appreciate this place and love having them in my backyard. I had been ordering all grain kits from NB, Austin, etc. with pretty good luck. I decided to brew one weekend that I hadn't planned and picked up the ingredients for an IPA based off a NB recipe from the store. My mash efficiency went up a few points with the LHBS stuff. Seems to be repeatable based on my next few batches. Great store and great group of owners who can answer any question you may have.
550 characters
4
/5
rDev
-5.2%
This is my LHBS, only one in GB that I know of. Only one I've ever been in so not sure how to rate a LHBS. They are always willing to help me with equipment and technique advice. Always willing to offer advice on my recipes, help with hop substitutions, never pushy or try to upsell you.
You can weigh & crush your own grains. They have a hand crank grain mill or an electric one for bigger batches. They have never been out of any grains or ingredients I've stopped by to get. They only carry dry and WL yeast however. WL varieties are limited, but if you call ahead they can tell you what they have on hand or order a strain for you.
They always have a few homebrews on tap for customers to sample. I wish they carried Wyeast but I've never had a bad experience here.
772 characters
4.2
/5
rDev
-0.5%
At the request of AutumnalDave I checked in at this shop to see if it truly lives up to its beerfly reputation. I believe that it does.
Woodychandler's review accurately describes the layout so I won't comment much on that accept to point out a few highlights. The way that this shop is organized is a rarity indeed. Not often have I stepped into a homebrew establishment that has been designed with such common sense and spaciousness in mind. Everything the home brewer, vintner, tea freak, or coffee roaster needs is easily accessible without any assistance from the pleasurable and bright staff. If however, help is what you seek, the folks at this place know their business, know customer relations, and are just plain cool to chat with.
I really didn't expect to find a place like this in Green Bay. Their selection of extract malts and yeasts definitely beats out our little shop in Madison and their hop selection comes close to equaling it. As this place is only meters from both Titletown and Hinterland Breweries, there really isn't an excuse for BAs to not pop in and say hi when they're in Green Bay.
Prices are low.
They also have several homebrews and homemade sodas on tap in their yeast cooler…
1,229 characters
4.65
/5
rDev
+10.2%
The House of Homebrew was an excellent place to visit. All brewing supplies are in a logical layout and are all clearly visible. All of my questions were answered knowledgeably. I told him i wanted to get started in homebrewing, and he made sure to include everything i need. Obviously my results were important to him as i was even told to call if i needed any help or had any questions of the brew process.
For Green Bay, this shop is definately first rate. If you are interested in any brews, even wine, i recommend that you at least check this place out.
561 characters

4.5
/5
rDev
+6.6%
It is my extreme pleasure to be the first to review this shop! Despite not being a homebrewer, George Hummel and his wife, Nancy, walked me through their place and taught me what to look for in a homebrew store.
Coming through the door, there are a series of shelves along the wall, with dry malt extracts, extract kits, bulk grains, and wine kits on them. At the back of the store are four coolers, with beer yeast (both Wyeast and White Labs), wine yeast, and hops from A (amarillo) to Y (yakima magnum). Comming right, there is another set of shelves with the Brewer's Garden (spices), as well as bottles, brushes, corks, and other miscellany. Closer to the counter is a mobile wooden stand for "Chemicals". The gages, taps, and tools are all kept behind the counter. All of the wine materials are in a set of three cabinets on the left-hand side of the space, facing the window. Along the window are various kettles and wine presses. There is a last set of shelves along the right window-facing wall with tea, teapots, coffeepots, cheese-making material (now there's something I'd like to try!), as well as books and magazines related to making everything that I have mentioned, however tangentially. Finally, in the middle if the room is a stand for more bulk grains as well as a scale and a hand-driven mill.
The place is immaculately kept and I found the ownership to be friendly and willing to answer my many questions, even though I was not going to be a purchasing customer.
1,490 characters
House Of Homebrew in Green Bay, WI
4.22
out of
5
based on
6
ratings.