Greenwich Union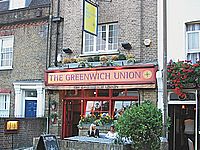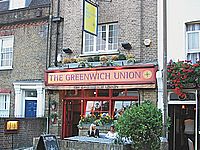 Bar, Eatery
56 Royal Hill, Greenwich
London
,
England
, SE10 8RT
United Kingdom
+44 20 8692 6258 |
map
greenwichunion.com
Notes: Opening hours:
Open from 12 noon. to 11 p.m. Mon-Fri
Open from 11 a.m. to 11 p.m. Sat
Open from 11.30 a.m. to 10.30 p.m. Sun
DLR: Greenwich (0.3 miles), Cutty Sark (0.5 miles)
Tube: Greenwich (0.2 miles) - Jubilee (Zone 2)
The Greenwich Union became Meantime Brewing Company's first public house in November 2001.
Reviews by TheLongBeachBum:
TheLongBeachBum from California
3.86
/5
rDev
-6.1%
vibe: 4 | quality: 4 | service: 4 | selection: 3.5
By now my Saturday Pub-crawl of London with my old mate and local BA RichLighWeight, was in full swing. The sun was shining and the ride on the Docklands Light Railway was not planned but made for an interesting jaunt over to the Greenwich Union.
The Greenwich Union is located only 36 seconds from the Greenwich Meridian, that's 0° 0' 36" West though. Situated right next door to another Pub called Richard I, the Greenwich Union has a different street stance all together than the more traditional looking Young's Pub it nestles with. A faded yellowy orange head board across the front has the name 'Greenwich Union' proudly displayed, but it is hard to make out the associated Brewery, and you could be forgiven for thinking that this is a Free House given its unique look. But closer examination reveals that the compass like logo at the right hand end of the sign reveals all, and that this is as close as you will get to the Meantime Brewery Tap.
The entranceway sits firmly to the left hand side, and once inside it is self evident that this pub is not very wide, but it is very, very long. The main room penetrates all the way back into darkness until a light at the tunnel end reveals that the Greenwich Union has a conservatory like rear which in turn leads into a small rear beer garden area. Stone floors and lots of light oak wooden décor, tables, chairs, alcoves and bench seating with pastel orange and mustard color painted walls that complement the simplicity and add an earthy organic aspect to the overall feel. The bar is about a third of the way down on the right and sits tightly against the right hand side wall, but it is well lit thanks to a skylight right above the bar. A handful of stools and a headboard runs around the bar area, the latter has the words of beer styles available painted on individual mirrors like 'Red – Chocolate – Organic – White – Blonde' attached to it. From here we perused the menu and opted for an IPA, they actually had two versions on sale and we plumped for the higher strength (7.5%) of the two.
Once we had the beers, where to sit? No sooner had we turned around at the bar but RichLightWeight and I didn't even have to ask each other where. Facing the far end of the bar we immediately plumped for two big comfy well worn dark orange leather chairs angled in toward each other and separated by a small table, just so that we could drink authentic India Pale Ales and act like "old gits" from a Victorian Gentleman's Club and talk about the British Raj, the good old days of slavery and shooting Tigers in India, ah yes "More beer Jeeve's!! And get that bloody punkawalla to work harder; it's getting warm in here".
Having sat down, I did note a lot of what I had (by now) ascertained as the trademark Meantime silver-chrome fonts which each house between 2 to 4 flip taps, sometimes the beers were repeated, but all were continental in style. Each of these taps is topped with a small simple looking Meantime plastic disc which has the beer style written on it. A fine range of brews was on offer, some seven in total from memory including; Pilsener, Kölsch, Vienna Lager, IPA, Pale Ale, Wheat, etc. The draft brews were supported by some rather exotic bottled Meantime brews including some infused with coffee, raspberry etc. I noted a brace of Handpumps but they seemed to be taking the weekend off and dead at the time sadly. The range is very good but the method of dispense is a little perplexing. Now I may be wrong, but I am under the distinct impression that Meantime beers are not in fact Real Ale, at least in the correct definition of the term, they are served more along the lines of the continental and US system; such that they are filtered, but not pasteurized, and served using a pressurized dispense method, but I could be wrong.
Food has an upscale slant and distinct gastro- market as others have stated. We didn't eat here, after all we were on a pub crawl and that would have wasted valuable time.
Service was friendly and I got the distinct impression that we could have wangled a few free samples if we had wanted to. The chap behind the bar was also equal to the task of explaining each beer style on offer, which I heard do several times. Good all round service.
A very enjoyable trip out here, the Greenwich Union has a traditional vibe with a modern flavor. Certainly a place to spend a few hours trying the beers (and food) if you have the time, but I think I would be hankering for a few Pints after all that continental style beer, such a shame that they did not have at least one Cask session beer, it is allegedly usually the Blonde. Of course you could always pop next door to the Richard I for a Pint of Young's Ordinary if you really wanted to.
Meantime Brewery is certainly one of the more interesting newcomers to the beer scene in recent years, and the quality of their beer is excellent, I just wish they would do more in the Cask beer format.
Last Visit: Saturday 24th June, 2006.
Jul 04, 2006
More User Reviews:

Ruds from England
4.45
/5
rDev
+8.3%
vibe: 4 | quality: 4.5 | service: 5 | selection: 4 | food: 4.5
Visited the Union back in June '11 with my parents having done the usual Greenwich tourist sites
Traditional looking pub with a couple of benches out the front and a few more outside tables at the rear
It was a lunchtime visit and was pretty quiet, so lots of space and service was good - be interesting to head back here on a busy night to compare?!?
Beer wise - 3 hand pulls and 7 or 8 keg taps
Being the Meantime brewery tap house, majority were own beers as you'd expect, but there was a couple of German and Belgian beers also available
I had the 'Grog' a 9% extra strong London Porter aged for 2 years in American oak casks
It was top notch - and certainly woke me up as a first drink of the day at 12.30pm (served in a third pint glass)!
Also tried the Union which is a Viennese stlye lager
Bar man was very friendly and literally gave me a sample of everything and we had a 20 minute chat about favourite bars and breweries in America (as I neglected my parents for a while)!
Food was fantastic also, great home made chips, right up there with the best
Definately worth a trip over or under the Thames!
Nov 04, 2011
BlackHaddock from England
4.08
/5
rDev
-0.7%
vibe: 3.5 | quality: 4 | service: 4.5 | selection: 4
It was a sunny October Tuesday lunchtime when I visited the original tap house of Meantime: it was half-term week, so loads of well off yummy mummies with their offspring were eating in the extension and garden area. The main bar area towards the front of the pub being quieter and having no smells of fish-finger sandwiches and chips.
My wife, daughter and I had walked up to the Royal Observatory and Meridian Line before ambling down to here on our way back the Dockland Light Railway and into central London. Greenwich has a village feel to it and this bar extends that concept, a rich, expensive village with out a doubt, but it does seem to have a life (and charm) of its own: even though it is not far from London the city.
The pub has a canopied frontage with a couple of tables outside, inside you'll find orange walls, flagstones and a small one roomed bar that has been extended with a sky lighted back bit which appears to be where the foodie tables live, this has eaten into the thin garden at the very rear. Toilets are down a flight of steep stairs.
The bar had three hand pulls and two large areas of taps: six of their own beers on tap and an experimental German wheat lager style on cask. Schonramer Dunkel and Pils took up another two of the taps, I didn't make a note of anything else, but the two other cask beers were from a small independent brewery whose name escapes me as I write this.
The chap behind the bar was very friendly and allowed me to have a try of anything and everything, in fact he made me have one of all their brews he had on, even the experimental brew, which we both agreed hadn't gone as well as they might have expected at the brewery.
Glad I made the effort to go out to Greenwich while down in London, this bar made it even more pleasant and I highly recommend visiting if you are in that area.
Oct 31, 2011
JohnW from England
3.8
/5
rDev
-7.5%
vibe: 3.5 | quality: 4 | service: 4 | selection: 3.5
This small pub, about 15 minutes walk from Greenwhich DLR Station is worth searching out especially if you like the Meantime beers, which we do.
At time of visit - mid afternoon on a Tuesday in Oct 2010, the bar area was very quiet, and in the rear area only about 8 people. There were 4 Meantime beers on tap including a Munich Style Marzen which we enjoyed, though very costly at over £4 a pint! The other beers also appeared to be more costly per pint than real ales in other pubs we use, which we thought was a minus point.
The food menu looked interesting, and from what others were eating, it looked good - though, as with the beer - not cheap.
The rear garden area was open but not in use, as the weather was cool. The general atmosphere was cool, though with it being quiet probably very different with a big crowd in the evening or lunchtime.
Worth a look if you want to try Meantime beers on tap in their own pub - but a bit pricey even by London standards.
JohnW
B'ham UK
May 22, 2011
Kinsman from California
4.38
/5
rDev
+6.6%
vibe: 4 | quality: 4 | service: 5 | selection: 4.5 | food: 4
It's take a while to get around to this review, but had a great time here back in November and wanted to share it with others.
While in Europe for 30 days, I was visiting a friend in London who recently moved there, we rode down the Thames to visit Greenwhich and the Prime Meridian. Using this site, I decided we should check out this pub and the Meantime beers. We stopped by mid-afternoon during the middle of the week so business was understandably slow. However the lack of a crowd meant we got great service from the bartender who was eager to share Meantime with a couple of Americans. Other than Meantime beers, they also had a decent looking selection of American craft beers as well as Belgian and German imports.
I enjoyed a glass of the London Stout, which provided a unique take on the style and was quite enjoyable. The sampler of beers also revealed some good brewing talent at Meantime with a wide variety a styles, all seeming pretty solid. Unfortunately I did not enjoy as much as I would have liked because at this point in the trip, the conversion of US$ to the Pound was killing my wallet. That being said, their prices were reasonable IMO based on what I saw at some other pubs.
Food was good pub food too, especially from what I saw elsewhere in London and the UK. It was late in the day and too close to dinner for a big lunch, but the BLT and fries really hit the spot.
Jan 19, 2011
DerBayer from Germany
4.13
/5
rDev
+0.5%
vibe: 4 | quality: 4 | service: 3.5 | selection: 5 | food: 4
This really is a gem and we were enjoying the first rays of spring sun in the backyard have Sunday roast
We had the beef and the lamb respectively and they both came with all the trimmings including red cabbage and yorkshire pudding in Meantime Stout gravy. The food was good without being anything extraordinary.
The crowd was a mix of young to old averaging around the late thirties and the atmosphere was correspondingly civilised.
The real draw of the place is the selection of on-tap Meantime beers and bottled beers from around the world - I could have happily spent the day there just going through their tap selection instead a half pint each of Kolner, Helles, Pale Ale and Pils.
In all this is highly commended and i ll be happy to go back.
Apr 11, 2010
Dukeofearl from California
4.14
/5
rDev
+0.7%
vibe: 4 | quality: 4 | service: 4.5 | selection: 4
Thanks to fellow BA wl0307, my girlfriend and I stopped here on the last day of our vacation, after making the required pilgramage to the Prime Meridian (for you geographers and geocache fans out there) at the Royal Observatory. About 3/4 mile walk from the touristy part of town (a local newshop proprietor gave us excellent directions), this place is a bit of a walk, but well worth it.
I didn't know what to have, and it was really quiet, and the two bartenders, one Portugese and one English (her brother works at the Meantime Brewery) were incredible- they gave us a small taste of every beer on tap (all quite good, some more enjoyable than others). At the time, I had what I thought was Meantime's ESB, only to find out later that it is actually Fuller's ESB as a guest beer. So after all the little tastes, I didn't settle on one of their beers, my palate recognized something it knew it liked (name unknown at the time) and made me choose that. Kind of disappointed, but on second thought, it's the first time I've had Fullers ESB on tap. I also ogled the Meantime coffee and chocolate beers in bottles behind the bar, but didn't try any. Sadly, also, I had no carry-on room left to take some home, this being the last day of the trip. We only spent an hour, but this place deserves more attention- the Meantime Brewing Company seems like a winner.
Oct 13, 2005
wl0307 from England
4.15
/5
rDev
+1%
vibe: 4 | quality: 4.5 | service: 4 | selection: 4 | food: 4
Visited this pub yesterday on a day out to Greenwich. A brewery tap for Meantime Brewery, the pub looks quite modest from outside and rather like a modern boozer targeted at young people.
The interior is quite simple and chic, the walls are painted with soft colour against soft lighting as well. Wooden tables and side tables help create a simplistic and relaxing social area at the front, while at the back there's a larger extended sitting area for dinning and a nice beer garden. The bar itself has around ten taps and two handpumps serving all their home beers (8 beers on tap and 2 on handpulls--Blond and Porter), with quite a few bottled beers on display at the back shelves as well as in the fridge awaiting attention of any interested customers. I was so very lucky to spot in the fridge two bottles of IPA and a bottle of London Porter (both in 750ml, corked-bottles) and got them all, as I'd thought I'd never got a chance to try them before much later this year. Better still, the staff told me the price for take-away was a lot cheaper than that available in California, which, rather than Britain, is taken as the priority market by the head brewer~~ Surely they should make them available in the UK market as early as possible--so many local drinkers are stretching their necks for them!
I tried four beers by half-pint in total and my GF one, all turned out fresher and more tasty than their bottled-version brewed on contract for Sainsbury's, although they are under different names at the brewery tap. The staff are young and very friendly, knowing their products very very well, resulting in nice conversations with anyone who is interested in the beers and the brewery like I experienced. The atmosphere is, again, young and relaxing, with a touch of gastropub feeling which is reflected by their soft-tuned music as well as by the modern food menu. Besides their own range of beers some well-selected foreign bottled beers are available as well, aiming to attract as wide a clientelle as possible, I guess.
Overall I enjoyed every single minute there. I'd surely go back time and again for their range of nice continental beers on tap and no less so for the brilliant porter on cask!
Sep 14, 2005
Greenwich Union in London, GB2, United Kingdom
Place rating:
4.11
out of
5
with
9
ratings