Old Manchester
| The Marble Arch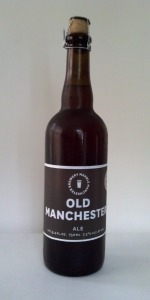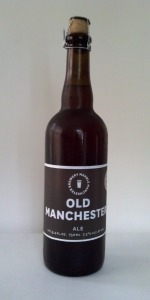 BEER INFO
Brewed by:
The Marble Arch
England
,
United Kingdom
marblebeers.com
Style:
Old Ale
Alcohol by volume (ABV):
7.30%
Availability:
Limited (brewed once)
Notes / Commercial Description:
No notes at this time.
Added by BedetheVenerable on 12-15-2012
This beer is retired; no longer brewed.
HISTOGRAM
Ratings: 4 | Reviews: 4
Reviews by stuppy:
3.78
/5
rDev
-1%
look: 3 | smell: 3.75 | taste: 3.75 | feel: 4 | overall: 4
Appearance: Murky light reddish brown, med cream head that lingers
Aroma: Malty sweet, lots of fruit, caramel, some alcohol, oxidation notes of Sherry, no hops
Flavor: Big Caramel malt character up front, some nuttiness, some light chocolate, moderate fruity esters, some bitterness at end, alcohol may be adding to bitterness
Mouthfeel: Full body, med-high carbonation, some alcohol warmth
Overall: Malty sweet with lots of fruit characters, some oxidative notes, with medium levels of alcohol
750ml bottle
label says best before 02-14-16
549 characters
More User Reviews:

3.88
/5
rDev
+1.6%
look: 4 | smell: 4 | taste: 3.75 | feel: 3.75 | overall: 4
Poured into an Elysian snifter. Pours a bright orange amber with a nice two finger off-white head that was kept full by active carbonation. Tons of lacing. Aroma of sweet caramel malt with hints of chocolate and fruit esters. Unusual flavor of citrus and caramel with strong citrus hops developing into a somewhat dry, hoppy citrus finish with odd Bretty notes of wild yeast. Light bodied with nice carbonation. Profile is somewhat like a cross between a traditional old ale and a West Coast IPA. I held on to this bottle a bit longer than I intended (over a year), and I wonder if the wild yeast is intended. The active, but not excessive carbonation suggests all is well. I hope to try a fresh bottle of this elusive ale to see if this is typical. The mild wild yeast funkiness (it does have the menthol like character that is noted in a previous review) is rather off style, but the malt and citrus hoppiness still made this an interesting ale. I wish I could find more from this brewery.
991 characters

3.83
/5
rDev
+0.3%
look: 4.5 | smell: 4 | taste: 4 | feel: 3 | overall: 3.5
Presentation: Ultra-simple, classy label on a 750ml brown Belgian-style bottle, corked and caged. Best by 2-16-2014. Drinking this while watching the Manchester Derby, poured into my Man U. pint. C'mon you reds!
Appearance: Beautiful, crystal clear rich orange amber brew with thick, sticky ivory cap which shows nice retention and amazing sheets of lacing. Gorgeous brew.
Smell: Hops lead here, which is a bit surprising. Big, earthy notes (Fuggles or Styrians, perhaps?) with some toasty malt in support. Fairly straightforward, but what it lacks in depth it makes up for in the intensity of the aromas. Hints of both caramel and light fruity alcohol. Smells more like a big, bold ESB, than what I'm used to in an Old Ale (vinous, chocolate notes, etc) but pleasant nonetheless.
Taste: Follows the aromas. BIG bitterness up front, hints of apricot, light alcoholic notes, leafy, earthy hop notes (again, I'd GUESS Fuggles and or Styrians are at play here), a ghost of something like bitter menthol or old-fashioned cough drops, as well as the slightest hint of an almost barnyard-like (but not bretty) quality. Bitter definitely leads over malty here; again, this kind of seems like a 'big' version of a classic (read: Fuller's) ESB, but with a bit more.
Mouthfeel: Just a bit light; feels like about 6% abv.
Conclusion: Thanks to WCP in STL for holding this for me until I could pick it up. I was really excited when I saw these rare-ish brews from Marble in Manchester come in, as I love traditional English ales. I want to say this was around $15.00 or so for the 750. Definitely not cheap, but overall, just about worth the money, at least to try once, esp. considering it was brewed with John Keeling of Fuller's. The earthy hops, big bitterness, hints of apricot and medicinal notes (the menthol/eucalyptus of Fisherman's Friend strong throat lozenges) are really interesting and have grown on me significantly throughout the pint. Best around room temperature. Certainly not the traditional English Old ale, but I'd say worth the coin and, if I ever came across one again, I'd pick it up if feeling flush to age for a bit.
Overall: 88-89 B+ (hurt a bit by price)
2,188 characters

3.79
/5
rDev
-0.8%
look: 3.75 | smell: 3.5 | taste: 4 | feel: 3.75 | overall: 3.75
The beer is medium to dark amber in color and pretty transparent. The head is off-white and relatively small. The aroma has a whole bunch of toasty caramel malt and pine resin-grass-mineral-orange rind hops. There's a fruity note to the malt that leans towards peaches and apricots. Taste is closest to a strong American amber for me, though with a bit more body, I'd call it a relatively hoppy barleywine. There's plenty of hop flavor and a health dose of bitterness. Big malt backbone of sweet caramel and toasted biscuit. Good balance between the two elements with neither the hops nor the malt really winning out clearly. Mouthfeel is smooth and appropriate. It's a big, round mouthful of beer and drinks bigger than its abv suggests. A very good beer. I'd be interested in seeing how it ages, but I wouldn't be shocked to prefer this one fresh.
861 characters
Old Manchester from The Marble Arch
Beer rating:
3.82
out of
5
with
4
ratings