Gallo's Tap Room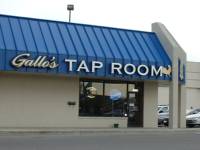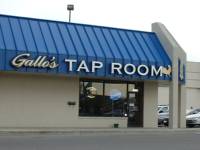 PLACE INFO
Type:
Bar, Eatery
5019 Olentangy River Rd
Columbus
,
Ohio
, 43214-1928
United States
(614) 457-2394 |
map
gallostaproom.com
Notes:
None provided.
PLACE STATS
Reviews:

10

Ratings:

pDev:

14.43%
HISTOGRAM
View: Place Reviews
Ratings: 13 | Reviews: 10
Reviews by MbpBugeye:
2.66
/5
rDev
-32.7%
vibe: 2.5 | quality: 3 | service: 2 | selection: 3
I went here the other night because my friend was out in celebration of her moving to The Netherlands for a few months.
The inside is pretty much what you'd expect from a strip mall bar. Its pretty much just a big open room with a medium sized bar and some high top tables. The pool tables are separated off to the right by a half-wall. There are TVs EVERYWHERE. Big projector screens with small TVs between them.
The selection was decent, but not enough to make this a destination. With the growing tap lists all over the city, this selection could even be considered weak. The taps that caught my eye were Old Ruffian, Conway's Irish Red (not a surprise to see at ANY Ohio bar), Columbus Hop Odyssey (Arnold), Lagunitas IPA, Nugget Nectar. They only serve beers in 16oz (short) or 22oz (tall) glasses. 16oz of Old Ruffian was more than enough, I couldn't imagine ordering a 22oz glass of a barleywine at a bar.
The bottle selection seemed alright as well, but there is no way of knowing what they have unless you lean over the bar and peer into the coolers. I saw Hoppin Frog DORIS which was a surprise to me.
The wings looked good but the kitchen was closed when I went to order some for myself.
The staff seems to only have a very casual beer knowledge, but the bartender did say he's more into beer than wine.
The good thing is this isn't a club, but its not beckoning me to return either.
1,406 characters
More User Reviews:
4.04
/5
rDev
+2.3%
vibe: 4 | quality: 4.25 | service: 4 | selection: 3.75 | food: 4.25
Gallo's Bethel Tap Room offers 23 beers on tap, typically 6 national/adjunct, and 17 craft. They are usually good for carrying a few offerings that the other central Ohio mega-tap places don't, for instance, the last 2 times I have been in Gallo's, they had a Maine Beer offering on tap.
This place has one of the best whiskey and bourbon offerings in Columbus, with 50-70 premium offerings. And, the bartenders are very knowledgeable with the characteristics, so don't be afraid to ask them for advice, if you're in the mood to try something new.
The food is well above average than your ordinary sports bar offerings. Not overly complex, but the little things like homemade pizza dough and panini, and fresh italian sausage separate it from the mainstream chain offerings.
779 characters

4.76
/5
rDev
+20.5%
vibe: 4 | quality: 4.75 | service: 5 | selection: 4.75 | food: 5
Huge selection of beers. Nothing crazy on tap when I was there but it was well rounded tap list. Vibe is more sport barish with huge flat screen tvs high up on the walls. Bar was quite large with ample seatng and also it appeared a separate dining room. I had a few slices of their pizza, and they were quite good. However, I was quite trashed sooooo look at other reviews. Thought the service was exceptional as well for as busy as the place was, but then again at that point I was drinking pretty slowly. (After glancing at some of the reviews and the picture of the building they have either completely renovated the place or its in a different location this is on 240 N Liberty St., Powell, OH)
698 characters

4.38
/5
rDev
+10.9%
vibe: 4.5 | quality: 4.5 | service: 4.5 | selection: 4 | food: 4.5



3.69
/5
rDev
-6.6%
vibe: 4 | quality: 4 | service: 2.75 | selection: 4 | food: 4
My friend and I decided to meet up here for a couple brews since we both work in the area. I pass by here quite often and it's been open for almost 9 years but I've never bothered stopping in until last week. It's located right between the old K-Mart and the Micro Center in the Olentangy Plaza strip at the corner of Olentangy River Road & Bethel Road. We went in at about 3PM on a Friday and it was maybe 1/3 full. It is dimly lit and there are plenty of TVs broadcasting just about every sport on at the time. There is a small patio area outside to sit down and/or smoke, we decided to stay inside because it was pouring down rain at the time.
The bar didn't have many empty seats for us to sit next to one another so we just sat at a small table with a couple tall chairs. They must have made some changes since the earlier reviews because the draft menu we requested had about 15 taps. No BMC stuff on tap, all craft. Quite a nice local presence: Seventh Son Brewing, Jackie O's, Fat Head's, Columbus, The Brew Kettle and Great Lakes -- all from Ohio. Some of these selections are only available at their respective breweries and at that, rarely seen on tap in Columbus. The other few taps were some solid entries from Founder's, Bell's, Southern Tier, Stone and Dogfish Head. The servers are cute and nice girls but don't seem to know a whole lot about the beer that they serve. They serve beers in short (16oz) or tall (22oz) glasses, so $5.75 for a 22oz draft-only & gold medal-winning Fat Head's seasonal seemed pretty reasonable to me, especially for the Northwest side of Columbus.
The food is dressed-up American pub fare with some Italian influences. The food isn't on the same level as 101 Beer Kitchen for what they charge here but it's some good grub for sure! The fried perogies were awesome and their wings live up to the reputation of being some of the best wings in the city. My only gripe is that the food seemed a bit expensive considering the portions were rather small but I guess the quality of the food makes it seem more worth it than not.
We got our beers and food quick enough for 3PM on a Friday during a torrential downpour but I think that if we were in any kind of a hurry to do anything, one could have described the service as slow. When we were all done, it took about 10 minutes to get separate checks and then the waitress never did come back around quick enough to take my friend's credit card -- so we just paid cash because we were sick of waiting.
Overall, this is one of the oldest if not the oldest craft beer bar on Columbus' Northwest side. They have MUCH more competition in the area now compared to a year or two ago which is probably why their draft menu seems better than what others have described in past reviews. The atmosphere is nothing special but it has the feeling of a neighborhood spot and isn't very loud or anything (which I like). It's clean and has a nice balance between being a place to grab a drink and watch a game and being a place where you could take your family out to dinner. Their prices are reasonable for the most part, the below average draft price evens out the above average food price. I'll be back sometime soon.
3,199 characters

4.53
/5
rDev
+14.7%
vibe: 4 | quality: 4.5 | service: 5 | selection: 4.5 | food: 4
I stumbled upon Gallo's Taproom while looking for the Asian Market nearby... I remembered reading about it on beeradvocate and so the wife and I decided to give it a try.
Gallo's is MUCH better than the reviews here imply. Sure, it is hidden away in a shopping plaza with more parking than you'll ever need. Yeah, windows are dark and you don't know what to expect...
But once you're inside, you'll find 15 beers on tap, of which 10 are craft. These include Southern Tier (Pumpkin, Creme Brulee), Bells (two handles), Columbus (Hop Odissey), Dogfish (90 Min), Lindemans (Belgian lambic)... not bad at all!
Place is huge and not crowded. Service was prompt, nice and effective. She knew her beers, was on top of everything and always had a smile.
Food is better-than-average pub grub. The grilled cheese sandwich we had was very yummo. They have things like ravioli and pierogi that you won't find in your regular bar.
Oh, beers are offered in "short" or "long". "Long" is a 22-oz glass, and "short" is a 16-oz pint. A 22-oz glass of Dogfish 90 is only $5.75. Nice!! Food was nicely priced too, with the sandwich at $7.
I was pleasantly surprised by this place... didn't expect much, came out happy and wanting to go back. Give it a try if you're in Columbus!!
1,268 characters

3.95
/5
rDev 0%
vibe: 4 | quality: 4 | service: 4 | selection: 4 | food: 3.5
This is a small place in a strip mall next to a K-mart. The bar is on the cramped side, and the bottle and food selections are limited. Still, this place has its appeal. The tap-list wasn't huge, but it had a nice diversity to it, offering a wide selection of styles (Lindeman's lambic to New Holland Dragon's Milk to Two Hearted). It seemed like someone who has an appreciation for craft beer styles was choosing the beers on tap. I had a couple of Two Hearted's) which tasted clean and fresh. I am reviewing this place after reviewing Winking Lizard, and Gallo's seems more beer-oriented, despite a smaller number of choices. It's not just about having the largest selection, but having a thoughtful selection that always contains something that interests me on any given day. Food here...the good news is that the wings were excellent - some of the best I've ever had (even though they only come in 4 flavors - again, more choices doesn't always mean better). The bad news is that my sandwich and fries were a little weak, there isn't a lot of choice on the menus, and the food took forever - probably 45 minutes. However, our bartender warned us when we ordered that food would take 45 minutes, so I was forewarned. I'd visit Gallo's again; a good place to drink, eat wings, and watch the game, but a little cramped and a little weak as a place for a full meal.
1,365 characters

3.83
/5
rDev
-3%
vibe: 4 | quality: 4 | service: 3 | selection: 4.5 | food: 3.5
I have been to Gallo's on many occasions, but have yet to submit a review.
The location is ok, but not ideal. They seem to always be busy though. It is in a strip mall between a microcenter and Kmart, like I said not ideal.
With that being said, this place is an oasis in a dying strip mall. The interior is well designed and very cool. HDTV's are everywhere and there are three big screen tv's. The decor is very warm, with strong wood everywhere. The bar is very nice and spread out. Booths along the divide between rooms have flat screen tv's at the table.
The food is better than bar food, with panini's, salads, ravioli, and pirogies, and wings too. They always have great beers there with seasonal rotations filling out the taps most of the time. Excellent selection of microbrews in bottles as well. They actually have a beer menu with information about the individual breweries of each beer.
My only complaint would be that on some nights the service is awful. They bring some hot young bimbo over to serve you and she knows nothing about the beers that they have on tap or what seasonal selections are available still. But my beer standards are way to high.
1,181 characters
3.8
/5
rDev
-3.8%
vibe: 3.5 | quality: 4 | service: 4 | selection: 3.5
Gallo's is located in a strip mall. One side has a bar, with tables spread around, and the other side has 3 pool tables, and a shuffleboard game. The employees that we met seemed very friendly, and eager to make us happy. The tap selection was not very exciting, 2 Bell's (Porter & Two Hearted), and 1 Great Lakes. The bottle selection was a bit larger, and had a few good items. There are a lot of tvs, so I would imagine that this would be a good place to watch a game. We did not have any food, so I can't comment. All in all, not a bad place to hang out, but the beer selection could be a little better. With so many great beer places around Columbus, it might be hard for me to stop in here.
696 characters

3.59
/5
rDev
-9.1%
vibe: 4 | quality: 4 | service: 4 | selection: 2.5
Second stop on our pub crawl. After Brews Cafe it was going to be hard for Gallo's to live up to the beer selection and it showed.
A couple of Bell's on draught a Great Lakes, and a few other taps with the likes of Blue Moon, Bud Light, and macro junk. The Bottle selection didn't fair much better but I did try a Columbus Brewing Co. Pale Ale that I thought was solid.
I did like the shuffleboard table and had much fun playing it. Unfortunately that was the highlight of Gallo's for me. If they expand upon their selection Gallo's could be a place to visit in the future. However if I'm driving a little over an hour too see what beer bars I'm missing Gallo's would be low on my list.
693 characters

4.13
/5
rDev
+4.6%
vibe: 4.5 | quality: 4.5 | service: 4 | selection: 3.5 | food: 4.5
Gallo's is located on Bethel/Olentangy in the Olentangy shopping plaza next to a K-Mart and check-cashing place, but we'll forgive them. Plenty of parking is nearby.
Inside is pretty close to the ideal bar for me. Cork dartboards, flatscreen TVs at every booth (some with video games), pool, good music and of course a bar in the middle of it all with some good beers. They also bought another space next door to expand the dining area.
As for the beers, on draught are a couple Bell's selections, Columbus Brewing (the Apricot ale re-branded as "Gallo's Tap", Tommyknocker, Flying Dog and others. In bottles you can find GLBC, Rogue, Columbus brewing and others. Not a huge selection but enough to keep most beer lovers happy.
The service both at the bar and in the dining area is good. The place is still relatively new but had a full house on a Thursday night which is a good sign.
The food here is pretty damn good. Gallo's prides itself on not using microwaves or heating lamps. The food is pricey and is cooked by the person who used to work at Liberty St. Brewing in Akron. The $8 burger/fries I had was excellent.
I will definitely be visiting this place again!
1,185 characters
Gallo's Tap Room in Columbus, OH
Place rating:
3.95
out of
5
with
13
ratings