Hill Street News & Tobacco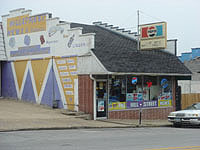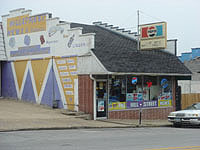 PLACE INFO
Type:
Store
2217 College St
Cedar Falls
,
Iowa
, 50613-3621
United States
(319) 277-7449 |
map
Notes:
No notes at this time.
Added by hero27
PLACE STATS
Reviews:

5

Ratings:

pDev:

28.86%
HISTOGRAM
Ratings: 6 | Reviews: 5
2.55
/5
rDev
+3.7%
Hill Street News and Tobacco is one of my favorite stops during the week, and I usually try and make it at least once a week. The beer selection is hidden in the back, which makes me wish they'd revamp the store and make it a showcase, because I feel that if they did highlight their selection, it'd be something that would attract more customers, however, when you walk in, you have to really walk your way to the back amidst magazine racks and tobacco racks.
The staff is not that knowledgeable about the beer, in fact, I think they forget that it is back there.
The selection is average in my experience, however, it is above average for the area. The only other competitor would by Hy-Vee Wine and Spirits over on University.
I feel that this is a diamond in the rough, and with some refining could be something outstanding, but that is still left to be determined. With a renovation and a recommitment to their name, I feel that they could be something great on The Hill.
980 characters
1.65
/5
rDev
-32.9%
EDIT: Selection has gone down severely in recent years. This used to be the only place in town for Belgians; now it's not. They used to get in a fair selection of rare beers and one-offs. Now they don't. What's worse is that the expensive beer is usually very stale. They got Rogue bombers on the shelf that have seriously been there for nearly three years. Avoid.
It smells nice inside this place. I'm not a smoker but I love the smell of cigars and pipe tobacco, which is a good thing because any bottle that you bring home from this place reeks like it.
The atmosphere is nice, too. Very laid back. It's right off the Northern Iowa campus, and I'll often walk a couple blocks out of my way on Friday nights to grab a few singles before heading home.
For this area the selection is brilliant, but it's really not all that impressive when compared to places like John's Grocery in Iowa City. It's the only store for a hundred miles or so that stocks and Belgians (at least that I'm aware of), and they usually have the 22 oz bombers of Rogue. NOTE: Not anymore--Hy-Vee Wine and Spirits and Roots Organic Market both carry Belgian beer.
The prices, surprisingly enough, are comparable with those of the supermarket.
My only complaint is with the service. Working the counters are usually some rather pissed off young college kids who really don't know all that much about beer. That's no big deal, I realize, but their ignorance, when coupled with rudeness is very frustrating. Here's an actual conversation I had with one of the employees:
"You got any of that Millstream Oktoberfest?"
The kid behind the counter rolls his eyes and drags himself away from his cellphone in order to curtly respond "Yeah, it's right in the cooler."
"Well, I was just back there and I didn't see it. Are you getting any in or would it be somewhere else."
"Oh, jesus--hold on, man. I gotta help this guy try and find a beer that's sitting right in front of him."
We walk back to the cooler. He points to the Millstream section and starts to walk away.
"Excuse me," I say.
"What?"
"This isn't the Oktoberfest. This is just the lager and the wheat."
"Yeah, that's what they put out in October."
Not all of the kids who work there are jerks--but half of them are. Aside from that, this is decent place to shop.
2,305 characters
3.8
/5
rDev
+54.5%
This place is almost a diamond in the rough. Walking in you have to find your way to the back where the selection of beer is definately above average, which is especially nice to see on the Hill in Cedar Falls. The thing is, you must know what is beneficial to buy there. If you are looking for a beer to age, you are in luck, the beers have been aging there for a long time and the prices have been slashed because they are old, this is a double plus, you get to buy an aged beer for less than a new one. The bad side is if you are looking for something fresh, such as a fresh Samuel Smith's, you will find the Sam Smith's but it will most likely not be fresh, (could also be due to the clear bottles). Staff know some of what is going on and do help if the right people are working. If you talk to them they can get something fresh ordered for you promptly.
859 characters

1.85
/5
rDev
-24.8%
I thought this was a cool place when I walked in out of curiosity, but then I saw the selection and thought this would be a great place. Then the quality of the beer wasn't so apparent. I took down a Petrus triple that tasted like butter and barely made me think it was even a beer. The selection is above average (compared to the great big world of macro-brew they have in there), however, they way they treat the beer must be awful 'cause it didn't taste like real beer. It's a college drinking hole with lots of old stuff that no one wants to buy, the only reason they're in business is because there are idiots waiting to buy bottles to make "drunk juice" every week.
671 characters
2.15
/5
rDev
-12.6%
The first time I stepped in this place was a few years back, I didn't even see the beer. I thought it sold tobacco & magazines..because that's what two-thirds of the store consists of...and their name doesn't mention beer at all. Anyways, after further investigation on a second visit, I did manage to find their beer section..buried in the back corner of the store, no less.
I was somewhat stunned to find what is perhaps the largest selection of Belgians in the area..They have a small, standing cooler full of Belgians & other imports. I can't remember all of the specific brands off hand, but will update this review next time I check it out. They have good selections of Europeans (Ayinger, Sam Smith's, Weihenstephaner, Warsteiner, etc) as well. Quite a few unique specialty beers..some i'd never seen. Christmas Ales and seasonals..not in coolers but in individual pints..unfortunately it looked like they may have been sitting around a while..
The selection is decent, but the quality of the beer may not be so hot..there is definitely discernable dust on many of the bottles not kept refrigerated, and who knows how long the beer has been in the coolers.. I've bought a handful of things from them, and have never had a bad beer as of yet, but I'm sure the quality is not near as high as it should be.
They have a so-so selection of domestic micros..most of which are in a cooler across from the Belgians & other European pints. They have the typical micros one would expect to see in these parts.. Boulevard, Leine's, Millstream, Flying Dog, Goose Island, Grant's, Rogue, etc... a couple styles of each, with some variety from time to time..but nothing that you'll write home about.
As for the layout of the store...as mentioned above, the beer is buried in the back...usually behind boxes and other miscellaneous inventory. Calling the store "unorganized" would be a compliment. It's got wayyy too much crap to be in such a small store. The aisles are extremely narrow and it'd be virtually impossible for anyone that is larger than a child to walk through this place without knocking things off shelves.
Service is marginal to bad.. the staff are mostly college students who don't seem to care much about the beer they sell..unless it has "Bud" or "Miller" in the name.
Overall, Hill Street News & Tobacco is decent. If you're looking for some imports that may be hard to find in the area, it's worth a stop in to take a look around. Chances are, you'll find something you haven't tried before.
2,524 characters
Hill Street News & Tobacco in Cedar Falls, IA
Place rating:
2.46
out of
5
with
6
ratings