Two Brothers Tavern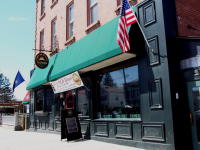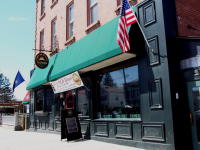 Bar, Eatery
86 Main St
Middlebury
,
Vermont
, 05753-1425
United States
(802) 388-0002 |
map
twobrotherstavern.com
Notes:
Reviews by Brad007:

4.05
/5
rDev
-0.7%
vibe: 4 | quality: 4 | service: 4 | selection: 4 | food: 4.5
Went here to eat with a friend earlier. They do have several taps but they are mainly Otter Creek taps with taps and bottles from other breweries as well. The prices were reasonable for a pint and depending on what you wanted, you could get PBR for $1.50 on certain nights or you could get something like Smuttynose Summer Weizen for $4.50 a pint.
Food was certainly cheaper than the place I went to yesterday and for $7.99, I got a decent local beef burger with cheddar, lettuce and bacon, along with fries. It was worth the cost, though I had to walk it off afterward, which is always good because Middlebury is a great place to walk around and window shop or browse.
Atmosphere was good and I hadn't been in the lounge they have downstairs but I believe atmosphere would go up a point or two if I had seen it. Very laid back people. It wasn't busy at lunch-time which means my friend and I could spend time talking about baseball trivia and other sports trivia while enjoying our food and beer.
Two Brothers has done customer appreciation events in the past and they do have bands/acts that utilize the lounge space downstairs.
Overall, a great place to stop the next time you are in Middlebury. For me, the food gets the highest marks and I like that they don't mind selling PBR alongside Otter Creek and other crafts to attract a slightly-wider audience. Check it out!
1,379 characters
More User Reviews:

4.2
/5
rDev
+2.9%
vibe: 4 | quality: 4.25 | service: 4.25 | selection: 4.25 | food: 4
Stopped in here for a bite after leaving WhistlePig Distillery. Sat at bar and ordered Super Session #8 from the decent taplist of mostly VT craft. Fish and chips were more than decent. Nice atmosphere and staff. Would definitely go again.
240 characters

3.88
/5
rDev
-4.9%
vibe: 3.75 | quality: 3.75 | service: 4 | selection: 4 | food: 3.75
Met an out of town buddy the first time I was here - I say pretty nice place in Middlebury serving more Otter Creek and Drop In than I've seen for any other place I've been in Vermont, can't complain about that. Zero Gravity, Fiddlehead, Frost and Queen City also had some taps. There's a light amount of BMC beers, they got other liquors/cocktails and wines. Sometimes, they get Weihenstephaner and Schneider Weisse. Food is pretty good. Service keeps up at the peak times. If I lived closer, I'd probably be here more often.
526 characters
4
/5
rDev
-2%
vibe: 4 | quality: 4 | service: 4 | selection: 4 | food: 4
3.9
/5
rDev
-4.4%
vibe: 4.25 | quality: 3.75 | service: 4 | selection: 4 | food: 3.5

4.23
/5
rDev
+3.7%
vibe: 4.25 | quality: 4.5 | service: 4.25 | selection: 3.75 | food: 4.5
Two Brothers is a very cozy tavern where tourists and locals can get some great food and a few decent craft brews in the center of Middlebury. Had lunch with a friend - enroute to Drop inn - and enjoyed a great reuben sandwich and a $3.00 pint of Switchback. Add a warm day on an enclosed porch dining area and you have a fine memory.
334 characters

4.58
/5
rDev
+12.3%
vibe: 4 | quality: 4.5 | service: 5 | selection: 4.5 | food: 4.5
Great spot right in the heart of downtown Middlebury. Two Brothers Tavern has a fun atmosphere with fun, friendly and professional staff that clearly care about your customer experience. Most of the food is comprised of locally grown Vermont ingredients and their beer selection is beyond compare for this region. With 25 local, domestic and international beers on draught and an added variety of beers by the bottle, this spot is is definitely a go-to for beer lovers. My husband had the philly cheesesteak and I had the quinoa salad, both were great!
552 characters
4.35
/5
rDev
+6.6%
vibe: 4.5 | quality: 4 | service: 5 | selection: 4 | food: 4.5
Two Bros was the lunch stop for Alewife and I on Friday, 17APR09. We happened by during a 2-day celebration of Otter Creek biers, with prices reduced for the duration.
Entering led us to the bar area on the left side of the place. If you prefer more traditional dining, they have a regular room accessed by a doorway in the middle right-side of the bar area. In the bar are a few seats at the window looking out onto the street, as well as about a dozen along the bar, which ambles along the left side of the room towards the back. Near the rear are a few small tables as well. The bar is an attractive, polished, carved light-wood, with an equally high-quality backbar populated by numerous bottles of liquor and a wine rack. A large screen TV hangs from the center of the back wall. The ceiling is adorned with dollar bills scribbled with names and well-wishes by the patrons. The walls had sports and bier-related items decorating the place.
We felt like we had walked into "Cheers", as 8 of the other 10 people here all knew each other as well as the staff. Kate, our bartender, was top, top-shelf; right there at every turn and super friendly. On tap were 7 Otter Creeks, 3 Wolavers, and about 3 other decent drafts. Of their 20 bottles, 3 or 4 were craft offerings. I heard somewhere that this place sells more Otter Creek on tap than anywhere else in the world. Hmmm...
Our meals, a burger and a steak sub, were supremely tasty, although the food prices were a tad elevated. Overall, a really comfortable, pleasant place to stop into. Zum Wohl!!
4.35
vibe: 4.5 | quality: 4 | service: 5 | selection: 4 | food: 4.5 - $$$
177
1,636 characters
4.33
/5
rDev
+6.1%
vibe: 4 | quality: 4.5 | service: 4.5 | selection: 4 | food: 4.5
This is the kind of place that you want to hang out at, great food, great beer selection, great service the complete package.
There is a bar area with tables plenty of bar space and ample sports on television. The is also a seperate dining room. Something for everyone.
The food is upscale pubby with a focus on local ingredients. Killer cheesesteak!
This place is just down the road from the Otter Creek/Wolavers brewery and the Green Mountain Cider Mill (Woodchuck hard ciders) and represents those product lines very well. Many other quailty micros on tap.
This place is well worth a trip whether you are passing through Middlebury or in the Burlington area.
665 characters
3.64
/5
rDev
-10.8%
vibe: 3.5 | quality: 3.5 | service: 4 | selection: 3.5
Just about the only place open past midnight in the town of Middlebury, Two Brothers is actually a pretty decent find as far as beer goes. Very publican atmosphere in the small place with unused tap handles and beer memorabilia adorning the walls. The service was quick, prompt, and friendly (although at about 12:15am - there was not many other people to serve). Beer selection was better than average. Smuttynose porter and old brown dog on tap, spaten optimator too, bass, guinness, flying dog, otter creek, and some BMC rounded out the taps. Some more macros in the bottle. Dind't try the food, but the menu looked as though it would have something for everyone. If you're nearby, and need to satisfy your better beer craving, this would be the place to do it.
764 characters
Two Brothers Tavern in Middlebury, VT
Place rating:
4.08
out of
5
with
12
ratings