Miller Fortune
| Miller Brewing Co.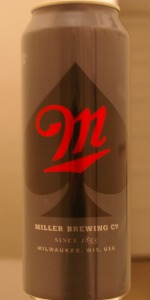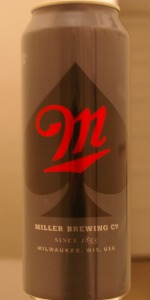 BEER INFO
Brewed by:
Miller Brewing Co.
Wisconsin
,
United States
millercoors.com
Style:
American Amber / Red Lager
Alcohol by volume (ABV):
6.90%
Availability:
Year-round
Notes / Commercial Description:
Spirited Golden Lager. Open Pandora's Bottle.
Added by RonaldTheriot on 01-15-2014
This beer is retired; no longer brewed.
HISTOGRAM
Ratings: 787 | Reviews: 170



2.65
/5
rDev
+2.7%
look: 2.75 | smell: 2.75 | taste: 2.5 | feel: 2.75 | overall: 2.75
Poured from a uniquely-shaped long neck bottle into a shaker pint glass. A fairly aggressive pour produces a billowy 1.5 inch head that settles down fairly quickly but does leave a solid 1/16 inch head of froth for quite awhile. The beer is a pale yellowish copper with ample carbonation that appears quite normal. I don't know if I'm being paranoid here, but the color....doesn't quite look like a beer color (food dye?).
A very strong adjuncty, corny, boozy aroma is very apparent. It smells like a malt liquor. The flavor is also like malt liquor- very corny, metallic, somewhat boozy. Still, it's not too bad once you get accustomed to the taste, and about what I expected. Probably the toughest thing about it is the aroma, which my nose loses track of after awhile anyway.
I would consider this a malt liquor as much as anything. It is what it is. Drink it quickly while it's good and cold.
898 characters
1.69
/5
rDev
-34.5%
look: 2 | smell: 1.75 | taste: 1.75 | feel: 1 | overall: 1.75
Looks a lot like malt liquor; a lot of big bubbles from the forced carbonation. A head that dissipates quickly and looks like any other macro lager, albeit somewhat darker, but not amber.
If the looks didn't give it away, the smell does. No evidence of the cascade hops they apparently used. Aroma is so reminiscent of miller high life or bud that I knew this beer was not what it was trying to be: a craft lager. I guess it comes pretty close to being like some Anchor Steam mixed with a 40.
Almost toasty flavor. More like toasted corn and rice, not that I don't like many beers with corn and rice in them, but they seem to be here mostly for alcohol. At first, quite "drinkable" if I'm using that term correctly, but the harsh graininess and alcohol makes an unpleasant burn in my mouth and throat that makes it very "undrinkable" very quickly. This will definitely be my go to malt liquor if I become homeless any time soon. No floral or citrusy cascade hops. After drinking a lot of it, I have a faint caramel flavor that gets lost in the metallic aftertaste.
Bizarre feel. Almost like Steel Reserve. It coats your mouth with a metallic syrupy quality. The burn in the back of my throat is getting worse. Probably unpleasant to chug. Still no clear hop bitterness and it's pretty darn thin; no (barley) malty body to enjoy.
$2.75 for a 24oz can. Is it a good deal? I don't know. I won't ever buy this again. The business reporting on this beer was hilariously ignorant: 'Miller Fortune is brewed with Cascade hops to give it its bourbon-like flavor. Bloomberg describes the taste as "resting somewhere between a craft beer and a light lager." ' I got no bourbon or cascade hops(which obviously don't create a bourbon-like flavor). I would recommend this for 40oz drinkers who want something classier but don't actually want to drink craft beer or quality imports etc.
1,881 characters




2.01
/5
rDev
-22.1%
look: 2.75 | smell: 2.25 | taste: 1.75 | feel: 2 | overall: 2
This pours a clear, dark amber color with a slight white head. The aroma is bold with grassy grains. The taste is bold but has a bitter bite at first. It is fairly drinkable with an ok taste but the after taste is a little nasty. Always happy to try something new, but this didn't live up to the excitement.
309 characters
3.69
/5
rDev
+43%
look: 3.75 | smell: 3.5 | taste: 3.75 | feel: 3.75 | overall: 3.75
Miller Fortune has a very thin, white head, a clear, amber, bubbly appearance, and a bit of splotchy lacing left behind. The aroma is of sweet, medium-roasted barley malt and bread crust. Taste is of those elements, with a noticeable, corn grit under-taste. It is sweet, but not cloying; bold, but not alcohilic. This is what malt liquors wish they could be. Mouthfeel is light and prickly, and Miller Fortune finishes crisp, clean, refreshing, and mostly dry. Drinkability is astronomical. This is possibly the best regular beer that Miller has ever produced. I am loving it!
RJT
582 characters
Miller Fortune from Miller Brewing Co.
Beer rating:
2.58
out of
5
with
787
ratings