Dismiss Notice
Miller Lite Amber
| Miller Brewing Co.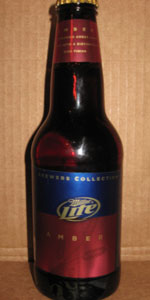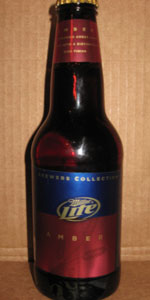 BEER INFO
Brewed by:
Miller Brewing Co.
Wisconsin
,
United States
millercoors.com
Style:
American Amber / Red Ale
Alcohol by volume (ABV):
4.20%
Availability:
Year-round
Notes / Commercial Description:
No notes at this time.
Added by nrpellegrini on 02-05-2008
This beer is retired; no longer brewed.
HISTOGRAM
Ratings: 11 | Reviews: 9
Reviews by nsmartell:
1.28
/5
rDev
-43.9%
look: 2 | smell: 1.5 | taste: 1 | feel: 1 | overall: 1.5
I enjoyed this beer from the comfort of my own living room. From the 120z bottle to a standard pint glass.
A co-worker in the Twin Cities picked this up for me so I'm not sure how she stored it. Given the other reviews of this beer and the fact that Miller has decided not to roll this out nationally, I don't think it would matter how she stored it.
Appearance: Pours golden/copper color with a decent white head that disappeared pretty quickly. Not the color I am looking for in an amber.
Smell: Smells like Miller Lite but with some caramel and a little skunky.
Taste: Not much going on here. Slightly more bitter than a regular Lite, but not much.
Mouthfeel: Light-bodied with too much carbonation. I generally don't pick up on the carbonation in too many beers, but this one just about hit me upside the head.
Drinkability: Give to guests that don't know any better.
877 characters
More User Reviews:
3
/5
rDev
+31.6%
look: 3 | smell: 3 | taste: 3 | feel: 3 | overall: 3
From BeerAdvocate Magazine Volume II, Issue IV:
The website talks about caramel and toffee aromas, roasted malt and a mild hoppy taste. Amber what, though? Ale or Lager? They don't say.
Pale amber color with a crystal clear clarity, a bit lighter in color than expected but still within the range of the "Amber Beer" style. Topped with a white lace with some cling to the glass, but not much of a head overall. Caramel or toffee aroma? It's so faint you can't pick out much, but it's there, clean nose nonetheless. The body screams "light beer!" Very smooth with enough crispness to go around. Faint tone of caramel flavor, toffee right around the corner. Hopping is minimal, at best, with only a mildly sharp bitterness and a nearly nonexistent flavor. Clean and dry finish, that drops a bit of carbonic acid-like character on the palate.
Though drinkable, there's not much flavor. The consumer should know that this is not craft beer, rather a light beer with a pinch of flavor added.
989 characters
2.66
/5
rDev
+16.7%
look: 3.5 | smell: 2.5 | taste: 2.5 | feel: 2.5 | overall: 3
a: pours a very transparent copper color with about a half inch of head that dissapears very quickly leaving no lacing
s: slight hints of toasted caramely malts with the familiar corn malt used by miller
t: hints of caramely malts but still very similar to miller lite
m: light bodied beer with a lot of carbonation
overall, hey i think miller may be a little scared by the craft beer movement and this is their response. I'd wish theyd stop this, but as someone who admittidly drinks an occasional miller lite (hey for a light beer its really not that bad) if this was the same price per beer id prolly pick this up, other than that i cant see buying this again
664 characters
2.06
/5
rDev
-9.6%
look: 3 | smell: 2 | taste: 2 | feel: 2 | overall: 2
IT'S MILLER HIGH LIFE IN A NEW BOTTLE!
I tried to drink and enjoy this beer. I poured half of it down my drain. I felt bad for my drain.
This is an attempt by a big beer company to go after the small craft brew market. Hey, Miller stick to what you do best...give me a second I'm thinking...oh never mind.
When I poured the beer into the glass, yes it had a nice color. The aroma reminded me of High Life. The taste reminded me of High Life. It was bitter and bland. Just like Miller High life. After taking two sips I wanted something else.
If you like Miller Lite you, one) have had all your taste buds destroyed by drinking Miller Lite and two) wouldn't know a good beer if someone hit you over the head and mugged you with a bottle.
Cheers!
749 characters
2.08
/5
rDev
-8.8%
look: 2.5 | smell: 2 | taste: 2 | feel: 2.5 | overall: 2
12oz bottle acquired in trade with ughsmash - thanks!
Poured a lighter to medium and clear amber color with a smaller sized off white head. Aromas of grains and corn. Tastes of grains, lighter caramel, and lighter corn.
This is a Miller Lite and proabaly one of their better beers, but just wasn't really too much there.
323 characters
2.31
/5
rDev
+1.3%
look: 3 | smell: 2 | taste: 2 | feel: 2.5 | overall: 3
Bottle poured to sample serving cup.
A: Beer is red in color, clear. Extremely thin white head.
S: Stale, skunked, not much to pick up.
T: Initially ok, tastes like cold water, then you pick up a horrible after tastes, tastes skunked like original Miller Lite.
M: Decent, then bad. Carbonated tingle, makes you feel like your breath stinks
D: Not so great.
Tastes like Miller Lite, with dirt and extra stink.
418 characters
3.02
/5
rDev
+32.5%
look: 2.5 | smell: 3 | taste: 3 | feel: 2.5 | overall: 3.5
Poued a clear deep amber color with no head. I mean nothing...
Smell is very light with perhaps a touch of caramel.
Taste is also light. There is a caramel presence, but it is so well hidden that it it easily missed.
Finishes very thin in the mouth with virtually no taste retention.
Miller again tries to find the lowest common denominator for a beer. How can a beer taste bad when it has virtually no taste?
413 characters

1.83
/5
rDev
-19.7%
look: 2.5 | smell: 2 | taste: 1.5 | feel: 2 | overall: 2
Serving type 12 oz. bottle into a glass
A - absolutely clear light copper color with thin, quickly disappearing head
S - corny, chemically, somewhat stale smelling
T - thin, corny. Like Lite, basically
M - not much
D - easy in a lite beer way. Nothing to chase Lite beer drinkers from it, but nothing to chase non-Lite drinkers to it. Pleasantly inane and easily ignored.
376 characters
1.84
/5
rDev
-19.3%
look: 4 | smell: 2.5 | taste: 1 | feel: 2 | overall: 2
A: Clear, bright red in color. Poured less than a one finger white head that dissipated very quickly to a skim. No lacing.
S: Not much here; stale wet grain, slightly skunky.
T: Virtually no taste other than a distinct unpleasant aftertaste.
M: Very light body and thin. Pleasing carbonation, but then that icky finish.
D: No.
330 characters
Miller Lite Amber from Miller Brewing Co.
Beer rating:
2.28
out of
5
with
11
ratings