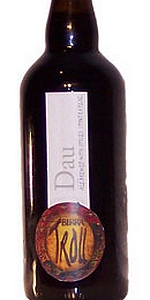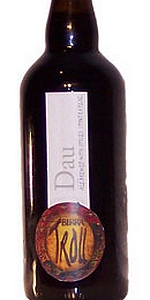 BEER INFO
Brewed by:
Birrificio Troll
Italy
birratroll.it
Style:
Belgian Saison
Alcohol by volume (ABV):
3.90%
Availability:
Year-round
Notes / Commercial Description:
No notes at this time.
Added by RblWthACoz on 09-13-2007
HISTOGRAM
Ratings: 12 | Reviews: 12
Reviews by Stoneman78:

4.02
/5
rDev
+5%
look: 4 | smell: 4.5 | taste: 4 | feel: 3 | overall: 4
Bottle purchased from O'Brien's at the recent Barrel-Aged Night, here comes review #2 of this beer following my buddy from Brooklyn, RblWthACoz!
Appearance is a murky straw/golden hue, huge amount of frothy craggy head erodes to a peaky landscape, lacing is thin and watery
Smell is full of spices and floral presence, dominated by peppery overtones, hints of wheat, light fruits, and citrus, overall clean and crisp aromas
Taste is dominated by pepper spice and floral hops, hints of syrupy light fruits (pears/apples/oranges), light malt presence, alcohol is very muted, finishes dry, bitter, and spicy
Mouthfeel is light-bodied, watery and thin texture, carbonation is extremely high as foam continues to ooze out of the bottle even after I've poured out more than half the bottle
Drinakability is fair as this Italian saison is well in the session range at under 4%abv, this is the most peppery/orange beer I have sampled and wins points for uniqueness, however I am not sure whether I would desire to drink this in large quantities, for tonight the 25oz bottle is way more than enough. . .
1,099 characters
More User Reviews:
3.76
/5
rDev
-1.8%
look: 2.5 | smell: 4 | taste: 4 | feel: 2.5 | overall: 4
Cole's Italian tasting.Light yellow with no head, no lace. Fruity aroma. No apparent carbonation. Yeasty, citrussy, pepper, a light mouthfeel with a long bitter finish.A saison with interesting ideas,anise a good digestive. summery overall.Would be more interesting on tap.
273 characters

3.48
/5
rDev
-9.1%
look: 4.5 | smell: 4 | taste: 3 | feel: 3.5 | overall: 3.5
"Saison style ale brewed with spices (pepper, coriander, ginger and anise)"
Capped 750ml bottle poured into a large Duvel tulip glass. Pours a pale golden orange color with a massive white head that possesses great retention and lacing. The aroma is slightly tart and floral, with many spices (most notably pepper and coriander and a touch of ginger). The taste is a touch of malt up front with the spices coming in towards the finish and a minimal hop presence. The mouthfeel is light and highly carbonated. Overall, this is an interesting saison, but it is a little too subdued in the taste department and lacks a lot of the funky characteristics that I crave in many of the Belgian saisons. The spice profile is interesting, but I think the beer needs a little more body. However, it is definitely worth a shot for its uniqueness.
834 characters
3.95
/5
rDev
+3.1%
look: 4 | smell: 4 | taste: 4 | feel: 3.5 | overall: 4
Poured from a bottle into a chalice.
Generated a thick, fluffy white head that slowly dropped down to a half-centimeter of foam that stuck around. Effervescent is the only way I can describe it below the top...that, and warm yellow. Nose is very spicy and pleasantly floral, with some citrus
and mild--but plentiful--yeast. Taste is somewhat peppery and full of spice, very clean and bright, with a little citrus, and the trademark saison mustiness. Mouthfeel is very crisp and bright with bubbles all over the place and a very nice finish.
Given the right time of year (summer), I could drink a bottle of this no problem. The carbonation would eventually pose a problem, as it is a little over the top, but is full of clean flavor, and is refreshing.
754 characters
3.53
/5
rDev
-7.8%
look: 4 | smell: 3.5 | taste: 3.5 | feel: 3.5 | overall: 3.5
Thanks to hopdog for this...
Appears a hazy, light gold with a small white cap. Beautiful chunks of lacing are scattered all over the sides of the glass. Light amounts of particles are found towards the bottom of the glass.
Smell is of ginger, coriander, cinnamon, anise, vanilla, and mild dough.
Taste is of the mentioned aromas with a doughy yeast. I'm not sure if this one exactly quantifies as a saison with the over spicing but it's not bad.
Mouthfeel is thin, light bodied, semi-sweet up front with zesty, and mild.
521 characters
3.68
/5
rDev
-3.9%
look: 4 | smell: 3.5 | taste: 4 | feel: 3 | overall: 3.5
A- Poured from a 750ml bottle into a Duvel tulip glass. Pours a bright yellow with a hug head made of hugs bubbles. It eventually condenses down to a thick but not really creamy head. Bubbles run up in this beer heavily.
S- A very bright nose with notes of citrus and I sense some dandelions in this too. Nice crisp nose on this one.
T- Nice refreshing beer for sure. Notes of citrus with more orange than lemon in the taste. A bit of Saison funkiness to it but it is not overwhelming like other Saisons.
M- Very high carbonation which I don't think fits the style but it is nice in this beer.
D- I like this beer. very refreshing for sure. A nice beer but I am not sure how to style it is. Overall though very refreshing and a nice beer for a summer day.
759 characters

3.65
/5
rDev
-4.7%
look: 4 | smell: 4 | taste: 3.5 | feel: 3.5 | overall: 3.5
This brew pours a hazy light-orange color with a monstrous white head. The aroma is spicy (pepper and clove), and somewhat herbal. There are faint hops and pale malt in the smell as well, but both are tucked in behind the spice. None of the expected citric twang, but good nonetheless. The taste is also peppery, slightly acidic, and very light and airy. There's more pale malt flavors in the taste. Moderate hop flavor, and no bitterness. Semi-dry. Light in body, and a little less carbonated than it could have been. Decent.
526 characters
3.95
/5
rDev
+3.1%
look: 4 | smell: 4 | taste: 4 | feel: 3.5 | overall: 4
Opens with a huge pop. I was getting ready for a gusher, but it never happened. Pours a pretty foggy gold with a huge off white head that came from one second of a firm pour. Nose is pretty firm with spices. Flavor is extremely spice forward as well. Not whole lot of funk going on here except on the backend a bit. Mostly though the spices just dominate everything. The feel seems a bit thin on the liquid. The carbonation is about standard I suppose. Overall this is a decent saison. Easily drinkable since it's so light with a pretty high amount of character. However, held up to the many other good saisons of the world, it's still a step behind. And the price certainly doesn't help things either. If you want an Italian saison, my vote stays with Wayan for the time being.
781 characters

4.47
/5
rDev
+16.7%
look: 4 | smell: 4.5 | taste: 4.5 | feel: 4.5 | overall: 4.5
The beer looked quite clear before I popped the cap, but when I did the beer was well carbonated enough to actually start to foam out of the bottle. A careful pour yields an initial four-fingers of head which quickly grew to an additional three-fingers in height above the rim of my glass (quite a structural masterpiece as it has not actually run down the sides of my glass. The beer, now very hazy from all the stirred up yeast, is a bright, yellow, straw-gold color while the head is just off white in color. I wasn't expecting it, but am definitely happy to report that the aroma smells quite funky; initially I thought for sure it was Brettanomyces, but upon further inspection I am not sure it just isn't the choice of interesting spices. Woody, sharp, funky, lots of woody pepper, slight lemon zest, hints of sweet ginger, the aroma is actually quite piquant in character.
Quite light feeling, but with an ample, zesty carbonation, the beer is light and airy as it crosses the tongue, but at this point does not feel overly carbonated for a Saison (that 5 minute rest seems to have made the carbonation manageable). The spice notes, while present, are not as omnipresent as I had thought they would be. The spices are one of the biggest parts of the flavor profile, but somehow the individual spice notes are not overly noticeable. Woody black pepper, lemon zest, and a bit of biting ginger and piquant pepper in the finish are all fairly noticeable. The beer has a nice malt character to it that provides a touch of sweet grain, and a chewy, somewhat grassy, cracker like grain character towards the finish. This is eminently quaffable, as one would expect from a beer of this strength, but it still has lots of character & flavor that keeps it interesting.
The second pour even has more sediment to it; it is much more murky, picks up some yeasty flavors that provides a hint of texture and a bit of a yeast bite, but the overall effect is fairly minimal. The ginger and pepper seem to provide the most influence here, but it is hard to divorce the two to see which is contributing to the interesting piquant flavors here. The woodiness from the pepper is a nice, noticeable addition though.
I really like the levels & combination of spices used here; they are evident, but not overwhelming and all together they seem to boost the naturally funkiness of the beer (even at first making me thing that there was Brett here). I really like the use of coriander here, they seemed to have used it subtly and of a quality that did not contribute that green, stalky, earthy note that is found in lots of beers that use coriander. A fantastic, low alcohol (which is staunchly traditional) Saison, the likes of which you can no longer get commercially until now. This is so drinkable that a 750ml is really not even enough. I will say that the time it has spent in the bottle has probable muted the spice effect quite a bit, which is perfectly ok by me.
2,955 characters

3.55
/5
rDev
-7.3%
look: 4 | smell: 4 | taste: 3 | feel: 3.5 | overall: 4
The aroma is soapy, spicy, and malty with some yeast and citrus. The appearance is cloudy orange with a huge head. The flavor is like the aroma. The palate is smooth. Overall it's good and I would drink this again but it's too soapy. With some tweaking this could be great.
273 characters
4.05
/5
rDev
+5.7%
look: 4 | smell: 4 | taste: 4 | feel: 3.5 | overall: 4.5
Deep golden color, almost honey, without bubbles. A lot of white foam.
Fresh smell, with spicy notes, pleasant: pepper, anise, musk, ginger, cinnamon.
In the taste a bit of malt and honey, then again the spiciness, fresh and pleasant.
A longstanding taste, despite the very low slcohol.
Quite lightbody.
It is all on the spices, but it is still well balanced, pleasant, and absolutely drinkble.
In the end, after the spices, some bitterness. Dry.
446 characters
3.87
/5
rDev
+1%
look: 4 | smell: 4.5 | taste: 3.5 | feel: 3.5 | overall: 4
Cloudy golden color, in a Belgian snifter, with gorgeous pure white head. Fits the bill so far.
Sweet and spicy aroma, coriander, ginger, lemon and orange rind, floral, white pepper...beautiful.
Fresh and lively on the palate, but light, not too effervescent, very quaffable. Citrus and spice rings out with each sip, then softly fades back.
Tasty stuff, but too meek and minor-key. I need a little more meat on the bones, even for a saison. Perhaps this follows in the footsteps of Dupont's Avril, a milder "tablen saison".
Nothing wrong with that, but not my cup of beer.
577 characters
Daù from Birrificio Troll
Beer rating:
3.83
out of
5
with
12
ratings