Dismiss Notice
Extreme Beer Fest:Los Angeles
Join us December 9th in Los Angeles for the ultimate throwdown of craft beer creativity!
Learn more...
Dismiss Notice
Stella Di Natale (aka Poinsettia)
| Birrificio Troll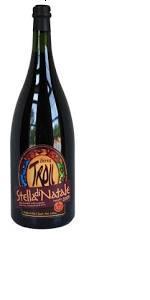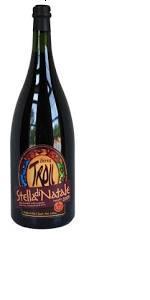 BEER INFO
Brewed by:
Birrificio Troll
Italy
birratroll.it
Style:
Belgian Strong Dark Ale
Alcohol by volume (ABV):
10.50%
Availability:
Winter
Notes / Commercial Description:
No notes at this time.
Added by drabmuh on 02-05-2010
HISTOGRAM
Ratings: 12 | Reviews: 8
Reviews by match1112:
3.42
/5
rDev
-7.8%
look: 3.5 | smell: 4 | taste: 3 | feel: 3.5 | overall: 3.5
a:deep dark brown, not quite black. no head to speak of just a thin white ring around the glass.
s: sweet and spicy and alot of booze. can smell the corriander, mint and yeast not picking up on the green tea.
t: big and boozy. definatly taste all the spices and the tea shows thru very little on the back end.
m: thin, watery and hot from the 10.5%
o: with a $20 price tag for this bottle i was very disappointed. bottle says brewed in 09 but still a hot boozie mess. needs something to hold this together as it's allover the place.
536 characters
More User Reviews:
4.27
/5
rDev
+15.1%
look: 3.5 | smell: 4 | taste: 4.5 | feel: 4 | overall: 4.5
Thinnish offwhite head. Dark brown body.
Nose is odd, kinda like lime maybe, and herbal, I guess. Difficult to put my finger on.
Spicy and herbal. Mint and some chamomile (I find myself needing to check the bottle), and I guess the green tea as well. Interesting, and a bold experiment in flavor. Booze is pretty well masked. Kinda like a bitter cola.
Mouthfeel is also kinda cola-like.
A bold experiment and I would judge this bottle (2010) a success. Begs to be caringly paired with food. I'm thinkin parmagiano reggiano and blueberries.
543 characters
3.75
/5
rDev
+1.1%
look: 3.5 | smell: 3.5 | taste: 4 | feel: 4 | overall: 3.5
On tap at Max's today. Have to admit to a bit of trepedation after the prior review.
The beer pours a fairly dark brown color with pretty decent head retention and fairly good lacing. Don't get a lot on the nose, though what I do smell is kind of unusual. There really is something of a holly, poinsetta aroma, though there's also some brown sugar that helps to counter that aroma before it's too overwhelming. The nose really doesn't prepare you at all for the flavor profile, which is quite sweet and boozy, with notice vanilla, milk chocolate, cherry cough drop and light orange citrus. It's really not too bad, though the fairly intense sweetness is a bit much. Mouthfeel is medium bodied and fairly smooth, with the low carbonation working fairly well in this sweet and boozy beer. Drinikability is clearly not this beer's best feature, as the alcohol is pretty noticeable, and is accentuated by the sweetness I think. Still, this beer makes sense to me as a winter warmer, and I thought the flavors enjoyable.
Definitely need an IPA fix after drinking this, but for all that, I didn't think this beer half bad.
1,119 characters

4.04
/5
rDev
+8.9%
look: 4 | smell: 4.25 | taste: 4 | feel: 3.75 | overall: 4

4
/5
rDev
+7.8%
look: 4 | smell: 4 | taste: 4 | feel: 4 | overall: 4
A deep brown beer, this one has a black-cherry hue beneath a deep blackness. The aroma has a nutty, earthy, roast-malt note. Mixed with a little alcohol, and some phenols, the beer is enticing. Peppery, spicy, and quite complex. The flavor is semi-sweet...lots of malt, a touch of bitterness, and notable spice qualities. Full body, heavy, and boozy. This is a sipping beer...with a somewhat yeasty, belgian-like finish. Very good.
431 characters

4
/5
rDev
+7.8%
look: 4 | smell: 4 | taste: 4 | feel: 4 | overall: 4

3.9
/5
rDev
+5.1%
look: 4 | smell: 4 | taste: 4 | feel: 3 | overall: 4
From 01/07/12 notes. Thanks to GT for sharing this one at a RB tasting. 2009 vintage.
a - Pours a dark brown color with a reddish brown tint to it, one inch of light tan head and light carbonation evident.
s - Smells of dark fruits, spices, raisins, sweet fruity malts, roasted malts, and alcohol.
t - Tastes of raisins, dark fruits, lightly sweet dark fruits, toasted and roasted malts. Pretty nice.
m - Medium body and low to no carbonation. Very undercarbonated.
o - Overall I thought this was a good beer that has held up pretty well, aside from the lack of carbonation. Would have it again.
600 characters

3.4
/5
rDev
-8.4%
look: 3.5 | smell: 3.5 | taste: 3 | feel: 3.5 | overall: 4
I believe this beer is a winter seasonal because the brewer's website states that it is a "Christmas beer". From the brewer's (translated) description,
"Beer meditation or fireplace, perfect for celebrating the holidays in the best way 'of the year. Soft, full bodied, warming, from the intense scent of malt, with hints of coffee roasting and cocoa.
Dark, with a strong alcohol content and body persistently expresses elegant fragrances and decided, let them drink easily while still creating a complex and structured. Exaggerated.
To be enjoyed with close friends before the fire, enjoying the smooth dark chocolate. "
The beer was described on the menu of the bar I was drinking it at as "Belgian Strong Dark Ale with chamomile, green tea and mint." The beer was served in a snifter. Beer is dark brown and clear. Carbonation is low and there is almost no head. The tiny bubbles that may have made up a head are sticking to the interface between the beer and the glass. This diffuse minimal head does manage to leave some lacing amazingly.
The aroma of the beer is mostly sweet. A mixture of malt and alcohol. After several sniffs, I can pick up a hint of tea. Odd smelling overall, but its fine.
Beer is really thin and sweet. It is oddly spicy, not at all what I was expecting. The tea and chamomile are almost an aftertaste and I can definitely taste the mint. Overall, I'm really not enjoying this beer and I'm not impressed. Drinkability is moderate and mouthfeel is OK. There could have been more of a malt backbone to hold this thing together.
1,565 characters
3.62
/5
rDev
-2.4%
look: 3.5 | smell: 4 | taste: 3.5 | feel: 3.5 | overall: 3.5
A: no head to speak of with little lacIng on a dark body without much light getting through.
S: cola, spices, dark fruit ( cherry and raisin).
T: more cola and dark fruit initially which rapidly fades to a tart, minty and mildly boozy finish.
M: fairly full bodied with moderate to high carbonation. Sharp finish.
Overall this is one of those unique beers you love to experience but don't have more than one. Definitely unique and worth having.
448 characters

3.59
/5
rDev
-3.2%
look: 3.5 | smell: 4.5 | taste: 3.5 | feel: 3 | overall: 3
A - poured with a small head of off white foam on a hazy, dark brown body. The head dissipates rapidly and leaves no lace.
S - sweet and sour malt with dark sugar in the background. spicy notes of cinnamon, clove, rose, and cherry.
T - tart caramel with brown sugar and dark cherry. Some clove and cherry combines in a medicinal way in the middle. Finishes with cherry, clove, molasses, and a floral character.
M - a moderately thick body, fairly low carbonation, and Sweet finish.
D - the aroma is excellent and very promising, but the flavor becomes medicinal and very cloyingly sweet by the end if the glass. Seems like it could be something great with a bit of tweaking, as it is I wouldn't drink it again.
714 characters
Stella Di Natale (aka Poinsettia) from Birrificio Troll
Beer rating:
3.71
out of
5
with
12
ratings