Caraway Rye Beer
| C'est What?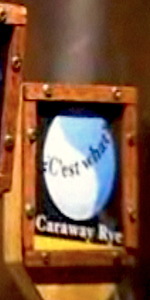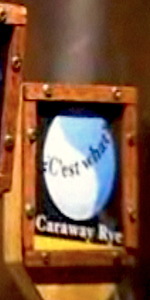 BEER INFO
Brewed by:
C'est What?
Ontario
,
Canada
cestwhat.com
Style:
Rye Beer
Alcohol by volume (ABV):
5.00%
Availability:
Year-round
Notes / Commercial Description:
This russet ale has a peppery character and a hint of caraway.
35 IBU
Added by Sammy on 09-03-2007
Ratings: 13 | Reviews: 11
Reviews by IBUnit63:
3.47
/5
rDev
+2.7%
look: 3 | smell: 3.5 | taste: 3.5 | feel: 3.5 | overall: 3.5
Reviewed over lunch at the source (C'est What?)...into a pint glass...
Tall, bourbony and inert in color. "It's flaaat like yourrr heaaad..."
The scent has a nice rye and maple texture. Hops yield a slight amount of pine and a little bit of grass. Decent balance to the sweetness.
Resembles more of an ESB with a little spring in its step. There is, however (unfortunately) a slight off-flavor...whether it's a weird phenol or DMS, I'm not particularly sure. Maybe it's a little byproduct of the English malts that I'm not entirely accustomed to. Matters...not enough to be a deal-breaker. Rye makes a cameo, but I'd like to see a stronger supporting role here.
Palate feel is solid for a sessionable product; it yields a creamy, velvety feel with a similar and clean finish.
This would be good as more of an ESB style entrant; for a rye I'd like to see the rye take on a greater piece of the pie than it does here. Still, it's a solid and enjoyable brew.
960 characters
More User Reviews:
3.41
/5
rDev
+0.9%
look: 4 | smell: 3 | taste: 3.5 | feel: 3.5 | overall: 3.5
This bear appears a clear medium amber hue, with a thin meniscus of soapy white head, which leaves very little lace in its reduction. It smells of very light spicy caramel malt. The taste is whiskey tones right up front, and a somewhat sour grain alcohol flavour, but absent any heat, some rye spice, and bittersweet malt. The carbonation is quite low, the body medium weight and smooth, and it finishes dry, with a slightly bitter, spicy endgame.
A decent malty ale, but kind of reserved on the purported rye side of things.
526 characters
3.38
/5
rDev 0%
look: 3.5 | smell: 3 | taste: 3.5 | feel: 3.5 | overall: 3.5
Darker body than the old rye, with a white head. Medium mouthfeel and fresh. Nominally malty aroma. Moderately rye tasting lager, not quite the rye bread with caraway seeds I had earlier in the evening, but the real deal. A malt experience and quaffable.
254 characters

3.43
/5
rDev
+1.5%
look: 4 | smell: 3.5 | taste: 3.5 | feel: 3.5 | overall: 3
On tap at C'est What, into a pint glass.
Russett/brown with a yellowish-white head. Decent lacing, but not too much head retains. Nose has some smoke, rye bread, peppery spice and milder sweet caramel malt. Taste has about the same, more rye, slight smokey/toasty notes, spice and caramel malts. Lighter medium body, watery at points, and drying feel in the finish. Drinkable, but unspectacular on the whole.
409 characters
3.15
/5
rDev
-6.8%
look: 3.5 | smell: 3.5 | taste: 3 | feel: 3 | overall: 3
Tap at C'est what? Dark auburn almost copper with a half finger of white fizz. Nose is quite spicy and floral and hints at vanilla, grains and brown sugar. Taste is sweet roasted grains with spicy rye and bready, hoppy undertones. Quite flavourful in the finish with good astringency. I could drink this one all day.
316 characters

3
/5
rDev
-11.2%
look: 3 | smell: 3 | taste: 3 | feel: 3 | overall: 3

3.4
/5
rDev
+0.6%
look: 3.5 | smell: 3.5 | taste: 3.5 | feel: 3.5 | overall: 3
A: Amber-brown with a touch of head, very little retention or lace.
S: Caramel, bread & a little spice.
T: Caramel, rye bread, spice, modest bitterness, slight sweetness.
M: Some residual sugar, solid body, modest carbonation.
D: A little filling (could be more attenuated).
278 characters
3.68
/5
rDev
+8.9%
look: 4 | smell: 3.5 | taste: 3.5 | feel: 4 | overall: 4
I'm actually not sure if what I had was the Caraway Rye or the original C'est What Rye, but I'm going to guess the former since I had it only a few days ago (09/01) and Sammy reviewed it at around the same time.
Anyway -- I and 3 out of 5 of the friends accompanying me tried a pint of this with lunch at C'est What (the others had the mild and the chocolate hazelnut stout). All of us enjoyed it, which surprised me - I've had the original rye, and I believe this one was much more restrained and less hoppy than that. The spiciness of the rye is more difficult to detect, and it's a much more drinkable, if slightly less interesting, beer. Colour is fantastic though - deep reddish brown and quite unique. A solid choice, and a good stepping stone up to some of their more out-there brews.
792 characters
3.47
/5
rDev
+2.7%
look: 3 | smell: 3.5 | taste: 3.5 | feel: 3.5 | overall: 3.5
Had a pint of this last night at the pub.
Pours a clear dark orange/almost red, very thin slightly off white head forms, quickly disappears to a very thing ring, no lacing, not very good retention.
Smell is neat, a bit sweet and spicy, caramel, rye spice, some biscuity malt, light fruitiness, bready, touch of citrus and floral, not bad.
Taste is similar, sweet at first, caramel and a bit sugary, rye spiciness, some bread and biscuit, lightly fruity, not too bad but a little weak, just a bit of spicy bitterness.
Mouthfeel is light bodied with medium carbonation. Alright stuff, but nothing fantastic.
609 characters

3.21
/5
rDev
-5%
look: 4 | smell: 3 | taste: 3 | feel: 3.5 | overall: 3.5
Pours a dark copper-amber colour with nice off-white head. Smell has a bit of hops, with some spices and bread. Taste has more bitterness than I remembered, but not a ton. I haven't had a ton of rye beers, but this seems like an ok attempt at the style.
253 characters

3.43
/5
rDev
+1.5%
look: 4 | smell: 3.5 | taste: 3.5 | feel: 3.5 | overall: 3
On-tap at C'est What?, in Toronto.
Rye can seemingly make for a uniquely colourful brew: the beer's eye-fetching, nearly ruby-red tone is accented by pomegranate and tarnished copper highlighting. Its clarity stays appreciably clean and the head, although minuscule in size, is rock-solid and leaves a lacing so compact that even hot water might struggle to get it off.
The bouquet seems depressed. Normally, rye beers have spicy, fragrant bouquets (or, in the American case, are packed to the brim with zesty, pungent hops). This has neither, or rather, a little bit of both but they're each so distant and forlorn, as if utterly neglected by the brewer. As it stands, a conventional caramel sweetness is all that emanates.
The taste, likewise, is also seemingly dejected. A bed of light, slightly coppery malts sub-in for the expected flavour of pumpernickel bread. The flavours they impart can be likened to dark fruits, toffee and caramel, with only a moderate (whiskey-like) graininess and minimal spice (again, surprising, considering the use of caraway seeds in the recipe).
But while the beer may not overwhelm me with flavour, it does strike me as being an awfully delectable pint. The richer, sweeter (but not too sweet) malts are quite toothsome. The texture, too, is borderline creamy with a crisp, bitter exclamation point at the end of each sip. It's nowhere as thick as a porter but far more filling than most pale ales.
Rye has been characterized as having the most assertive flavor of all cereal grains and, from the lot of the American and German (Roggenbier) examples I've tried, I can see why that's said. This example, however, comes off more as an amber ale and, enjoyable though it certainly is, is really no more distinct than anything else you'll try at the brewpub.
1,801 characters
3.72
/5
rDev
+10.1%
look: 3.5 | smell: 4 | taste: 3.5 | feel: 3.5 | overall: 4
Finally got around to tasting the caraway rye down at the pub with my old man. Mahogany pour with a small white head. Smells like a loaf of caraway rye, which I'm sure is not really that much of a revelation. Taste follows the aroma closely, but has some added sweetness, and some caramel tones that make it quite pleasant and quaffable. Medium body and restrained carbonation. It didn't knock me out of the water, but I did enjoy this offering quite a lot and found it to be an easy-drinker.
492 characters
Caraway Rye Beer from C'est What?
Beer rating:
0%
out of
100
with
13
ratings