Duvel Café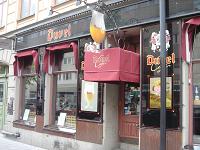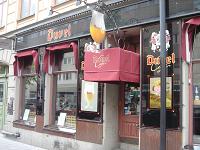 Bar, Eatery
Vasagatan 50
Stockholm
, 111 20
Sweden
+46 8 23 69 70 |
map
duvelcafe.com
Notes: Nearest underground station: T-Centralen
Reviews by krunchie:
krunchie from Sweden
4.13
/5
rDev
-0.5%
vibe: 4.5 | quality: 4 | service: 4 | selection: 4.5 | food: 3.5
Despite my not so very high scores for this place, it's my favourite. Why? Because they have EVERY beer you want!....well, almost...they have all MY favourites!
Most of the staff have vast knowledge about the selection of beers they have and which beer goes with what food. Nice and helpful staff, but some of the ones working in the bar don't know that much about beer. I asked for a Gulden Draak last time I was there (my personal fav!) and they had no clue what it was, but I've had several there. Luckily I could point them to where they kept the bottles :)
Their stock availability is a bit questionable at times. They have most beers in stock, but the last three times I've been there they didn't have Gulden Draak. Last time I was there they didn't have Gulden Draak nor Chimay (which they are supposed to have on tap), nor Celis White (also on tap), nor Hoegaarden, nor some of the other beers that they usually have on tap.
Food's not worth the money, according to me. Cost me a lot when I ate there (only ate there once) and even though the food was pretty good, it wasn't worth all that money. The beer, though, certainly was!
When I was there the first time a girl served me and I didn't know much about belgian beer at the time, but she served me some of the best beers there is because she "knew just the beer" for the occasion. And she sure did! I was very pleased with the service that time.
Despite my rather harsh words about Duvel, I go there as often as I can and I recommend it to everyone. Their wide selection of beer and calm atmosphere keeps me from going elsewhere and time always stands still there. It is my favourite place to hang out with friends and taste beers you've never even heard of and it always surprises you.
Aug 01, 2008
More User Reviews:
SCW from New York
3.96
/5
rDev
-4.6%
vibe: 4 | quality: 4 | service: 4 | selection: 3.75 | food: 4.25
Jun 02, 2015



RblWthACoz from Pennsylvania
4.13
/5
rDev
-0.5%
vibe: 4 | quality: 4 | service: 4 | selection: 4.5 | food: 4
There are two parts to this place. One is noticeably stuffy, the other less so. Though both carry a similar edge and theme. Luckily the bartender on the "stuffy" side informed me of the more beer nerd side (she used more creative words than that of course.) The coolers here are jam packed with a massive assortment of Belgian ales. When there are over 30 labels I have never seen before, I am impressed. The only problem I have with it is that they are all large brewery releases and not so many small places are represented. Kind of like how 12% Imports brings in tons of obscure beers to the U.S. Service was attentive, though a bit serious. This might reflect some of what seems like a snobby and all too serious clientele. If you are sitting at the more relaxed bar, check the cellar behind you. I've never seen so many large format bottles in all of my life.
Oh P.S. A great thanks to the arrogant and obnoxious self-proscribed genius who had no problem talking down on the U.S. while I was trying to enjoy myself here. That's rude, you douche bag. Don't fall into the stereotype, ya loser.
Jun 20, 2010
erikwibaeus from Sweden
4.38
/5
rDev
+5.5%
vibe: 4.5 | quality: 4.5 | service: 5 | selection: 3.5 | food: 4.5
I stopped by at this very place to check out some Belgian beers last year. The selection is very good but it is only Belgian so if your not into a good monastery-beer your in for a big happning. I really think the service is insanely good, very nice staff and they are not at all "mr wiseguy" when you ask them legit questions about their beers and what they have in stock. The value is abit high i must say, you pay quite much for the beer but the food is reasonable.
This place is called "The Press Club" or "The Club of the Press" if you will. Alot of the journalists has been hanging around here over the past 30 years and its a classic hangout for the people who are interested in old hangout spots..
I recommend this place if you want a professional opinion about what you should and should not try in the library that is Belgium..!
Jan 16, 2010
Stockgnome from Sweden
3.14
/5
rDev
-24.3%
vibe: 3 | quality: 3 | service: 2 | selection: 4.5
Perhaps it was an off night for the Duvel Café, but for someone who lives in Stockholm, and appreciates Belgian beer, things did not go well on my first visit there. Selection is good, but for what you pay for it you expect a bit out of both the staff and the atmosphere. Both of which were lacking...
I ordered a Buffalo and was greeted with utter confusion by the bartender who didn't know what it was, then went to check if they had it, then said they didn't, then checked their beer list to see if it was really on there. He then preceded to offer his own suggestion without any consultation from me and plonked down a 68kr bottle of St. Feuillen Brown, and while opening it said, "You've probably never had this." To which I could only offer, "Yes, in fact I had some last night." And he conceded with, "Oh, so you drink Belgian beer?" That would explain why I was in a bar that only serves Belgian beer...but that was not the case with most of the other customers.
The Café part of the name is quite accurate, a large number of customers were drinking lattés and cappuccinos. Majority of the space is reserved for dining and all orders are made at the bar. This creates a serious traffic problem if you stand anywhere near it. The bland interior doesn't do much, and the choice of loud dance music clashed starkly with the clientele.
Now the good stuff. They do have a large number of beers, I think they actually stated 400 on the sign. No idea how many of them they actually stock, but they seemed to have most of what was on the list. All the standards, and some others that you won't find at any of the other Belgian bars in Stockholm....such as Buffalo...
Worth it if you are in town for a weekend. If you live in Stockholm I'd recommend one of the friendlier places.
Jun 15, 2009
bark from Sweden
4.2
/5
rDev
+1.2%
vibe: 4.5 | quality: 4 | service: 4.5 | selection: 4
Duvel Café is one of the two Belgian bars near Stockholm Central train station. This one is the more relaxed and bar-like one. Or, it is really two bars: The ordinary bar and the next door annexe at the International Press Club. Both are cozy environments in beige-brown with furniture of wood and leather, candles and old jazz as background music.
The staff is friendly with good knowledge of the beers. The smaller bar is divided into several smaller rooms (and a couple of lager meeting places), which makes it easy to get a spot of your own. The guests are a blend of journalists, businessmen and beer geeks.
The beers are 100% Belgian: The draft beer is round 60 SEK, two of the eight taps are reserved for a rotating assortment of guest beer. They offer about 120 bottled beers including all the Trappist breweries and some unusual Belgian lagers.
Oct 16, 2006
scottum from Vermont
4.78
/5
rDev
+15.2%
vibe: 4.5 | quality: 4.5 | service: 5 | selection: 5
I would have reviewed this many months ago if it had been in the system.
On tap at the time of my visit last May:
Tripel Karmeliet
Kwak
Steendonk
Maredsous 6
Maredsous 8
Maredsous 10
Bel Pils
La Chouffe
Passendale
Chimay
John Martin's
Montagnarde
Steendonk
Westmalle
Bourgogne les Flanders
plus way over 100 bottles available including 3 and 5 liter bottles of some of the greats
All or mostly all of the beer were belgian. Solid environment for a beer. There service was awesome at the bar! Seemed to be of lack service at tables, but we were not at a table so my 5 is for the bar. Bartender was very helpful and helped the lady pick out a beer from the few that I suggested to her. Prices were ok for Stockholm, but like everywhere else in town the food was out of our price range. (Everywhere in Stockholm is freekin' expensive so we only ate fast food which was also freekin' expensive!) Location is nice, located near the center of town. Certainly worth a stop when in Stockholm, especially if you can't make the trip to Belgium anytime soon.
Dec 08, 2004
Duvel Café in Stockholm, Sweden
Place rating:
4.15
out of
5
with
10
ratings