Capone's Pub & Grill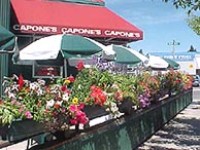 PLACE INFO
Type:
Bar, Eatery
751 N 4th St
Coeur d'Alene
,
Idaho
, 83814-3022
United States
(208) 667-4843 |
map
caponespub.com
Notes:
No notes at this time.
Added by Vyper
Reviews: 9 | Ratings: 11
Reviews by Redrover:
4.06
/5
rDev
-3.8%
vibe: 4 | quality: 4 | service: 4 | selection: 4.25 | food: 4
I was able to stop by during my latest work trip to Spokane, Lewiston & St. Maries.
They have a small patio street side with some parking in the lot and more on the street.
When you walk in you will see a wall of taps to your left. Nice selection of regional and national craft brands. Bonus for me, they also have a beer engine! I had a beer from Ninkasi that was in excellent shape. Good to see they keep the beers fresh and the lines clean.
Service at the bar was friendly and they had a couple of different folks take care of me.
Lots of sports, Chicago & Boston memorabilia on display. I liked the how they have used tickets from sporting events and concerts under the laminated bar.
Food was also good. They offer lots of pub stables (wings, nachos, pizza, burgers, etc.). But they also offer really good soups and the pesto chicken salad I had was fantastic. The guy down the bar had a grinder that looked and smelled really good.
I would say this is a most stop while visiting this area.
1,005 characters
More User Reviews:
3.81
/5
rDev
-9.7%
vibe: 3.75 | quality: 3.75 | service: 3.75 | selection: 4 | food: 3.75
4.63
/5
rDev
+9.7%
vibe: 4.75 | quality: 4.5 | service: 5 | selection: 4.5 | food: 4.25
4.19
/5
rDev
-0.7%
vibe: 4.25 | quality: 4.5 | service: 3.75 | selection: 4 | food: 4.75
Capone's is the best place to go for brew and food in Coeur d'Alene. 41 rotating taps offer something for everyone. Most brews are PacNW but almost anything may show up. Only a couple taps are macros.
The food is all fresh and made on site. They even bake their own sandwich & burger buns. Soup of the day is always great, watch for the mushroom. Pizzas are constant award winning, check the pizza of the month, along with the hotwings of the month.
The atmosphere is like Cheers, very friendly and popular with locals and tourists alike. Kid friendly but no arcade, plenty of flat screens offer sports of all kinds, each tabletop is unique and the walls and ceiling will keep your eyes wandering. Can get noisy when full but a fun festive kind of noisy.
If you're in CdA 1st Saturday in December get a ticket to 12 Ales, a fun event featuring a dozen winter seasonals from various breweries. Also includes plenty of food, fun, prizes, an event t-shirt and a taxi ride home.
Also check out Capone's in Post Falls and Hayden. All have 41 taps.
1,050 characters
4.08
/5
rDev
-3.3%
vibe: 4 | quality: 4 | service: 4 | selection: 4.5 | food: 3.5
We stopped at Capone's for lunch on a recent trip to Coeur d'Alene.
Atmosphere is a 1930's vintage pub. Wood floors with wainscot on the walls and ceilings. Eclectically decorated with old signs and sports. memorabilia.
Quality i9s good. Northwest and Northern California micros.
Service was very good. but the place is not busy.
Selection is extensive. "More taps than tables" it says. 40+ taps. I didn't see anything crazy good, but it is a but a solid selection. Six beer styles were available, plus some winter seasonals.
Food was good. We had sandwiches, but the fries wew cold.
In terms of value Capone's is a bit pricey. $4.50 - $5.50 per pint. I guess that is getting close to the going rate these days, but I still like to see the traditional $4 pint.
I would recommend Capone's for a pont or two and some pub grub while in the CDA area.
858 characters
4.3
/5
rDev
+1.9%
vibe: 4 | quality: 4 | service: 4.5 | selection: 4.5 | food: 4.5
Great place to go for in Coeur d'Alene. Very much a sportsbar/family orientated place with a shed load of sports memorabilia adorning every single wall.
Large open plan room with plenty of seating; high tables, bar stools, booths, large patio to grab some sun.
40 taps on offer, 36 of which are micros, and 1 cask engine too. Good selection of PNW & Mountain brews.
Service was quick, friendly and attentive.
Food is great, especially the pizza's and very tasty.
Good value for your money.
Can't wait to go back.
526 characters
4.25
/5
rDev
+0.7%
vibe: 4 | quality: 4 | service: 4 | selection: 5 | food: 4
Capone's is a sports bar in downtown Coeur d'Alene. The atmoshere is typical sports bar with a multitude of TV's and can be very noisy when crowded. The food is decent and there is a good selection of typical pub food and pizza. The service is friendly and attentive. Where this place really excels is the draft beer selection. There are over 40 taps which are widely varied and of excellent quality with very few big name/popular brands. This is a great place to grab a bite and enjoy a nice cold draft.
504 characters
4.38
/5
rDev
+3.8%
vibe: 4.5 | quality: 4.5 | service: 4 | selection: 4.5 | food: 4.5
On Fourth Street in Coeur d'Alene lies this gem of a pub, a local institution.
Warm, inviting atmosphere, with outdoor patio seating in the warmer months. Plenty of booths, as well as plenty of bar seating. As a sports pub, there are multiple flat screens throughout the establishment.
Selection takes the cake among local pubs. 40+ taps, and a beer engine. Very few macros on tap, and usually a great assortment of styles from Northwest breweries.
Food is very good for pub food. Pizza, burgers, sandwiches, etc. Typical bar grub, but atypically high quality.
Capone's is one of the true "must visits" of the north Idaho beer scene.
640 characters
4.3
/5
rDev
+1.9%
vibe: 4 | quality: 4.5 | service: 4.5 | selection: 4
During a recent trip to Coeur D'Alene, the bro and I hit Capones as it was one of the only beer bars listed in BeerFly. Not only were we surprised, but we came back twice and dragged others with us each time!
Warm pub feel, with a vintage sports bar edge. 40+ taps that with nearly every one of them being better beer, with only a few mass-produced offerings. To boot, 1/4 of tap line-up during our visits being regional IPAs, many of which I never even heard of before.
Dirt cheap prices (around $3 to $5 a pint), with Imperial Pints, beer specials, and a happy hour that gets you Imperial Pints for $3--coming from a state with no happy hours, awesome! Pours were big and fresh, while the service was quick and friendly--and very helpful with all of our beery questions.
If you're in town, this is THE best place for good beer in town.
846 characters
4.3
/5
rDev
+1.9%
vibe: 4 | quality: 4.5 | service: 4.5 | selection: 4
I thanked the beer gods for the existence of this establishment ... and then I thanked the beer gods twice the next day here as well. Sports bar all the way ... but wait they have 40+ taps. You do the math first:
Sports Bar + 40 Taps = Lots of mass-produced beer and possible duplicate taps.
Wrong! I counted about a handful of mass-produced beer and the rest was a gathering of PNW and other beers from small brewers throughout the west coast. At least 10-12 IPAs were on including; Bridgeport IPA, Hale's Mongoose IPA, Dick's IPA, Leavenworth Hodgsons India Pale Ale, & Northern Lights IPA. If you are ever in the area this is a must stop ... if you are staying overnight you'll probably end the night here.
715 characters
4.2
/5
rDev
-0.5%
vibe: 4.5 | quality: 4.5 | service: 4 | selection: 4 | food: 4
Capone's sits in a dark green building that started life in the 1920s as a gas station, then went through several role changes over the years and was added on to accordingly. The interior shows the owner's strong interest in baseball (he appears to be a Red Sox fan), with baseball gloves mounted on the walls around the bar area. The bar is decorated with literally thousands of beer labels and ticket stubs, usually for sporting events and some of them quite old, all under glass. The place doubles as a blues venue on the weekends. Smoking is not allowed before 10pm, which I believe is an Idaho law wherever minors are allowed (which they are).
In the last year or so, I've made a point of stopping by here whenever I visit CDA, which tends to be about once a month. I usually try to time it so I hit during happy hour, which is awesome since you get your beers in big-ass imperial pint glasses. I usually get a small pizza, which is usually delivered within a few minutes, and is very tasty. In the evenings this place tends to be busy. While at such times it can be a bit noisy, it's not to intolerable levels.
The bar area is dominated by 40 taps, plus a cask engine. It's a matter of luck as to whether anything will be on cask or not. While there were a couple of macrolagers on tap (PBR, Miller Light, IIRC), the vast majority were micros, and virtually all were from the NW. The few imports were Guinness, Newcastle and Stella. Didn't see any bottled options, but I assume they were there. There was also a fully stocked selection of hard A. While they have a greater number of taps as the Viking - the other great beer bar in the Spokane/Coeur d'Alene region - , there are actually far less choices due to the lack of good bottled choices here. The draft selection tends towards IPAs, pale ales and amber ales. At any time there will probably be at least 3 IPAs on-tap. My gripes about the selection are that there are few darker options (ususally just Black Butte and Guinness) and no imports on hand that are actually interesting. But, hey, one has their choice of at least three tasty PNW IPAs, so I can't complain too much.
Besides the usual burgers and appetizers, they have numerous pizzas available.While I have tried a couple of sandwiches I usually opt for a small pizza, as the pizzas are very tasty here.
The service is pretty good. I had a bad experience where I was mostly neglected the first time I came here, but it's never been repeated, and I tend to be pleasantly surprised at just how fast my food arrives when it's a busy night. Not a whole lot of beer saavy on display as this is more of a sports bar than a beer geek's bar.
If I lived 30 miles or so east of my present digs I would probably be in here at least once a week. Definitely the best beer destination in Coeur d'Alene.
2,829 characters
Capone's Pub & Grill in Coeur d'Alene, ID
4.22
out of
5
based on
11
ratings.