Polar Beer
| Ölgerðin Egill Skallagrímsson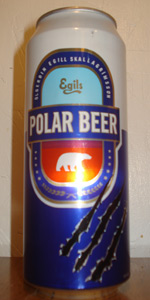 BEER INFO
Brewed by:
Ölgerðin Egill Skallagrímsson
Iceland
egils.is
Style:
Euro Pale Lager
Alcohol by volume (ABV):
4.70%
Availability:
Year-round
Notes / Commercial Description:
No notes at this time.
Added by stulowitz on 06-10-2009
Reviews: 5 | Ratings: 11
1.51
/5
rDev
-39.8%
look: 2.5 | smell: 1.5 | taste: 1 | feel: 1 | overall: 2.5
On tap at The Engish Pub in Reykjavik. From notes.
A - Light yellow. Half finger white head fades to nothing fast. No visible carbonation. Bright.
S - Very, very mild. Sweet sort of corn aroma with alot of graininess. Very little to go on.
T - Corn, grain, sweet. Very unpleasant.
M - Weak carbonation. Weaker than a lager should be for sure. Watery body with a sweet lingering taste.
D - I could have one on a summer day if nothing else was available but otherwise I would turn this down fairly often. I finished mine easily but it is not a delicious beer by any stretch of the imagination.
596 characters
2.48
/5
rDev
-1.2%
look: 3.25 | smell: 2 | taste: 2.5 | feel: 3 | overall: 2.5
Drank right from the can, didn't seem good enough to actually pour out.
This was the correct assumption, it was not good. Reminded of a slightly better Icelandic version of Keystone. Watery, insipid, but crisp.
Not recommended unless you're hot and sweaty and don't really care.
280 characters
2.61
/5
rDev
+4%
look: 3 | smell: 2 | taste: 2.5 | feel: 2.5 | overall: 3.5
Poured from a 500cL can into a Gouden Carolus chalice.
A: The appearance gets a bump just for the name and claw marks on the can. Otherwise, nothing of which to be proud. Thin, clear yellow with no head or other redeeming quality.
S: Basically none. Very faint alcoholic grain.
T: As far as Icelandic beer goes (they've been brewing for less than two decades) it's not too shabby. Thin, carbonated flavour of grain. Aftertaste is a little bit bitter, but not at all dry. A hint of unpleasant sweetness somewhere in the mix.
M: Not much to report. Carbonation is the primary feel.
D: Well, it's not pretty, but it's downable, cheap, and bland enough to pass for beery water if you're drinking it with food. Seriously, a meal improves the taste to the point of acceptability. Also, the name is hysterical and makes me feel cooler than I should.
847 characters

3.15
/5
rDev
+25.5%
look: 3 | smell: 3 | taste: 3.25 | feel: 3 | overall: 3.25
Pours a clear, light yellow colour. Smells mostly of light malts, pilsner-esque, not much else to it. Tastes like it smells, light, crisp, pilsner-like, with medium carbonation. Not much to it, but would be good for sessioning.
228 characters

3.17
/5
rDev
+26.3%
look: 4 | smell: 2 | taste: 3.5 | feel: 3.5 | overall: 3.5
Cheers to indiapaleale for sending this my way via the Nice Cans BIF. 500ml can into a Michelob Pilsener glass, best before 1.26.10 (not off by much).
Paraphrasing Zappa, to be respected as a country you need your own airline and a national beer. Well, given that I've never even seen a beer from Iceland before (and there's probably a slim chance I will again), Polar Beer will have to assume that role.
This lager pours with a clear, pale-golden hue nearly indistinguishable from other macros, but sports a hefty dose of carbonation that trails upwards to supply a bone white quarter inch of foam. Excellent lacing for a pale lager, too. Aroma is heavy on dimethyl sulfide, lending a corn husk sweetness to otherwise average notes of pale malt and crisp mineral water. The hops are practically nonexistent.
The taste is actually fairly pleasing for the style, as it raises the hoppiness level by an order of magnitude in comparison to the aroma. Pale malts are crisp and crackery, while the hops add a light dose of bitterness to the back of the tongue. A little wheat husk and hay-like graininess in the background create a slight astringency, but overall the light mouthfeel is crisp, well-carbonated, dry, and smooth. A shaky start, but Polar Beer actually began to win me over in the end. Not the most flavorful or complex lager by any means, but when you consider the style, it definitely holds its own. Skál, Iceland!
1,429 characters
Polar Beer from Ölgerðin Egill Skallagrímsson
2.51
out of
5
based on
11
ratings.