La Cervesera Artesana
BEER AVG
-
none
Awaiting 10 Ratings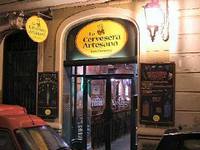 PLACE INFO
Type:
Brewery, Bar, Eatery, Beer-to-go
Sant Agustí, 14
Barcelona
, 08012
Spain
+34 932 37 95 94 |
map
lacervesera.net
Notes:
No notes at this time.
Added by JoEBoBpr
Ratings: 11 | Reviews: 8
Reviews by glid02:
4.1
/5
rDev
+3%
vibe: 4.5 | quality: 4 | service: 4 | selection: 4 | food: 4.5
Made it down here for a late dinner while in Barcelona.
Atmosphere is very cool - it's very tight and dimly lit, and smoky. After entering there are a few tables on either side of the narrow entryway leading to the bar. The bar continues to the back before wrapping back around to the other side where you can exit. The old-looking brewing equipment is in the back of the bar, with wood panelling wrapped around it. Be warned that they don't speak much English and don't seem to even want to try - it would have been easier if it wasn't Catalan they spoke but even if you know basic Spanish you should be able to point and make do.
Quality is good. The glassware was fairly basic as with many places in Europe but it was served at a good temperature and with a nice amount of head.
Service is also good. As I mentioned earlier they're not too fond of trying to speak English but they also won't make fun of your Spanish - at least to your face. We also never had to wait long to get new drinks or to order food.
Selection is good. They have about eight of their own beers on-tap and quite a few others available in bottles - some their own, some local, and some from elsewhere in the continent.
Food is actually damn good - we had a litany of tapas and were not disappointed by any of them. My wife and I both agreed this was among the best meals we had while in Barcelona.
Value is good - it's slightly on the expensive side but not by much.
Overall I was a big fan of this place, but the smoke wore on both of us after a while. If you can't stand smoke than it's not even worth trying to go. Other than that detail this place has some solid beer and even better food. Worth a stop.
1,690 characters
More User Reviews:
3.18
/5
rDev
-20.1%
vibe: 3.5 | quality: 3.25 | service: 3 | selection: 3 | food: 3.5
Lively atmosphere on a Thursday evening. Service was good, in line with what we had experienced throughout our trip. The English-speaking staff helped us order what we wanted. Selection was a bit disappointing- weighted a bit too heavily on IPAs. Quality of those was above average, but nothing particularly stood out. Food was a highlight; they had a good range of tapas to share.
381 characters
4.23
/5
rDev
+6.3%
vibe: 5 | quality: 4.25 | service: 4.25 | selection: 4.25 | food: 3.25
4.5
/5
rDev
+13.1%
vibe: 4.5 | quality: 4.5 | service: 4.5 | selection: 4.5
We went in July and enjoyed our visit very much. If you are anywhere in the vicinity of La Pedrera, it's a must. To tell you the truth, I don't remember the beer menu or what we drank specifically, but it's been years since there's been a review and I just want to let you know what a fine establishment it continues to be. It was dark and cool on a hot day, it has a great variety of beers that are reasonably priced and it's got a comfortable vibe. It's easy to chat with others at the bar and we enjoyed our conversation with a local who wanted to practice English by talking hombrew. We didn't eat and I regret that. Altho I wish it opened earlier, all in all It's the kind of place you want for a local and I think that's pretty high praise.
749 characters
4.07
/5
rDev
+2.3%
vibe: 4 | quality: 4 | service: 4.25 | selection: 4
4.03
/5
rDev
+1.3%
vibe: 4 | quality: 4.5 | service: 4.5 | selection: 3 | food: 4
My favourite place when in Barcelona. Relaxed, nice selection. Their own beers are not outstanding but good enough. Try their croqettes!
136 characters
4.75
/5
rDev
+19.3%
vibe: 3 | quality: 5 | service: 5 | selection: 5
rotating taps included british (meantime), nogne (citra), german wheat (anno25) and helles and dunkel (AKTIEN), spanish cask ale
excellent bottle selection including several cantillion
knowledgable staff
just don't expect them to open exactly at 6, wish they were were open longer
also, when in neighborhood try cider places down on de la merche
345 characters
4
/5
rDev
+0.5%
vibe: 4 | quality: 4 | service: 4 | selection: 4
The pint was reasonable compared to Paris where we live but compared to what a pint of average beer costs in Barcelona a bit pricey but I give that up to it being their own and craft. I'm not sure I'd come here alot unless occasionally they had a special or happy hour or they had something that blew me away. Their beer was decent but I only tried the negra. We weren't there long so maybe they do other specials outside the holidays but it might be cool to run a special to help finish the vats when they get down to a certain level....again, I don't run a beer business so I don't know the pitfalls of that. Their fridge was quite accessible but I didn't know the protocol for ordering beers to take away so that could be put on the menu. And one other way to help their bottle sales is maybe have something on their tables explaining the ordering bottles to take away after your done with your pints/food. Either a brief piece of paper asking people to come up to the bar for a list and then have that list with all their current bottles in the fridge and a check mark or number count for what you want. I've only been once so maybe they have this already. I'll definitely go back.
1,185 characters
4.28
/5
rDev
+7.5%
vibe: 4 | quality: 4 | service: 4.5 | selection: 4.5
Nice place in Barcelona a friend took me to last time I was there. Very nice atmosphere, can see the equipment used to brew the beer in the back of the bar and it is dimly lit. Very chilled out place, though the music sucked on the couple of occasions I was there (clubbish techno), though thankfully it was at a low volume and did not hamper conversation.
The service was very good, at least for us Catalan/Spanish speakers, though I did see the bartender struggling with some people next to us who didn't speak spanish. Still, at least in Catalan the service is very friendly and much, much better than the norm in Barcelona.
Very nice selection of own beers - tried (in several visits) their smoked beer, their pale ale, their chocolate beer and their stout. I don't trust myself to review them, but they were all very tasty, though perhaps served a bit cold, particularly the smoked beer, which was a lot blander than other Rauchbiers I've had but which was very nice as it warmed up. Also have Franziskaner, Guinness, Hoegaarden and Timmerman's Peche (possibly more), and a well-sized selection of various Belgian, German and (mainly) European beers. The bottled beers we had all tasted fresh, though again (as in many other places), served too cold. Cannot judge the food, since we didn't eat there, though you got a little free plate of mixed nuts.
Not the cheapest place, about 5-6 euros for a pint of their own beers, but their bottles are very reasonably priced (around 5.5 euros for Rochefort 10), and the more common beers like Hoegaarden were only about 3.5 a pint. Very nice place that I'll go back to as soon as I visit Barcelona again.
1,654 characters

3.29
/5
rDev
-17.3%
vibe: 4 | quality: 3.5 | service: 2.5 | selection: 3.5
Located on a nice orange tree lined side street a block or so from the metro.
Upon entering, the place appears to be a railroad style bar with table seating. However, the rear opens up to reveal a decent sized bar and additional table seating.
The draft list featured 2 or 3 house beers, including an IPA and Stout, as well as Guinness, Franzikaner and Heineken. The bottle list was quite extensive, representing a broad range of European brands, including Belgian selections. Proper glassware was visible behind the bar, as it is throughout Spain.
I hesitate to say the service was bad, because that may overlook a cutural difference. Let's just say that it is slow.
671 characters
3.65
/5
rDev
-8.3%
vibe: 4 | quality: 4 | service: 3.5 | selection: 3.5 | food: 3
The only great place to find a beer in central barcelona. This place is just a five minute walk from Gaudi's Casa Milla [Casa Pedrero] and a 15 minute walk, or less, from Casa Battlo. After drinking sangria for two days and struggling to find anything other than Estella, this was a complete mecca!!
The house brews their own beers which are less than notable. Very much english style brews brewed on a small, maybe 4bbl system. Watery 4 to 5% abv beers....all over attenuated pub style brews. Brewed to appeal to the Damm drinking locals...Stout [which was really more of a brown ale...] and ipa, a honey ale, and a blonde. The pale was the only beer worth sampling in a pint: copper color, whole leaf hopping - a bit spicy - EKF and Fuggles. A great attempt...
Also on draft you will find some beers much more worth mentioning: timmermans [ok, not worth mentioning this brewery but...], guinness, KWAK!, and franziskaner hefe.
The highlight here is the bottle selection. Very cheap and diverse for barcelona!
Bass, Koninck, Chimay, Duvel, Piraat, La Trappe, Hoegaarden grand cru and forbidden fruit, orval, rochefort, Unibroue Trois Pistoles, Gulden Draak.
For 3.20 euro i had a 2002 hoegaarden grand cru in appropriate glassware. Bro had a gulden draak [3 euro]. My brother and i then shared a rochefort 10 which cost us 5 euro!!!
The atmosphere is similarly intriguing - stone walls, plastered earth tone ceiling, great single malts, wooden bar, proper glassware. this place is all about the bottles.
In a city void of anything other than Damm...this is a great score
1,593 characters
La Cervesera Artesana in Barcelona, Spain
3.6
out of
5
based on
4
ratings.