Cucapá Barleywine

Cucapá Brewing Company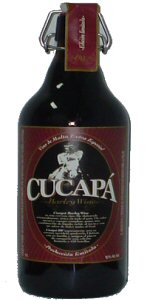 Write a Review
Beer Geek Stats:
| Print Shelf Talker
Style:

ABV:

10%

Score:

Avg:

3.91

| pDev: 14.07%

Reviews:

38

Ratings:

From:

Avail:

Winter

Wants

Gots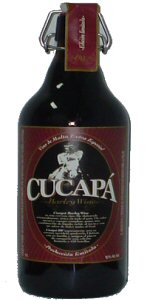 Notes: This one was retired, although the Cucapá guys decided to brew it as a Winter seasonal.

The bottle was changed, though
Reviews: 38 | Ratings: 47

4.03
/5
rDev
+3.1%
look: 4.5 | smell: 4 | taste: 4 | feel: 4 | overall: 4
750ml. green champagne bottle with gold foil over bottle cap and neck. It pours a darkish amber-copper with good clarity and a finger thick, creamy beige foam. Good carbonation and decent head retention. The head fluffs back up with a few swirls of the tulip while enhancing the aroma.
Smells of sweet bisquity malt, vanilla, earth and oak. As it warms a bit, molasses comes through...sweet malty brew with some earthiness.
The flavor doesn't disappoint, starting off full of malty goodness. Not too sweet bisquit doughy malt with notes of molasses and vanilla that soon turn tobacco like with oak tannins and some earthy hops. From there to the finish the hops bitter things nicely, bringing a solid balance to the big brew. The alcohol is there but never makes a spectacle of itself. A very well composed barleywine here.
Fairly full body with active carbonation from start to finish, I didn't see this in the brew on tap which had very subtle carbonation. I definetely prefer this bottled version to the draft version which I have had several times in the past.
A very drinkable and solid barleywine that I will happily buy again in the future...and brewed in Mexico!
1,174 characters

2.65
/5
rDev
-32.2%
look: 3.5 | smell: 3.5 | taste: 2 | feel: 3 | overall: 2.5
Deep amber-brown - certainly not opaque. No head regardless how hard I try. Plus for the color, minus for the opacity and head.
Smells malty (caramels) and grassy. Ah. And oxidized barleywine. Almost smells like a barleywine.
Tastes like oxidized barleywine and really deep, rich milk caramel and some funky weird light bitter twist. Sure, it's a little like some barleywines. It's like andygator in that the malt backbone is very light. It's like gratitude in that it's oxidized. It's certainly not an american style - where are the hops? It's not an english style - no fruit (prunes, raisins, etc) and it doesn't have enough body.
The bottle claims it's the best beer in mexico. Well. Golly. So, my advice is to avoid splashing when making it and to hop it up A LOT. Then you might get to an OK barleywine. To get a great barleywine I'd think it best to just start over from scratch.
888 characters
4.25
/5
rDev
+8.7%
look: 4 | smell: 4 | taste: 4.5 | feel: 4.5 | overall: 4
A - Dark orange amber, small off white head that clears to ring fast. Fairly clear, lots of cascading bubble around top ring.
S - Brown sugar alcohol and deep sweet wort like malt.
T - Brown sugar very apparent, butterscotch definitely there as a backup flavor, caramel and sufficient bitterness not to make it super cloying.
M - Fairly dense, coating, good carb, and pretty nice balance considering how thick and sweet it is.
D - Good stuff. Would fill me up eventually. Pretty heavy. Thus far, my FAVORITE Mexican beer!
525 characters

3.7
/5
rDev
-5.4%
look: 4 | smell: 4 | taste: 3.5 | feel: 4 | overall: 3.5
750ml bottle at 56 degrees.
Pours dark amber with a ruby tinge. Perfect clarity and a thin, tan head that was short-lived. A partial, ringed skim coat remained on the surface for the duration as well as some dotted lacework.
Aromatics lead off with burnt sugars, caramel-drizzeled fruits, and sweet malt. Shades of candied apples, toffee, and sugared figs follow through.
On the full side of medium bodied, with a sticky, almost syrupy mouthfeel. Tacky and chewy.
Crystle malt, scorched sugars, and a sharp bitterness start the palate. A building acrid note builds on top of the bitterness, as well as caramel and slightly stinging alcohol. Hints of brown sugar and pine bark follow through.
Finishes with a lingering, acrid bitterness, sweet crystle, and warming alcohol. An almost numbing alcohol bite endures.
This is one big barleywine out of Mexico. Very aggresive in alcohol and bitterness. The acrid, burnt malt character is rough to take though, as well as loads of residuals.
990 characters

3.82
/5
rDev
-2.3%
look: 3.5 | smell: 4 | taste: 4 | feel: 4.5 | overall: 3
Red-brown color with a large-bubbled tan head with minimal retention but decent lacing. A little spotty in the head department, but there's probably going to be a ton of booze.
The nose is caramelly rich, with hints of raisins soaked in booze. Okay not so much hints as big wafts of fusel alcohols.
The taste is similarly rich and full, though not very complex. The hops are a little in the background compared to many west coast Barleywines, but obviously significantly larger than the English variety.
Strong caramel and toffee flavors that bring a lot of sweetness, along with a full-as-hell mouthfeel that gets to be syrupy and a bit too boozy as it warms.
Definitely a different animal from the cask to the bottle. Drinkability is a little lower I feel from the bottle - with the cask you assume the warm service temperature and concomitant thickness and possibly syrupy character. From the bottle, this barleywine should be a little more refined. I'm sure it would age beautifully, but I would be hard pressed to conjecture the results.
1,050 characters

4.35
/5
rDev
+11.3%
look: 4.5 | smell: 4.5 | taste: 4.5 | feel: 4 | overall: 4
Cucapá Barley Wine pours a nice dark amber color with two fingers of white head; Smells of sweet, bread, malt, bit of alcohol, some fruit, caramel and hops; Taste very nice, deep sweet fruity malt flavor; Mouthfeel is creamy; Considering the alcohol, is a very drinkable beer.
I recommend it.
Por esos 25 años.
¡Salud!
324 characters

4.1
/5
rDev
+4.9%
look: 4 | smell: 4 | taste: 4 | feel: 4 | overall: 4.5
mmmm! mmm! mmmh!!! great beer, trust me, i eat some bread with "ahuacate" a mexican vegetal before try this beer and Booom! An extraordinary flavor round in my mouth [ i leave the veggie and take a chaiser of coffe liquor mmm!!!! try it!!]
Great flavor, amazing balance in the malt and hop this beer is called over here Cucapa "Barley Wine" please put the cd of miles davis and cannonbal aderley and turn on the volume with the song called "atumn leaves"
454 characters
4.12
/5
rDev
+5.4%
look: 3.5 | smell: 4 | taste: 4 | feel: 4.5 | overall: 4.5
served on cask at papago...
clear burgundy brown with a soft toasted almond colored head and random spots of lace.
very comforting aroma... chocolate, toasted nuttiness, roasted grains, muted orange, faint pine, nearly burnt caramel/brown sugar and lots of perfumey flowers.
surprisingly, the palate is not sweet... or harsh... or alcoholic... i'm confused. it's lightly astringent from the roast but it is so well proportioned and smooth... seemingly like it's already aged! flavors of orange, raisins, caramel-y butterscotch without the sweet, chocolate covered toasted nuts, faint pine, a light spiciness (cinnamon, maybe pepper), grassy herbal hops and a dry floral finish. buttery texture from the cask. medium to full bodied without any stickiness.
low residual sugar makes it crazy easy to drink... even without carbonation or bitterness.
it does lack a bit of complexity but this is the beez neez...
8/3/8/4/18/4.1
928 characters
4.2
/5
rDev
+7.4%
look: 4 | smell: 4 | taste: 4.5 | feel: 4 | overall: 4
My bottle was from a last Winter batch that some local BAs got directly from the brewery. We bought several cases of their offerings and got them via freight truck 'cause it's illegal here in México to send alcohol thru standard couriers.
Now the review:
Pours a dark amber-reddish, with a tiny head with no retention. It left a very nice lacing, though.
Smell is a complex mix of caramel malts, ripe dark fruits, some spices and noble hops. Amazingly I don't pick up any alcohol, despite it's 10% ABV. Nice.
Taste is very balanced. Malts are, no doubt, it's backbone, then you begin to find whre all the aroma complexities come from.
Mouthfeel is intense, being such a big beer. Thick body, almost oily. Has a good bitter aftertaste. Very well rounded beer.
Drinkability is certainly high --one beer once in a while.
¡Salud!
834 characters

3.93
/5
rDev
+0.5%
look: 4.5 | smell: 4 | taste: 4 | feel: 4 | overall: 3.5
Sampled during Stone's 11th Anniversary event. I have to say that I was hoping to see this one at the event and was glad to try it.
Color is a light maple syrup with great amount of foam. Nice lacing and head retention as well.
Aroma, had to let this one warm up a bit, is of alcohol, caramel malts, fermented grapes and dark fruits like prunes, raisins and figs. Slight hop presence in the finish.
Tastes sweet and malty, a bit of dark fruit mix and a slight hop finish. Warm alcohol sensation. Not at all simple but not overly complex. Very nice beer to see coming from down south, more should be brewed this good.
Mouthfeel is slightly syrupy and tingly on the tongue. Warm on the finish, very good. Carbonation is also very well played in the beers profile.
Drinkability--It's a hitter, you can feel, but not so much taste, the alcohol in this one. One would probably be enough for me.
Great surprise.
911 characters
4.8
/5
rDev
+22.8%
look: 5 | smell: 5 | taste: 5 | feel: 5 | overall: 4
On tap at Stone World Bistro and Gardens.
I thought that this beer was phenomenal - it is probably the best balanced and most complex American style BW I have tried that is this young. It was not identified as to vintage on the menu, but the bartender said it was a 2006. 8 oz. serving in a snifter-style glass.
Lovely ruddy appearance -- crystal clear.
Aroma is deliciously complex. There are notes from malt, hops, and a variety of sweeter alcohols, without overpowering NW hops or harsh alcohols. Many of the complexities associated with aged BW are already present - raisin, plum, date and leather aromas are noticeable. No oxidation notes -- sherry or the like.
Taste follows the aroma. The flavor is rich and complex, with no hint of harshness from high hopping or fusel alcohols. The balance in phenomenal -- neither hops nor malt dominate, and the interaction between them simply brings out the best in each. The malt is rich without being cloying and the hops balance with bitterness and add perfumy and fruity flavors.
Mouthfeel is very full and creamy. It is rather surprising that this is identified as a 10 ABV beer -- the alcohol is noted mainly as flavor and a warmth as is flows down the throat -- there is little heat up front.
It is certainly strong, however, but it is sneaky -- it seems less potent than it is because of that superb balance. That makes it very drinkable, but dangerous.
VERY enjoyable -- highly recommended.
1,465 characters
4.05
/5
rDev
+3.6%
look: 4 | smell: 4 | taste: 4 | feel: 4.5 | overall: 4
On Tap at O Briens
A--Reddish brown, minimal head, consitent with the style.
S--Sweet raisins, caramel or even toffee notes
T-Very tasty-Good sweet notes, followed up by a dry finish. This one is not cloyingly sweet like many other barleywines. The alcohol is there, but it doesnt dominate. There is alot going on here, besides the aforementioned aromas, you also get some toasted malt, and a good hop backbone which plays in the background.
M- Syrupy, this one really sticks to your tongue. Very nice, especially after the watery porter i just had.
D-Way too easy to drink this Barleywine down.
notes-I wouldnt have expected a Mexican Barleywine to taste this good, a surprise indeed. I will search this one out.
736 characters
4
/5
rDev
+2.3%
look: 4 | smell: 4 | taste: 4 | feel: 4 | overall: 4
On-tap at Liars Club. This beer impressed me. By far the best beer I've had from Mexico. Nice very dark brown color. Not much of a head. Smelled sweet, not very hoppy. Taste was similar. Lots of caramel/toffee sweetness, but also not overly sweet nor cloying. Mouthfeel was rich and creamy. Drinkability at first was low for me, but as I kept drinking, I kept enjoying more.
This would have been a very good barleywine attempt from an American brewer. So, to have this come from Mexico, a country with basically no experience with such a style, is impressive. I am really looking forward to other ambitious attempts from this brewer. I know this barleywine is popping up at a few places around southern California - you owe it to yourself to give it a try.
760 characters
Cucapá Barleywine from Cucapá Brewing Company
Beer rating:
88
out of
100
with
47
ratings