Chupacabras Pale Ale
| Cucapá Brewing Company
BA SCORE
80
good
140
Reviews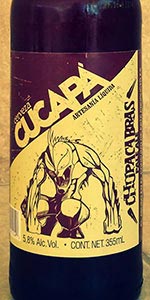 BEER INFO
Brewed by:
Cucapá Brewing Company
Mexico
cucapa.com
Style:
English Pale Ale
Alcohol by volume (ABV):
5.80%
Availability:
Year-round
Notes / Commercial Description:
No notes at this time.
Added by BeerAdvocate on 03-24-2008
Reviews: 140 | Ratings: 209
3.83
/5
rDev
+10.1%
look: 4 | smell: 3.5 | taste: 4 | feel: 3.5 | overall: 4
English Pale Ale from Mexico? I guess I'm being unfair, but the words "Mexican beer" usually imply some weak, fizzy skunky beer with a lime in it just to give it flavor. So when I saw this in my local dive liquor store, I decided to pick one up. And there's a good reason why I check out my local dive liquor store from time to time.
Looked real good in my tulip glass, with a nice bronze color and a light tan and fluffy head. Lots of lacing sticking to the glass. A bit of a musty, malty aroma with a little bit of pine to it. Flavor is malty, with some sweetness with a good amount of grapefruity hops, with some piney notes thrown it. A little bit of a resiny aftertaste, but a good heft and slightly creamy mouthfeel. Let it warm up a little bit, and the malt and hops will come to balance and be quite drinkable. Another reason NAFTA wasn't such a bad idea.
Next thing you know, a bunch of Brits will be trying to push some sort of pale, fizzy stuff with a lime on me.
★
976 characters
3.75
/5
rDev
+7.8%
look: 4 | smell: 4 | taste: 3.5 | feel: 3.5 | overall: 4
I got this one from the beer of the month club. It's probably not one I'd have picked off of the shelf given my impression of Mexican beers as being similar to US macro adjunct lagers.
Poured into a tumbler it produces 10 mm of head with light lacing. The appearance is amber and clear. The aroma is of citrus hops, moderately strong, and a bit of malt. The taste is lightly malty and moderately bitter. The feel is light bodied with a slightly metallic finish.
I'm pleasantly surprised by this offering, which is worthy and enjoyable. No lime needed.
★
553 characters
3.85
/5
rDev
+10.6%
look: 3.5 | smell: 3.5 | taste: 4 | feel: 4 | overall: 4
Dark amber color. Very malty aroma. Little head retention. Aroma slightly reminiscant of a typical barley wine. Heavy malt presence in flavor. Lots of carbonation. Little to no hop aroma or flavor but dryish hop style finish at end. As it warms more fruitish flavors come out. Very drinkable beer. More malty than I would expect for a pale ale, but aside from style point still a pretty decent beer.
★
399 characters
3.83
/5
rDev
+10.1%
look: 4 | smell: 3.5 | taste: 4 | feel: 3.5 | overall: 4
A&S - Pours an hazy amber with two fingers worth of white fluffy head, decent amount of lacing, the haze looks as if theres an ingredient thats about to show a solid presence. Smells of sweet, light, refreshing malt and fruit with some hops but mostly a sweet fresh fruit aroma.
T&M - Sweet, crisp, and sticky with a slight hop bite right off the front, then a quick turn transitions to that Tamarind everyones buzzing about, maybe some Agave, then citrus hops. Awesome flavors thoughout make a wonderful flavor explosion however I feel the bittering hops in the end take away from the "Fresco" flavor.
O - An interesting find, i'll be sure to check out they're other stuff and pick this one up when found, but I really felt the hops were a little much and took away from the wow factor.
Picked up a Sixer of this at the local CostPlus without any knowledge or recommendation of the beer/brewery. Right off the bat props to Cucapa for being one of the very few Mexican breweries making an effort in the craft scene, it seems the new Victoria lager has way more malt then the other Mex lagers, and let me assure this was no mistake. Light is good, for a certain amount of time. Now about the beer, very, very, fresh. Thats its key characteristic, and by making it to hoppy, it wasn't as inviting as other maltier pale ales. I gotta say I can't really gather my thoughts on this one. Despite the hops turning me off, the Tamarind, which I have yet to see in a beer, keeps bringing me back for more. I think this is one of those brews that sits at the back of your mind. Its not something you think of when you try to list your favorites, but when you see it on the shelf, you'll buy it, just the reminisce on that out of the ordinary flavor. Stay thirsty my friends!
★
1,767 characters
3.46
/5
rDev
-0.6%
look: 4 | smell: 3 | taste: 3.5 | feel: 4 | overall: 3.5
This beer is MUCH better on tap, but poured a bottle I picked up in a mixed sixer into a perfect pint glass
A- cloudy golden amber with a minimal head and leaves a very faint spotted lacing
S- bitter apple, weak floral hops, and hay all muddled together. Not a west coast smell at all
T- Very earthy, almost dirt like funk going on. More sour than bitter, but nothing really pops.
M- nice body with ample carbonation.
D- Much more so on tap. I'll finish the bottle, but wouldn't grab another if I bought a sixer
★
516 characters
3.06
/5
rDev
-12.1%
look: 2 | smell: 3.5 | taste: 3 | feel: 3 | overall: 3
Set out to find a Mexican beer I hadn't tried for a midday Cinco de Mayo session. Maybe it had been sitting a while and I stirred some stuff up with my pour, but what looked like a nice deep golden/red ale, was somewhat spoiled upon closer inspection of all the shit floating around in it. Smells fruity. Taste is somewhat bland compared to my expectation. Bitter, watery finish. Burning through this sixer on a sunny day manning a grill wouldn't be a bad experience, but I can't say I'm all that impressed with Chupacabras.
★
524 characters
3.48
/5
rDev 0%
look: 3.5 | smell: 3 | taste: 3.5 | feel: 3.5 | overall: 4
I picked this up at a liquor store in town that has an awesome taco stand in the back. I chose this at random and was pleasantly surprised. It is worth mentioning that the bottle cap was pretty gunky on the outside and it looked like it could have been there awhile so I can't vouch for how fresh it was. Poured in to a pint glass.
A- Clear, dark orange-red. Small off-white head that faded quickly. Looked like it had some really fine sediment suspended throughout.
S- Faintly sweet, malty. Alcohol as well.
T- Sweet and malty first with sour grain and alcohol also present.
M- I found this to be fairly light and watery. Some carbonation, but on the weak side. Refreshing with a lingering finish.
D- Light and refreshing. It went really well with the asada (steak) burrito I "paired" it with. Cuts right through the spiciness. Great as well while doing yard work. Fairly well balanced, but on the weak side. I liked it, but I probably won't buy it again.
★
961 characters
3.75
/5
rDev
+7.8%
look: 4 | smell: 4 | taste: 3.5 | feel: 3.5 | overall: 4
EnglishBeer in Mexico!!!
[Eyes] Amber color with a nice head and lacing.
[Nouse] Caramel malts and a spicy lightly earthy hop balance. from Mexico?! Amaziinggg!!! The aroma is great the hop is dominant,
[Mouth] In mouth the first touch is amazing, fresh but the afther taste is very bitter. and goood full body. Bravo Mario and team.
★
337 characters

2.82
/5
rDev
-19%
look: 4.5 | smell: 2.5 | taste: 2.5 | feel: 3.5 | overall: 3
I'm not sure where this can came from, but it's been sitting in my garage fridge for a little while and no one has claimed it ... I guess I'll open it.
A: A cloudy apricot with a half-inch head and perfect lacing. Part of the appearance rating goes to the artwork. Possibly the coolest looking can I've ever seen.
S: Not bad, but not great. Very malty, and somewhat floral. Not my cup of tea...or brew.
T: Malty but muted.
M: Better than expected. Medium bodied and nicely carbonated.
O: Not bad. I wouldn't seek this out - but I'd drink it again. I will say, being that it is cloudy and brewed in Mexico - I'm worried how the Chupacabras will treat me tomorrow. Wish me luck.
★
683 characters
4.1
/5
rDev
+17.8%
look: 4 | smell: 4 | taste: 4.5 | feel: 3 | overall: 4
This is pretty darn yummy. Happy that there's a good Mexican craft cerveza, and even better that it's in cans.
This beer pours fairly on the orange side, quite hazy, and gets a pretty nice, light tan, frothy head. The smell has floral and grassy hops as its outstanding feature, but there's a sugary note too. The front tastes show off a nice balance of bready and full bodied malts against a fresh and green hop flavor, those malts seem grainy and sugary before finishing with a fair touch of dryness. Something feels a touch off with the body and carbonation, like it turned out a little syrupy for its style.
Overall, I'd like to say I hope I see this can around more often. Good mid day and summer beer to have with a simple lunch, like (in this case) goat brain tacos.
★
776 characters
3.2
/5
rDev
-8%
look: 3 | smell: 3 | taste: 3.5 | feel: 3 | overall: 3
I had great expectations for this beer and all of Cucapa´s brews. This is a nice beer but does not live up to the hype.
It is a bitter ale, with dark reddish color, no head at all and nice carbonation.
A very average ale, with citric offerings, and a touch of spices.
★
270 characters
4.42
/5
rDev
+27%
look: 4 | smell: 4.5 | taste: 4.5 | feel: 4 | overall: 4.5
One of the best, if not the best mexican beer available. Deep red copper color. Very good head formation and very good lace retention. Aromas of roasted malts and heavy and intense citrus, limes, grapefruits. An aggresive explosion of flavors of well defined sweet malts, alcohol character and an intense and aggresive load of citrus hops that amaze the palate. Very good semi-robust body. Excelent on any ocassion. The Mexican Chupacabras resulted better than the San Diego Arrogance and that´s someting.
★
506 characters
4.3
/5
rDev
+23.6%
look: 4 | smell: 4 | taste: 4.5 | feel: 4 | overall: 4.5
I really enjoyed this beer. Had it on tap at the Chef's Table in Rocklin, CA. Not really a typical pale ale as I felt it was a little hoppy for an English Pale Ale and too malty for an American Pale Ale. That aside, it had a very good balance between the malt and the hops. Noticeable citrusy hop aroma. Hops also noticed initially in taste followed for a caramel sweetness from the malt. Pretty full bodied. Neither hops or malt lingered creating a very drinkable beer.
★
470 characters
4.05
/5
rDev
+16.4%
look: 3.5 | smell: 3.5 | taste: 4.5 | feel: 4 | overall: 4
Introduced to me by my brother-in-law from philly
I was turned off at first by the spooky bottle label and the fact that it was made in mexico.
Poured a pleasant orange/copper color
You get the smell and taste of hops at first and then a balanced sweet warm larger finish.
This is a ale that will surprize your friends,just don't let the label scare your kids.
★
364 characters
2.69
/5
rDev
-22.7%
look: 3 | smell: 4 | taste: 2 | feel: 3.5 | overall: 2
First off, I'm new to this site and this is my first review. I'm also new to all the beer terminology. Here goes...
I picked up a 6-pack of this and also some Negra Modelo on the way to a Mexican-food-themed party. I can't comment on appearance because I drank it from the bottle (no cups at the time). The bottle itself was also dark, giving little hint of how the beer looked.
I actually liked the smell of it but was unpleasantly surprised by the taste. It was quite bitter and way too many herb/spice flavors. Overpowering for me. I didn't like the taste. I was drinking it to accompany soft tacos w/ varying meats (pollo, carne asada or carnitas).
Mouthfeel was great so I really wanted to keep drinking it, but the flavor kept turning me off. I took a few more sips to see if I could get used to the taste, but it was really a chore for me. Sorry, but this beer wasn't for me and I had to leave the bottle half-empty.
★
926 characters
Chupacabras Pale Ale from Cucapá Brewing Company
3.48
out of
5
based on
209
ratings.